Local Time: 12/24/2019 Christmas Eve
Today was a traveling day. Today are relocating from Yufuian to an even smaller town and remote place inside deep inside the middle of Kyushu. Kurokawa onsen is where we are tonight.
But our story today starts back in Gettouan Onsen in Yufuian. The morning started early again since I was trying to finish up with yesterday blog, but I had some wonderful and amazing pre breakfast waiting for me. The strawberries were once again delicious and so flavorful.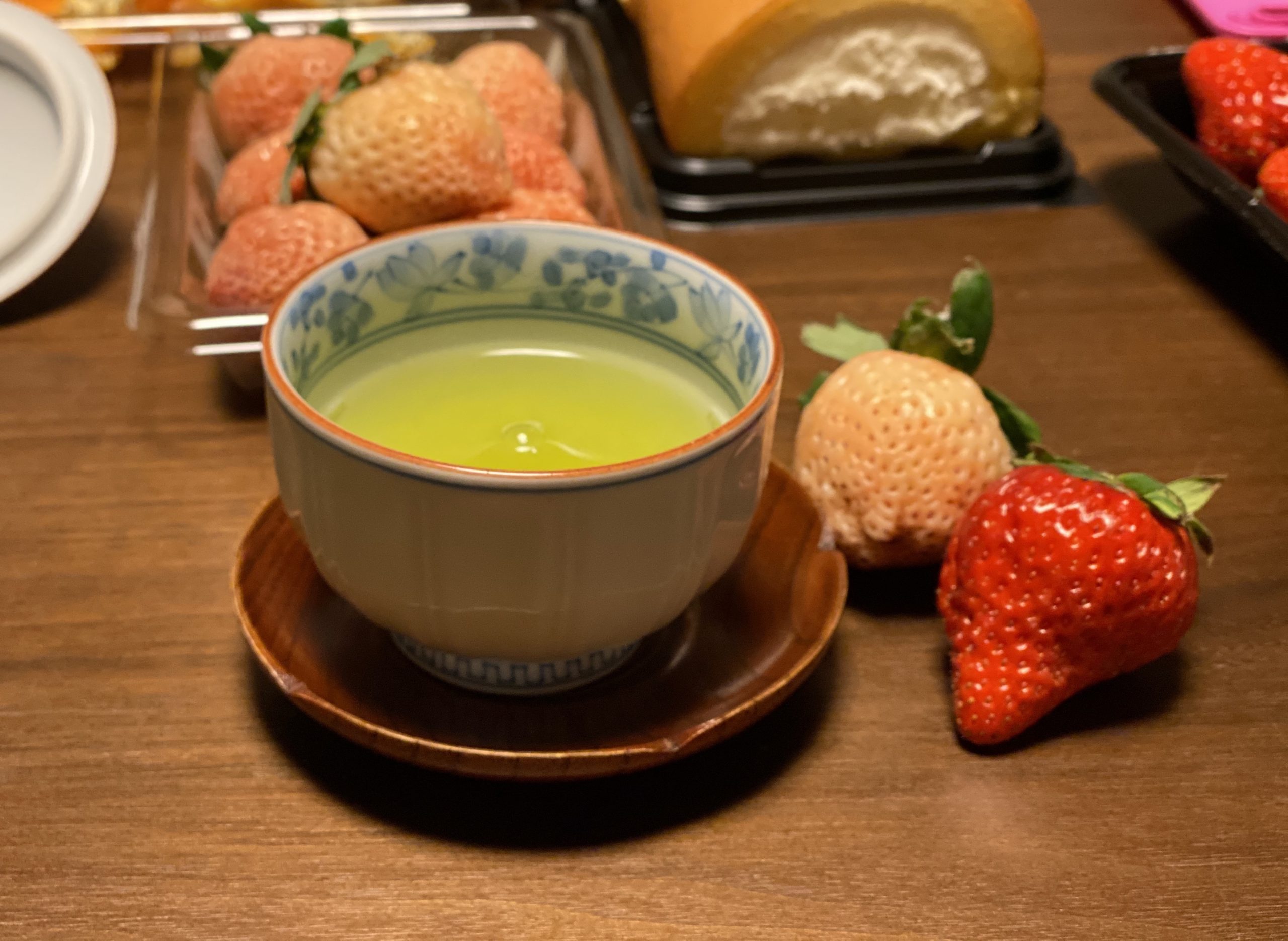 After finishing yesterday's post, I went to start my day with another relaxing soak at the Onsen (hot spring).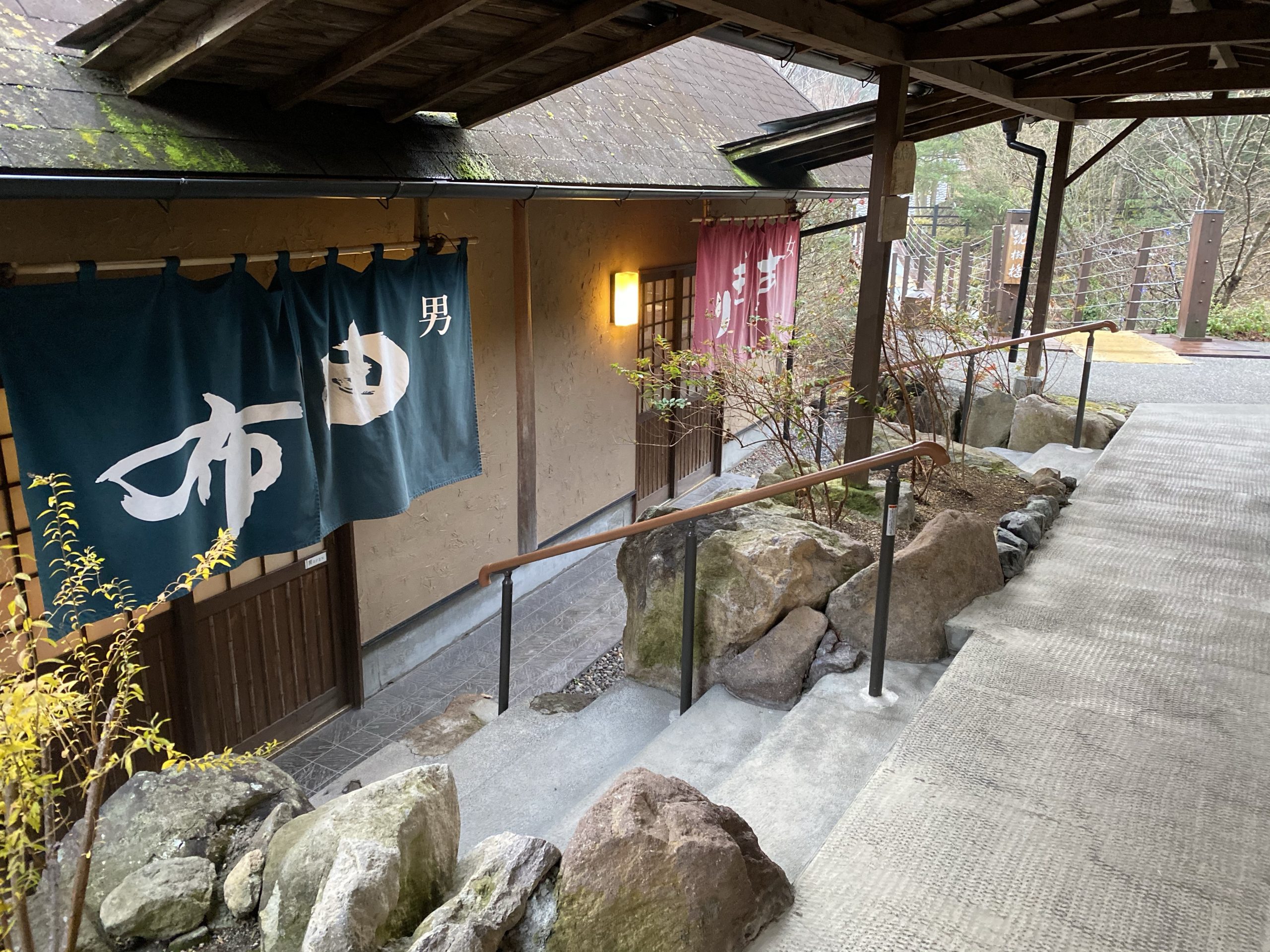 After a refreshing soak, we planned a later breakfast today since it is the last day here and we were not planning to eat any lunch during our travel. Breakfast was different today, but still amazing. So many different small dishes and they are all amazing. Even the local plain rice tasted really great.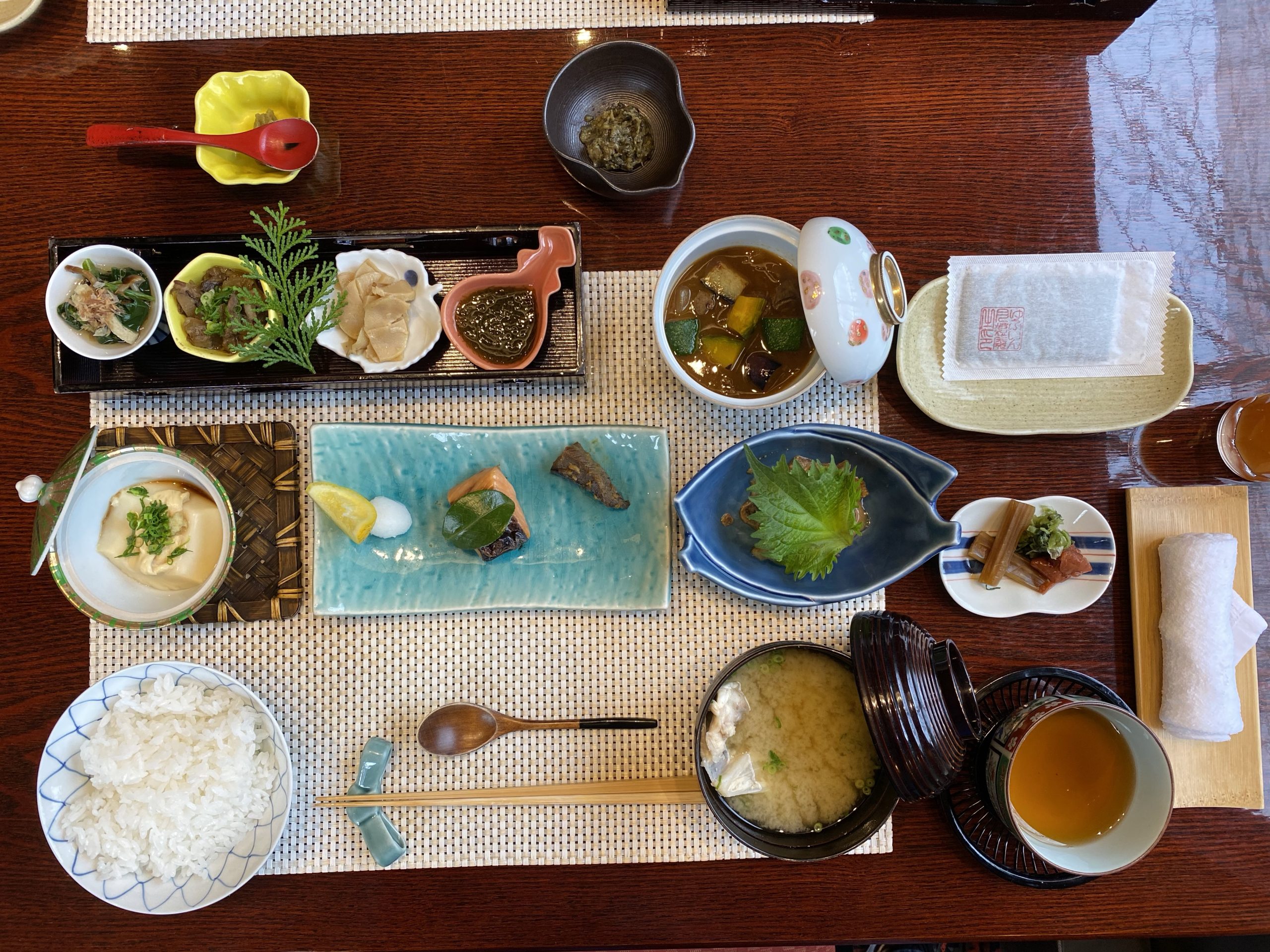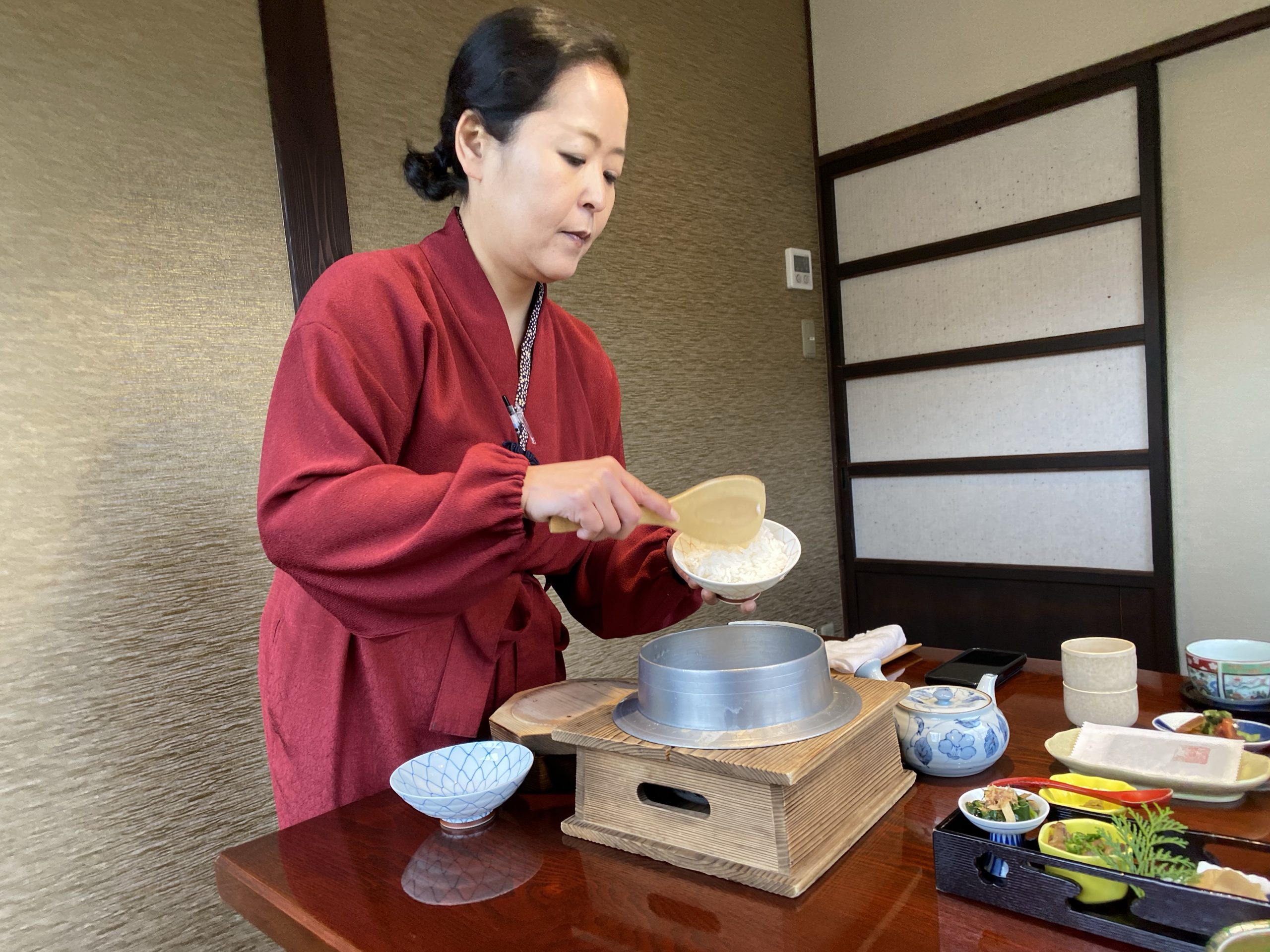 Our check out time was at 11AM so we had some time to do one last foot soak in our room before leaving.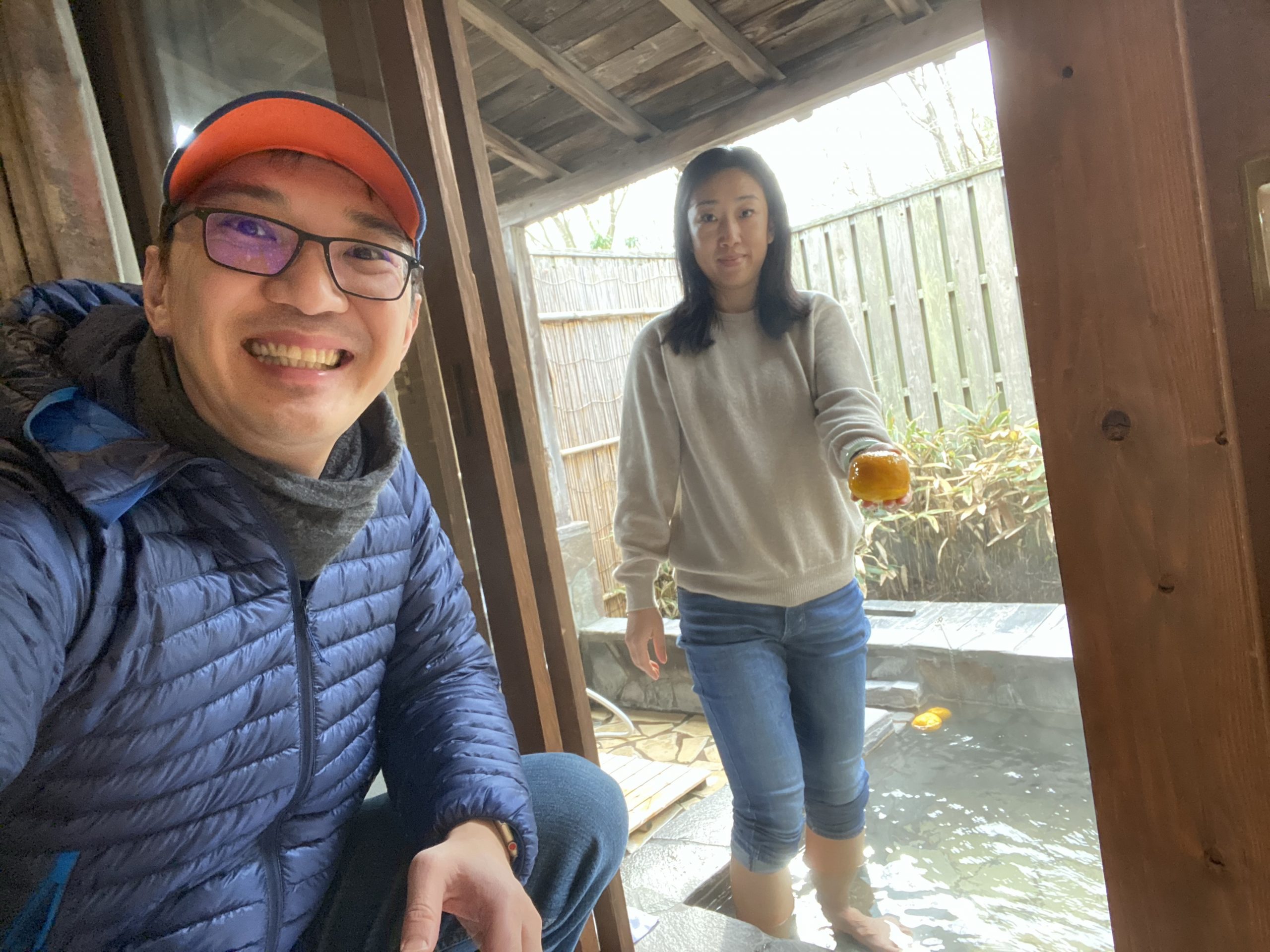 Amazingly, as I was having my post soak coffee milk, I discovered the old school paper bottle cap. Oh my gosh…. this reminded my of my childhood in Taiwan!!!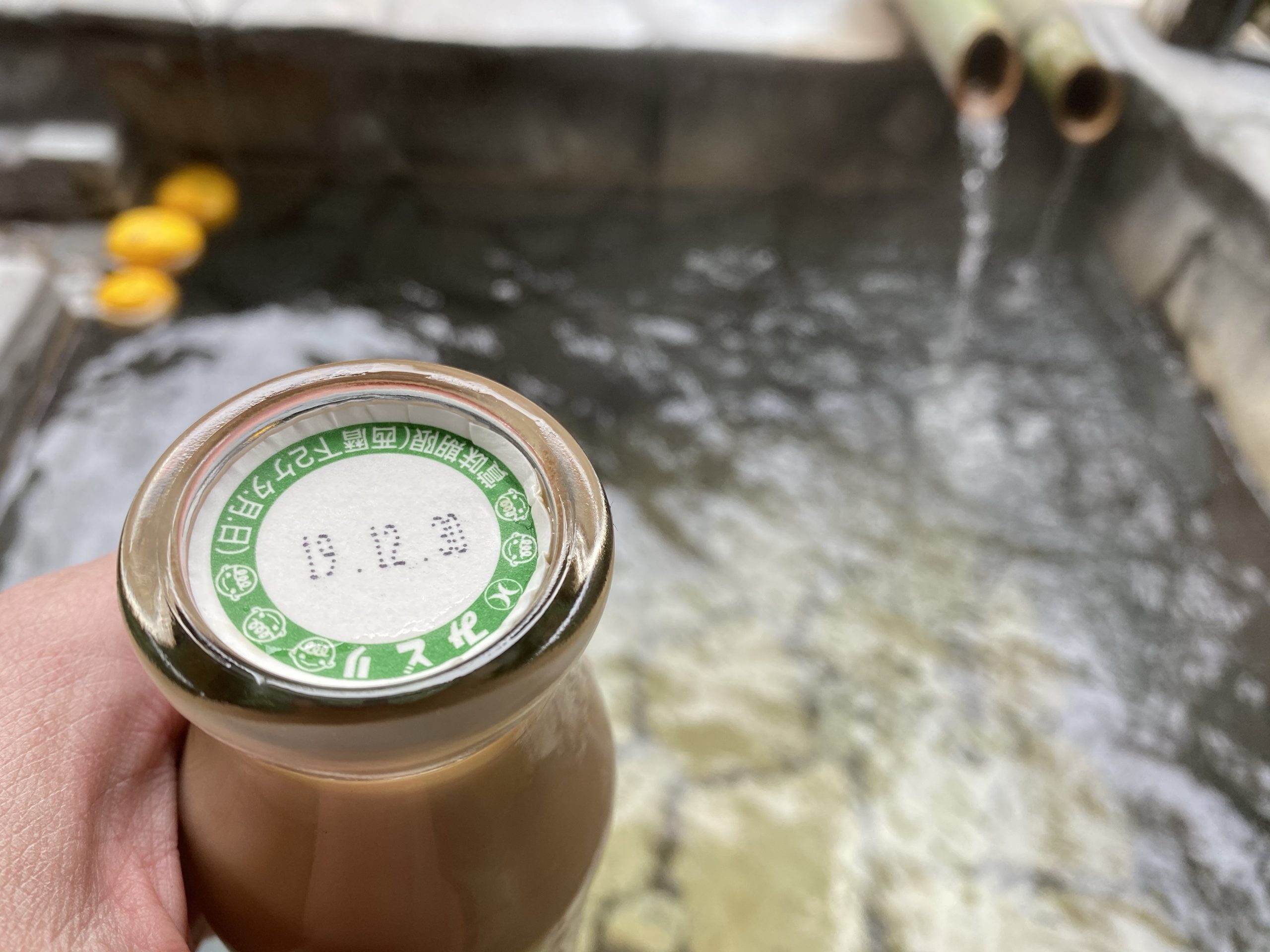 Once in town, we still have sometime before our bus, so we first visited a local bank to get some cash. That was a very interesting experience trying to exchange money. At first we thought we can exchange money at the local post office, but that is not true for all post offices, so we decided to go to the bank. We never been to a Japanese bank before. It was definitely a lot different than a US bank.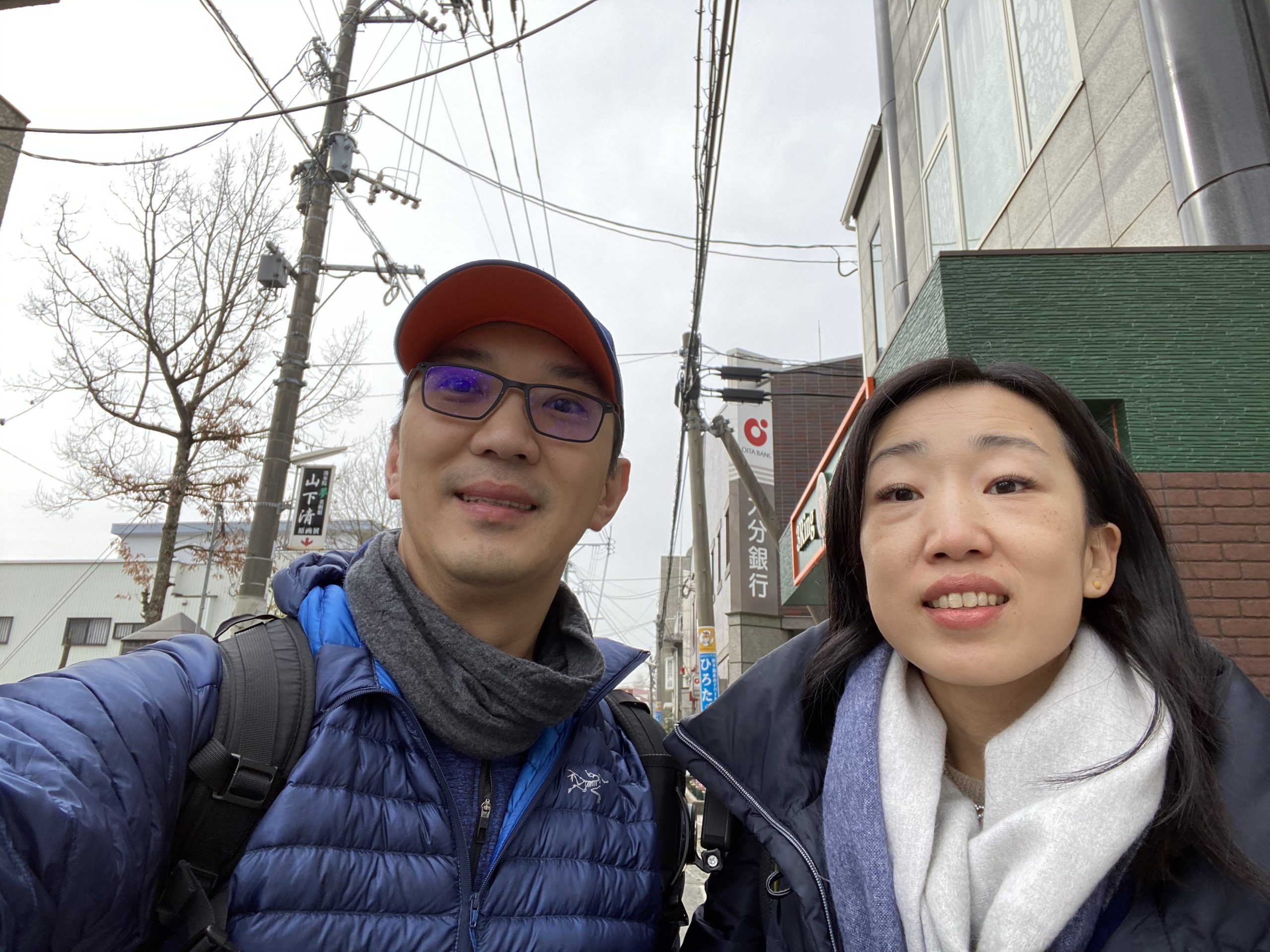 Then we took a walk toward a famous local lake, a popular local tourist spot called Kinrin Lake. And along the way we met some new friends.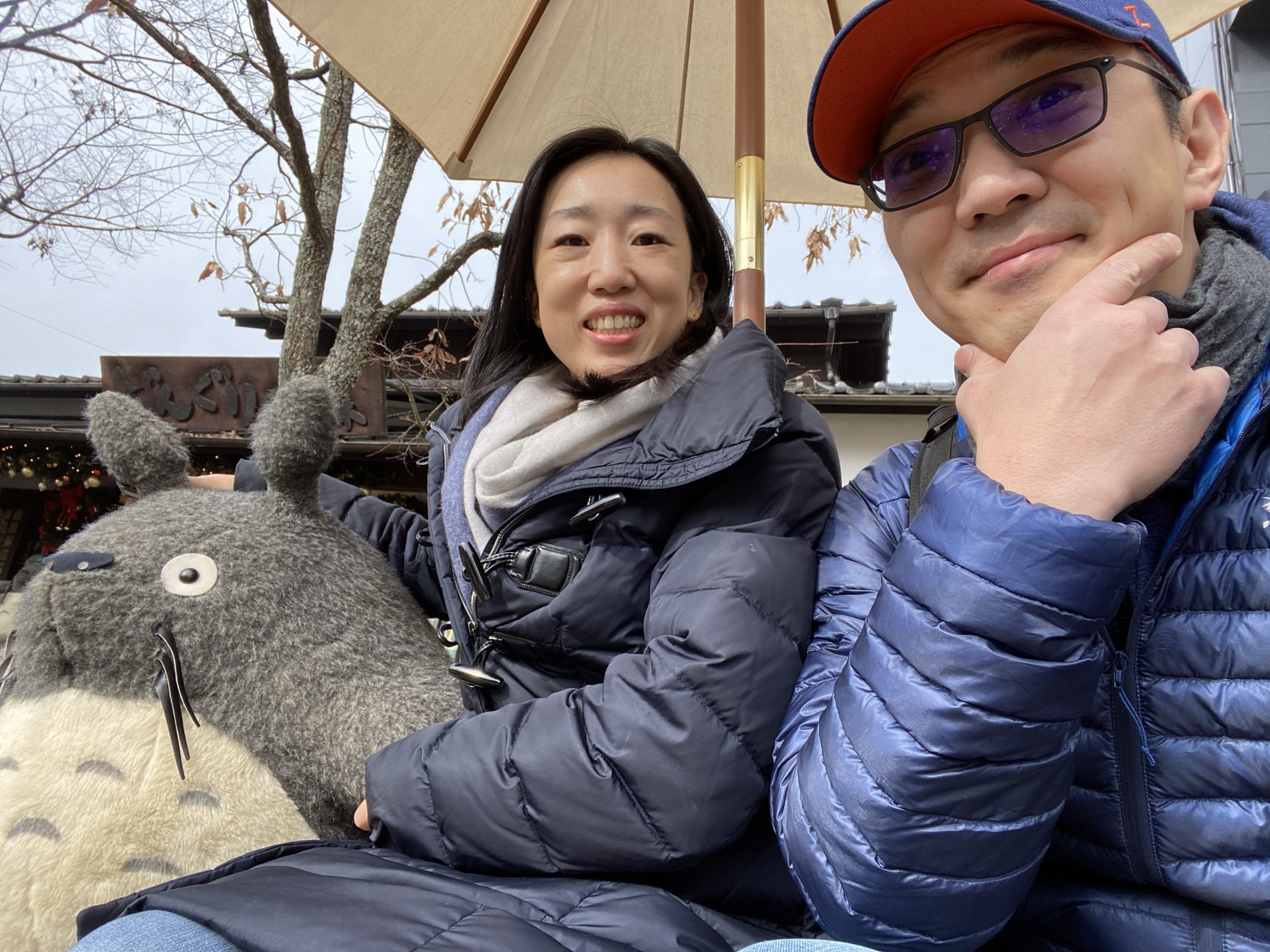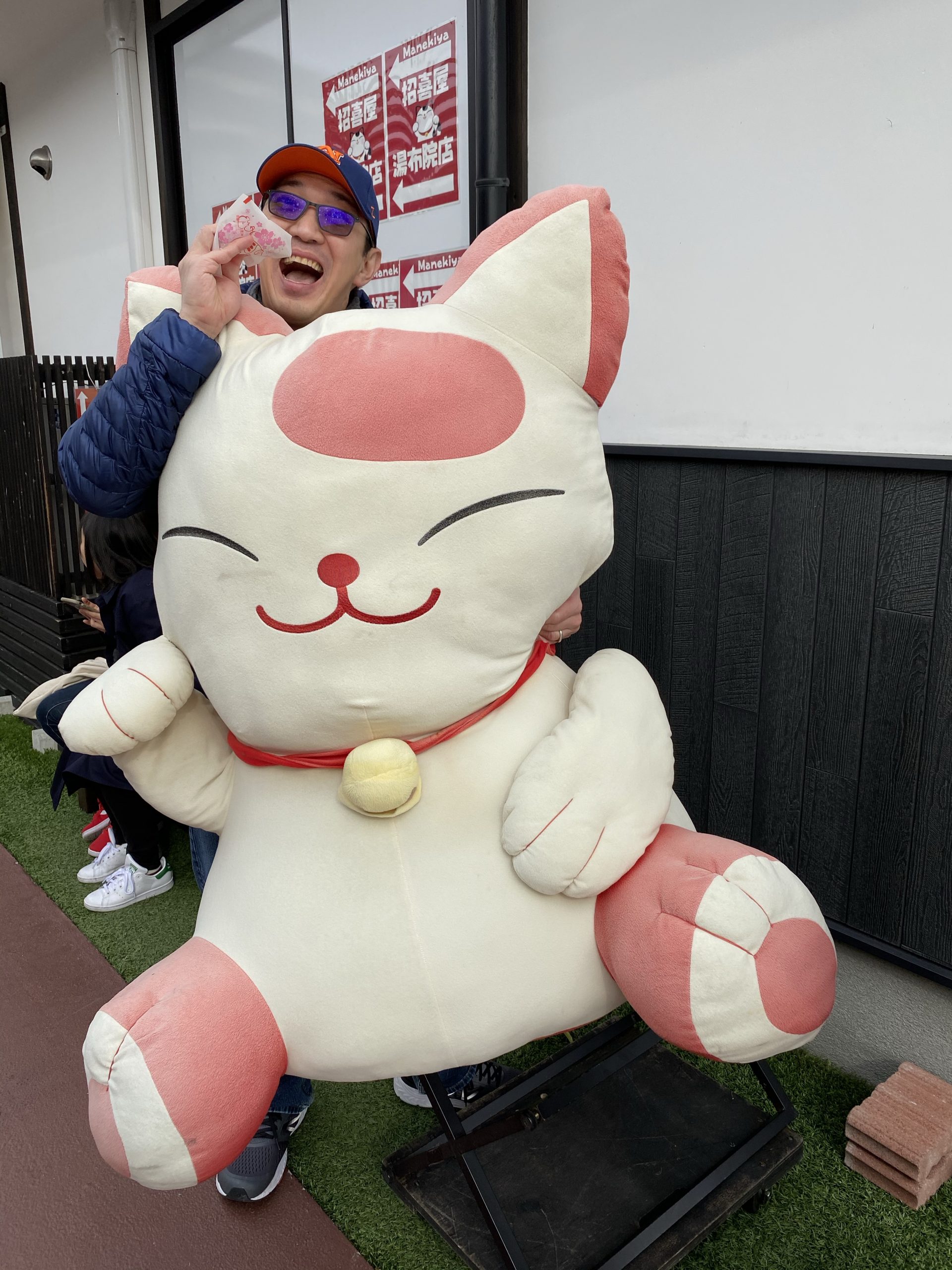 Shortly after, we find ourselves on the same busy tourist street that we were on yesterday, so we decided to take a detour along a beautiful stream. It was very Japanese.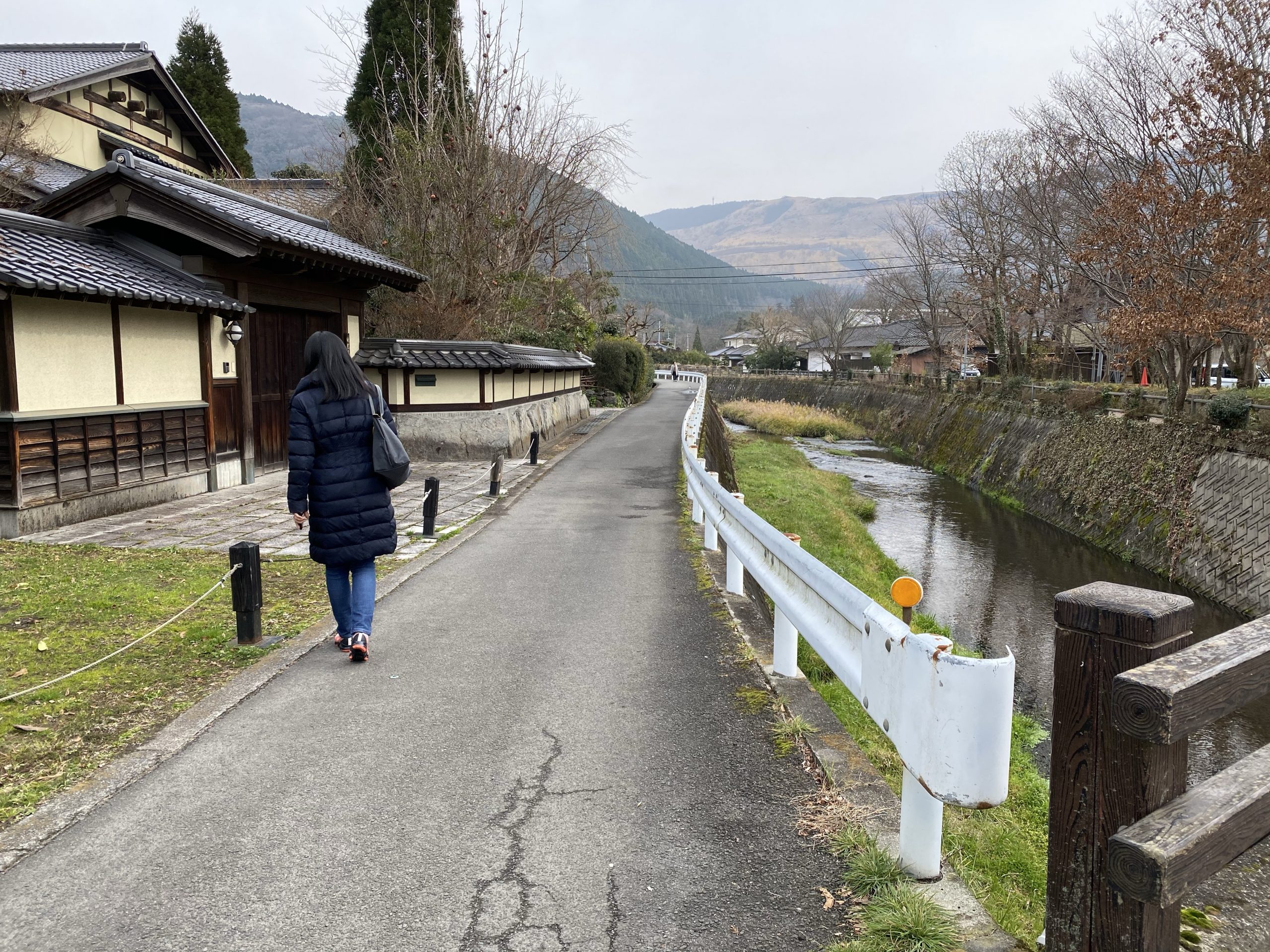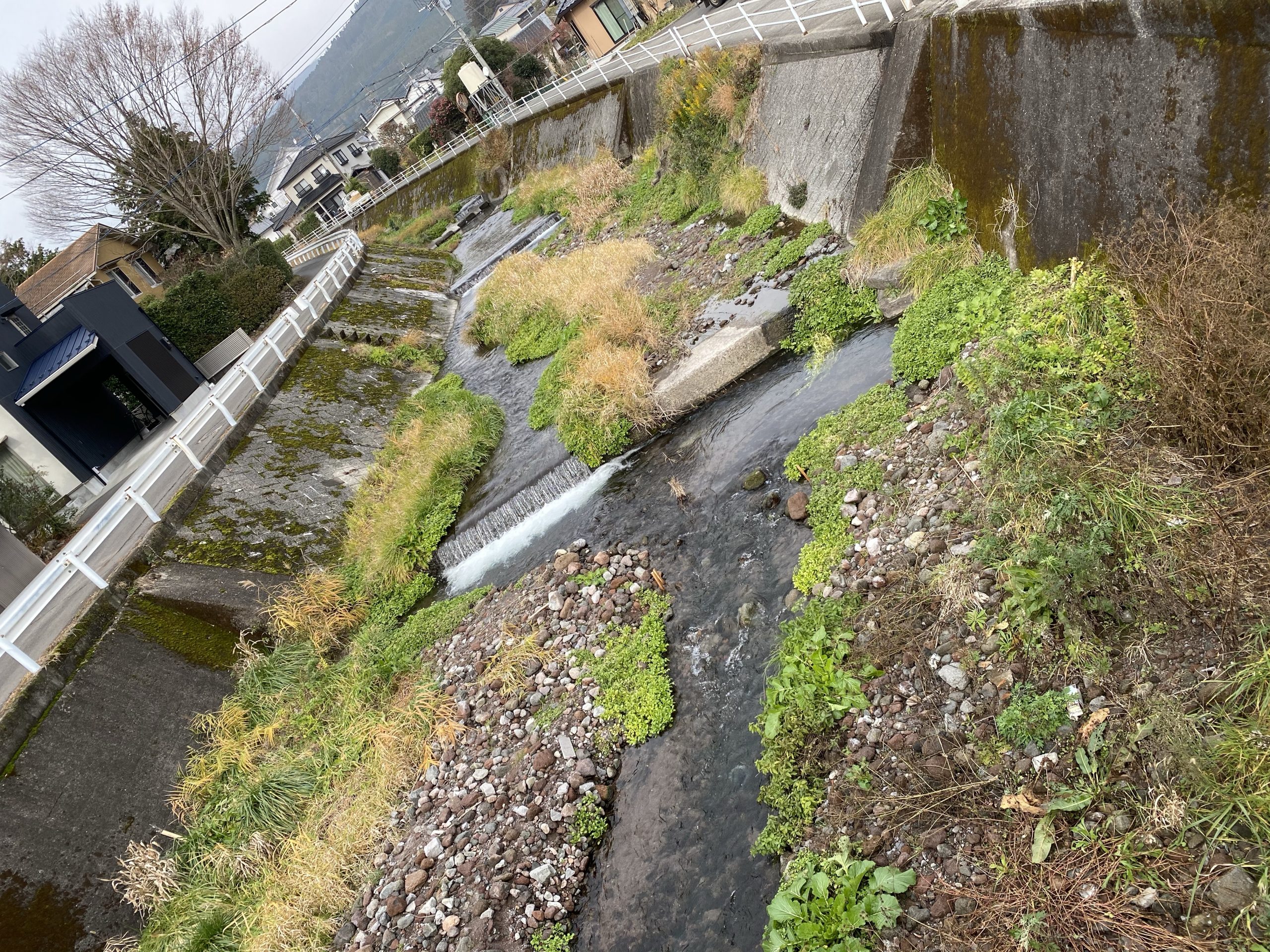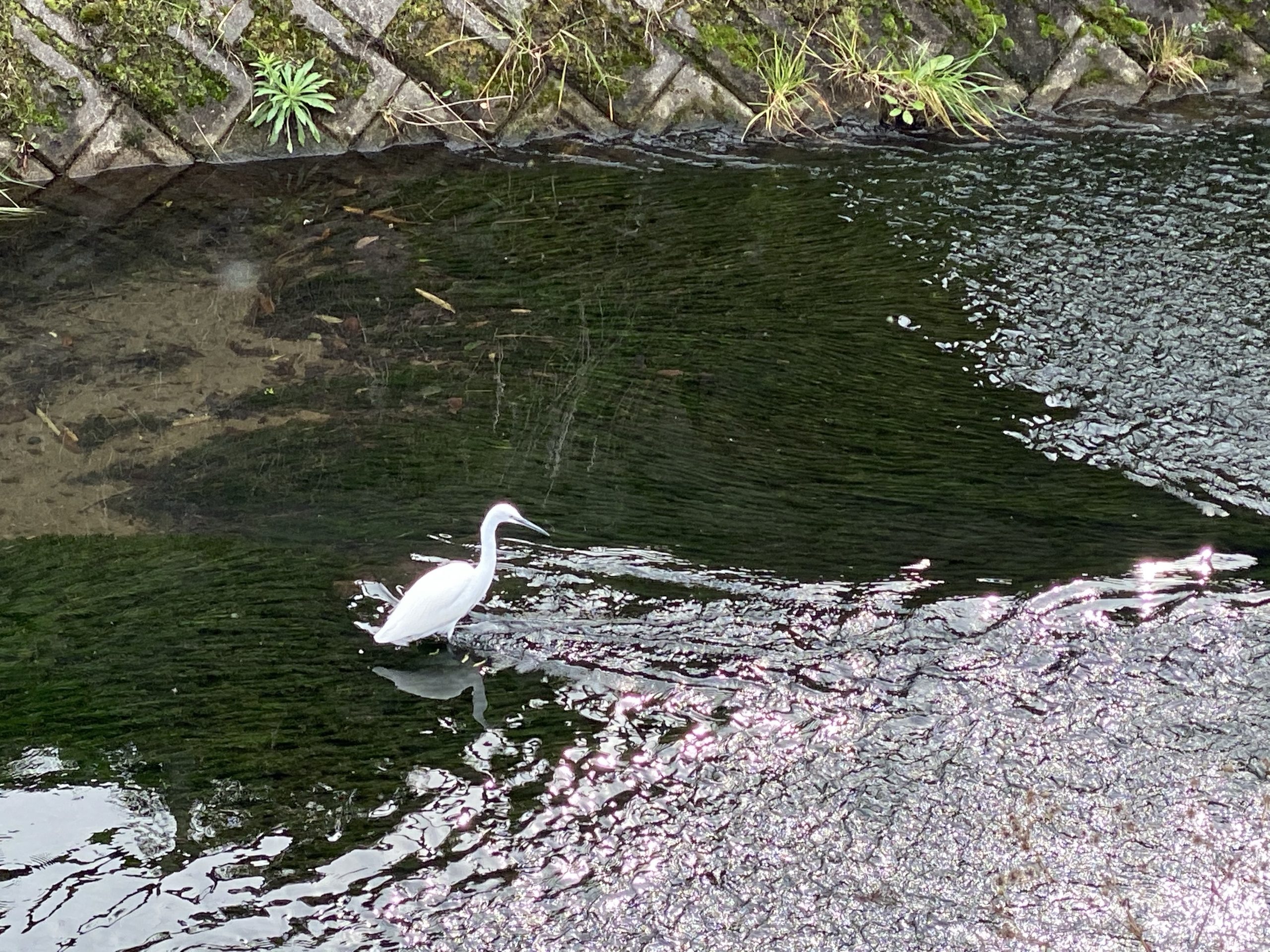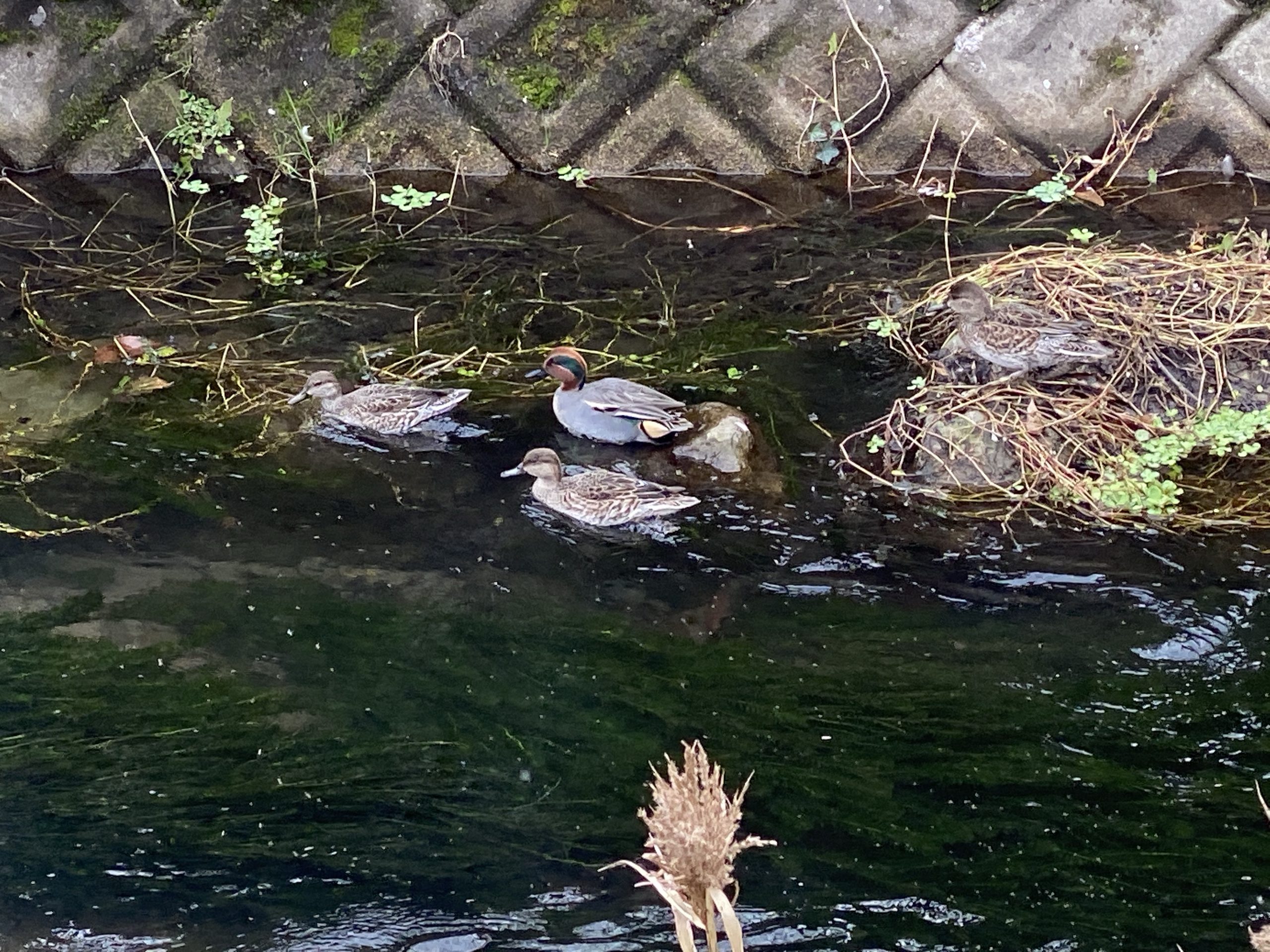 When we arrived at the Kinrin lake, it was a little bit disappointing. It is just a small lake, there doesn't seem to be very special about it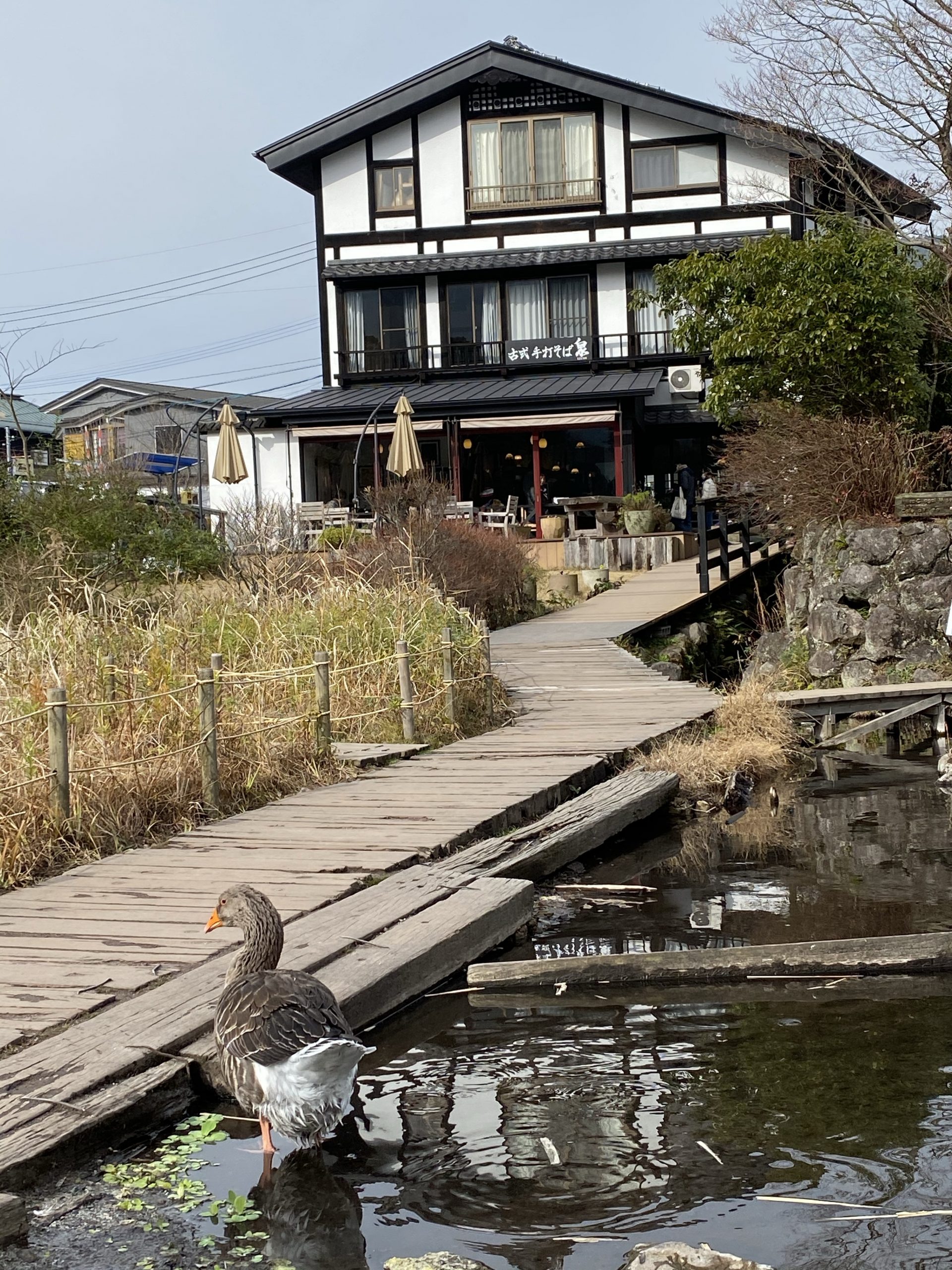 Kirin lake doesn't seems pretty special until I saw all the fish gathering near this one point. I was wondering why, until I touch the water.. and it was warm. So it seems that there are a lot of warm water run off here to this lake and the fish likes it.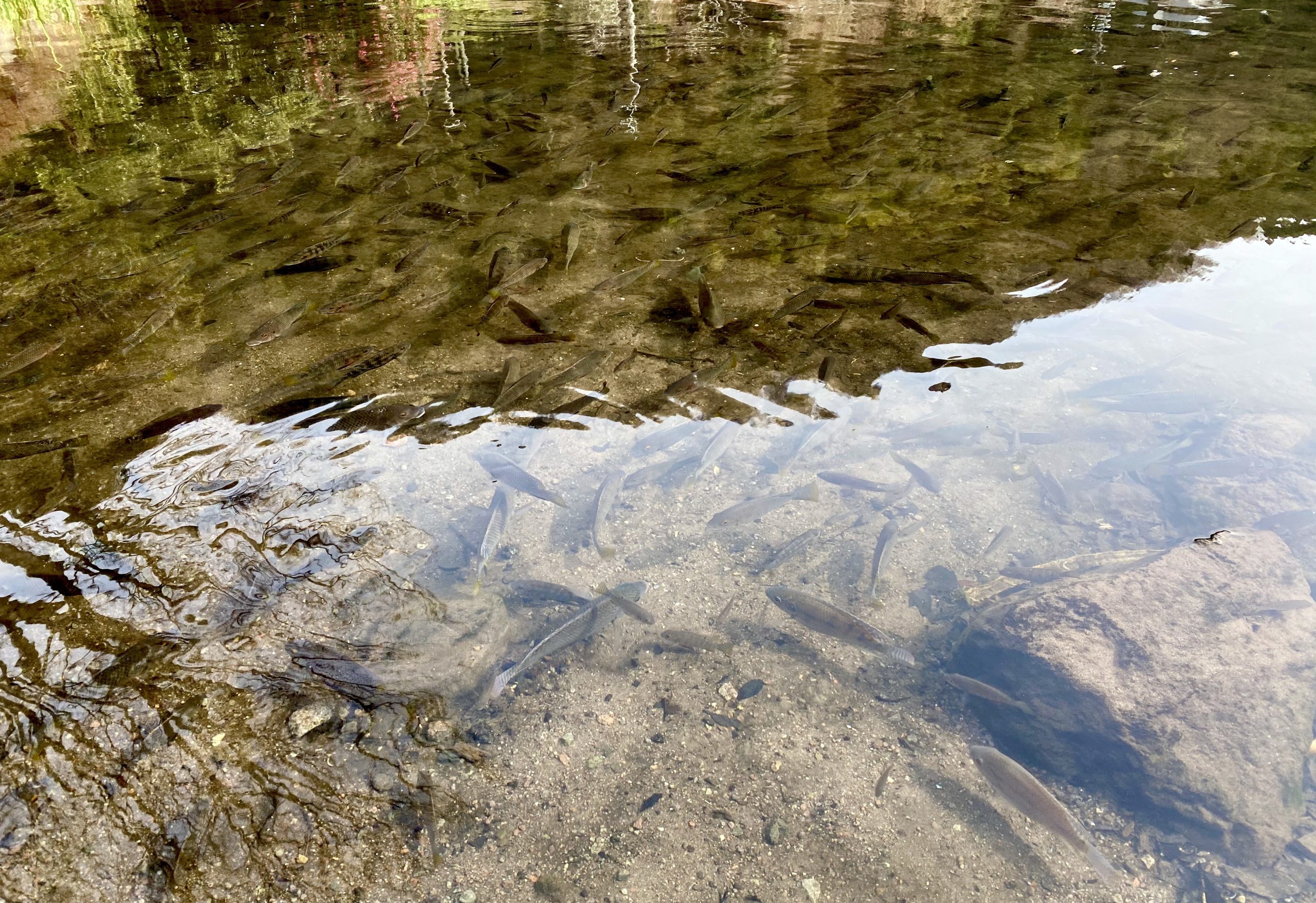 The walk back from the lake to the bus station we grabbed some sandwiches from the grocery store and ready for our trip to Kurokawa onsen.
The bus trip to Kurokawa was not too long, it was a little over an hour, but during the bus ride we got to see some beautiful mountain sceneries.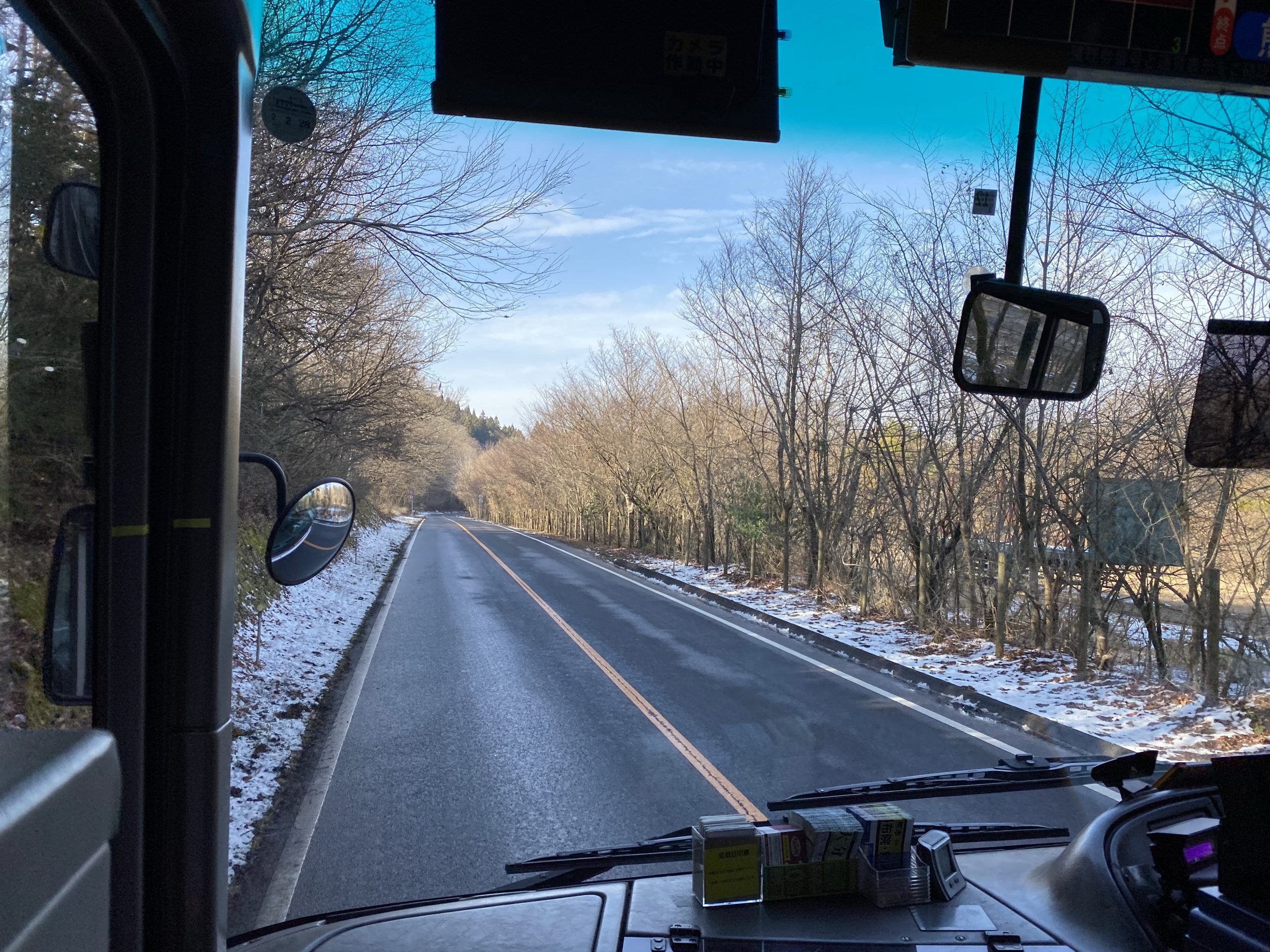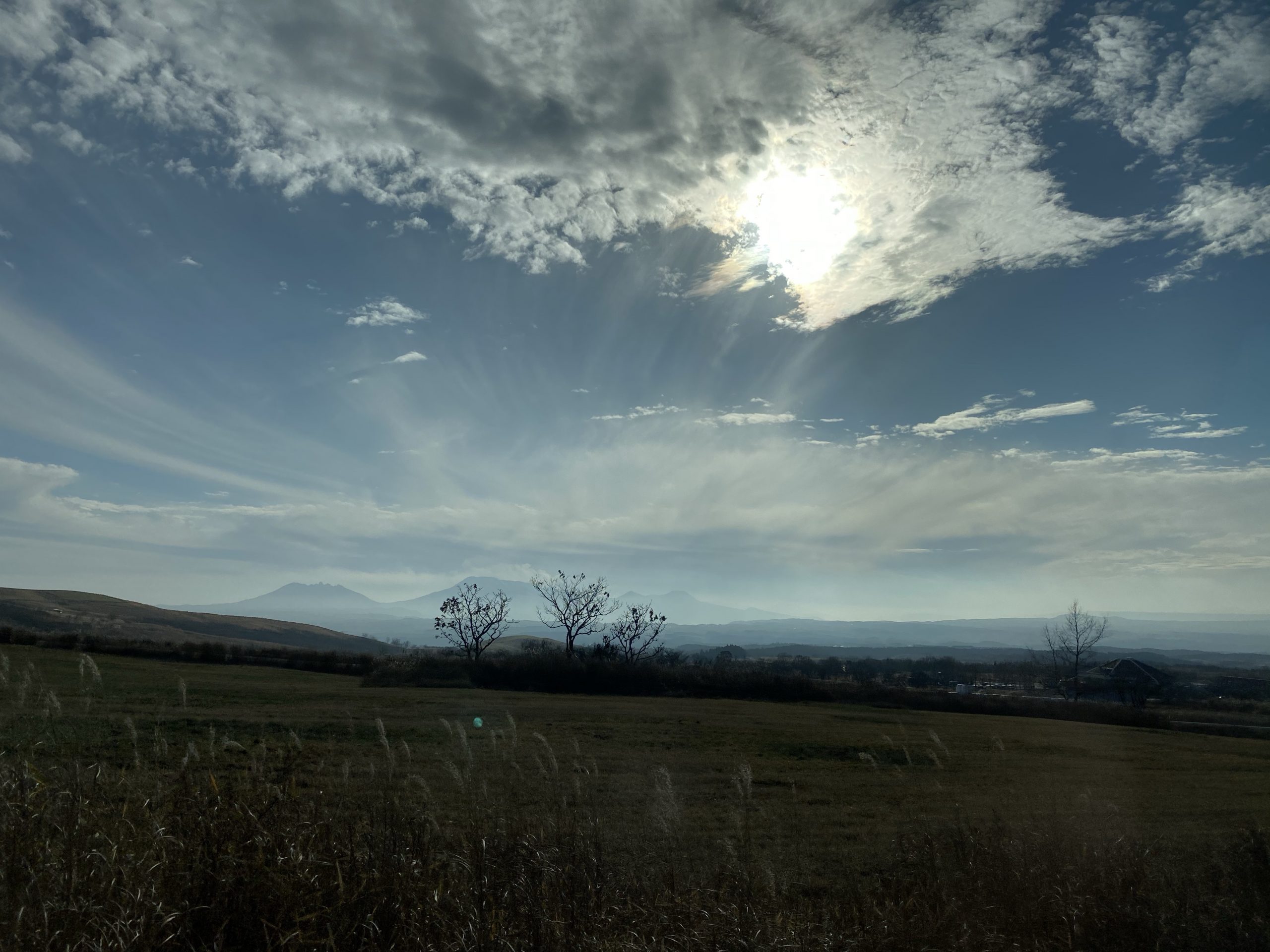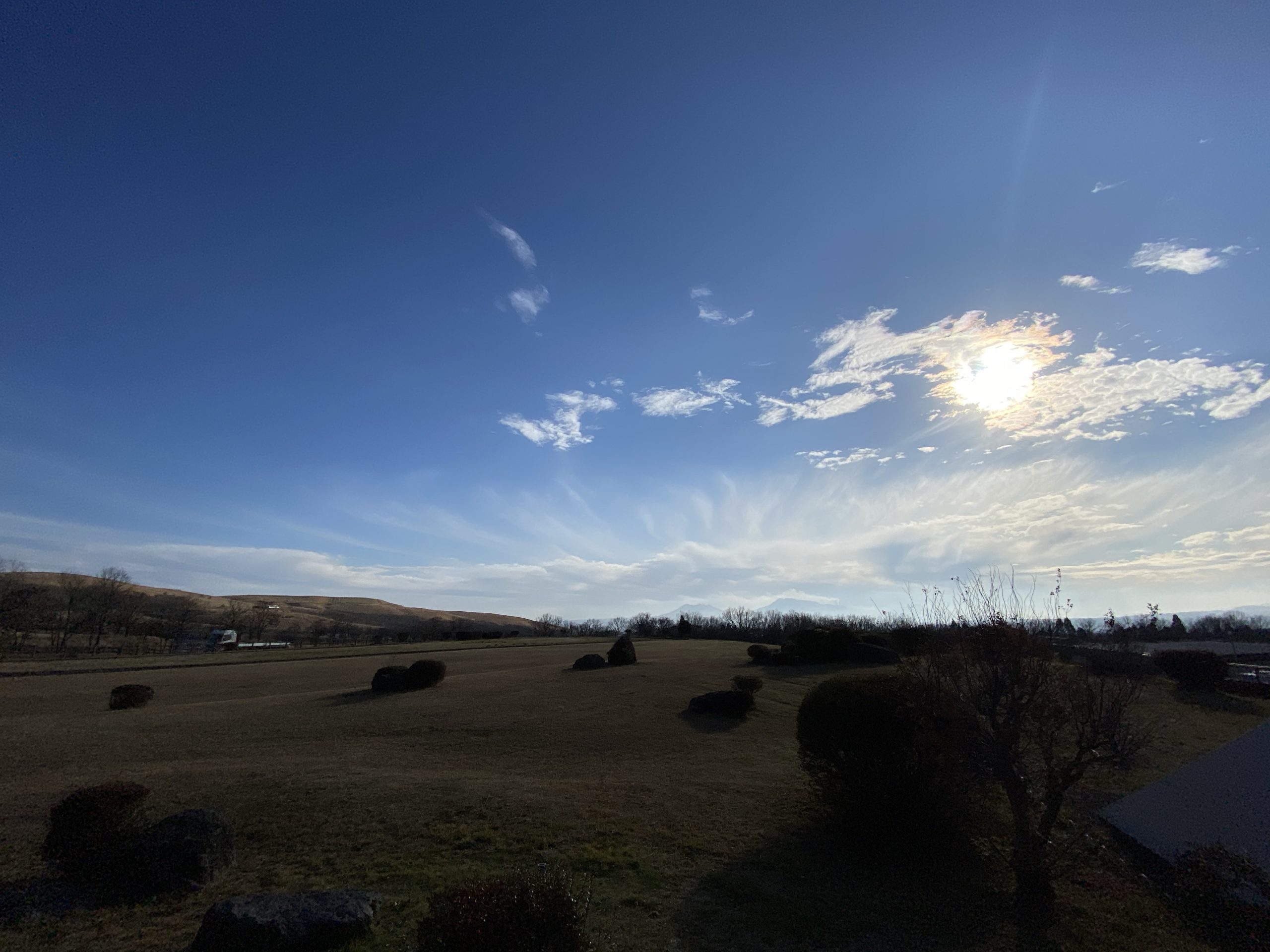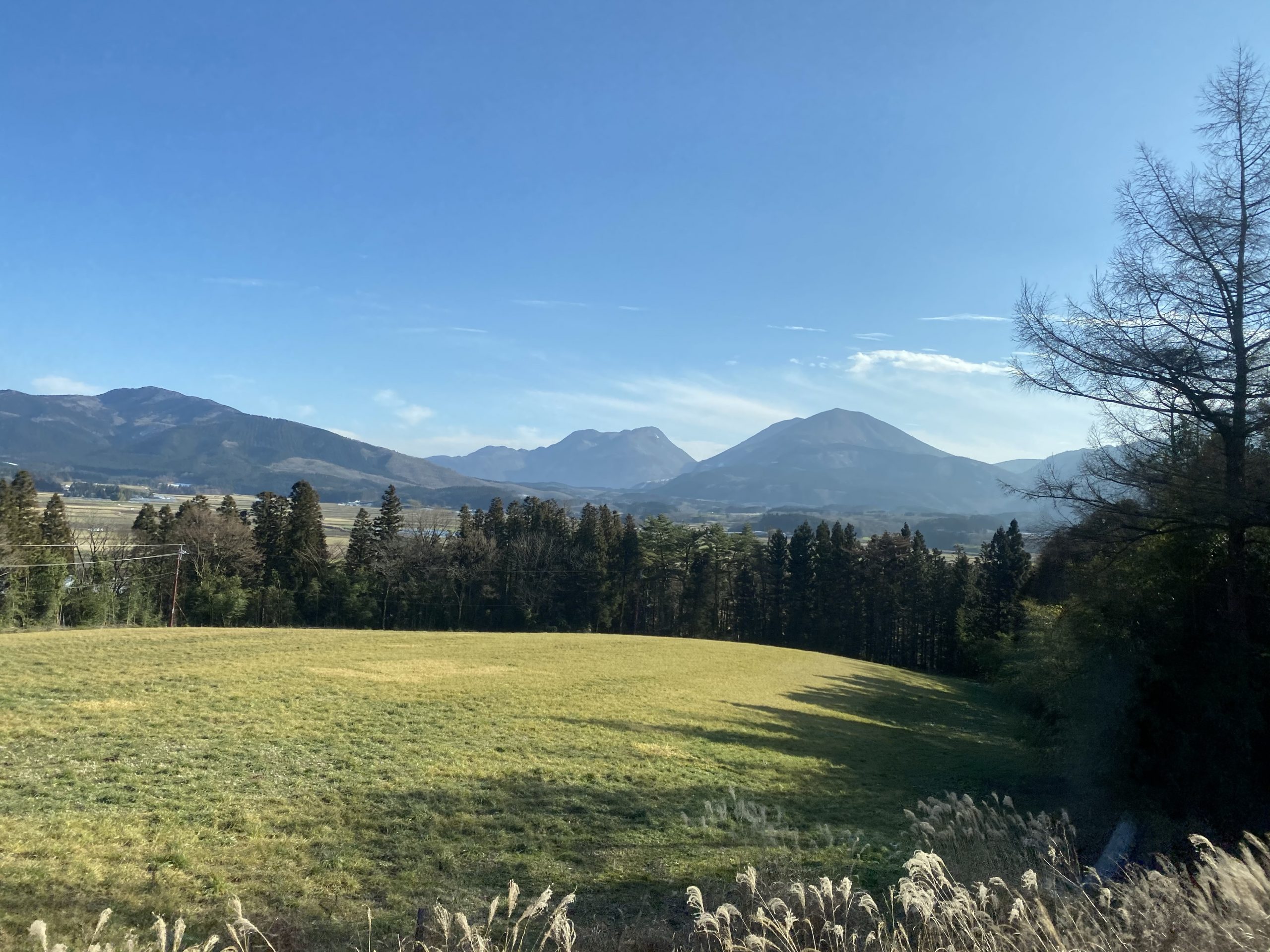 When we finally arrived, I find out that Vicky has arranged for us another beautiful ryokan. This one however is over 40+ years old and is one of the top 5 onsen ryokans. Arriving there was a very special charm different from the last ryokan.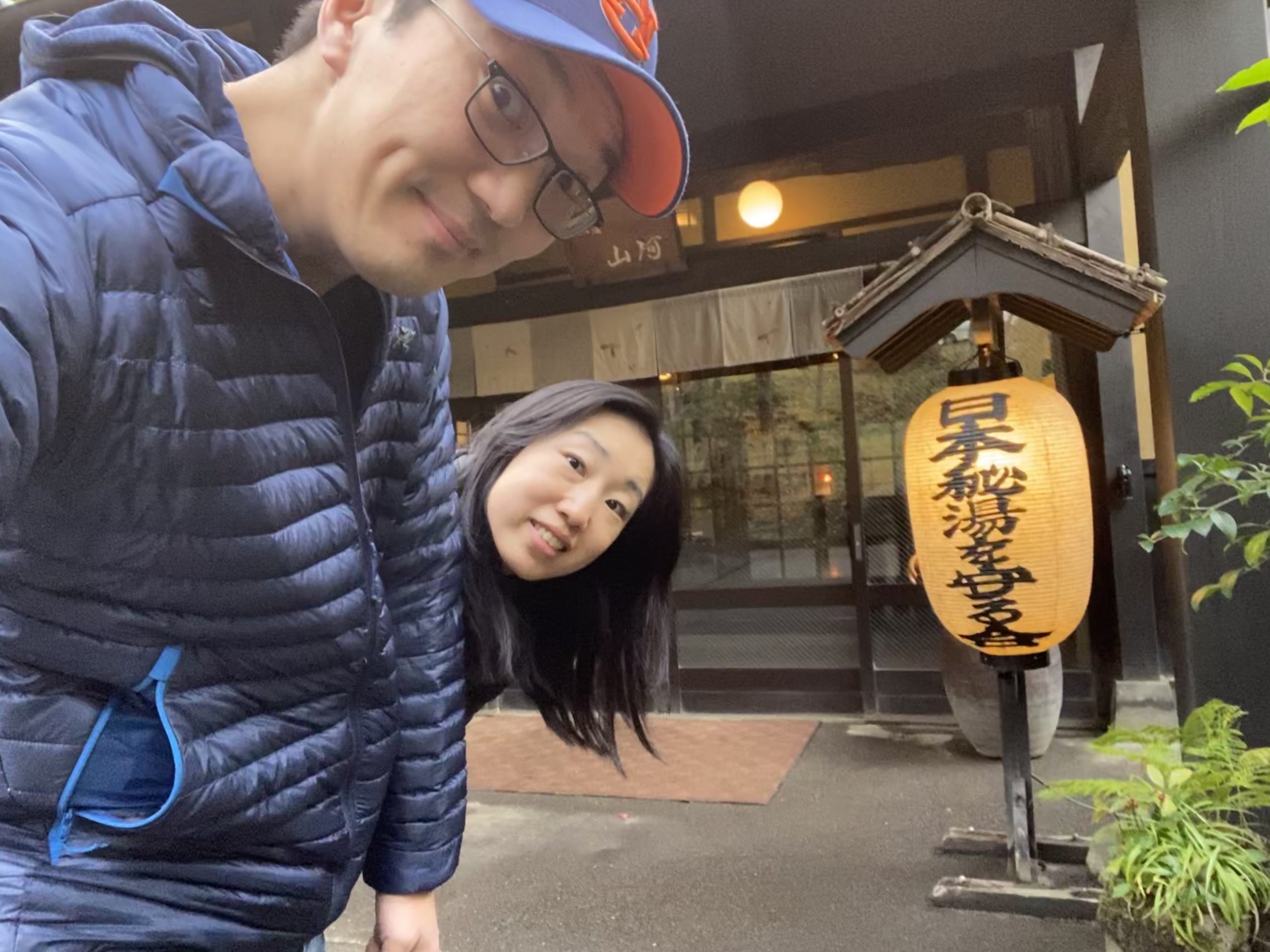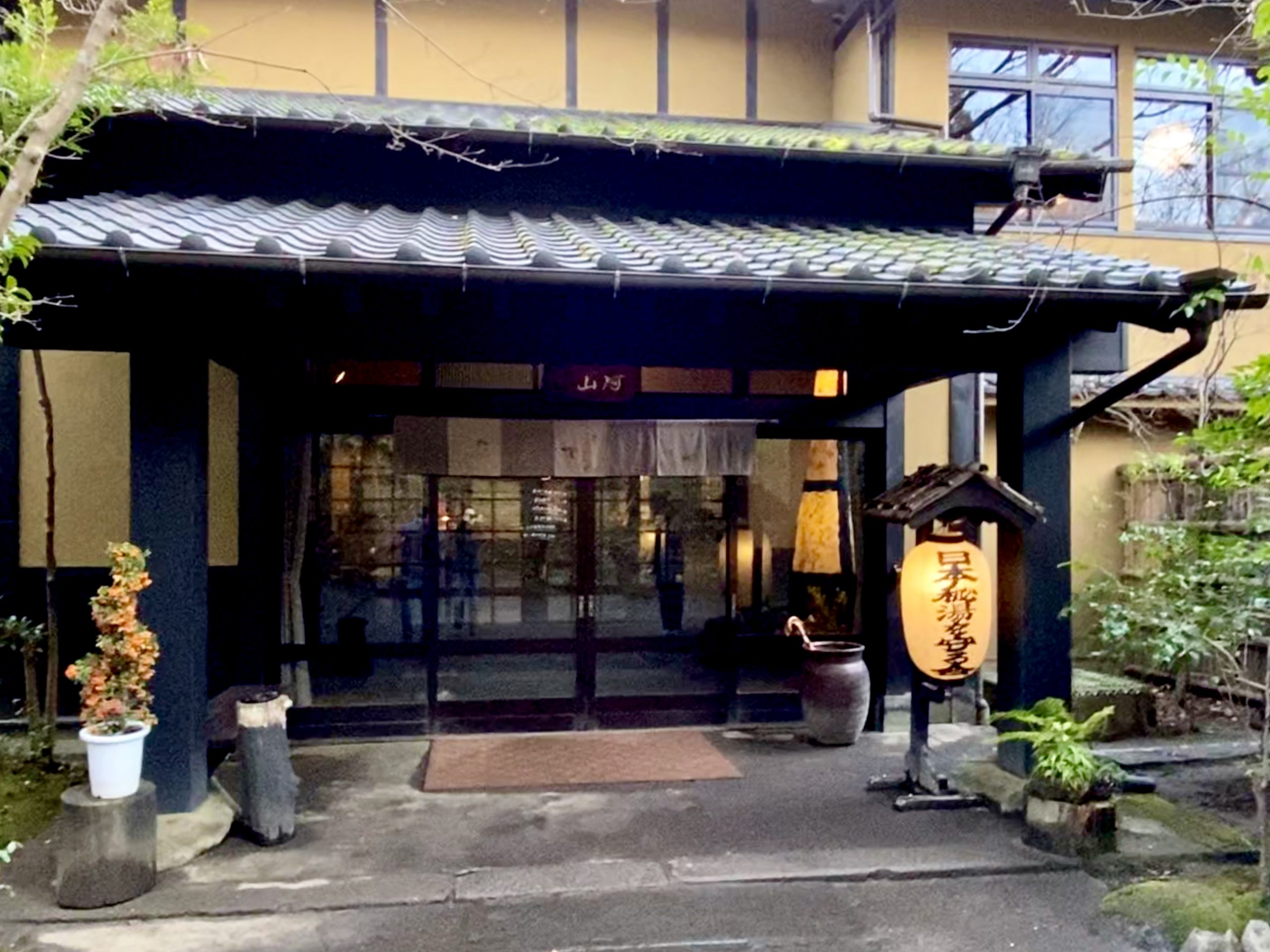 The check in was pretty smooth and easy, and they even gave us few welcome gifts. Once we are in our room, they prep us with some traditional tea and desserts. The room was smaller than the last place, but it was very cozy.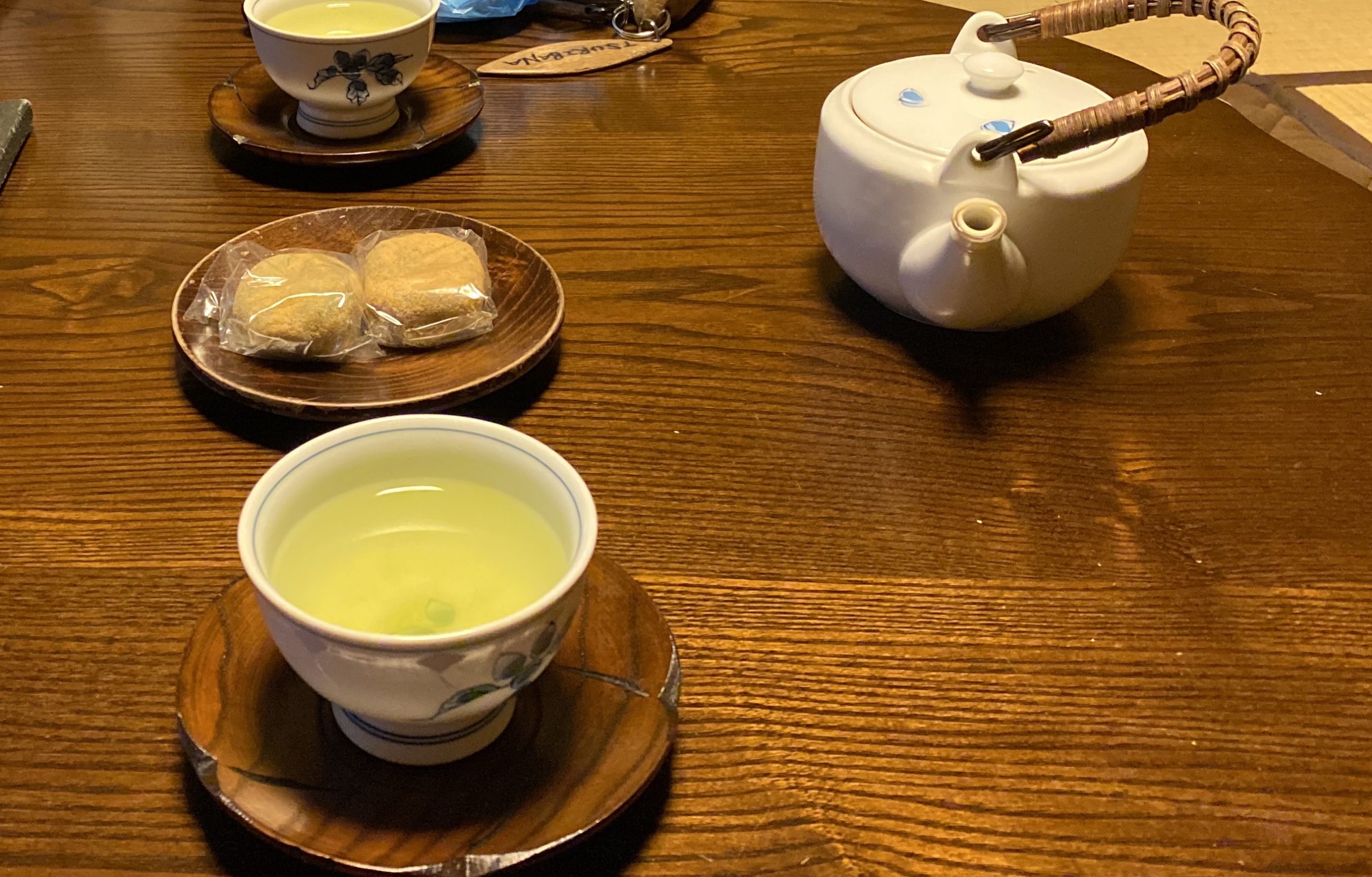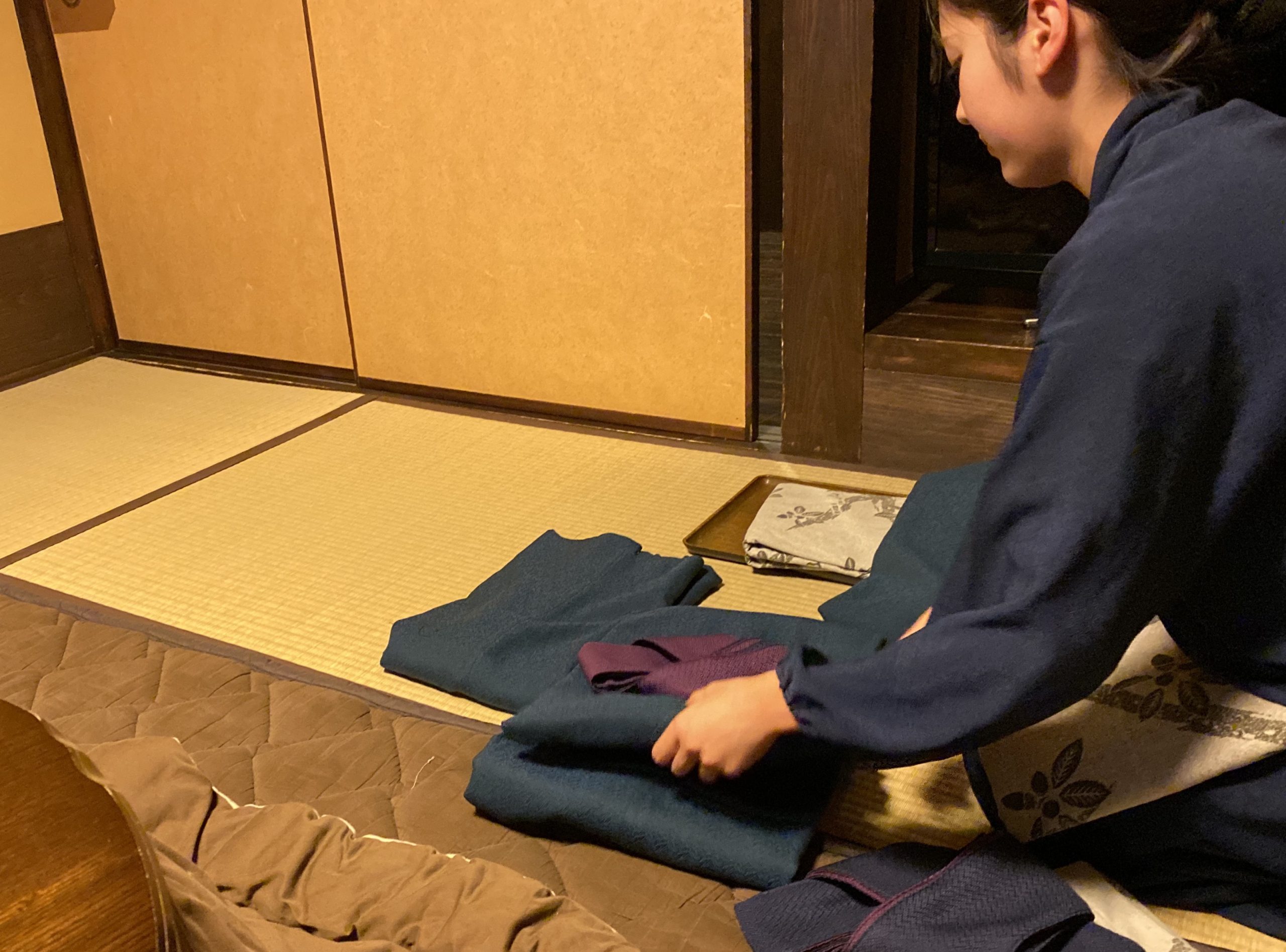 Of course when we are at a place with Onsen in it's name we got to go and immediately check out their onsen. So the town has over 30+ onsen there and our ryokan has multiple ones onsite as well. Some are indoors and some are outdoors. The first one we went to was a private onsen indoor. Even though there was already an onsen in our room, this private reserved onsen is just slightly bigger.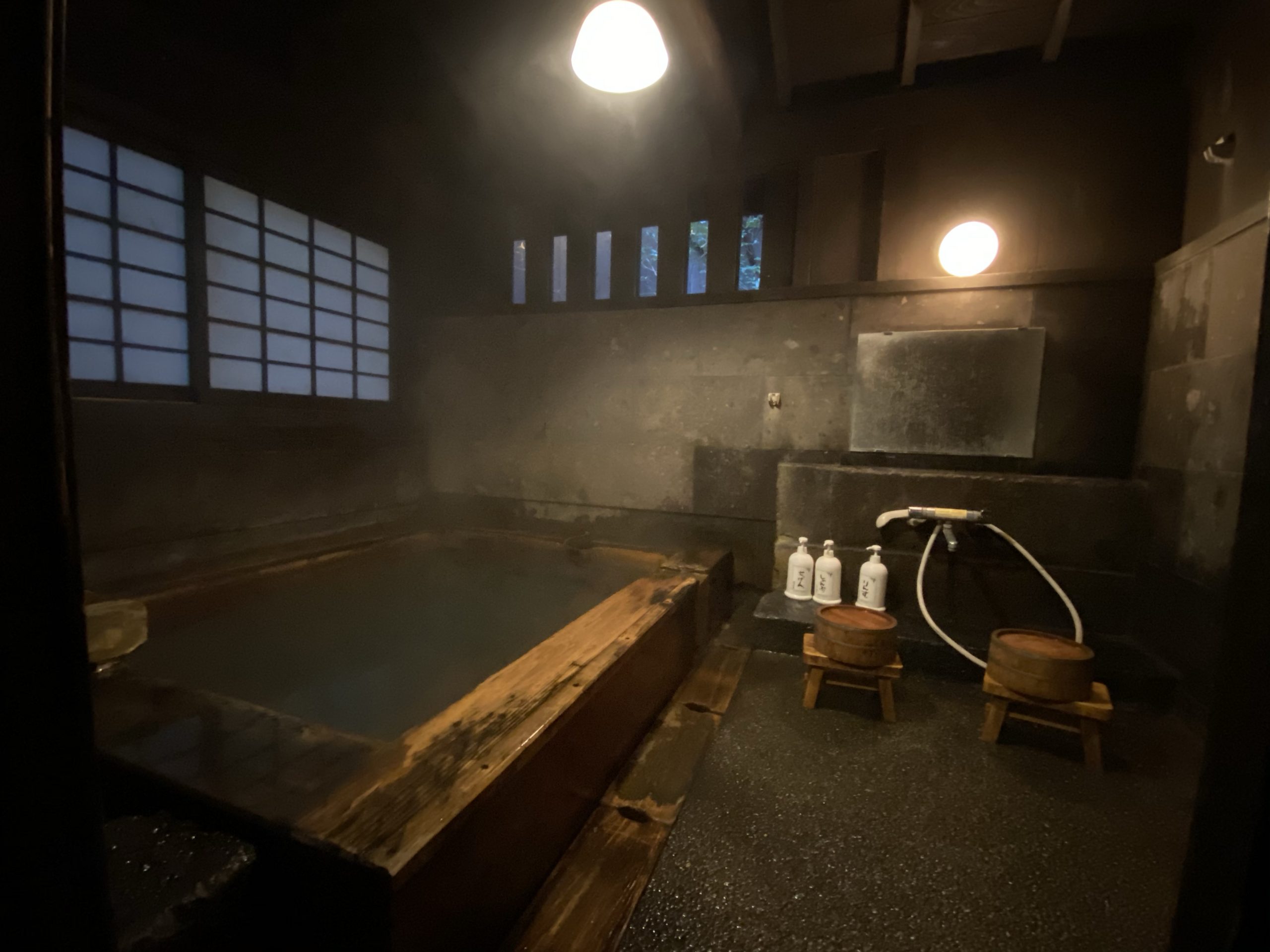 We also checked out there outdoor public onsen briefly. Funny thing is they have a women's only and then a mix onsen, but don't get too excited. The nice lady tells us ,during check in, the mix onsen is "mostly" men.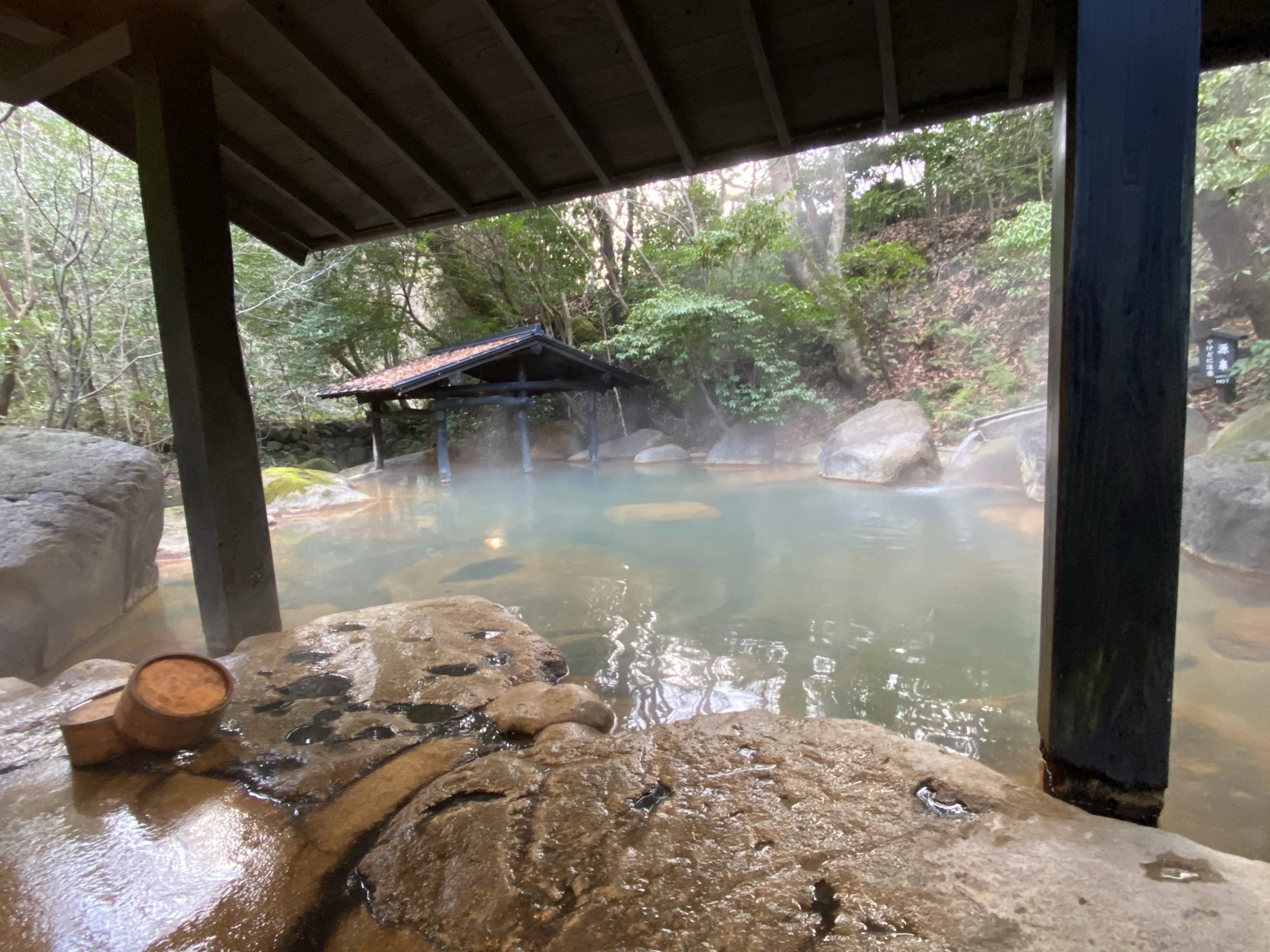 After our soak, we walked around our ryokan and it is just beautiful and relaxing.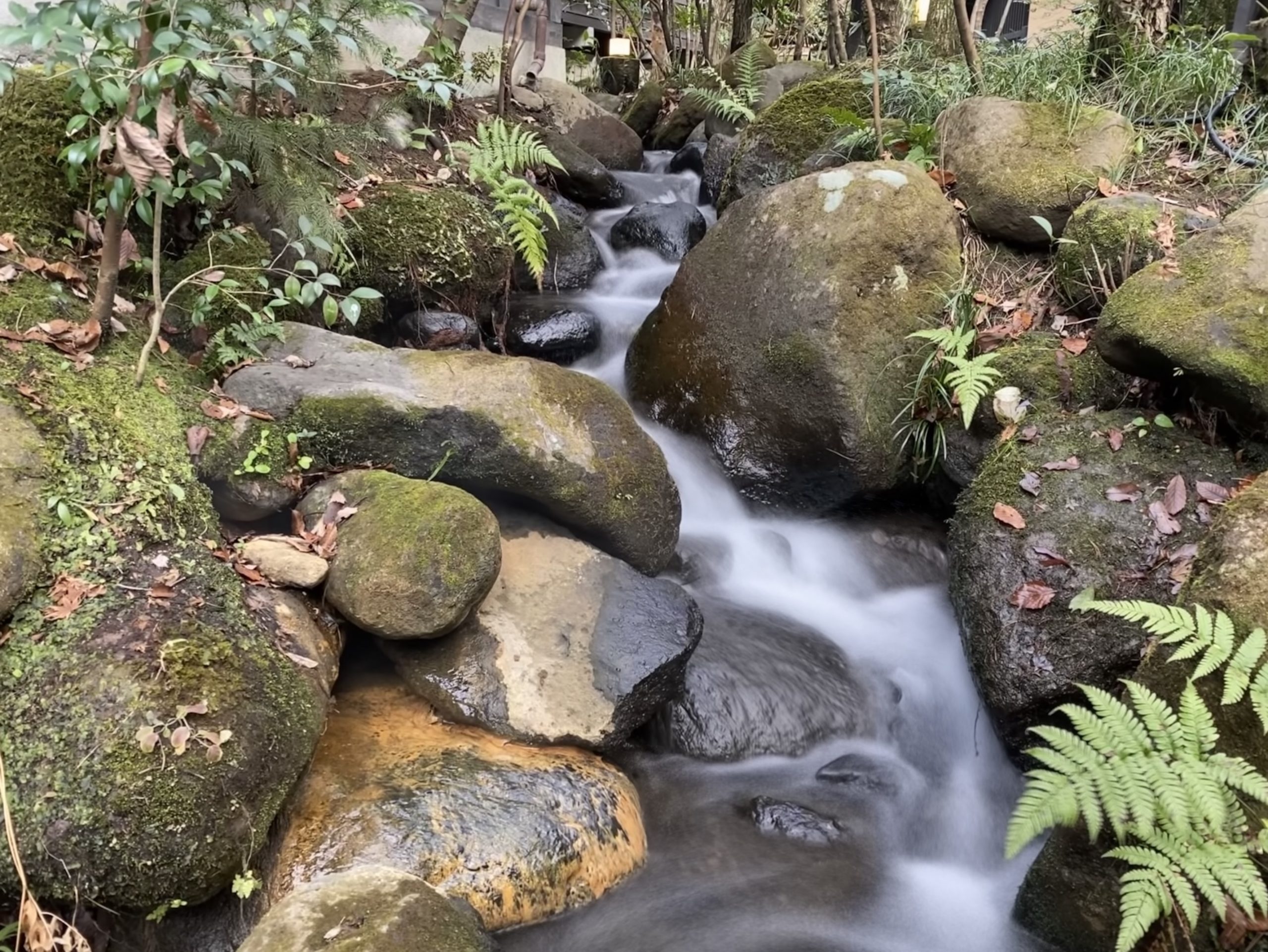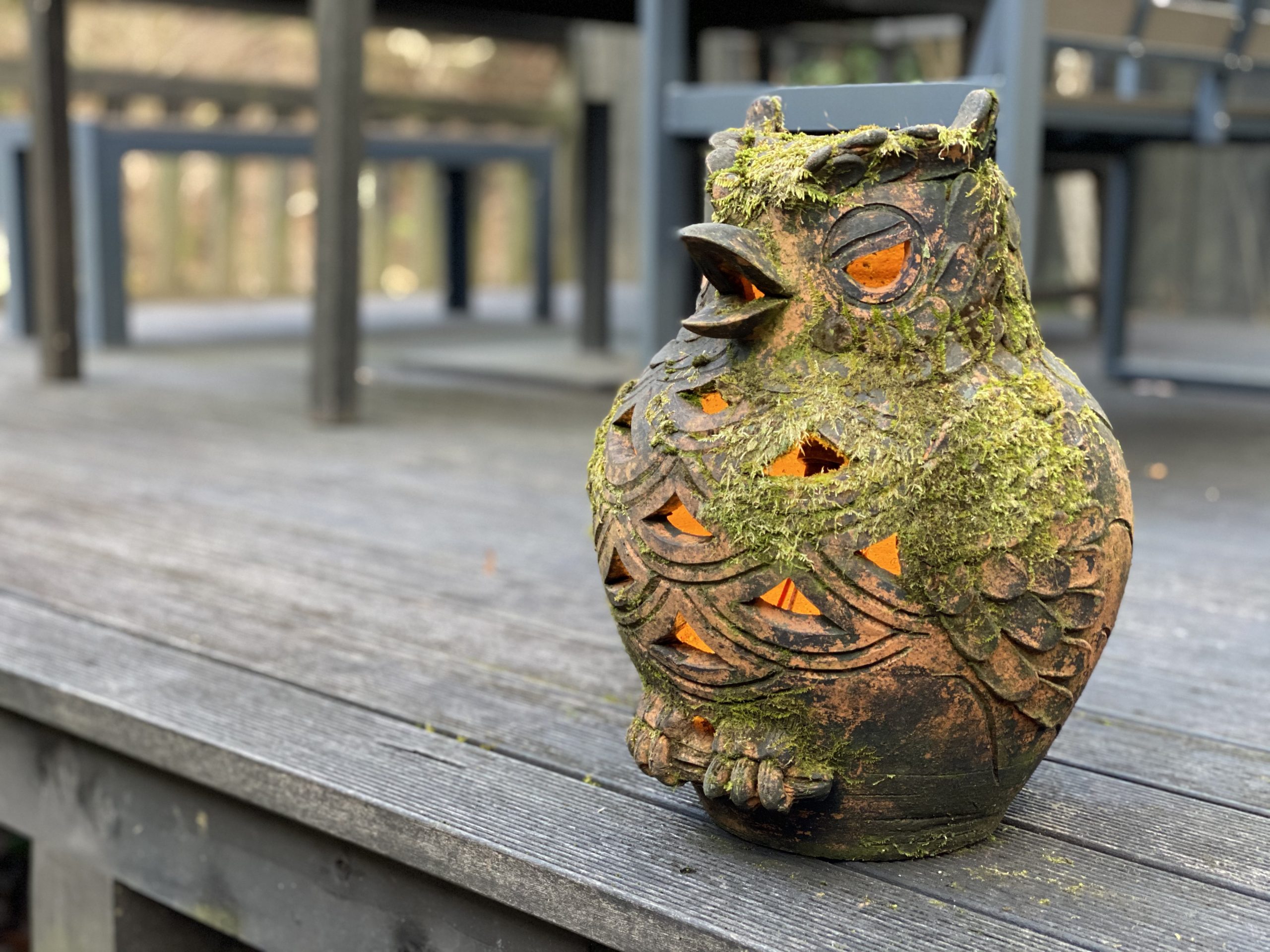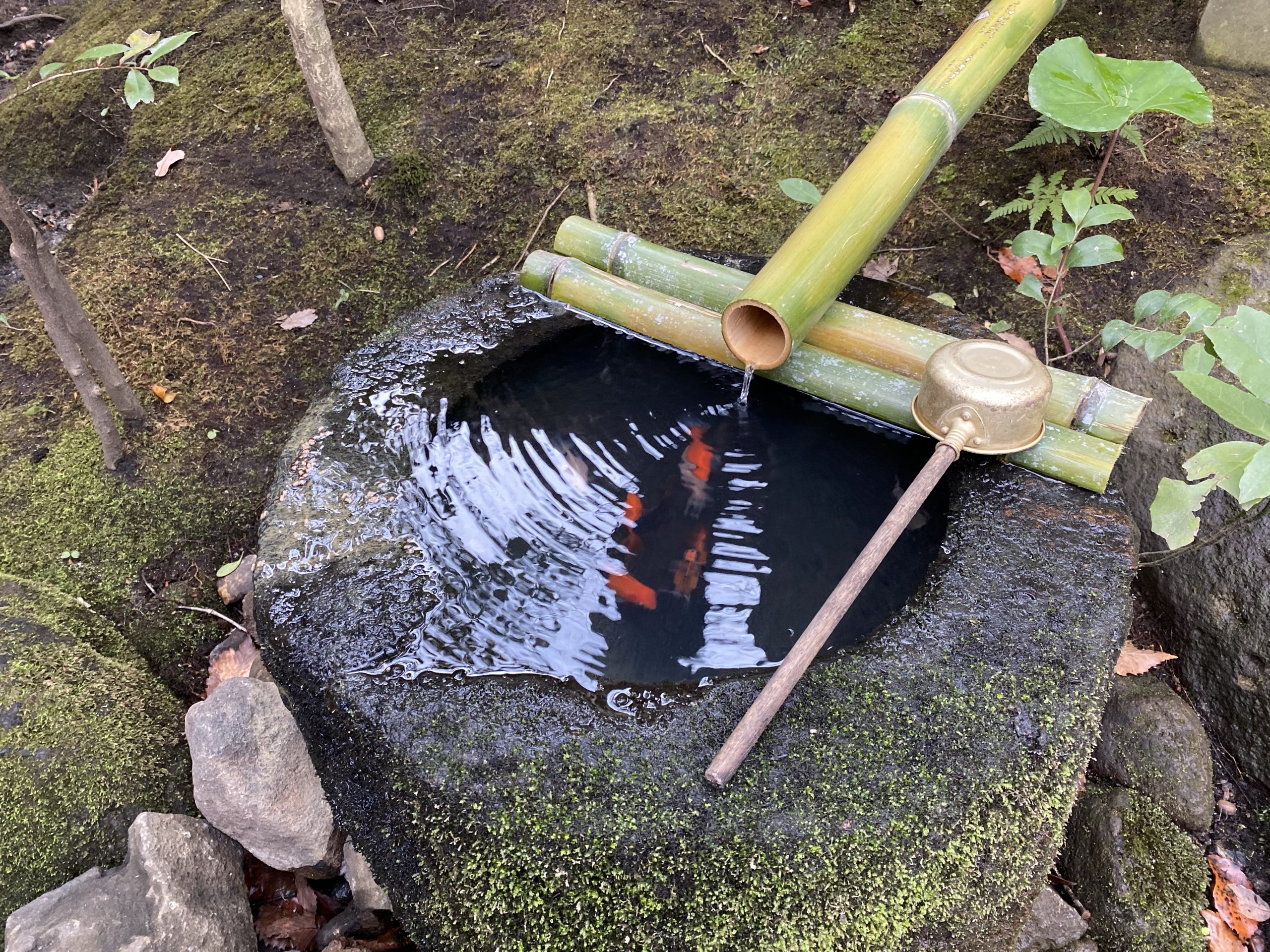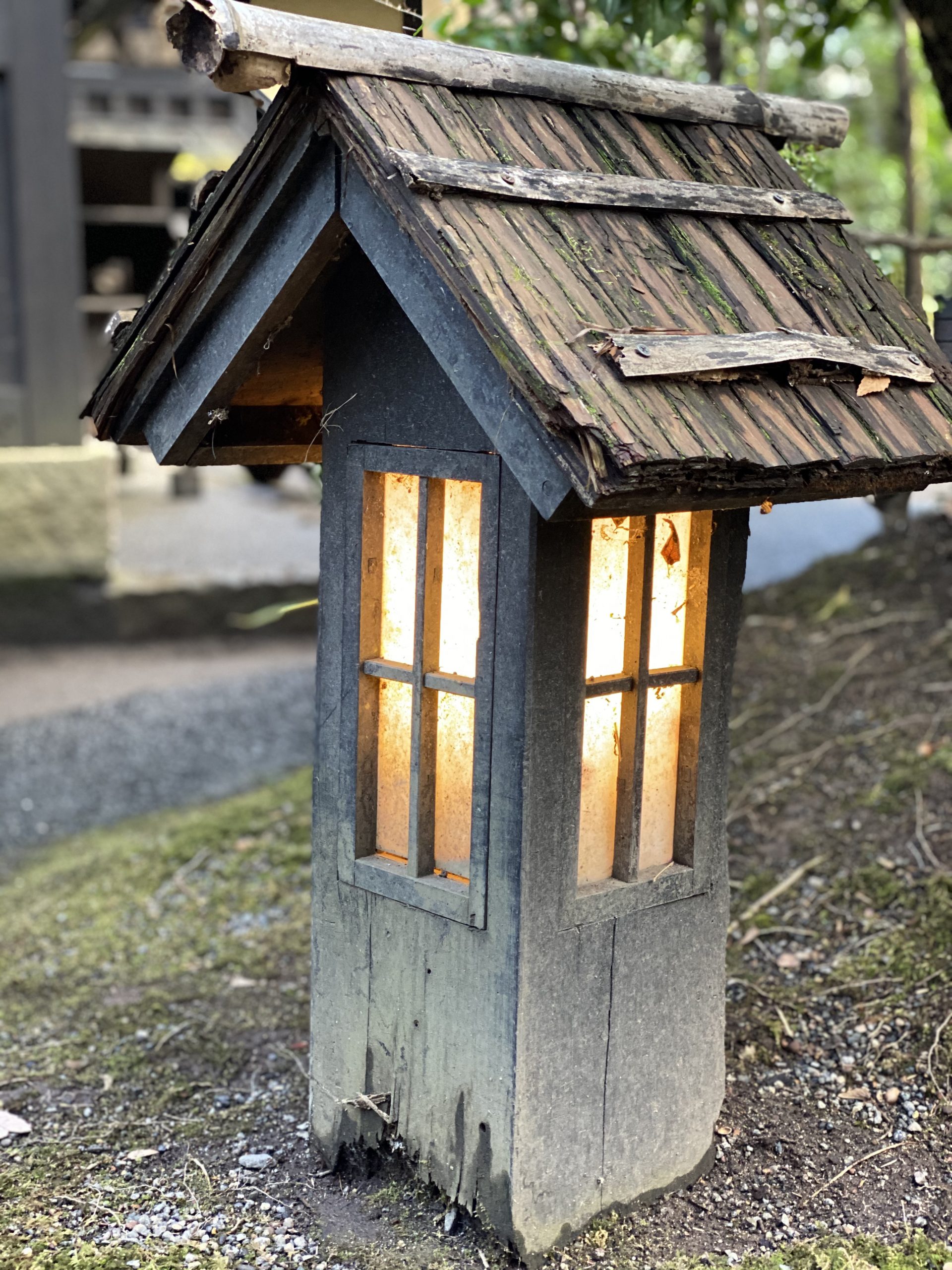 We relaxed a bit after our walk and soak and was ready for dinner. Dinner of course was another ryokan style multi course meal.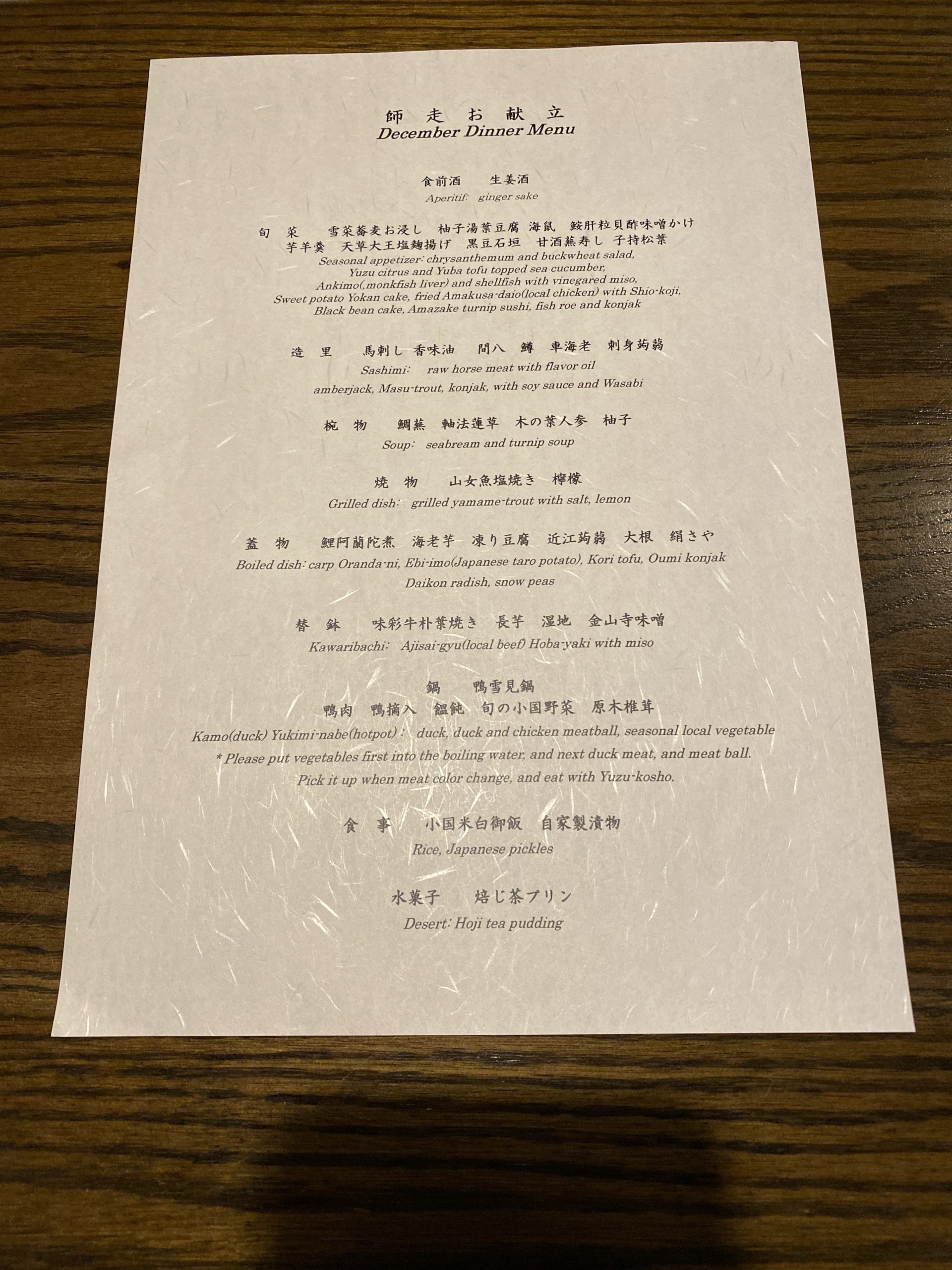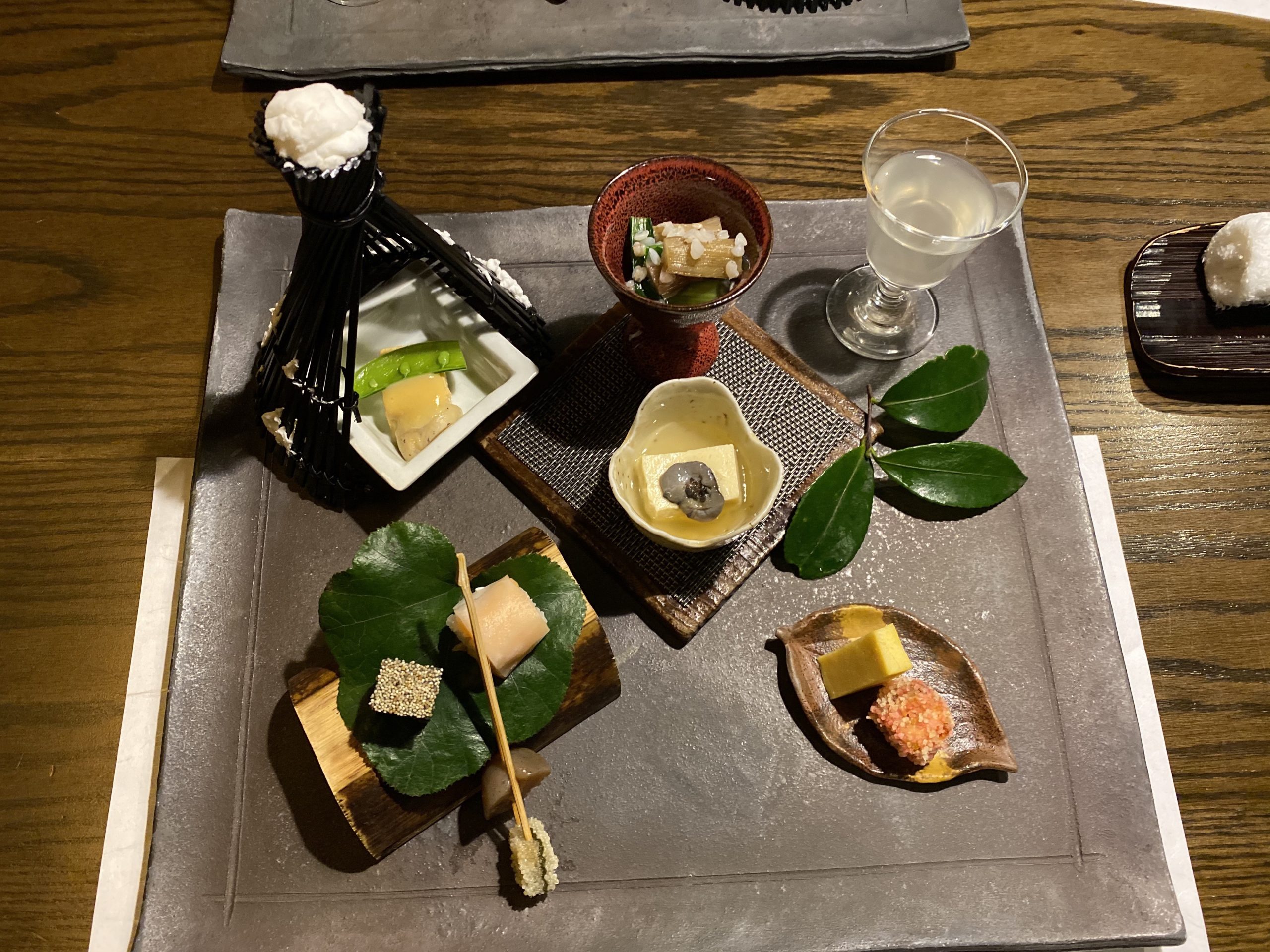 So for the first time in my life, I tried raw horse. It was not bad .. but I would not go out and actively look for horse sashimi.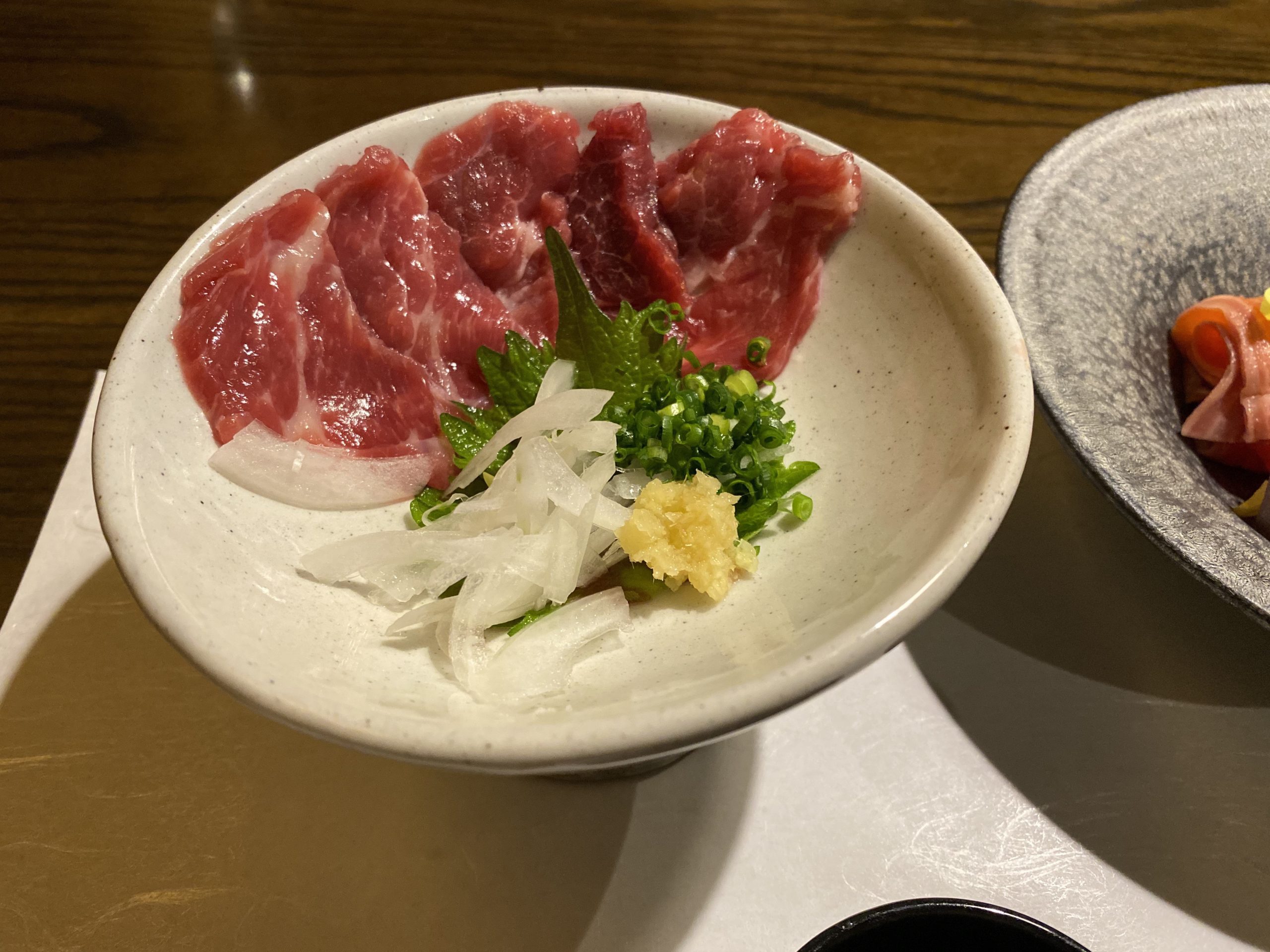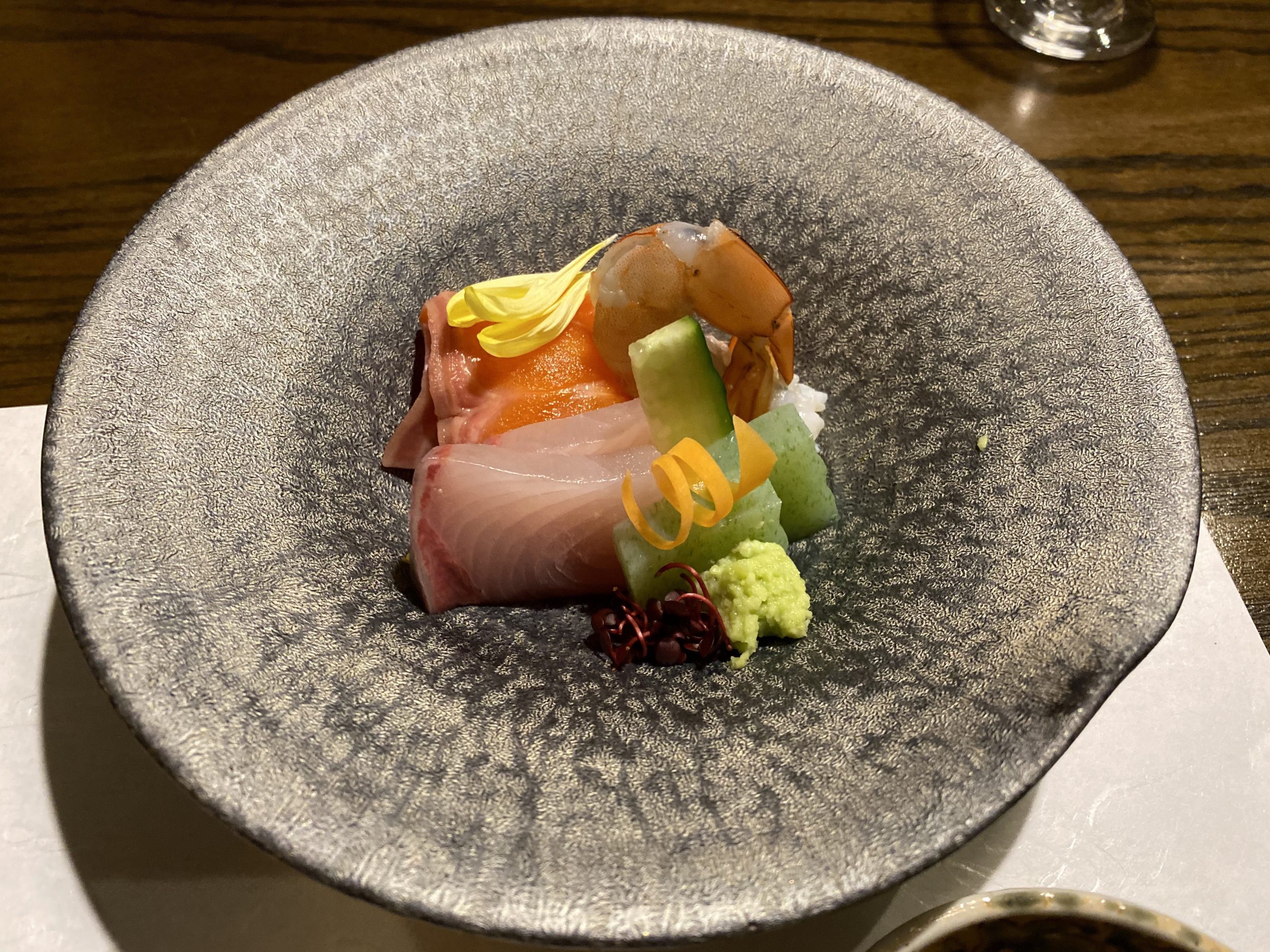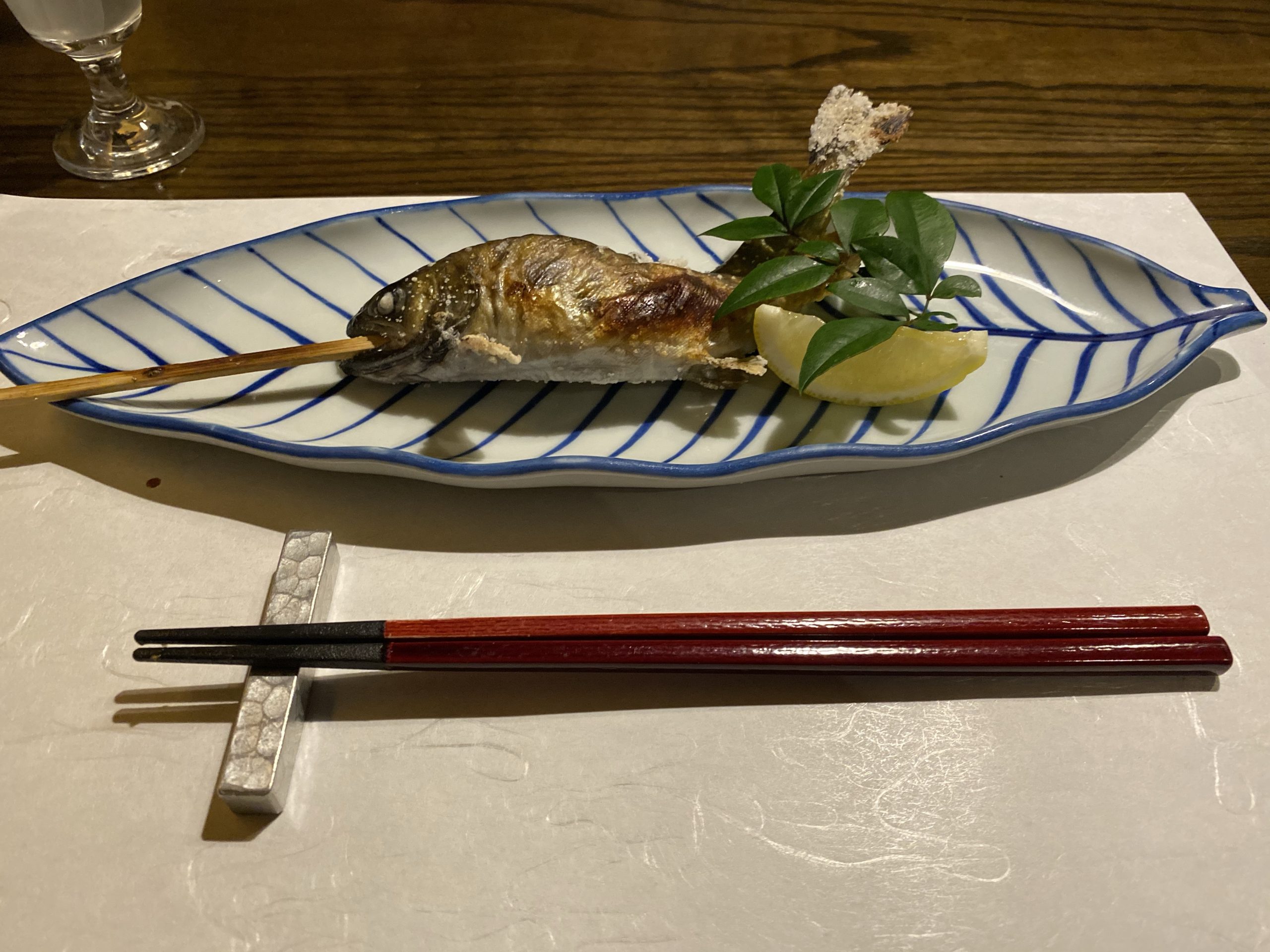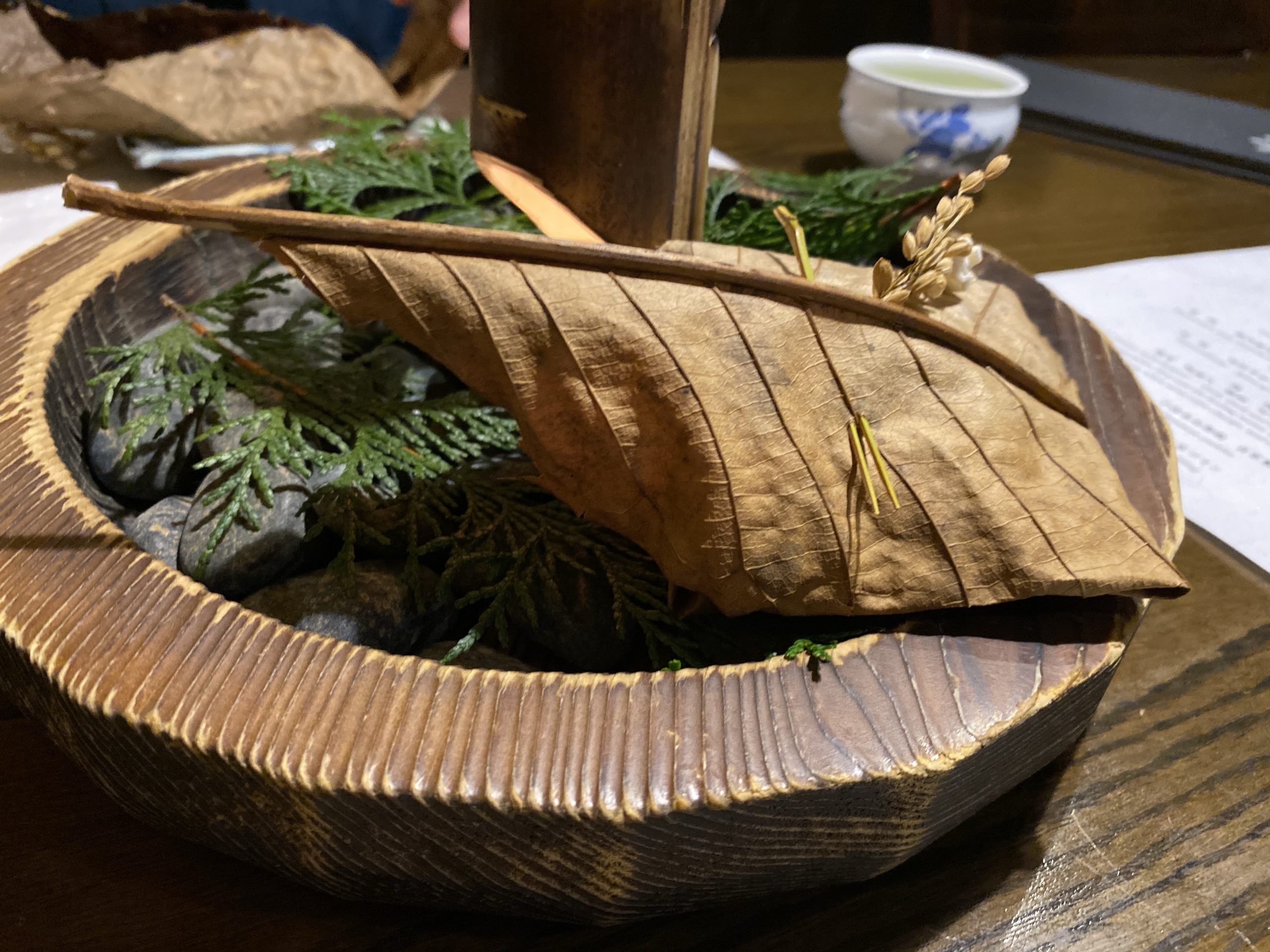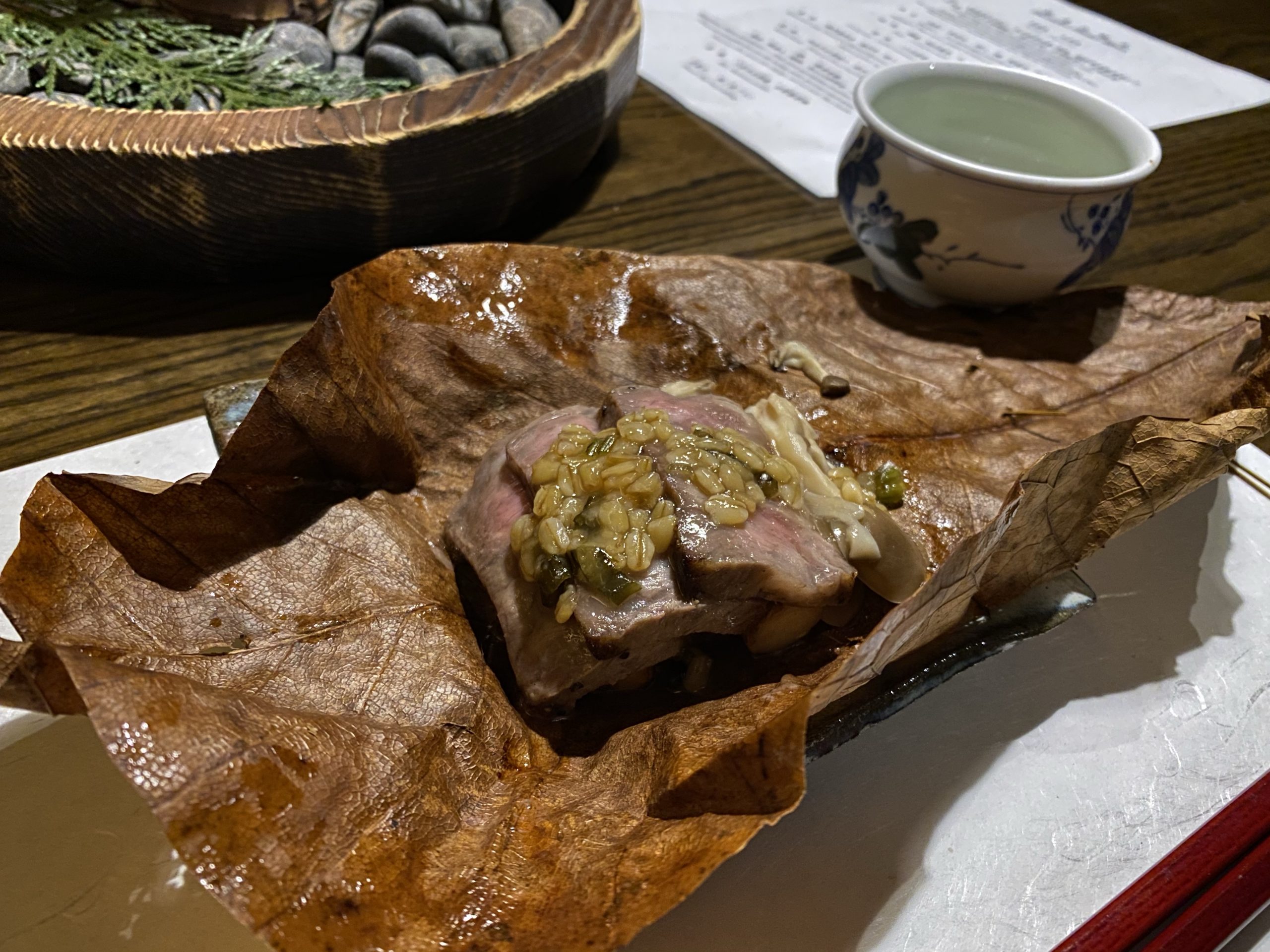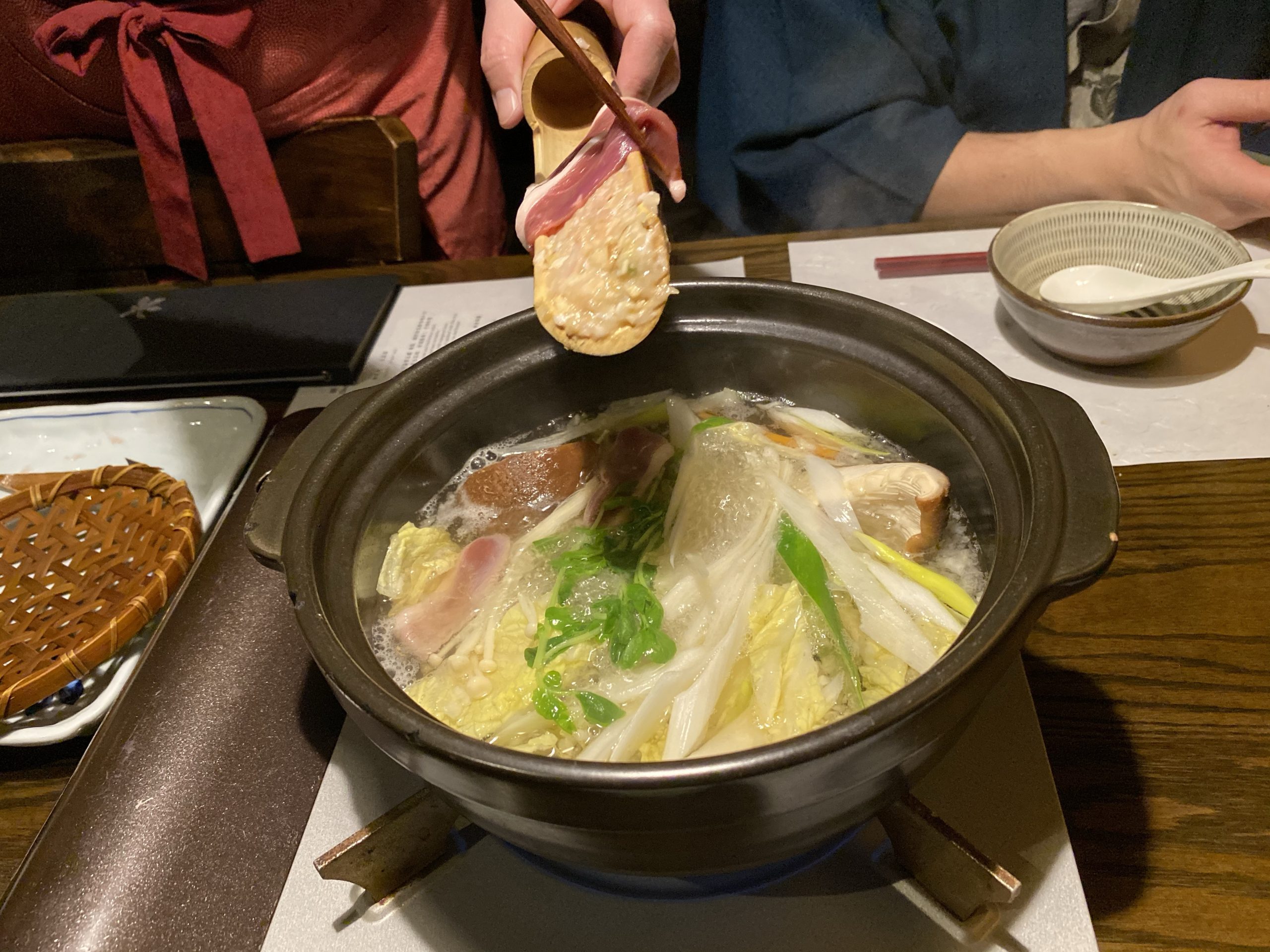 The duck hot pot was not too bad and it was just about perfect. We were pretty full by that time and the small rice and pickles that came afterward was almost just fillers just in case you were still hungry.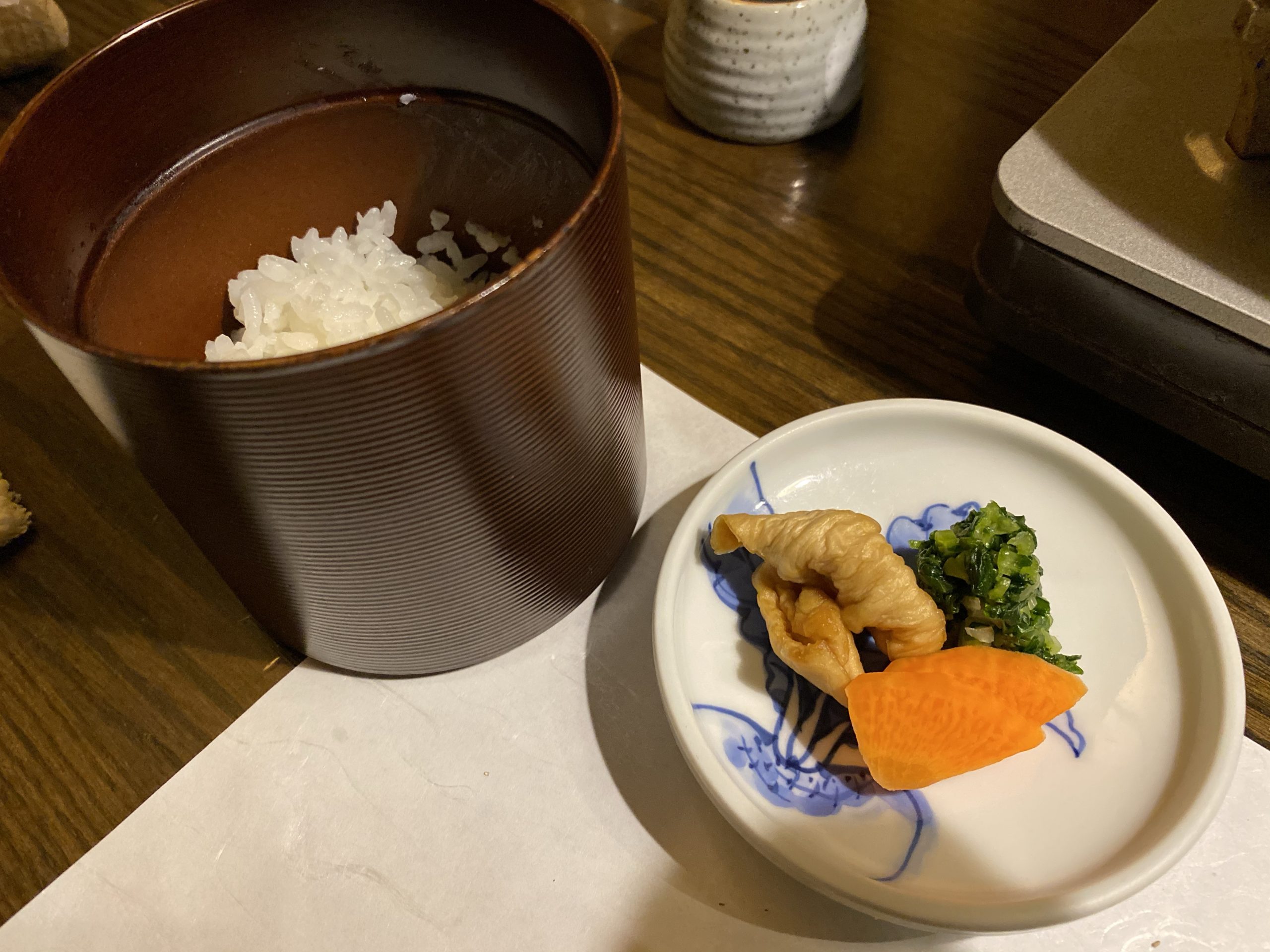 After our dinner, I was ready to hit the sack until Vicky noticed this sign!!!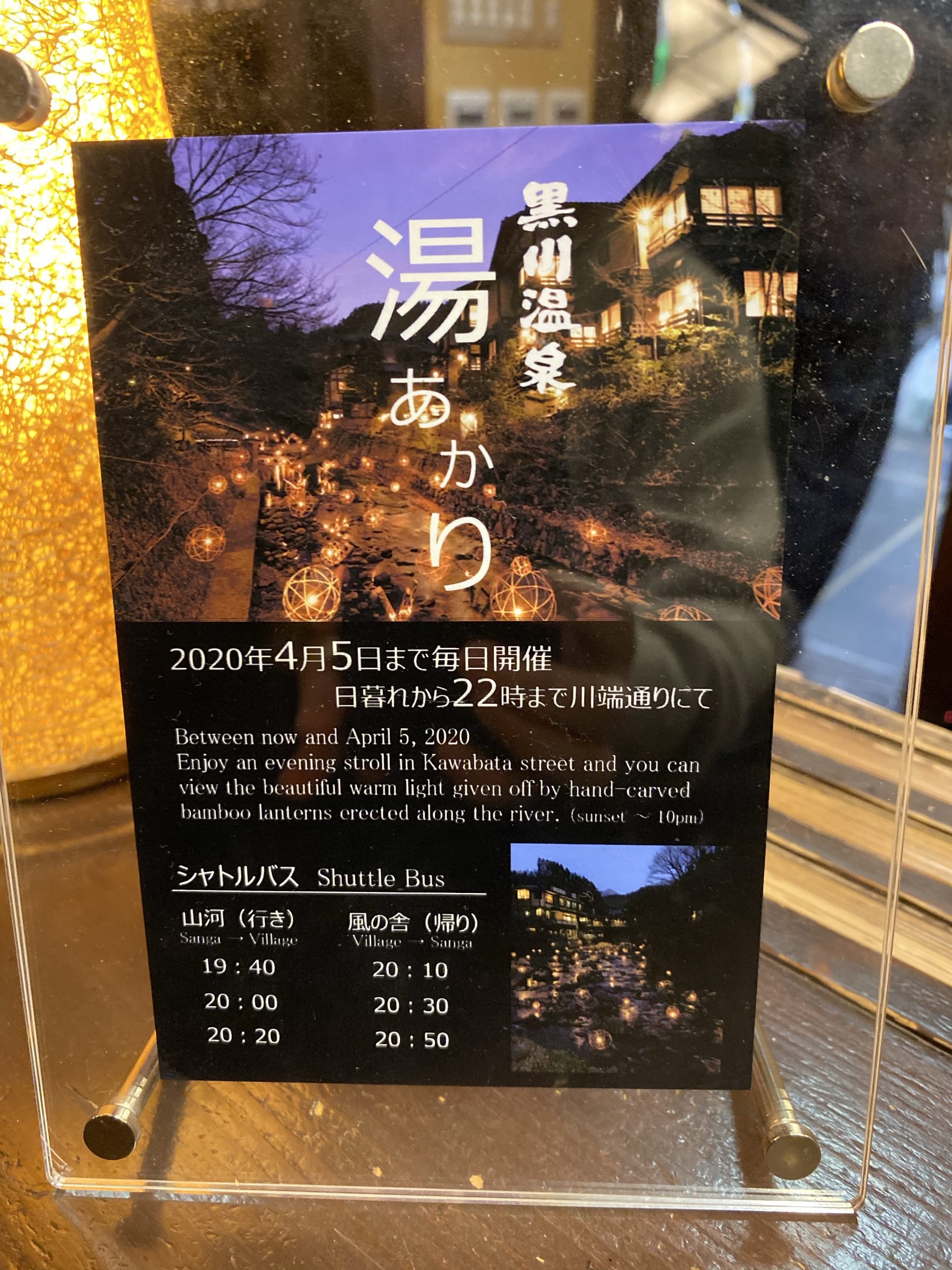 And off we went to the village for some night time photography!!! I pull out my XT-3 and the battle is on between my XT-3 and our iPhone 11 Pro. Can you tell the difference and which is which?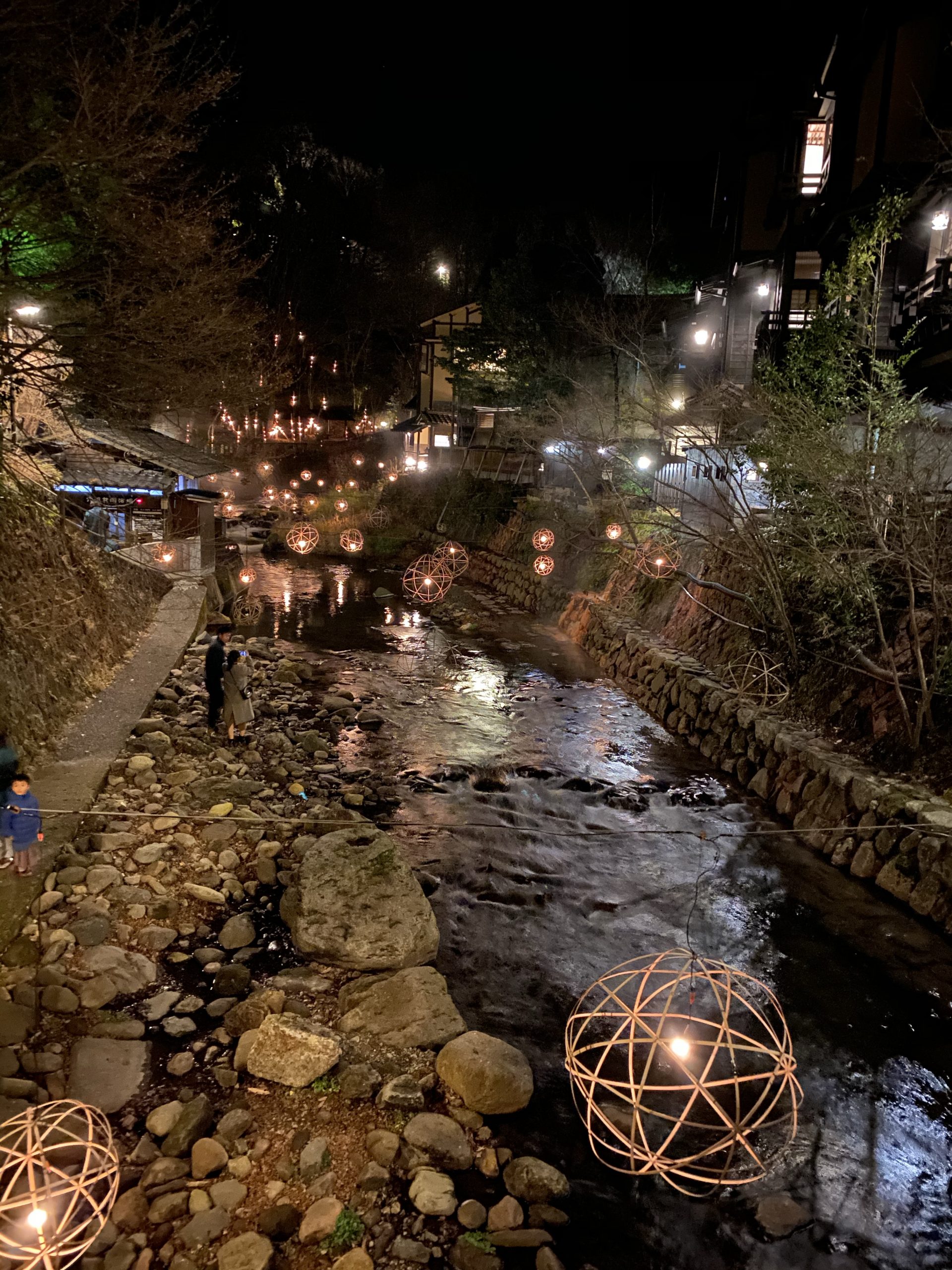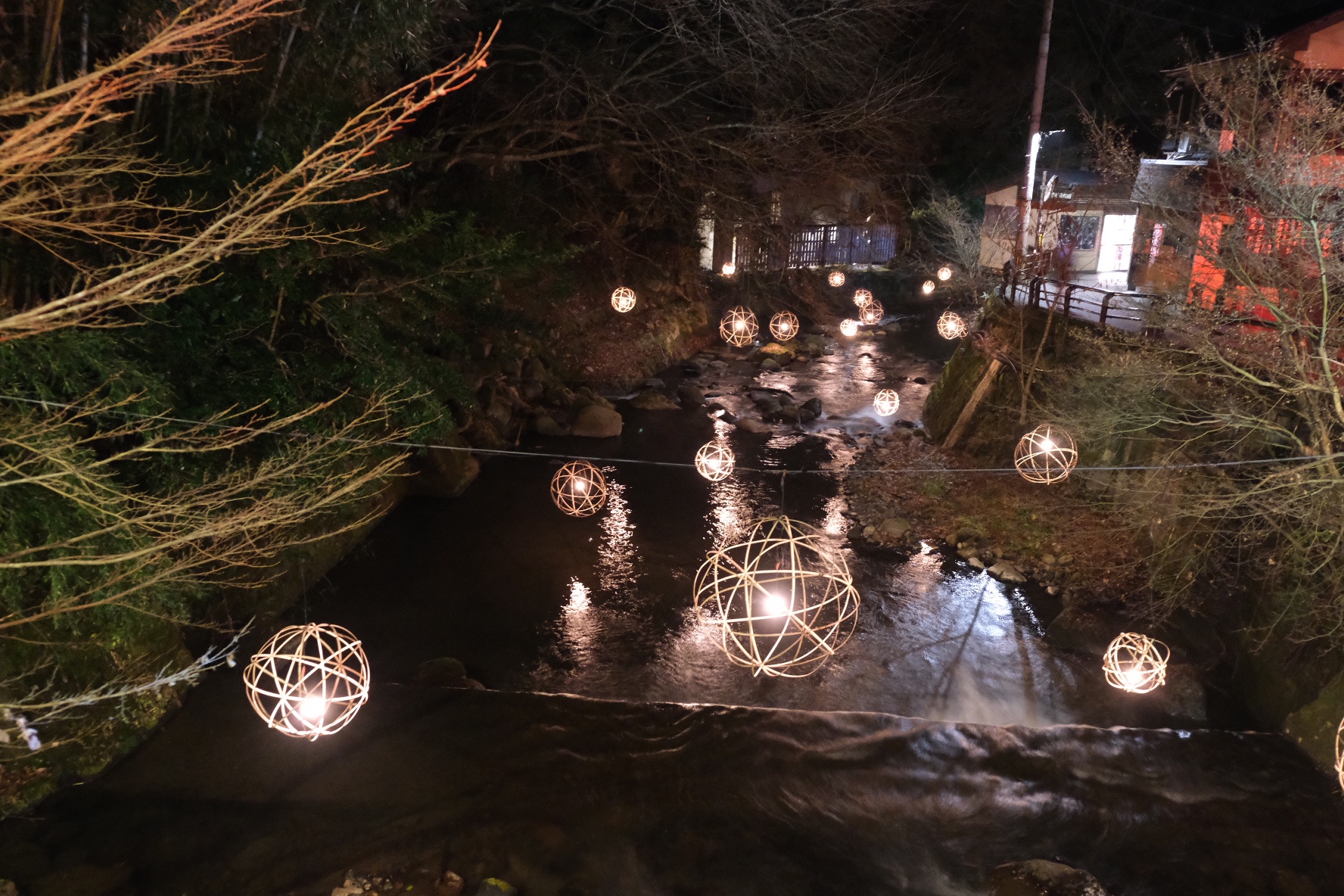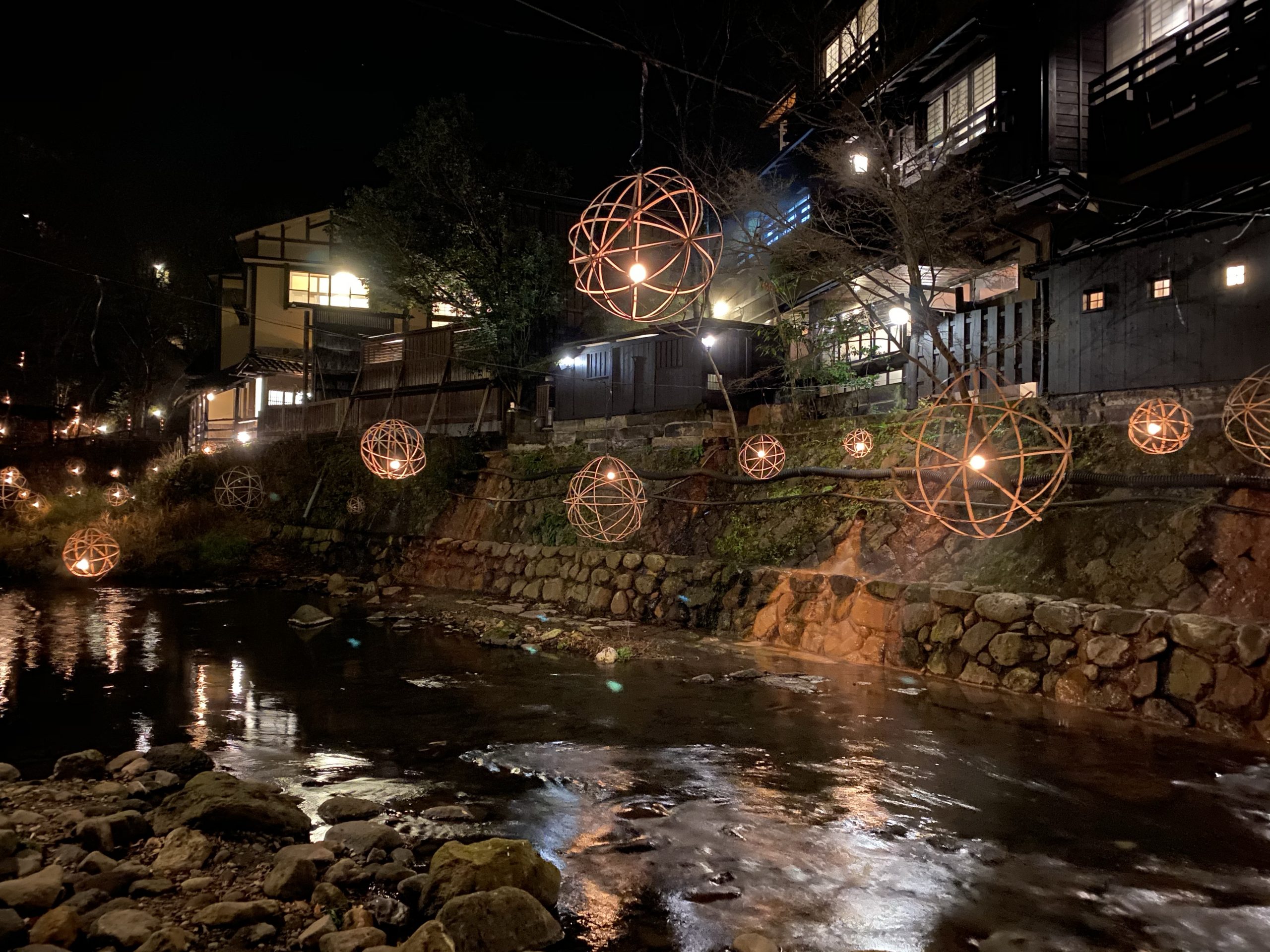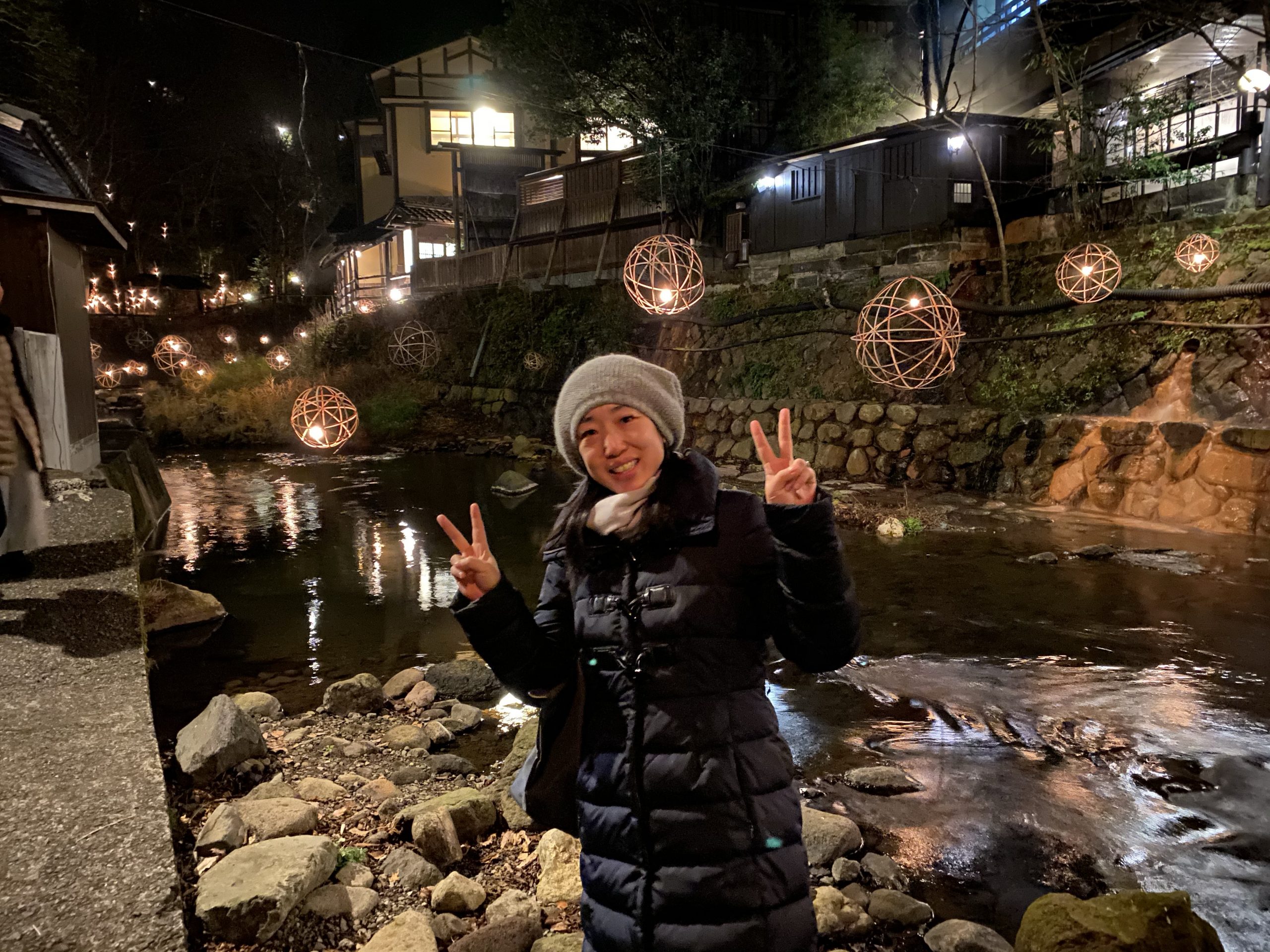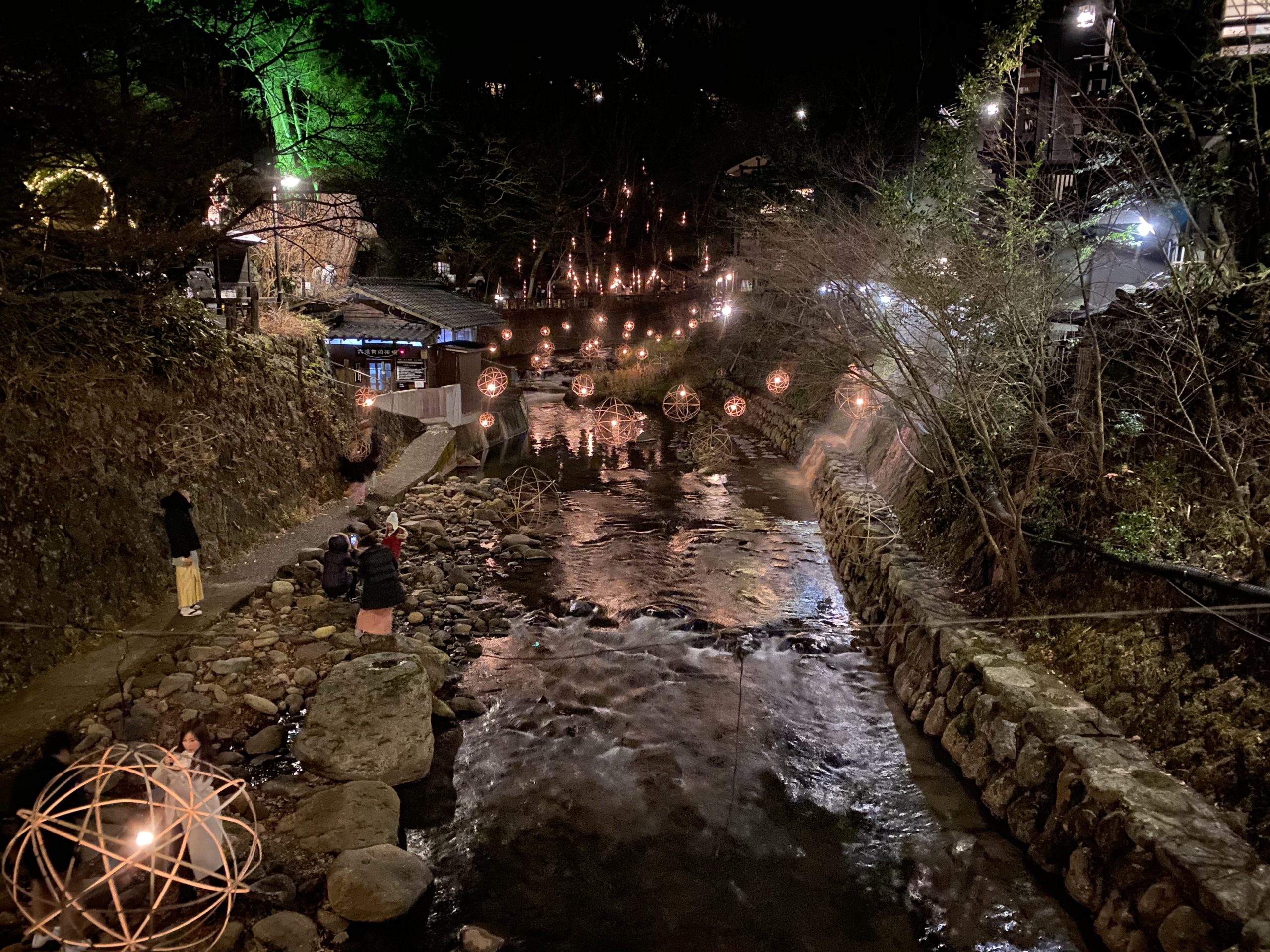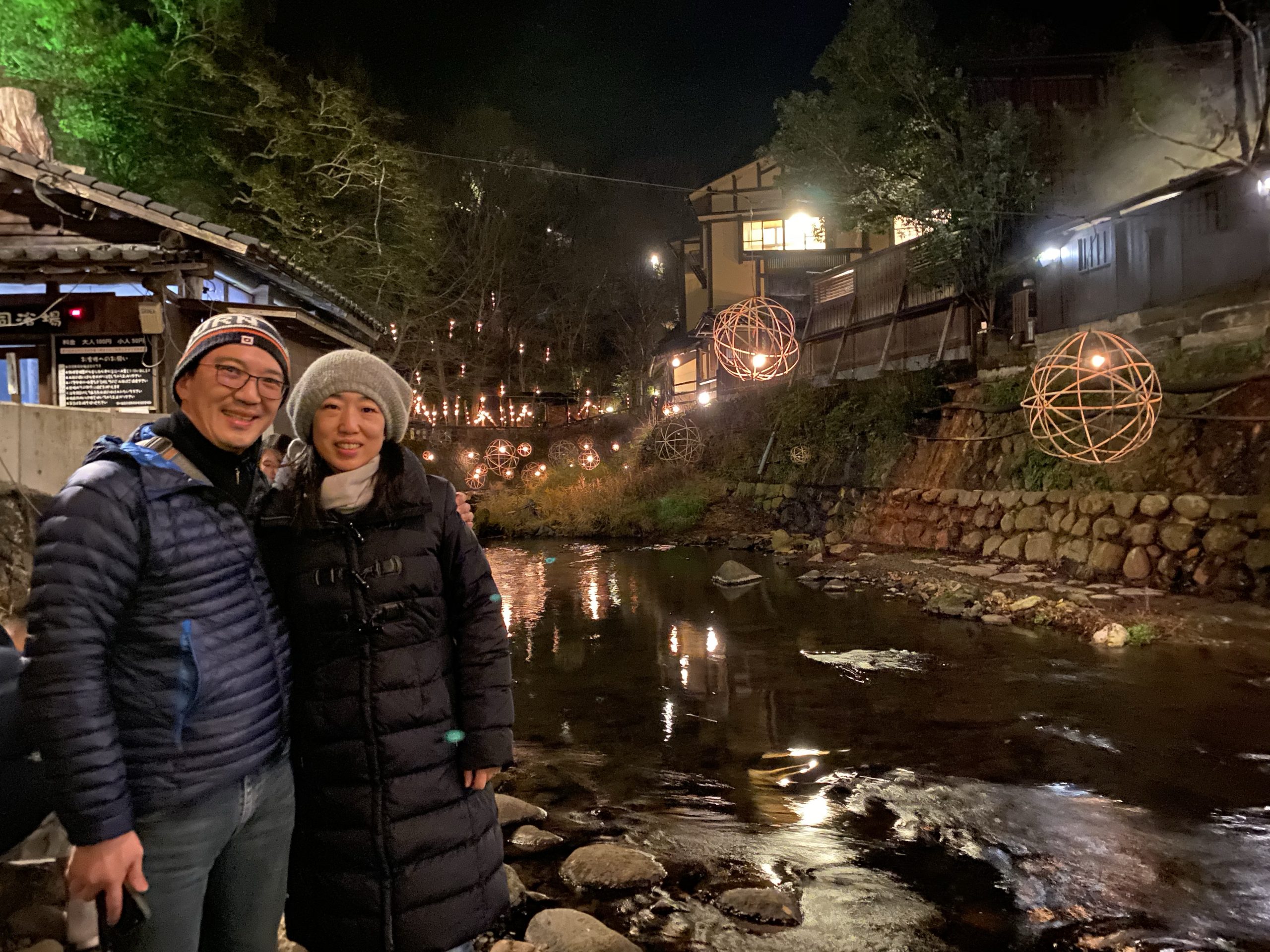 I think both takes great, night time pictures. However, it takes more time to get the picture right with the XT-3 and for great pictures I need to set up a tripod. With the iPhone 11 Pro, it is just shot and go. At most is I need to hold the phone steady for 3 seconds and all the post processing is done instantly. Which is so amazing. For how dark it was on the creek, it is amazing what an iPhone can do. Just take a look my favorite photo shot of the night, below. That was an iPhone photo of vicky waiting for our shuttle back to our ryokan.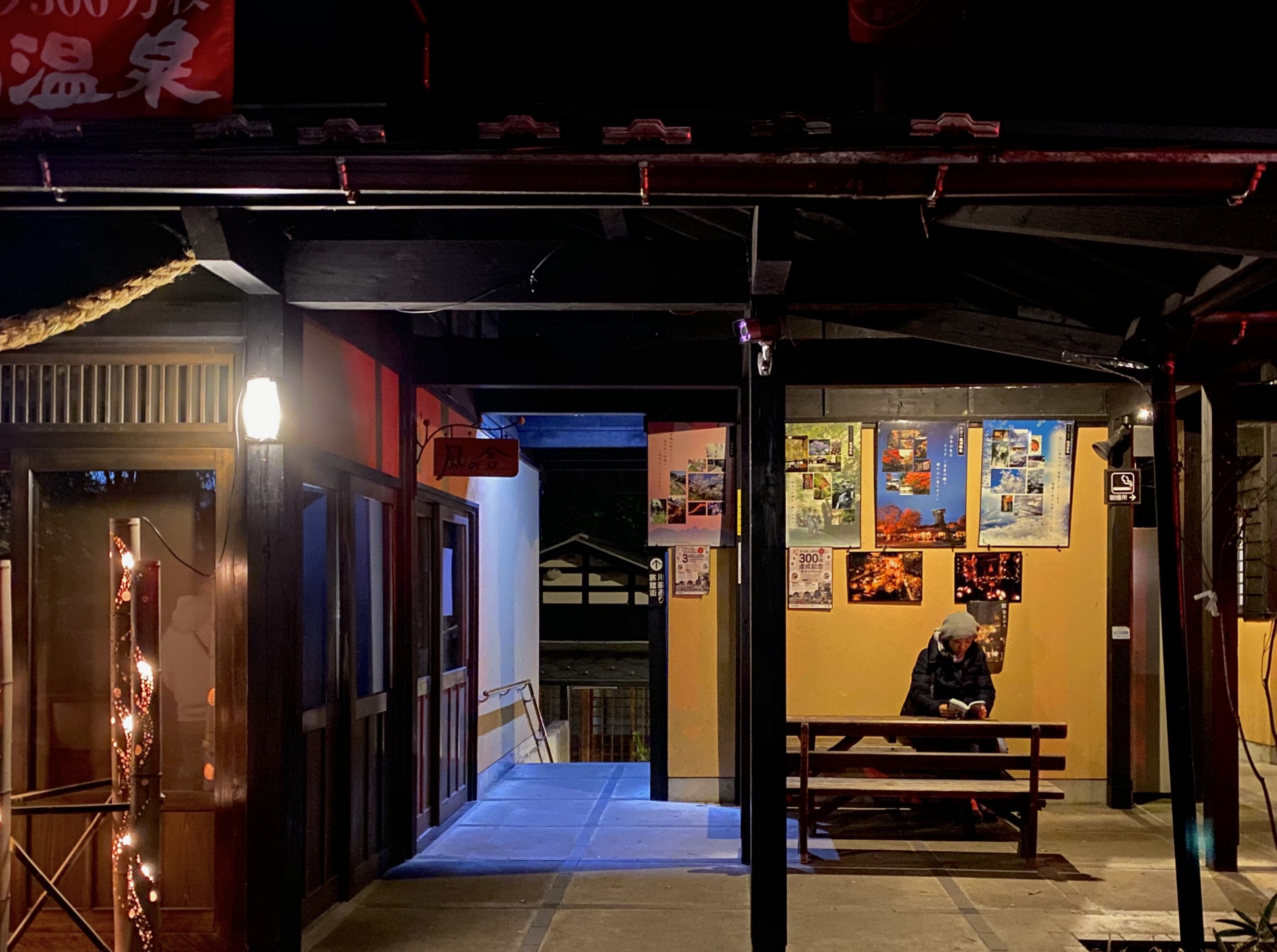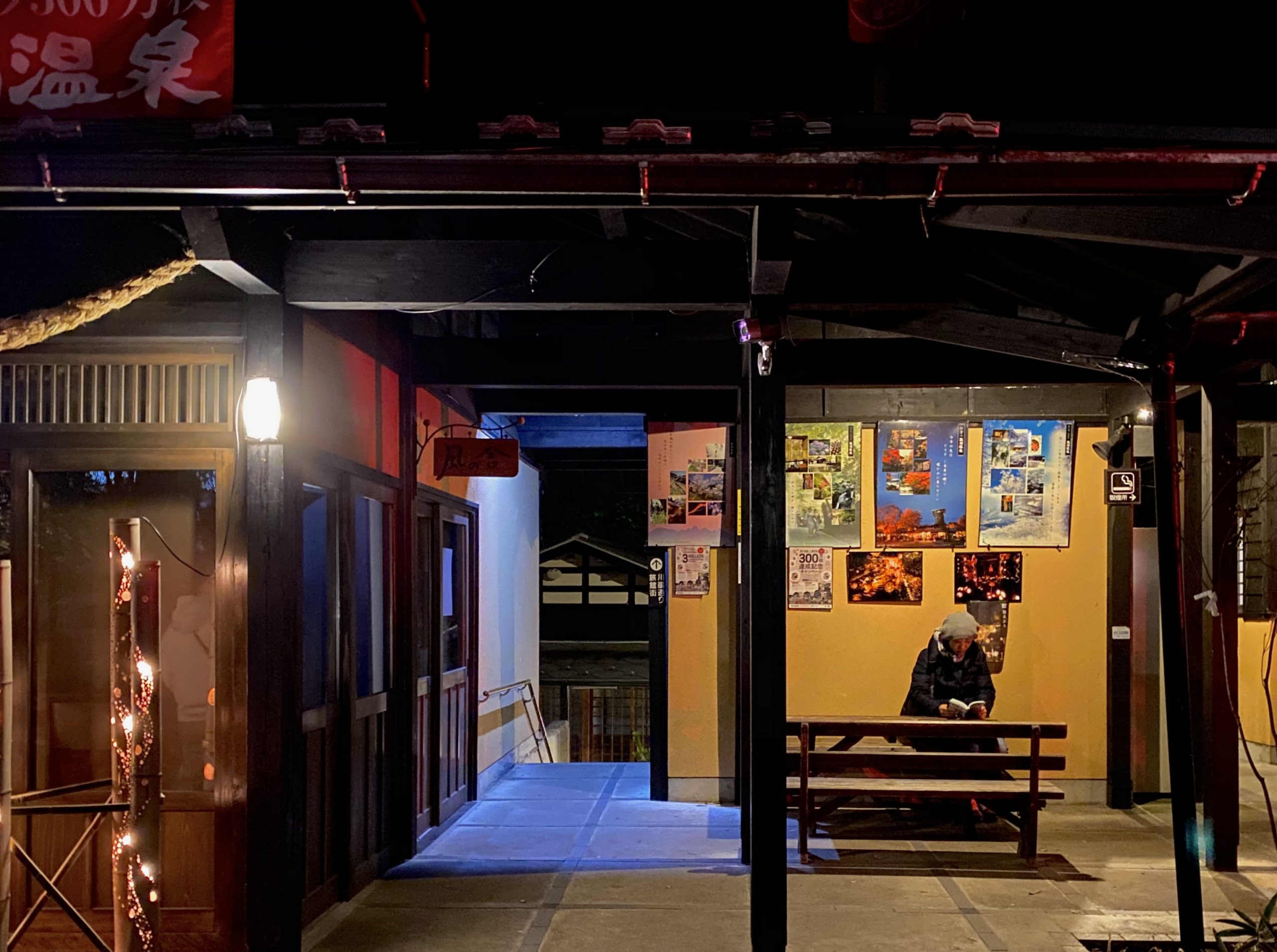 Tomorrow is Christmas, I am trying to convince Vicky not to do much and just to relax at our ryokan, but we will see. Merry Christmas everyone!!