Local time: 12/23/2019 Christmas Eve's eve.
Today's indicator number is 5 … that's the number of showers I took today.
Today we are still at Yufuin. Jet lag is getting a bit better, I think the comforting water of the onsen may have helped me a bit. I woke up around 4:30 this morning and really relaxed. I got up before Vicky and I closed the sliding door separating our living and bedroom and started to finishing up on yesterday's blog. So our breakfast is at 8:00 am so around 6:30 or so I went for my first onsen soak and that's shower 1 and 2. (One before and one after the soak) It is amazing how onsen in the morning make you feel and so refreshed.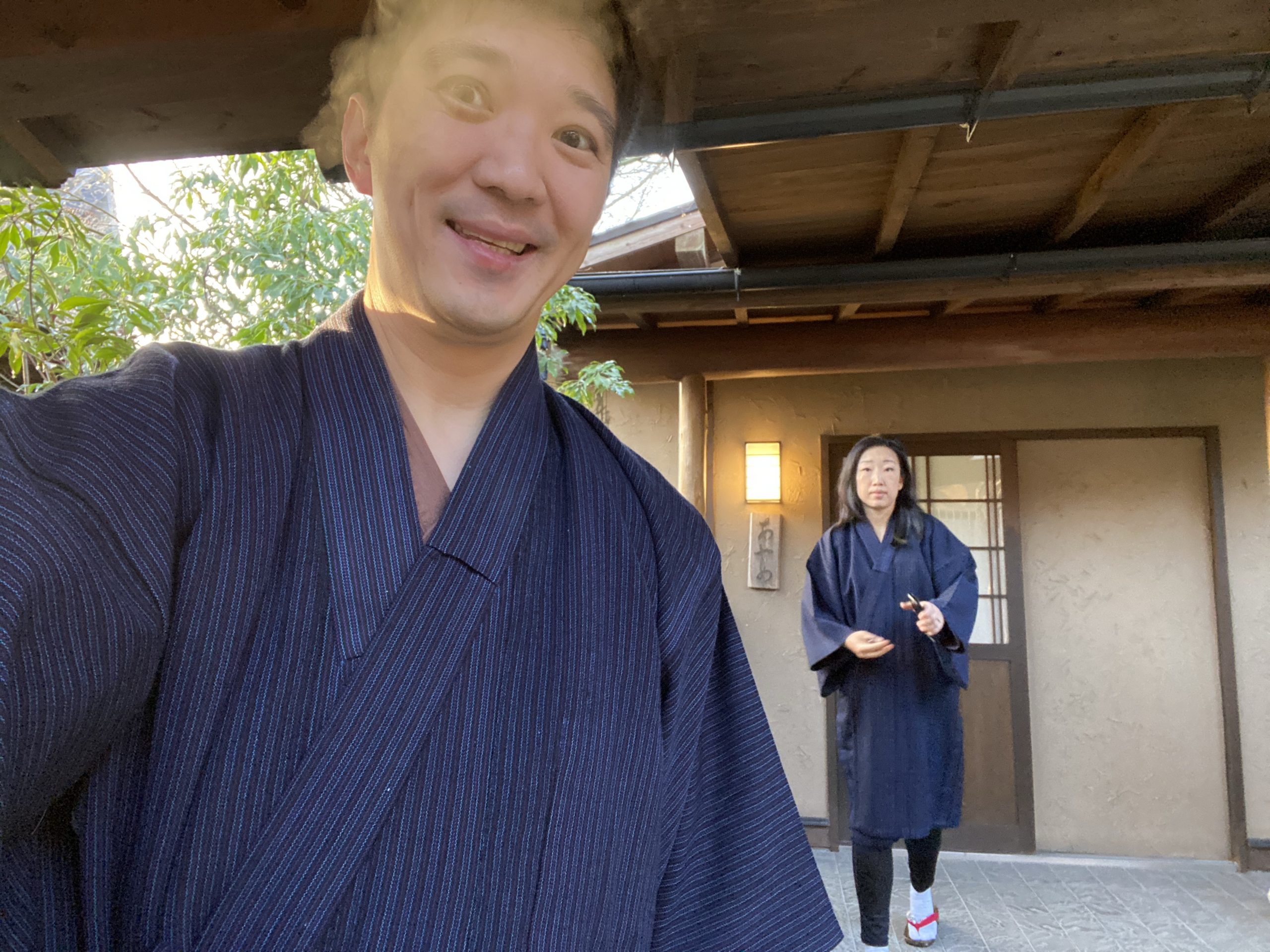 The sun was just up when we were walking to the restaurant and it was beautiful and I knew that it will be a good day today.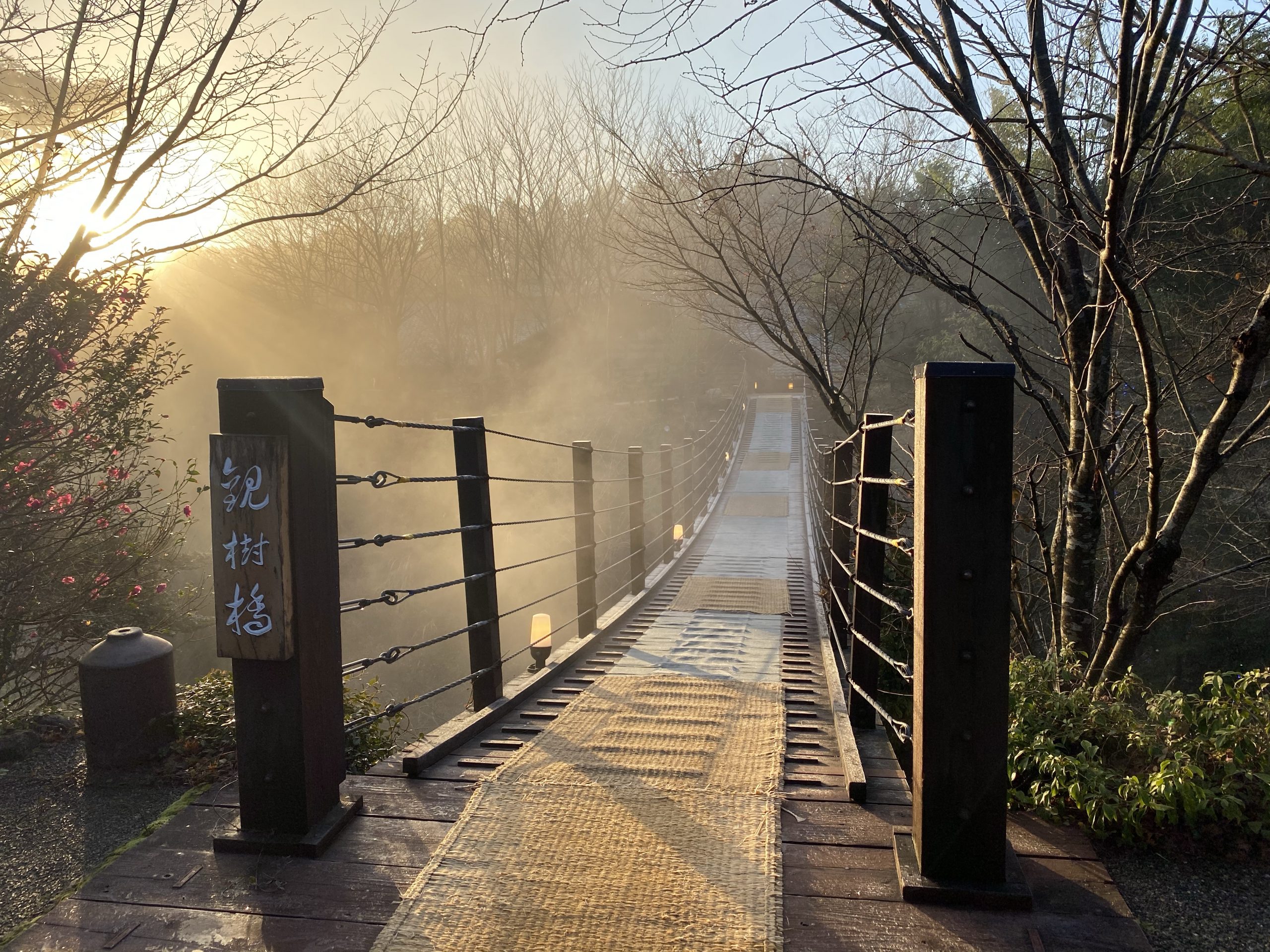 Breakfast was just as amazing as the dinner. The courses did not come out as slowly and one at the time but they were there waiting for us when we arrived a double decker bento box.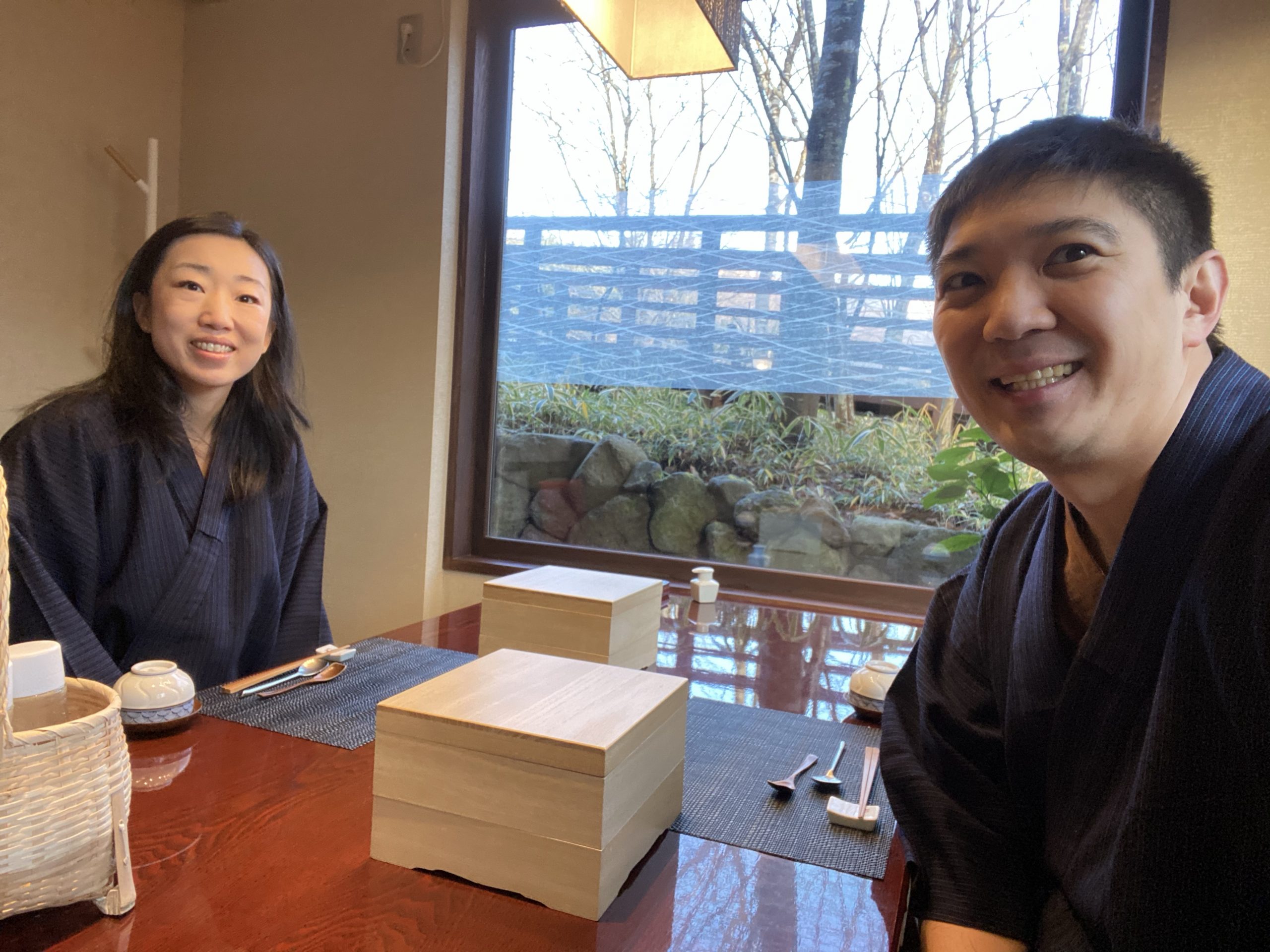 Once unpacked it is a full table food of small dishes. The variety ranges from grill mackerel, turnip salad, miso soup, yogurt and many more.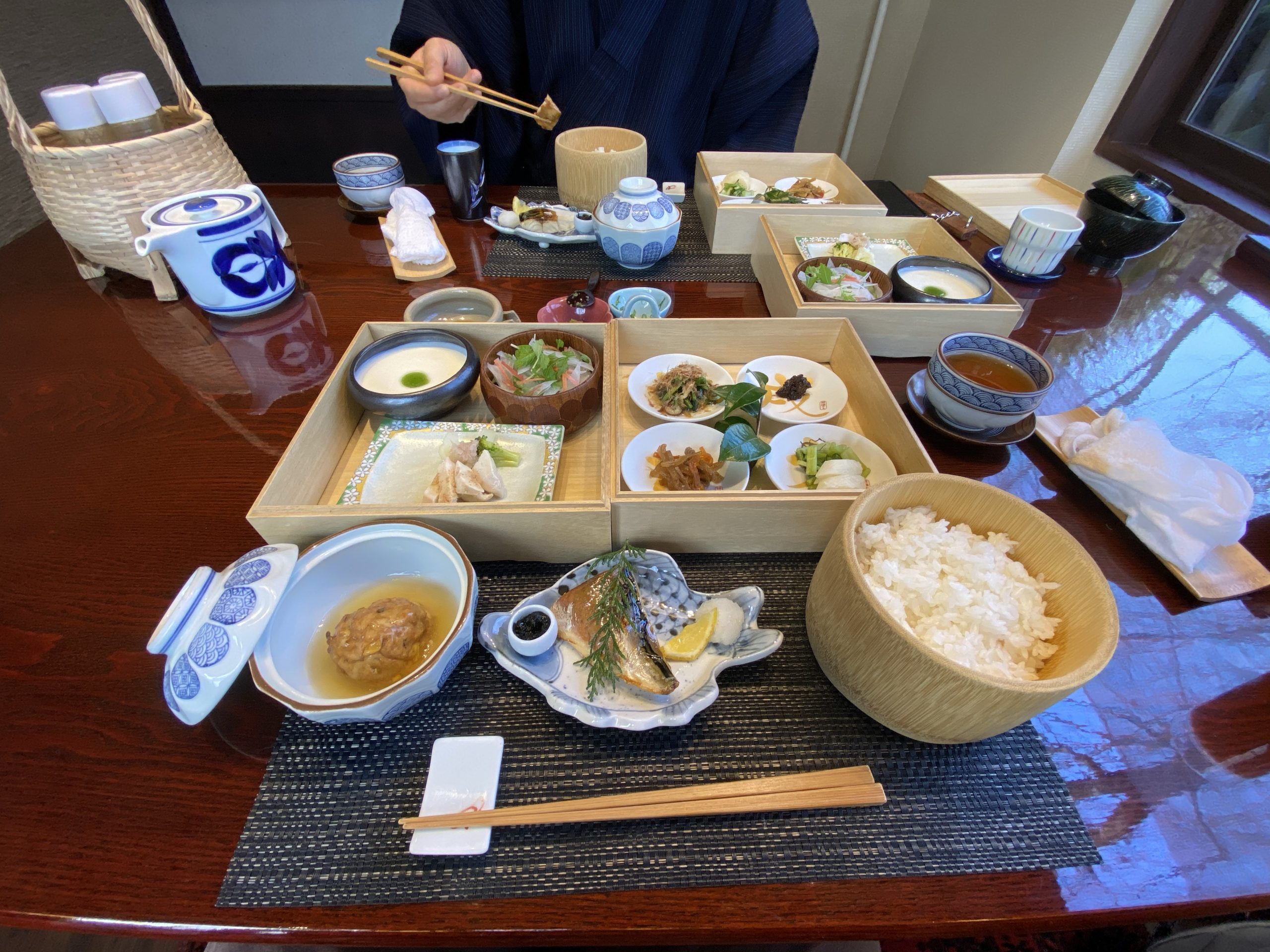 After our amazing breakfast we started another day of adventure. Today Vicky has planned for us to visit Beppu . Beppu is a small city on the eastern coast of Kyushu. The opposite side of Fukuoka. Vicky said that there are few places that she wanted to check out and the weather is fantastic for some Beppu sight seeing. So we took a taxi and headed down to the bus station.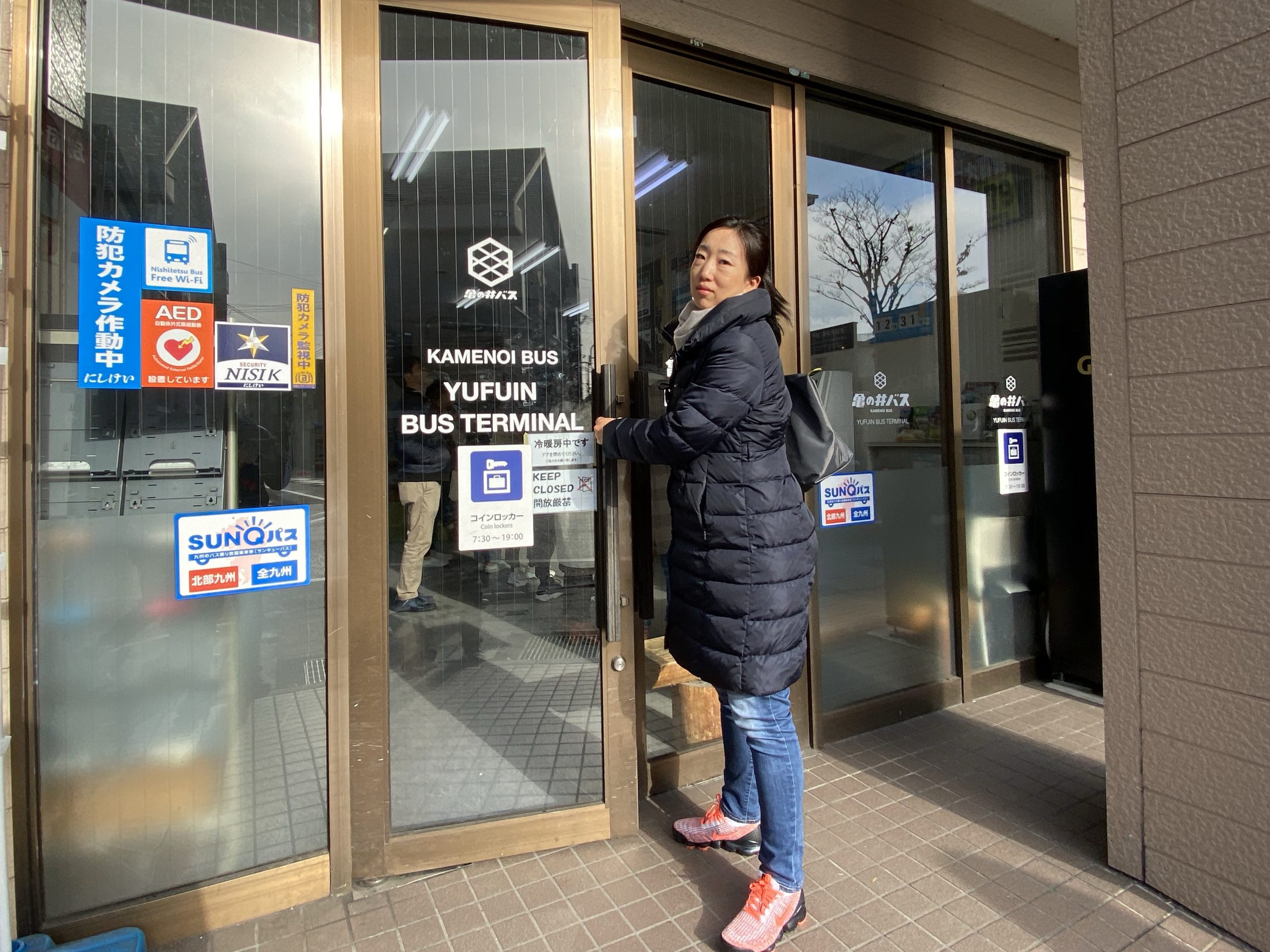 We decided to take the bus to to Beppu instead of JR (Japan Rail) because, the bus is faster and more direct. JR will require us to transfer and wait. Since we want to get the most out of our time in Beppu, so bus it is.
The bus we took was a tourist bus, it was designed to head to the tourist destinations in Beppu. But since we were crossing the mountains, we got to see some amazing views along the way especially since the weather today was just perfect.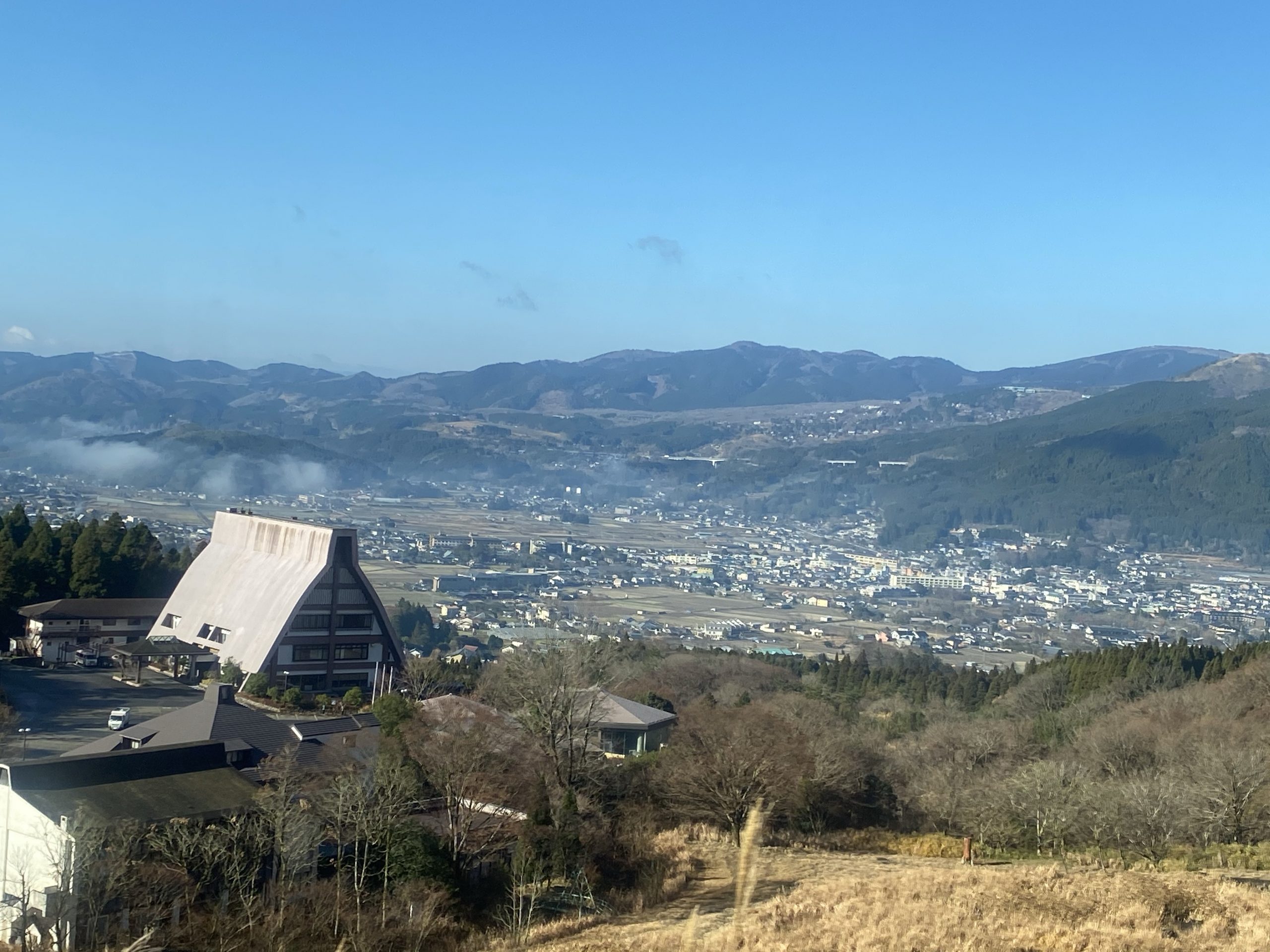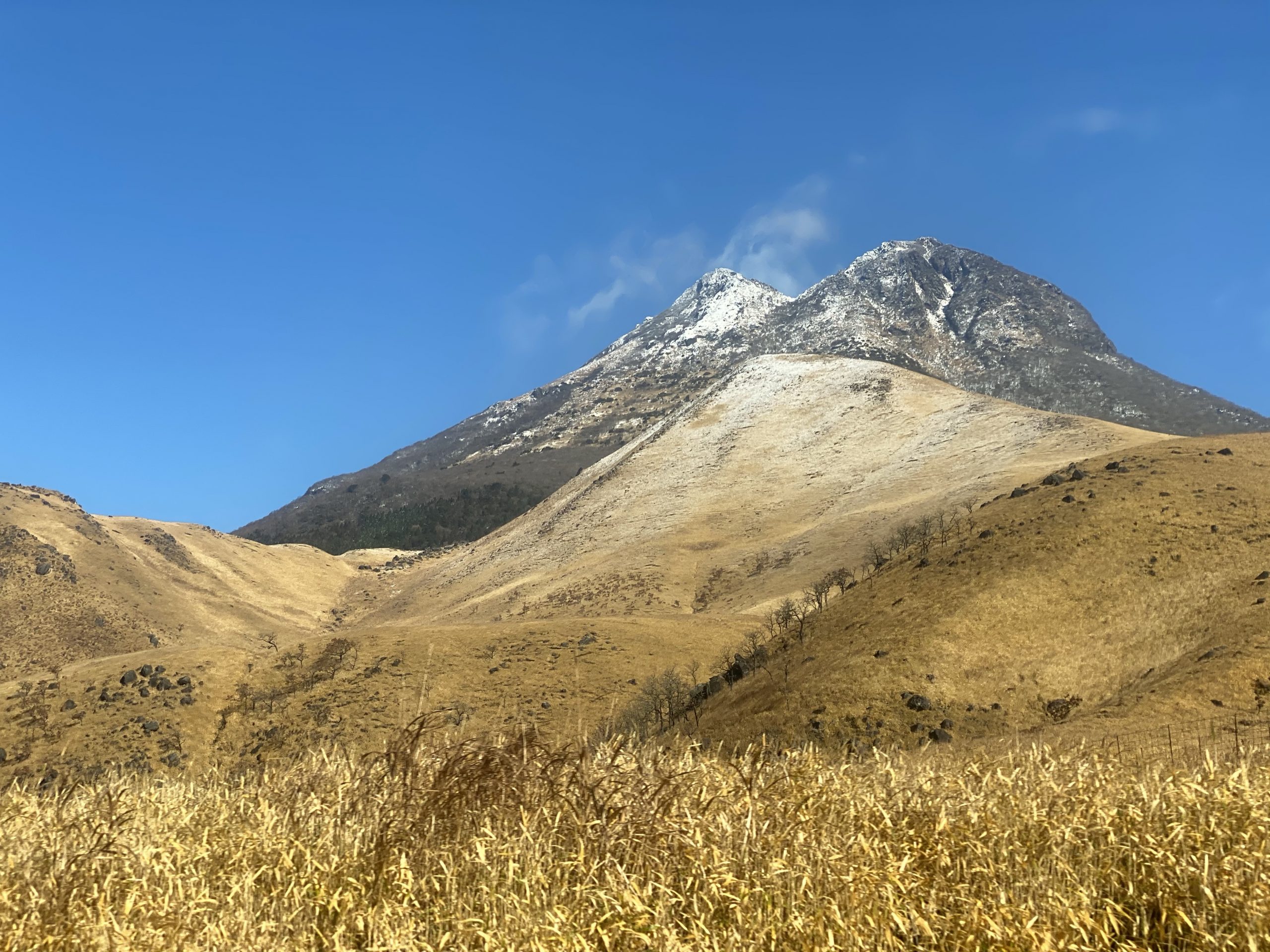 Our first of three destinations in Beppu was Umi Jigoku. It means "Sea Hell" in Japanese. The location was famous because the japanese royal family visited here and put Beppu on the map. It is also famous because of all different color of hot pool of water. It is almost like yellow stone, except much smaller and much more refined.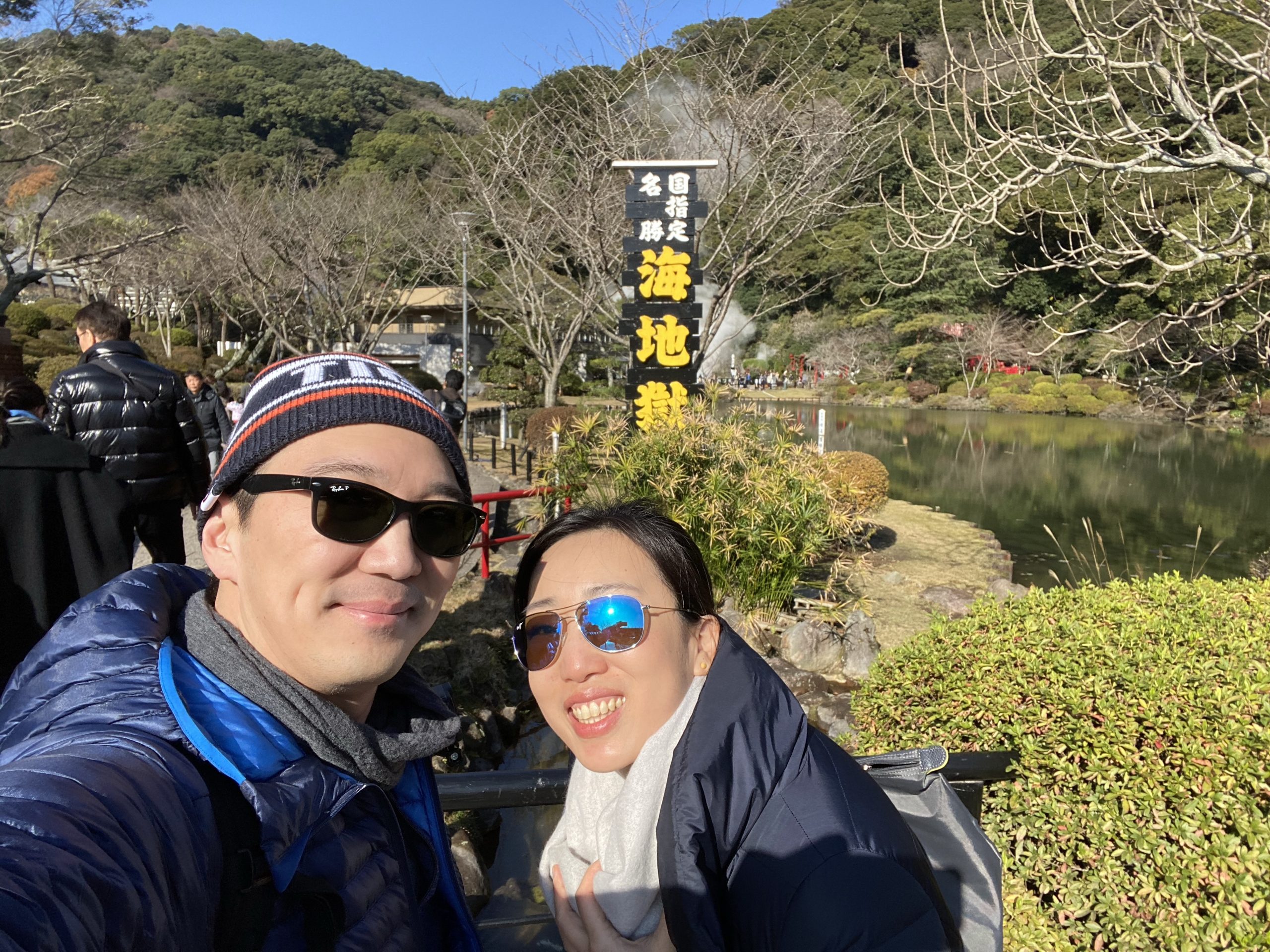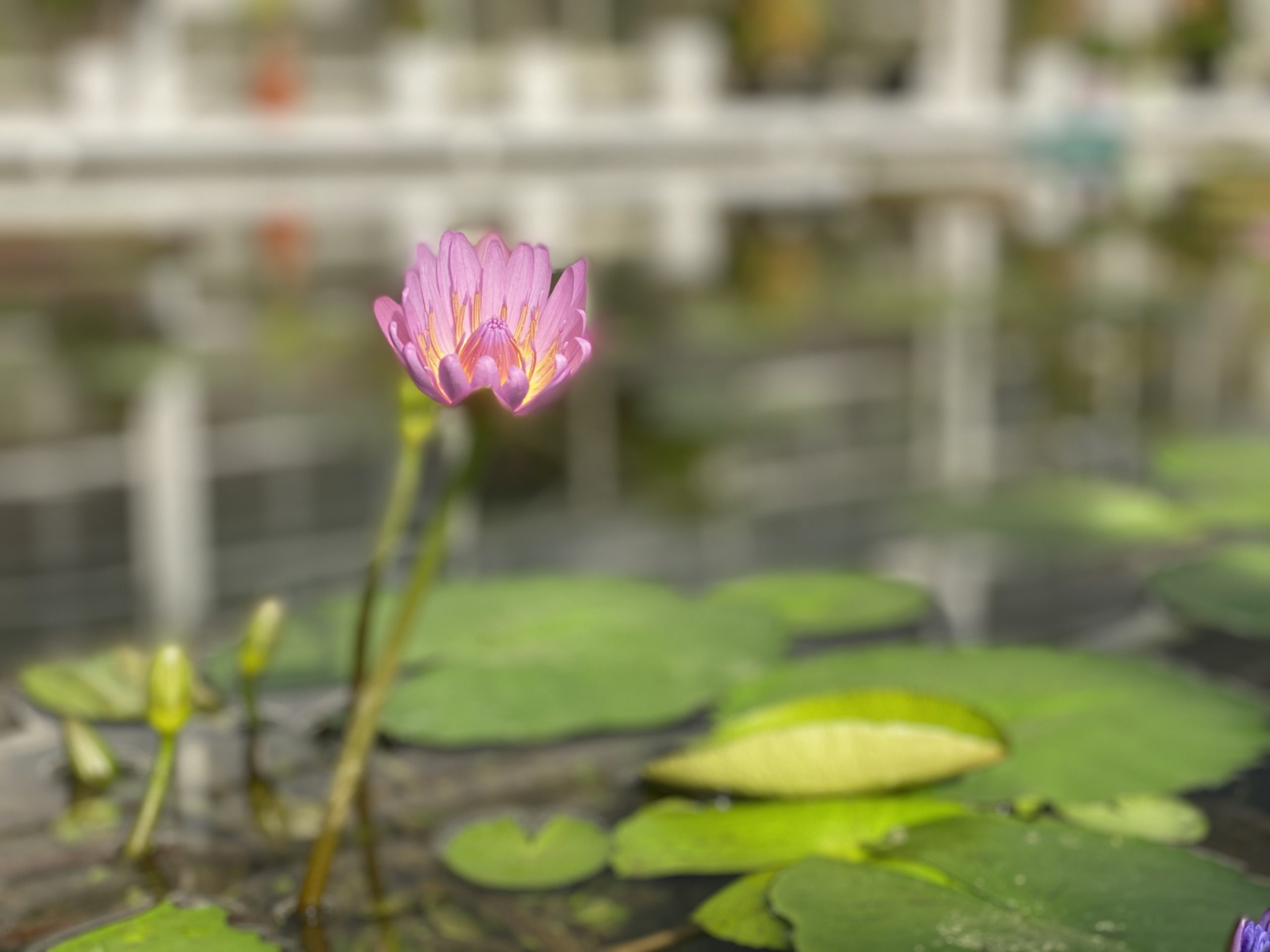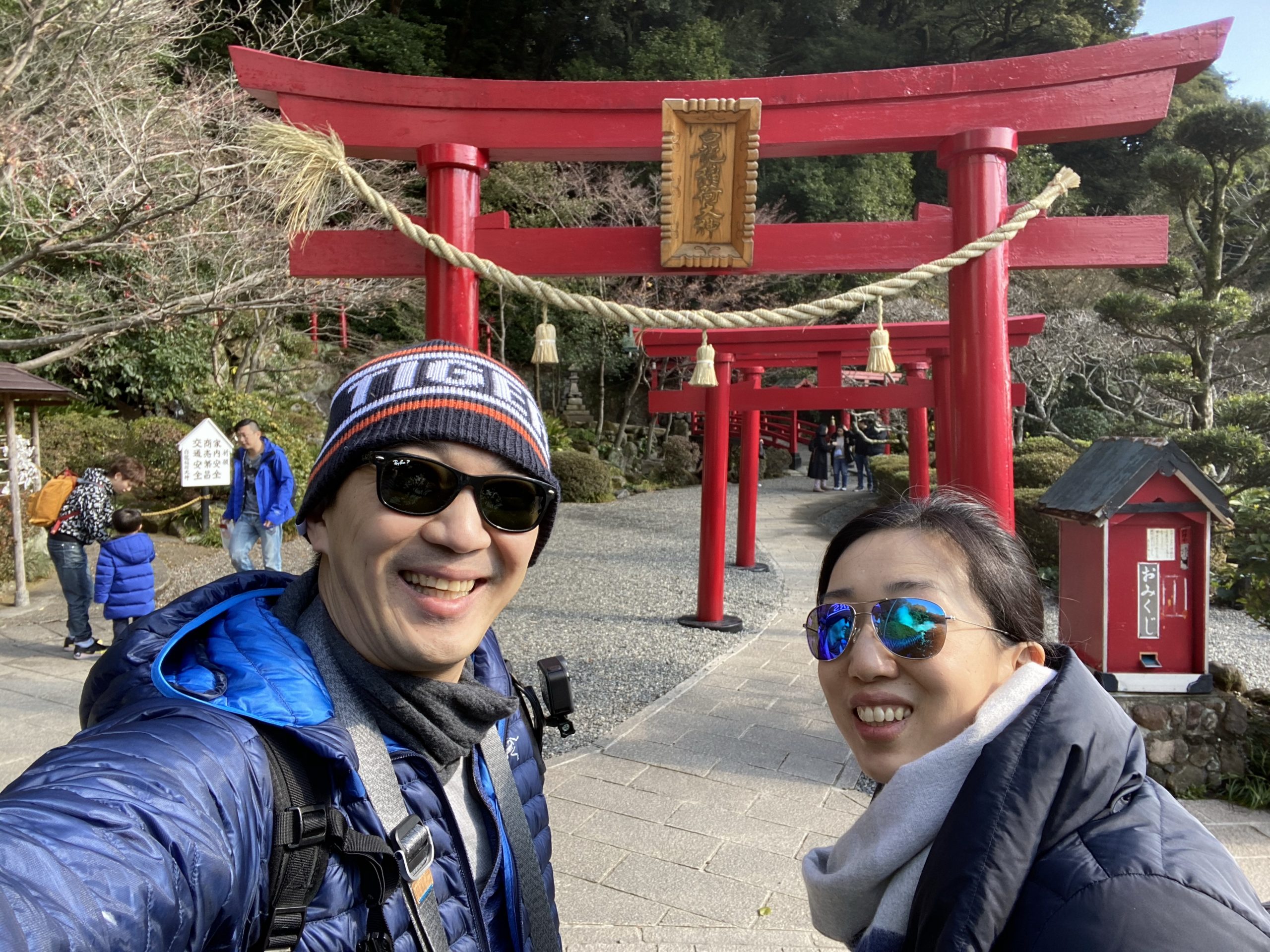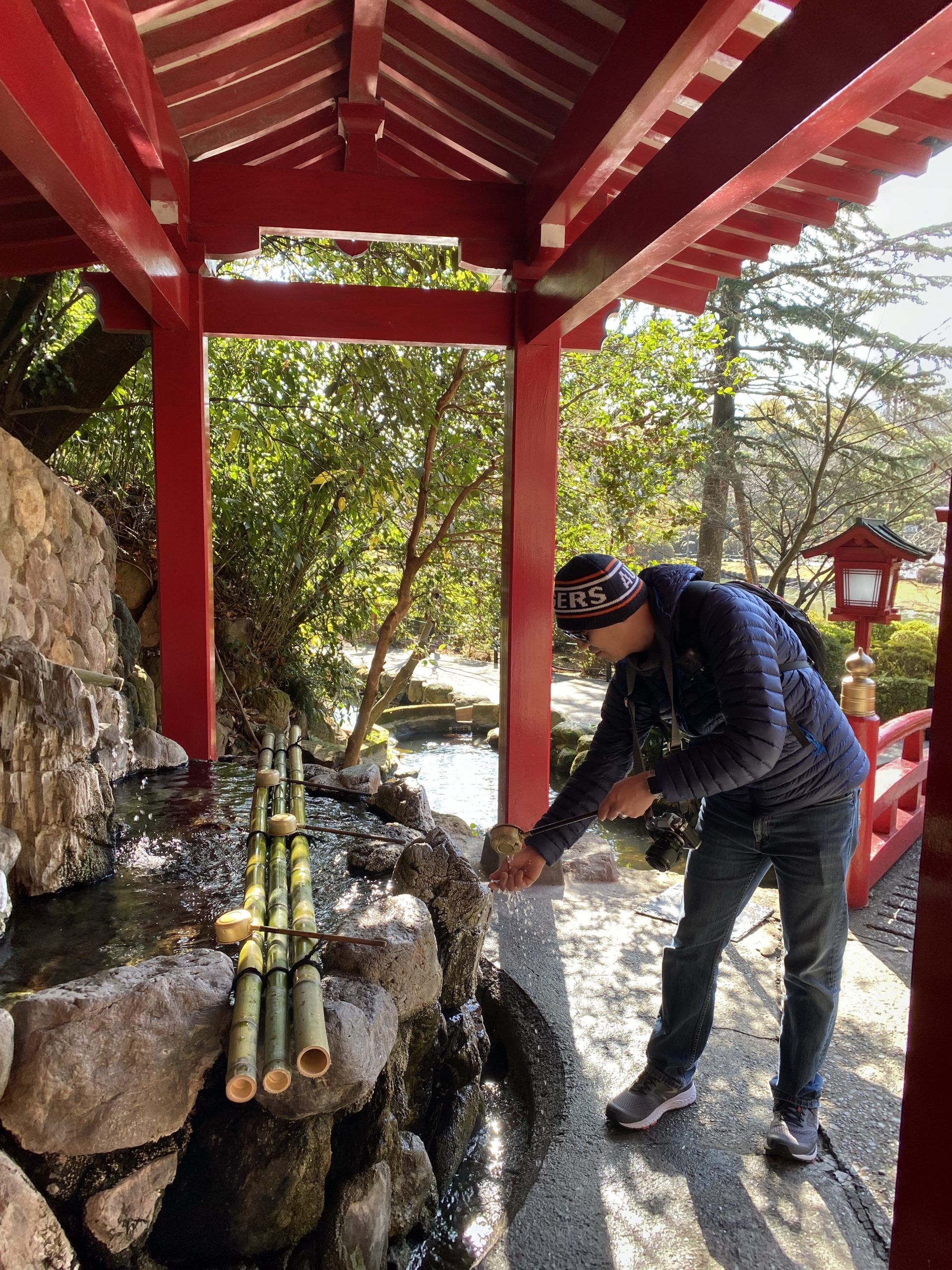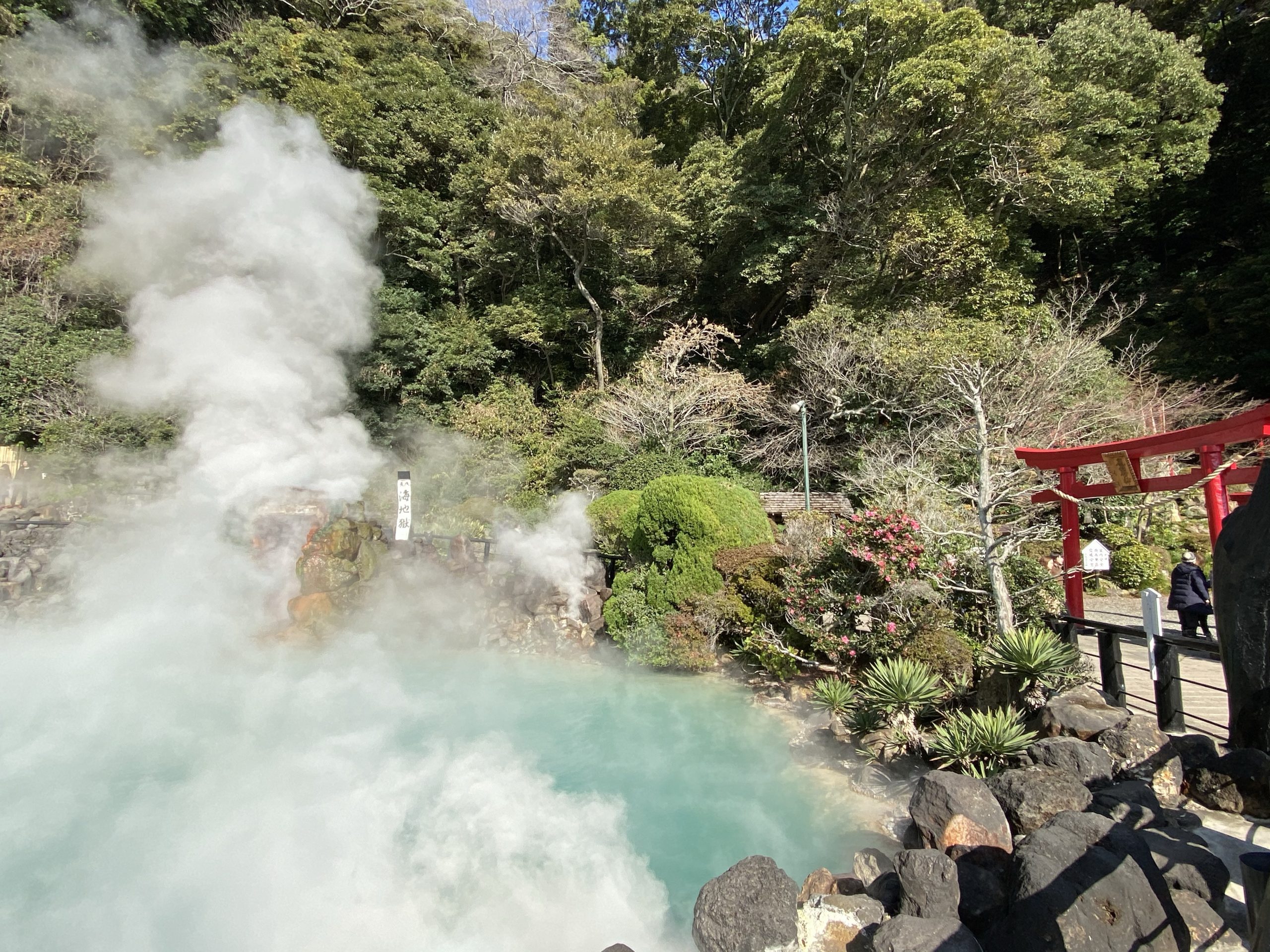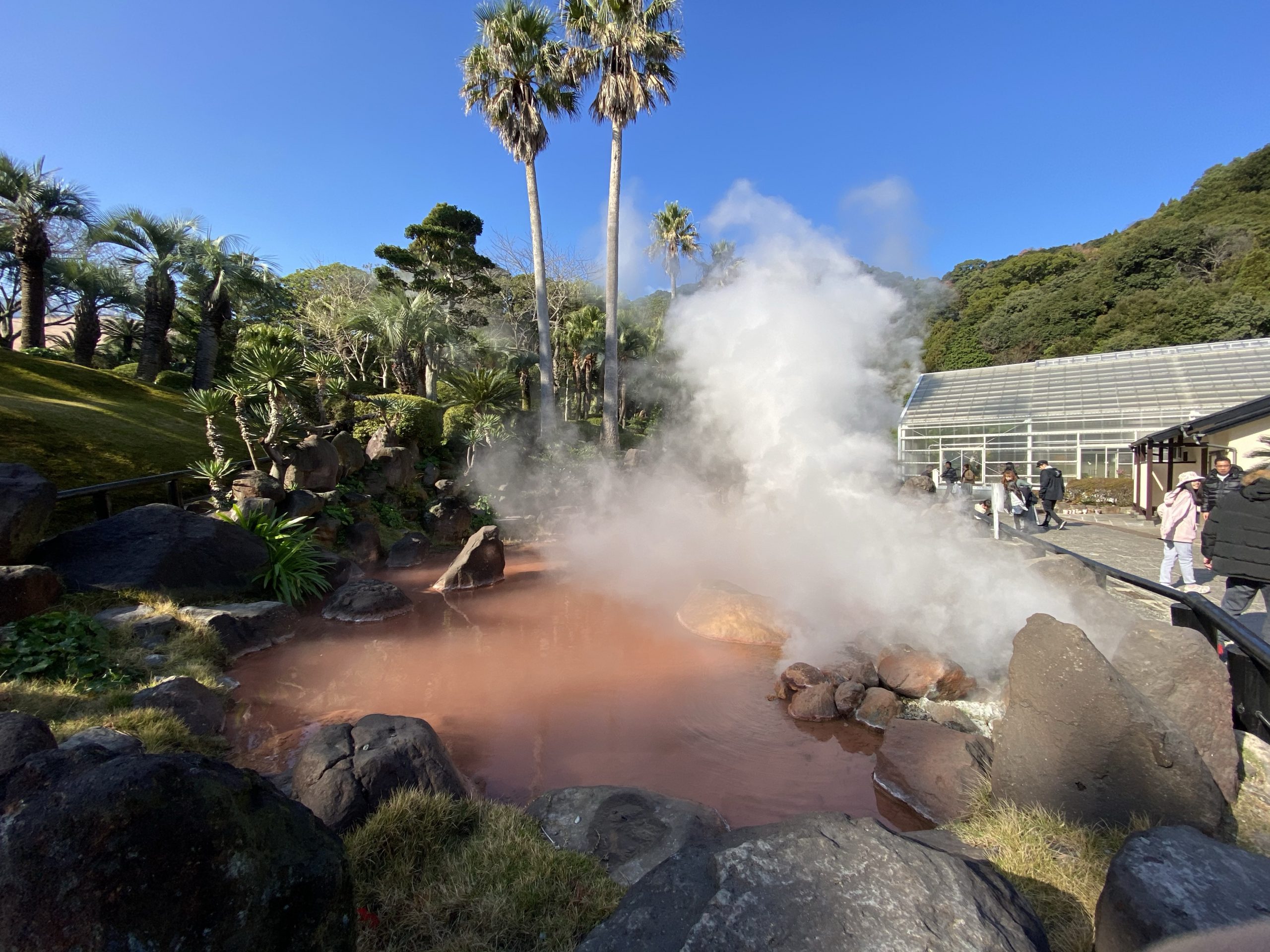 Umi jigoku was also famous for there collection of giant lily pads. These lily pads could grow big enough so that a small person can sit on it without sinking. I don't think it would fit me though. Too fat ;). Unfortunately, it was not the season to see them outside, so we can only see some of them in the green house.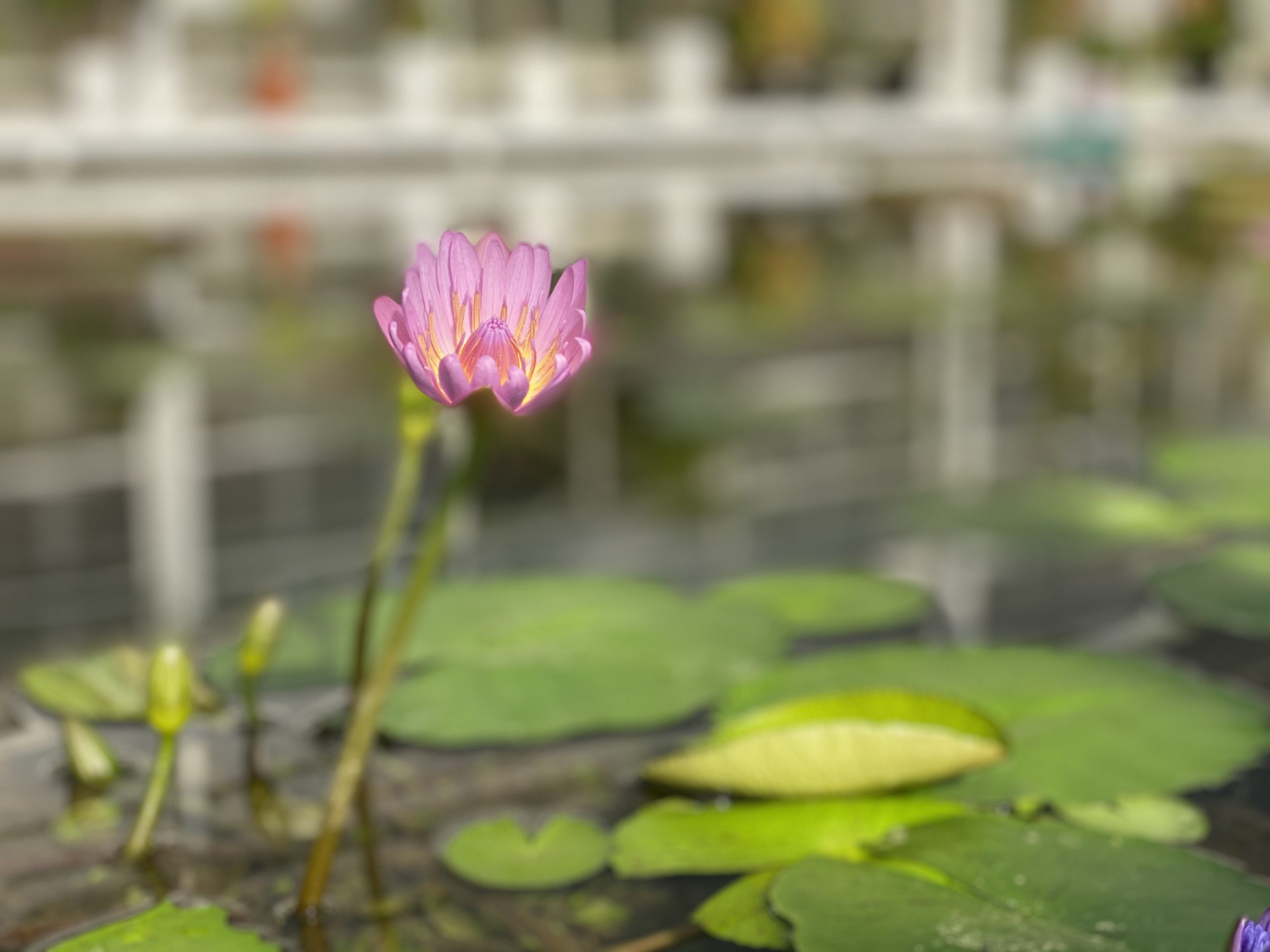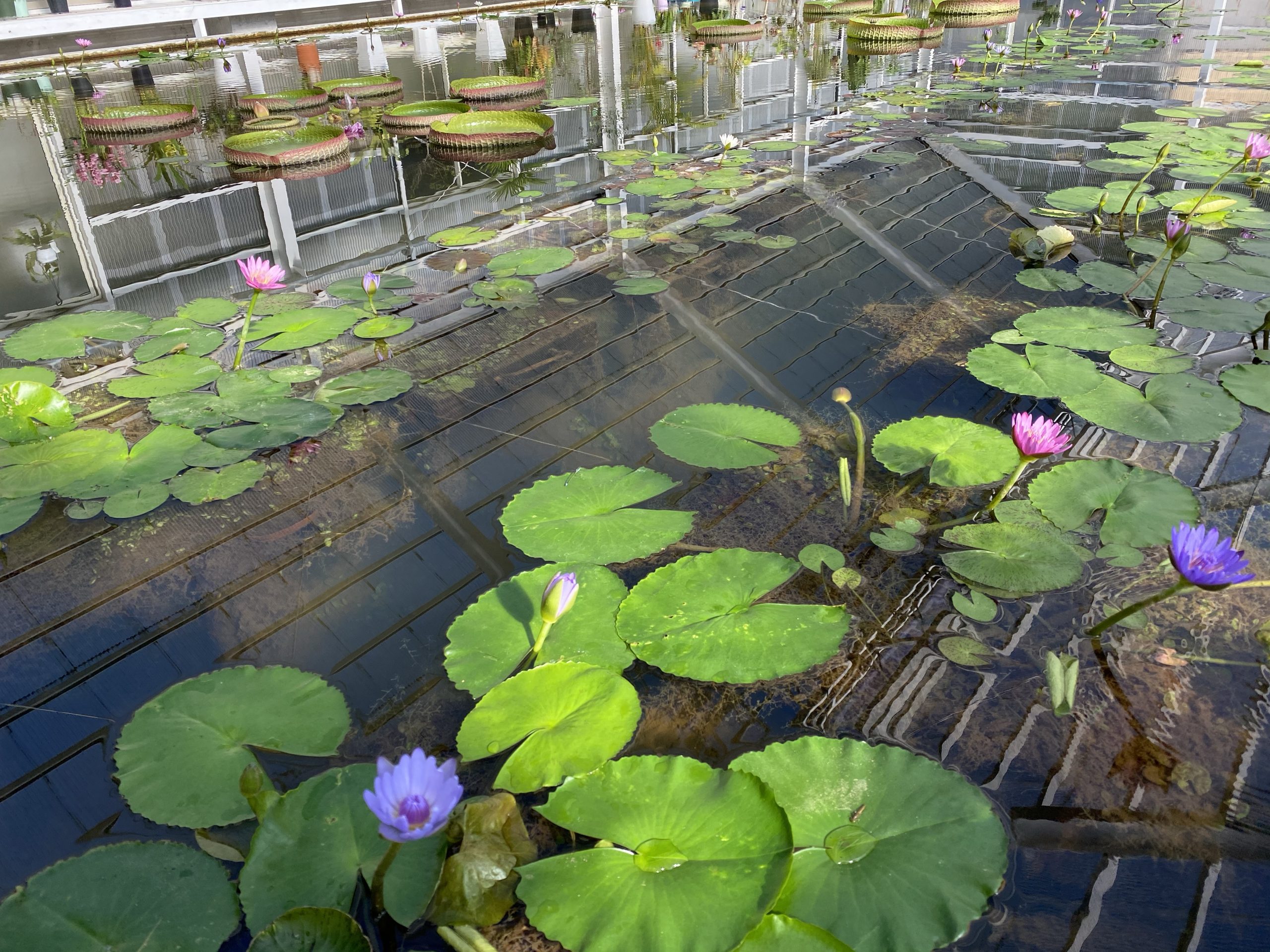 Before leaving Umi Jigoku, it was approaching noon, so I got to get some local food, there was an onsite cafeteria so we decided to give it a shot and also tried some of their famous Onsen boiled egg.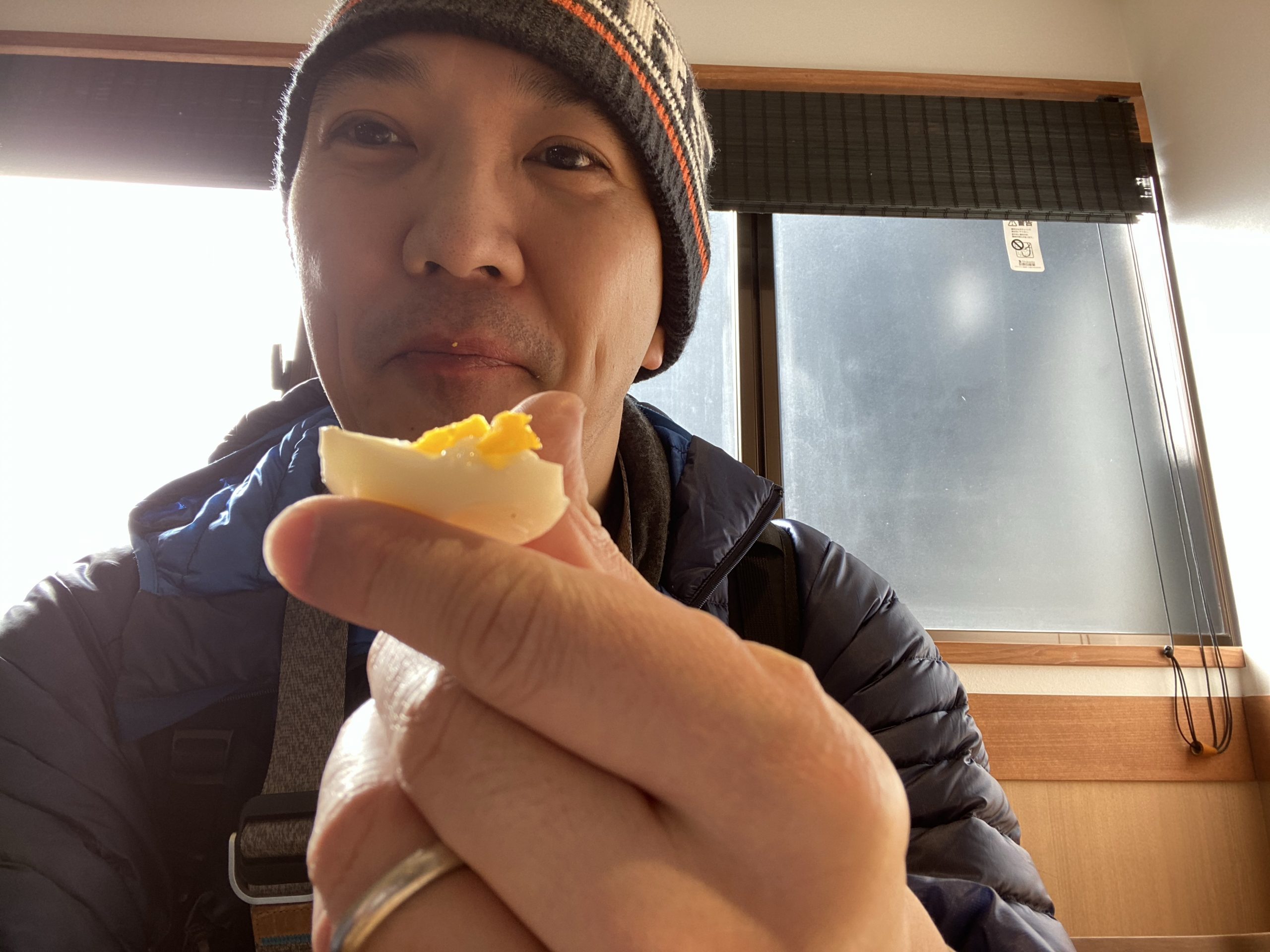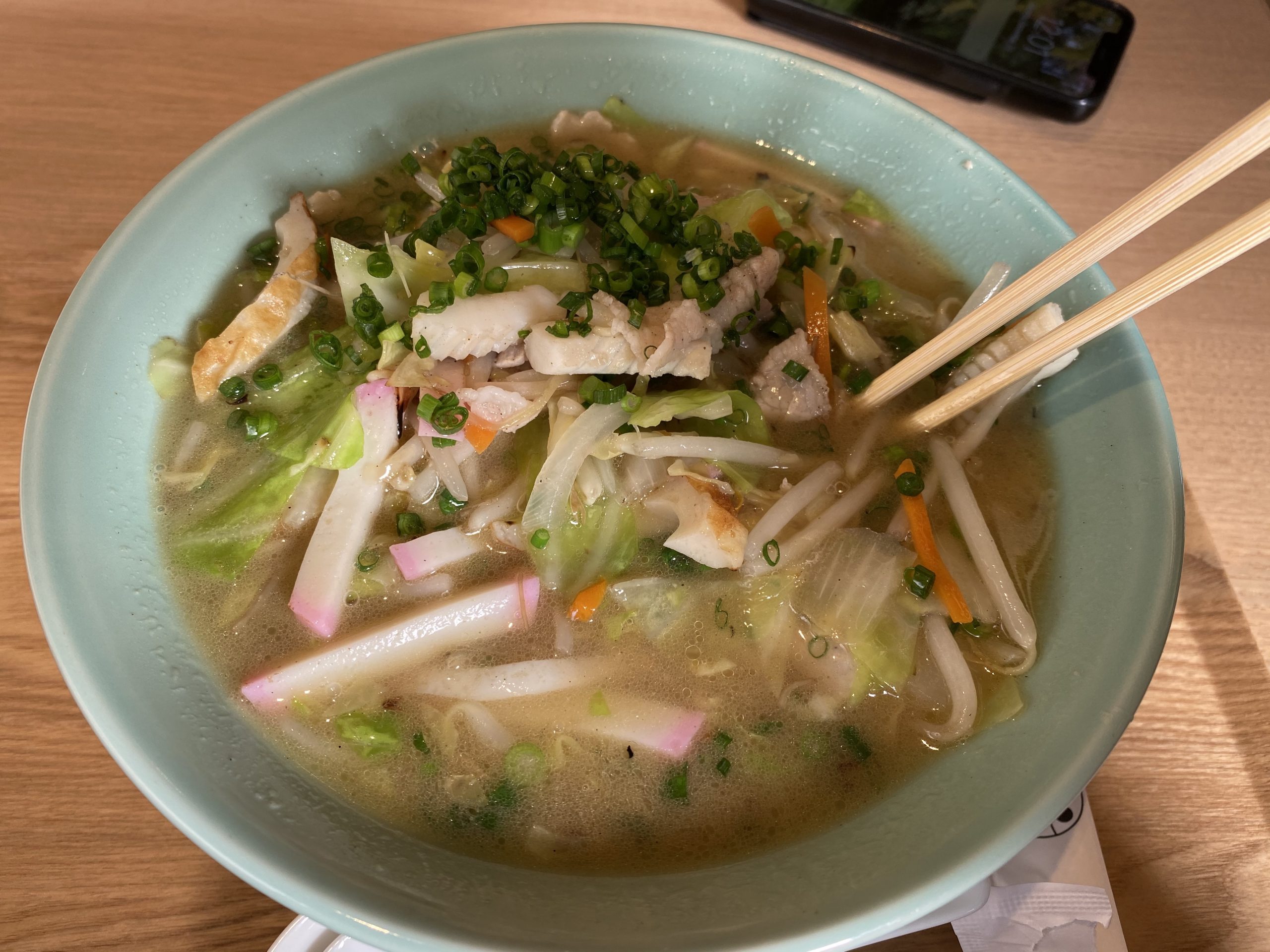 The Jigoku or hell in Beppu are all in same area. So the next one we visited was really close by. It was only few minutes walked away. The place was called Kamado Jigoku.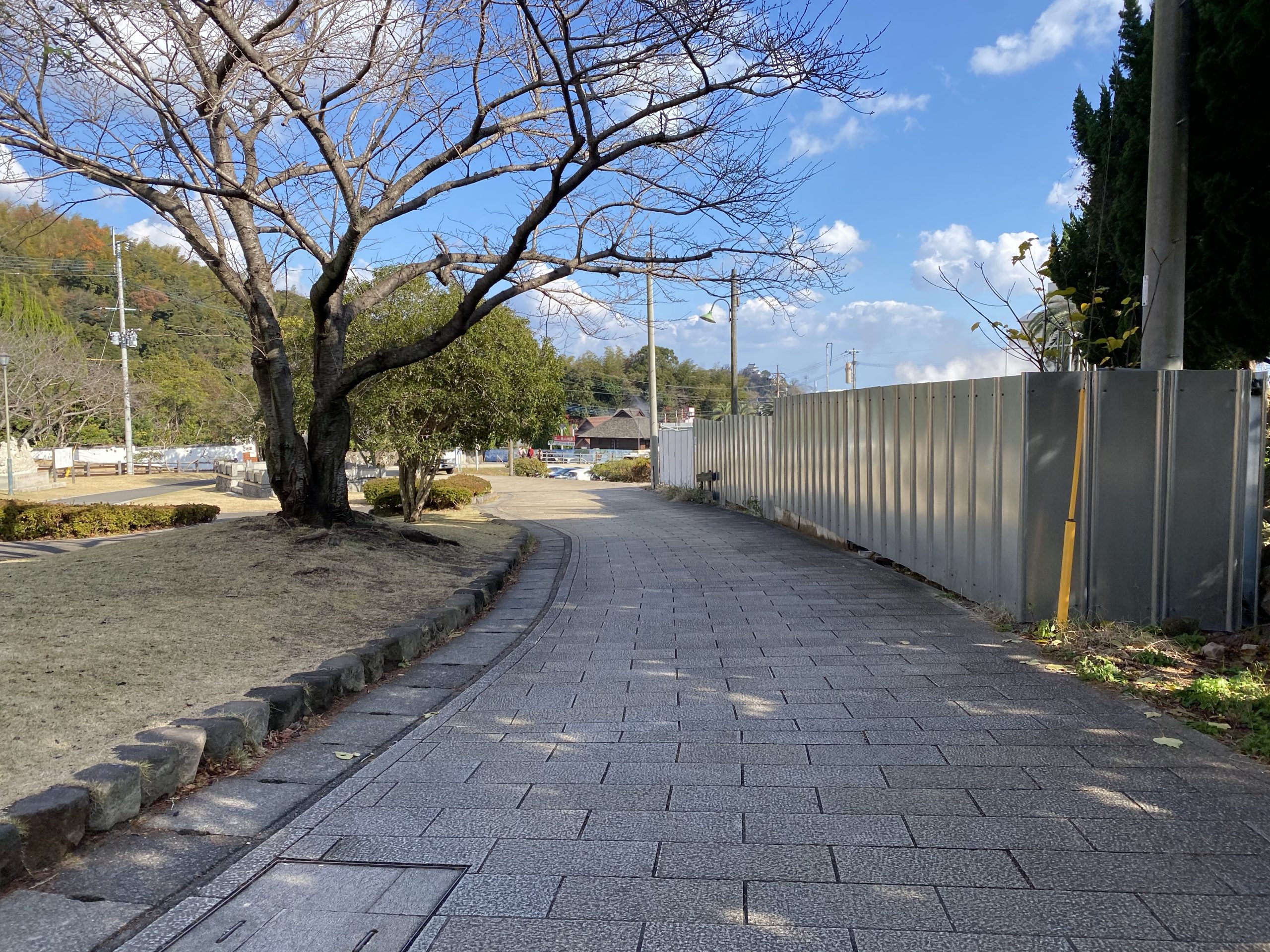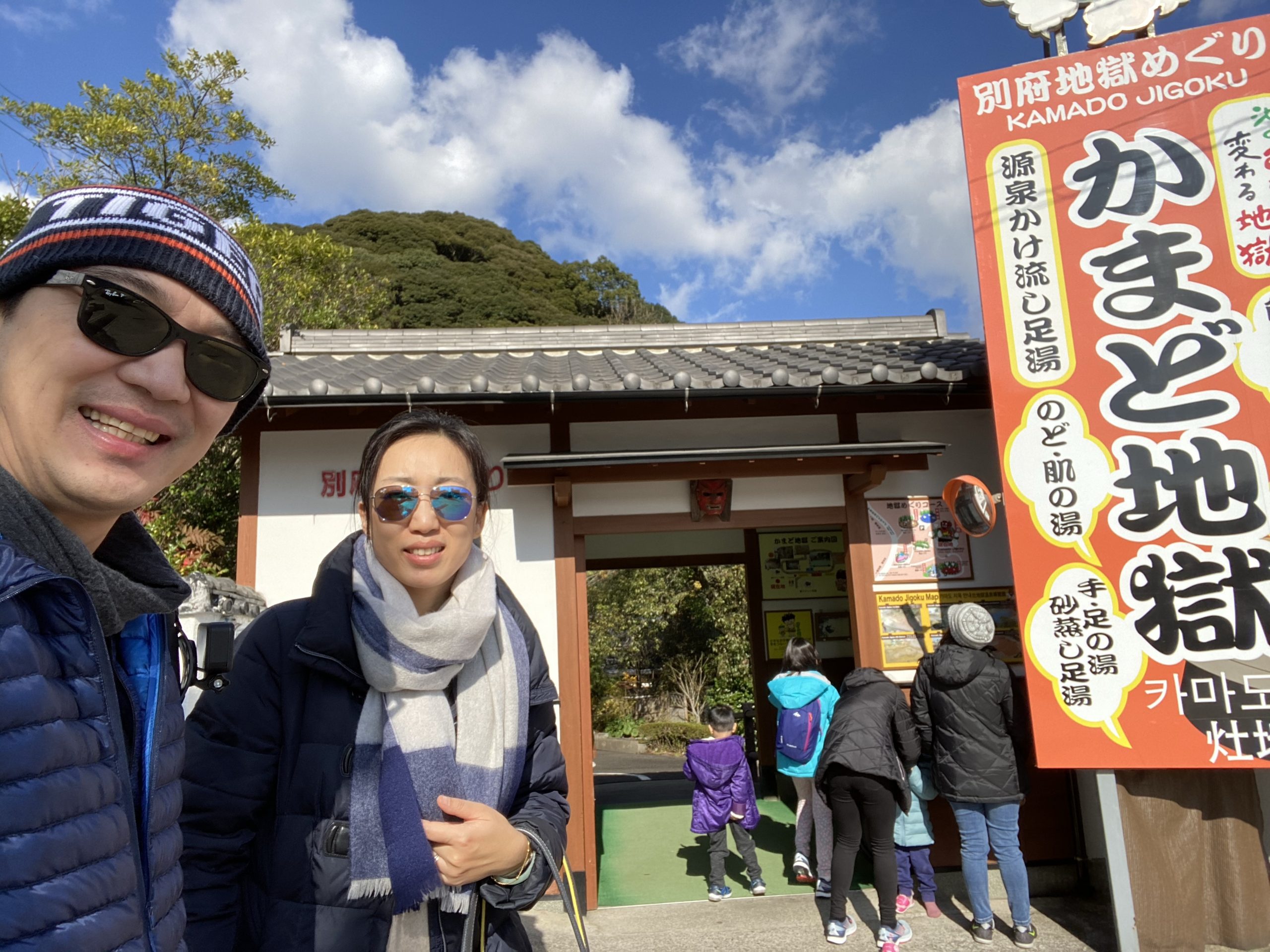 Kamando Jigoku was much Smaller than Umi Jigoku. I was supposed to be famous for one of its blood water hot springs. We got some nice pictures from this location and that's about it… so on to the next destination.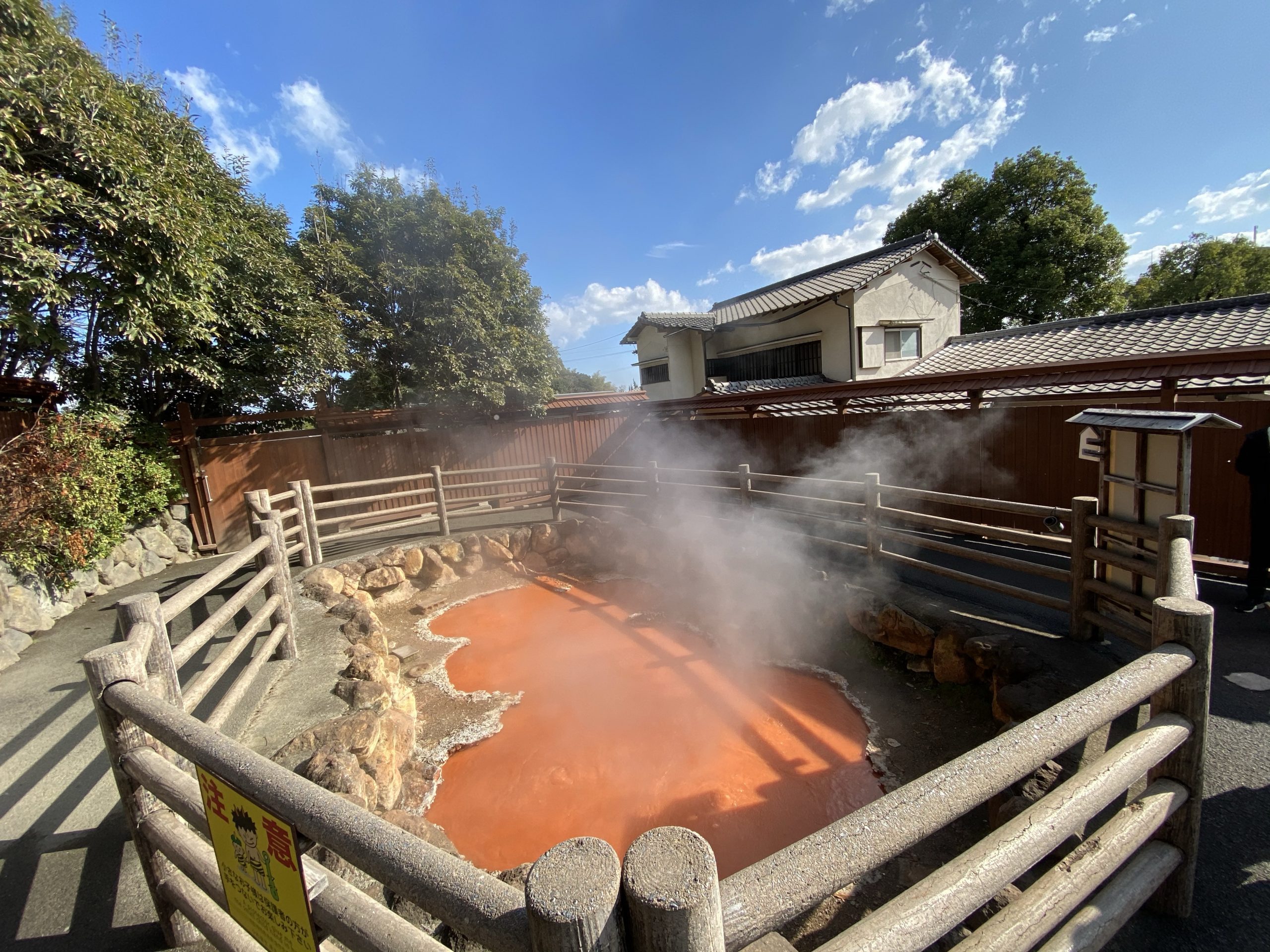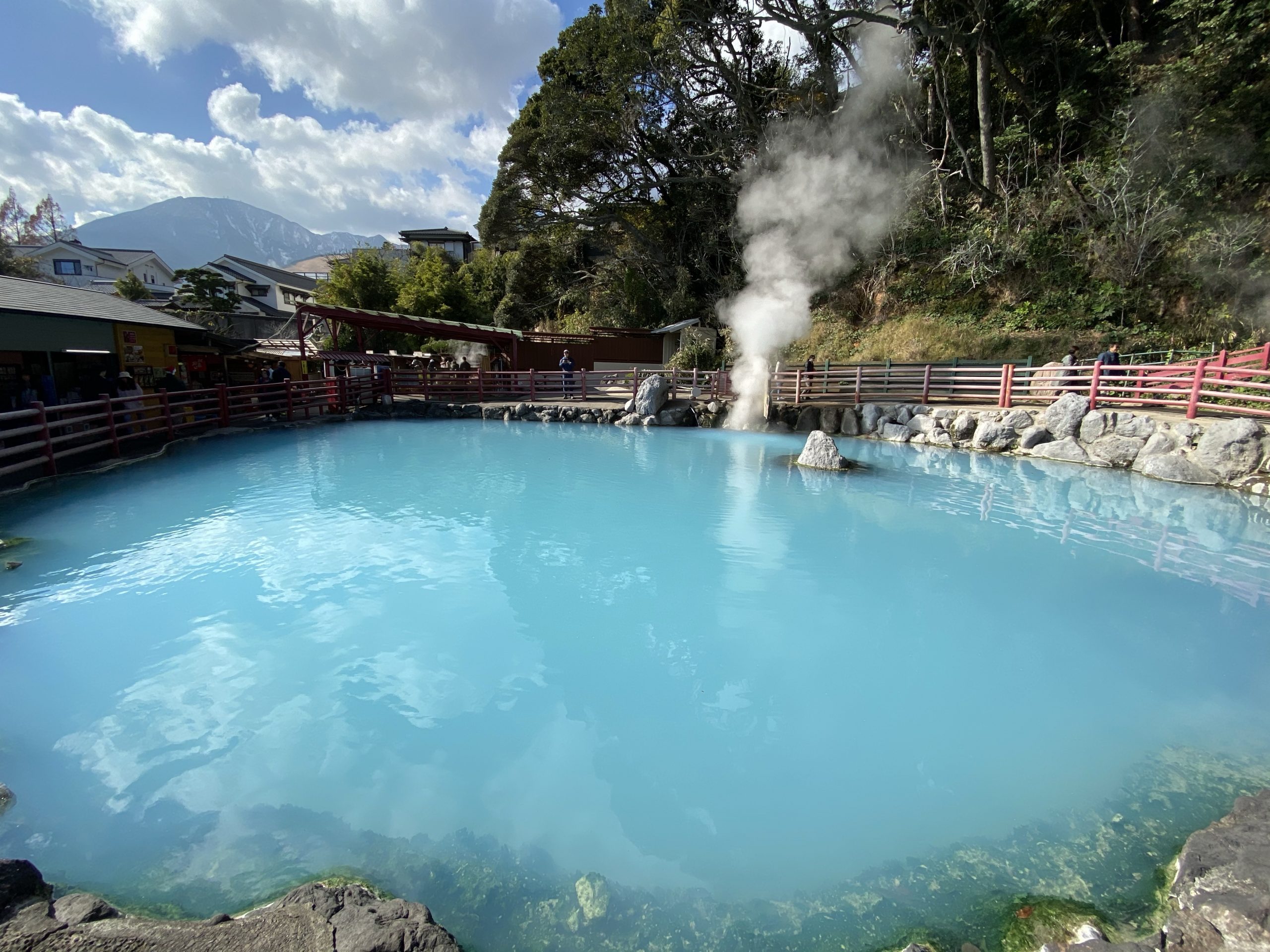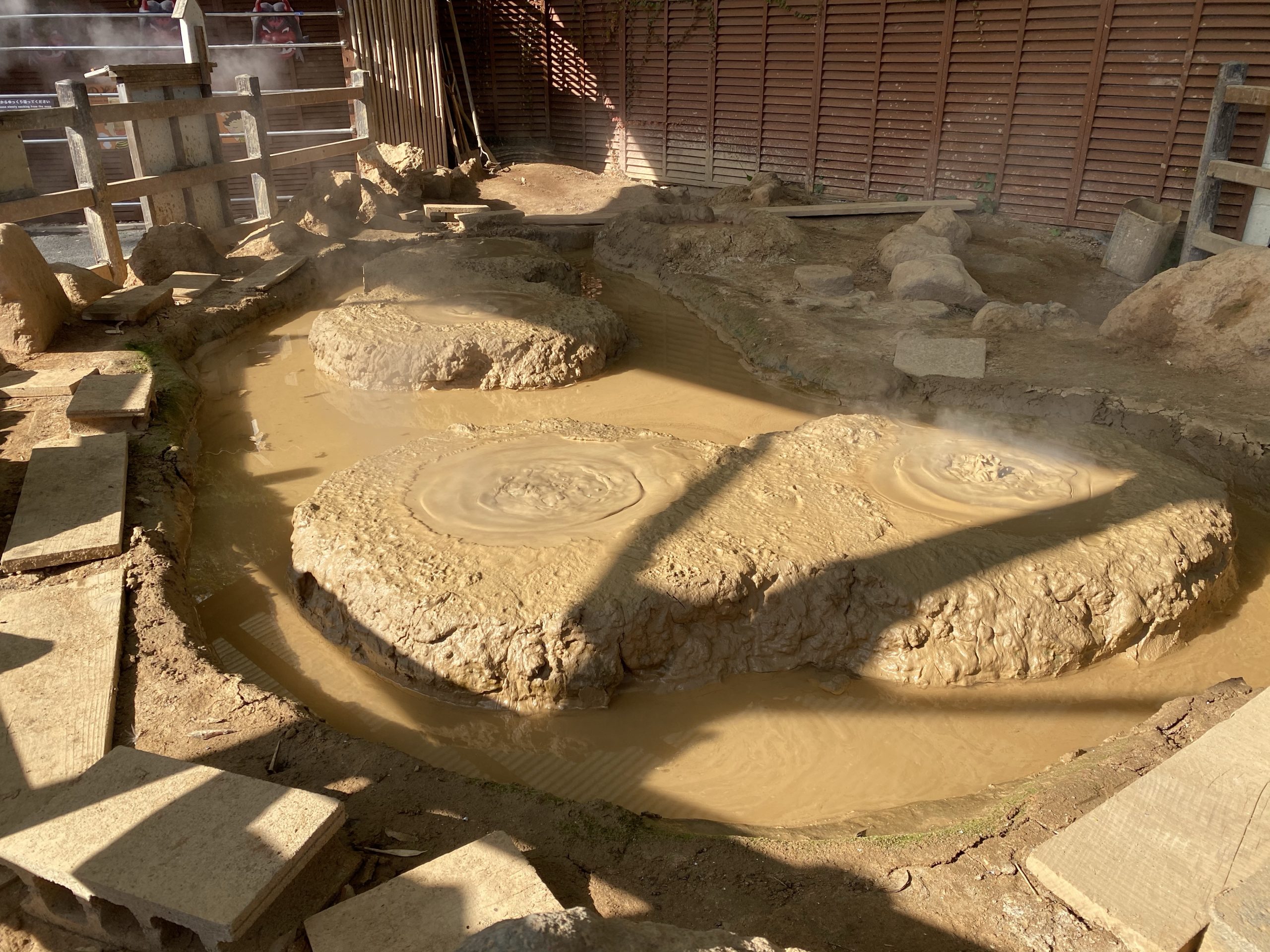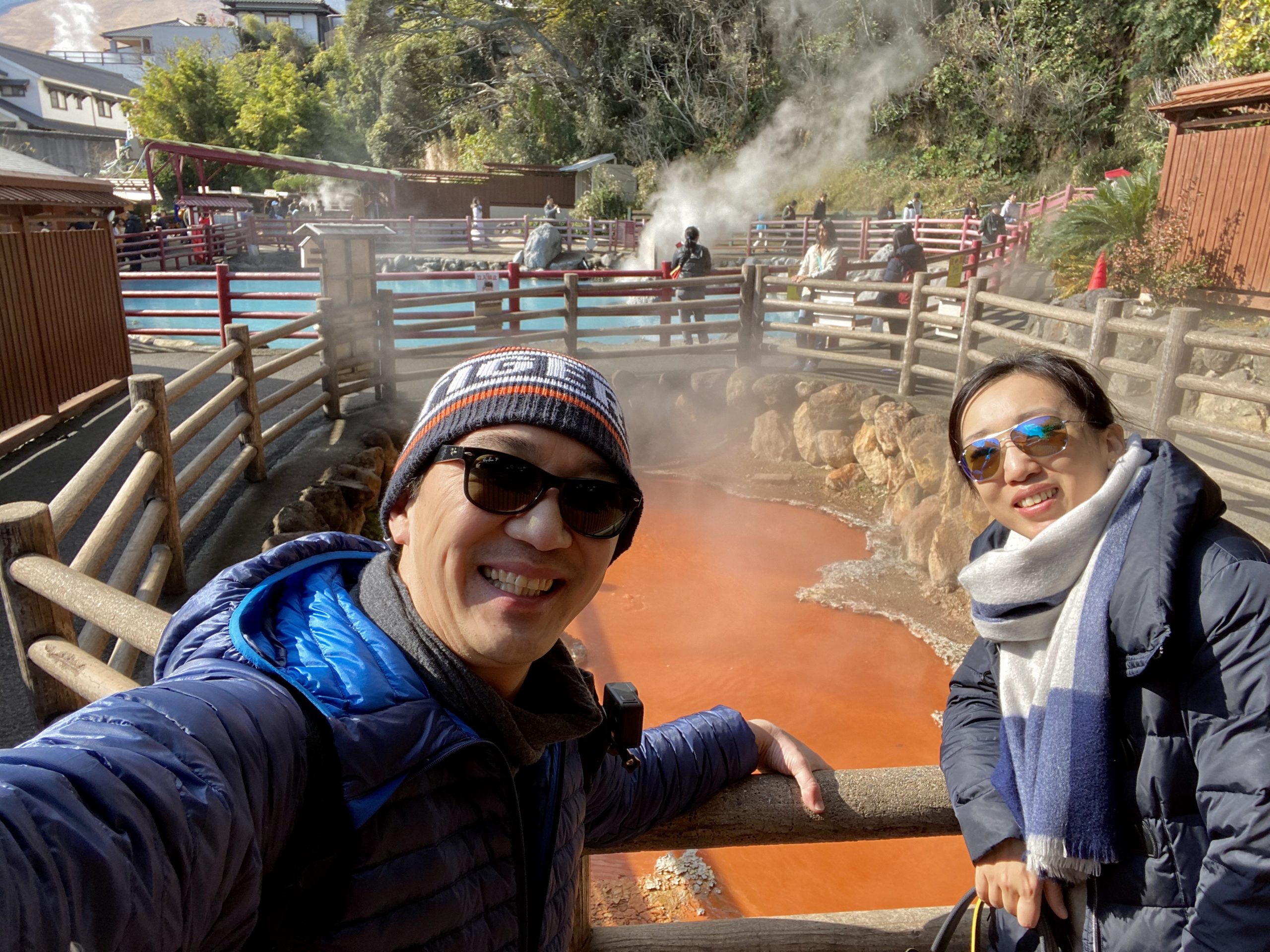 Since, I want to get back to Yufuian before sunset, we want to make the most of our time in Beppu, so I asked Vicky how do we get to our next destination, she said, oh there should be a bus that is arriving in 5 minutes. The bus stop was also about 5 minutes away and there we started our AMAZING RACE segment of our day trip.

As we approach the Main Street that our bus was on, vicky says "I hope the bus did not leave already and then oh I think that's the bus!!!" We started to run and chasing after the bus.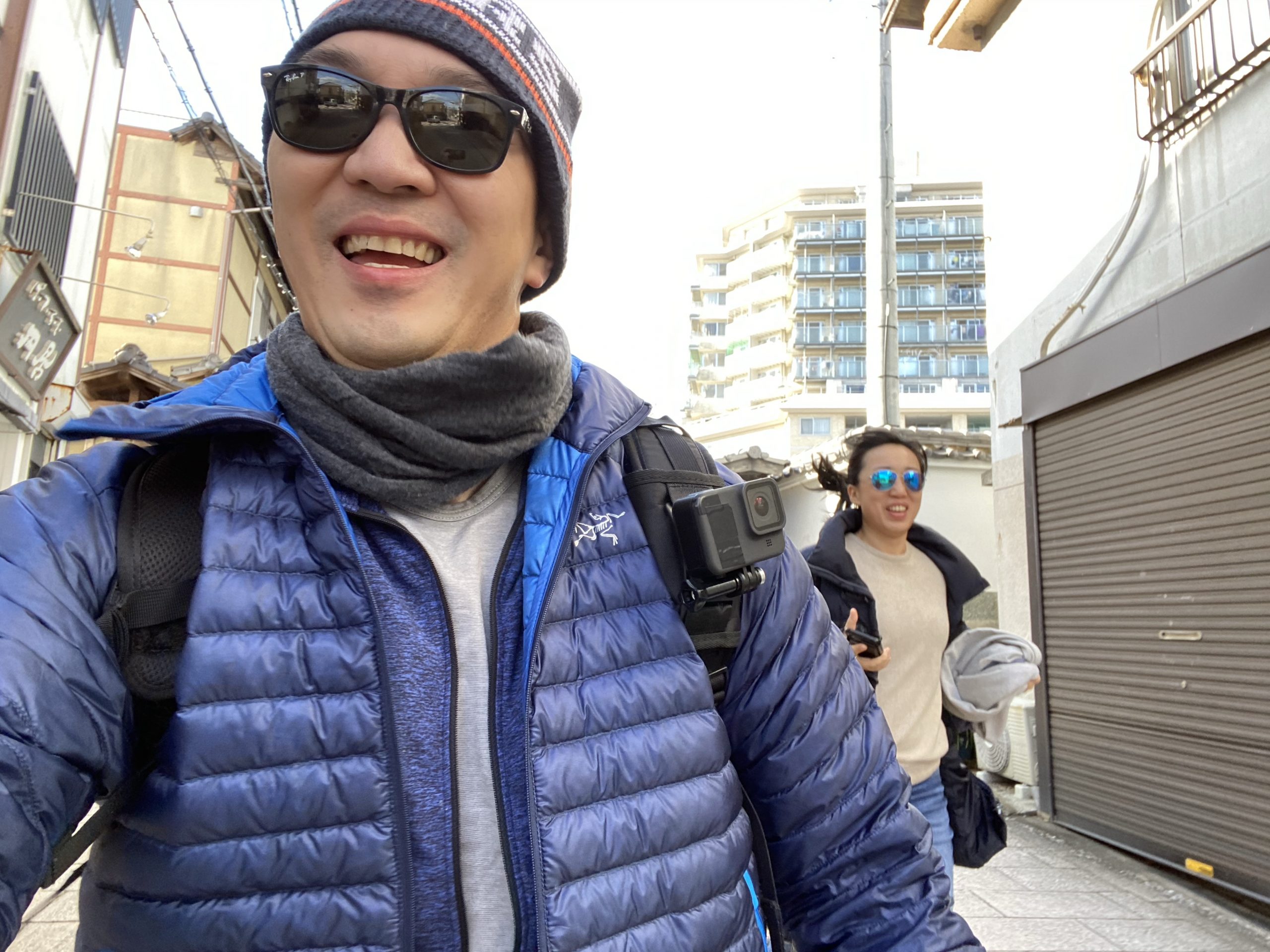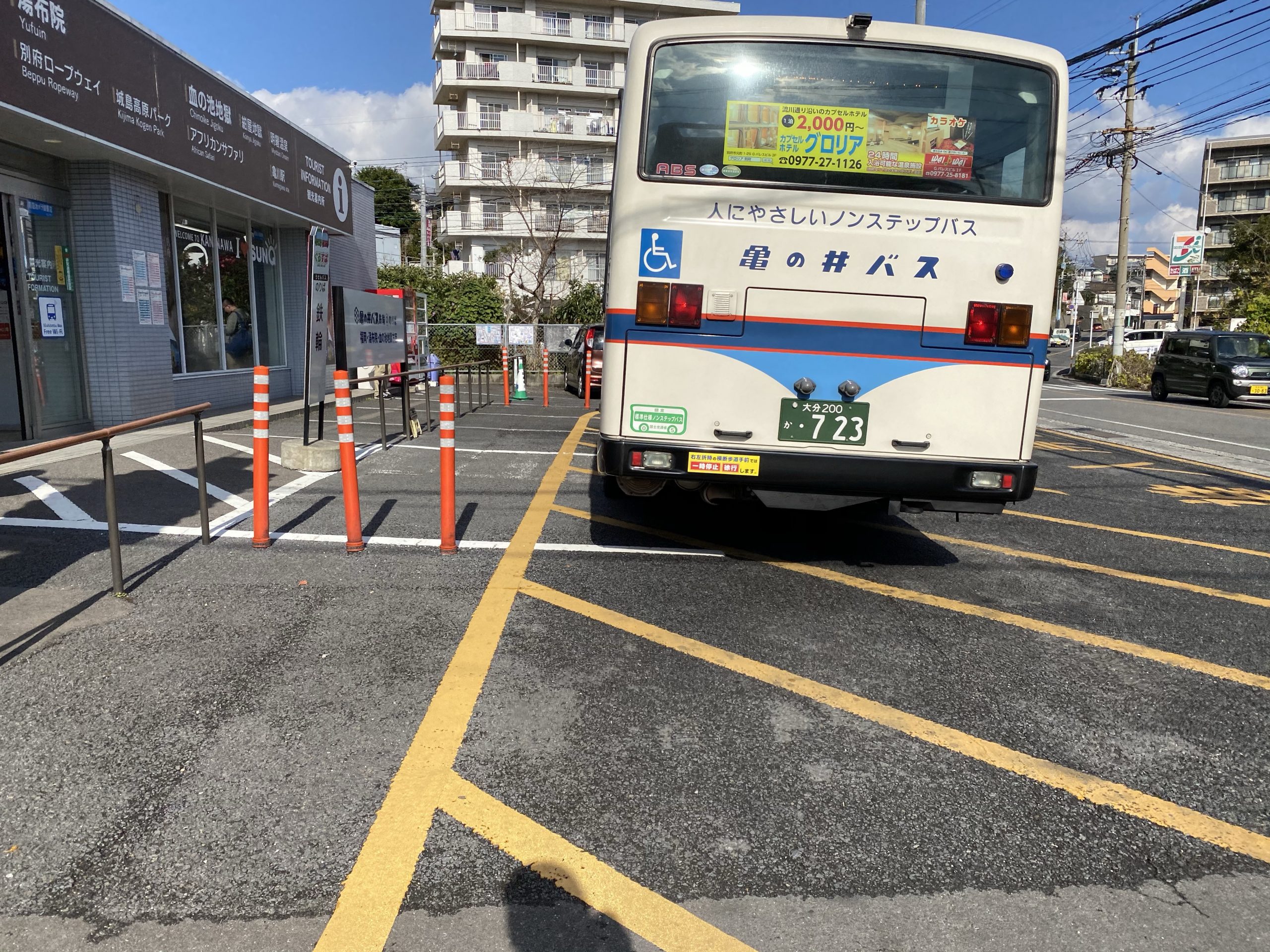 Once we got to the bus we realized that it wasn't the bus we were looking for but the kind bus driver tells us that it is over there across the street and it is just arriving. So after risking our lives running across the busy street we finally made it.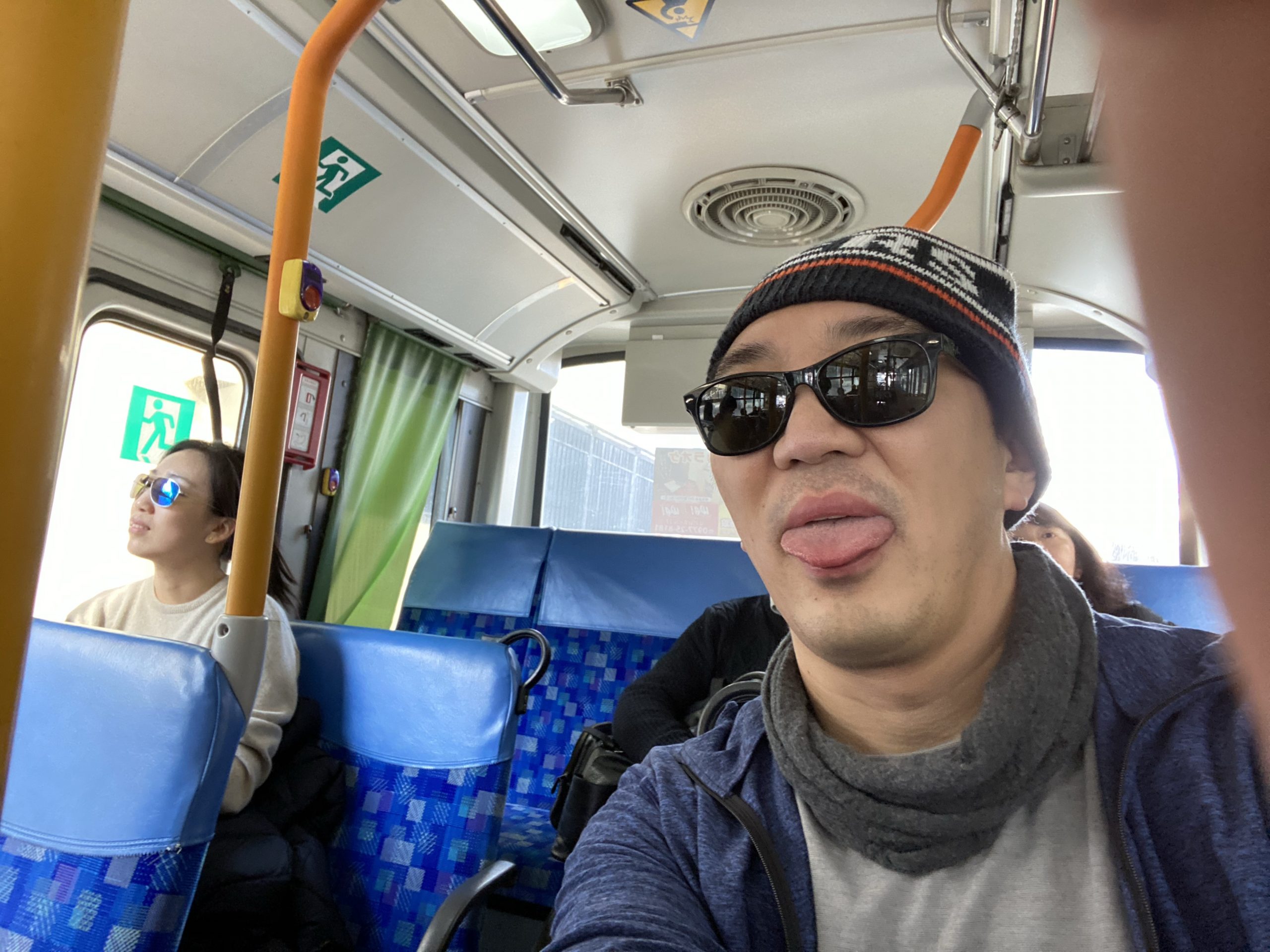 The bus ride was amazingly hot. It was like a sauna hot. I started to strip down my layers, all the way down to a tee-shirt and I was still hot. But hey free sauna right?
Our next destination is Takegawara Onsen. It is an old classical local spot, but what it is really famous for was their black sand bath.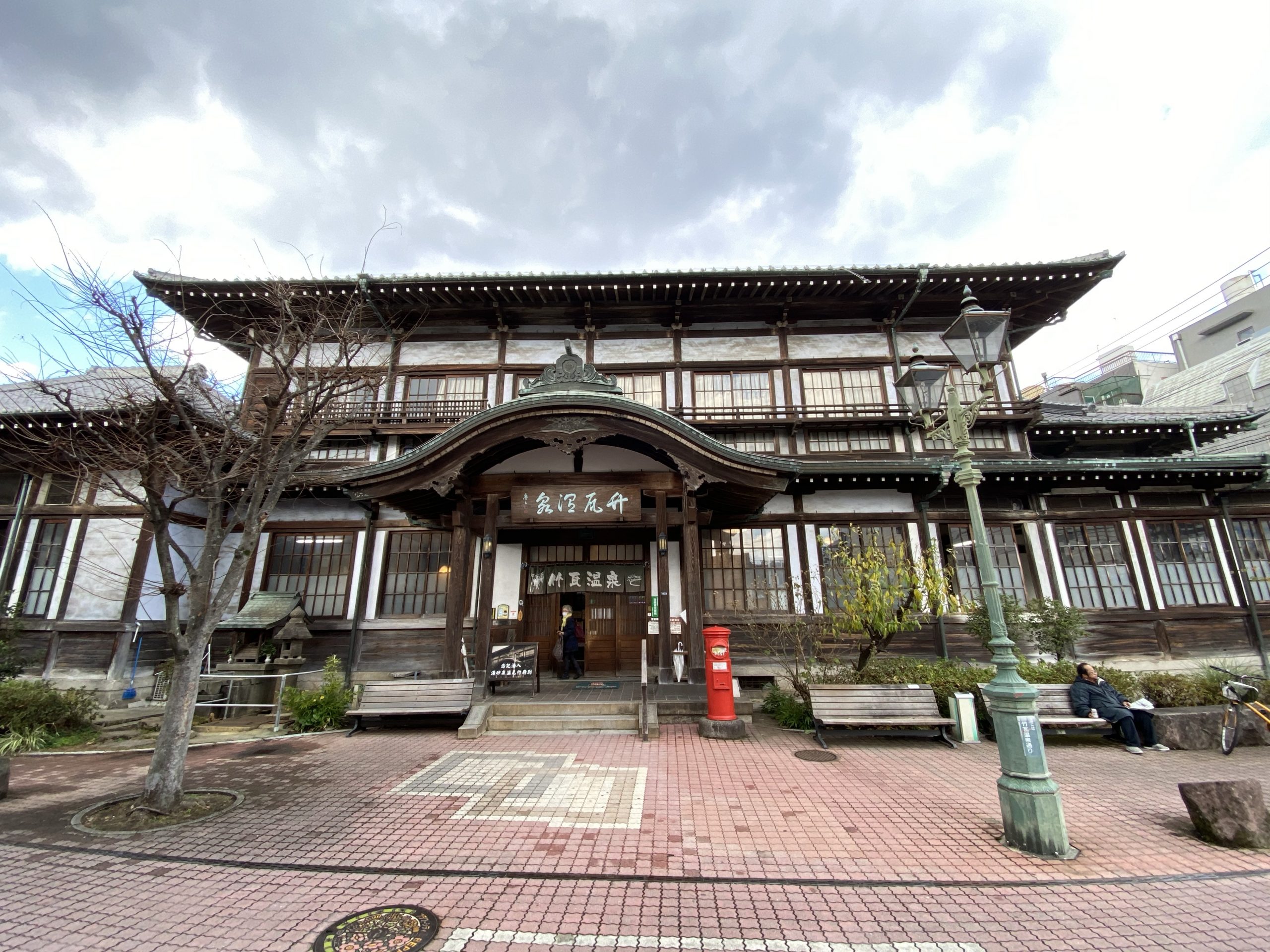 When you walk inside, there was a friendly older Japanese gentleman asking "Japanese OK?" He doesn't speak much English so it is a prefect chance to practice my Japanese. This is not a fancy onsen joint, everything is a la carte, including towels, you will need to purchase via a vending machine for tickets then give the tickets to the old gentleman. The old man then gives us a time to wait and he will call us in to the the sand onsen when they are ready for us. Honestly, at this point, I don't know what to expect, they just keep on telling us "no underwear". Was I suppose to change here and go to the onsen or change before the onsen?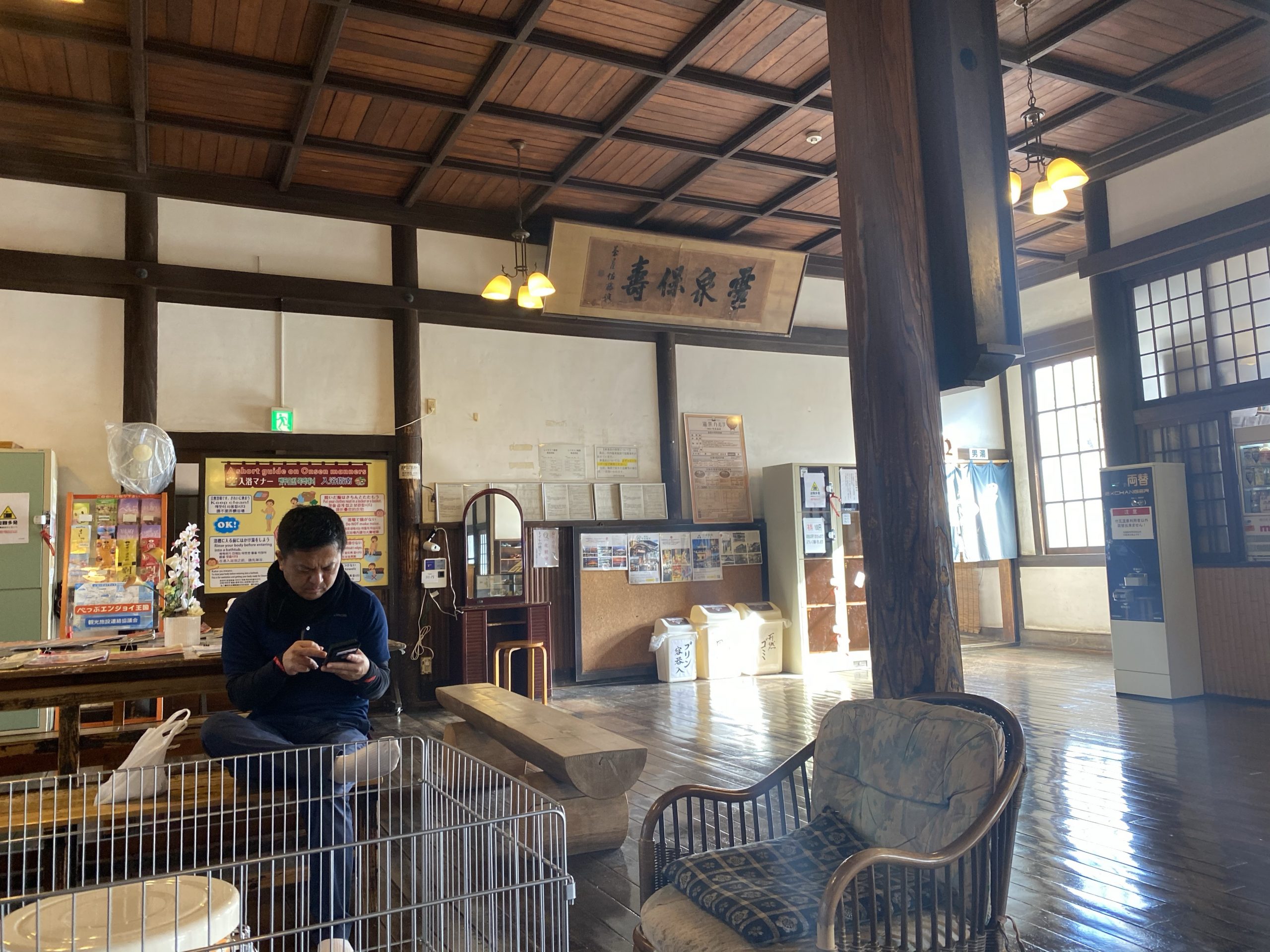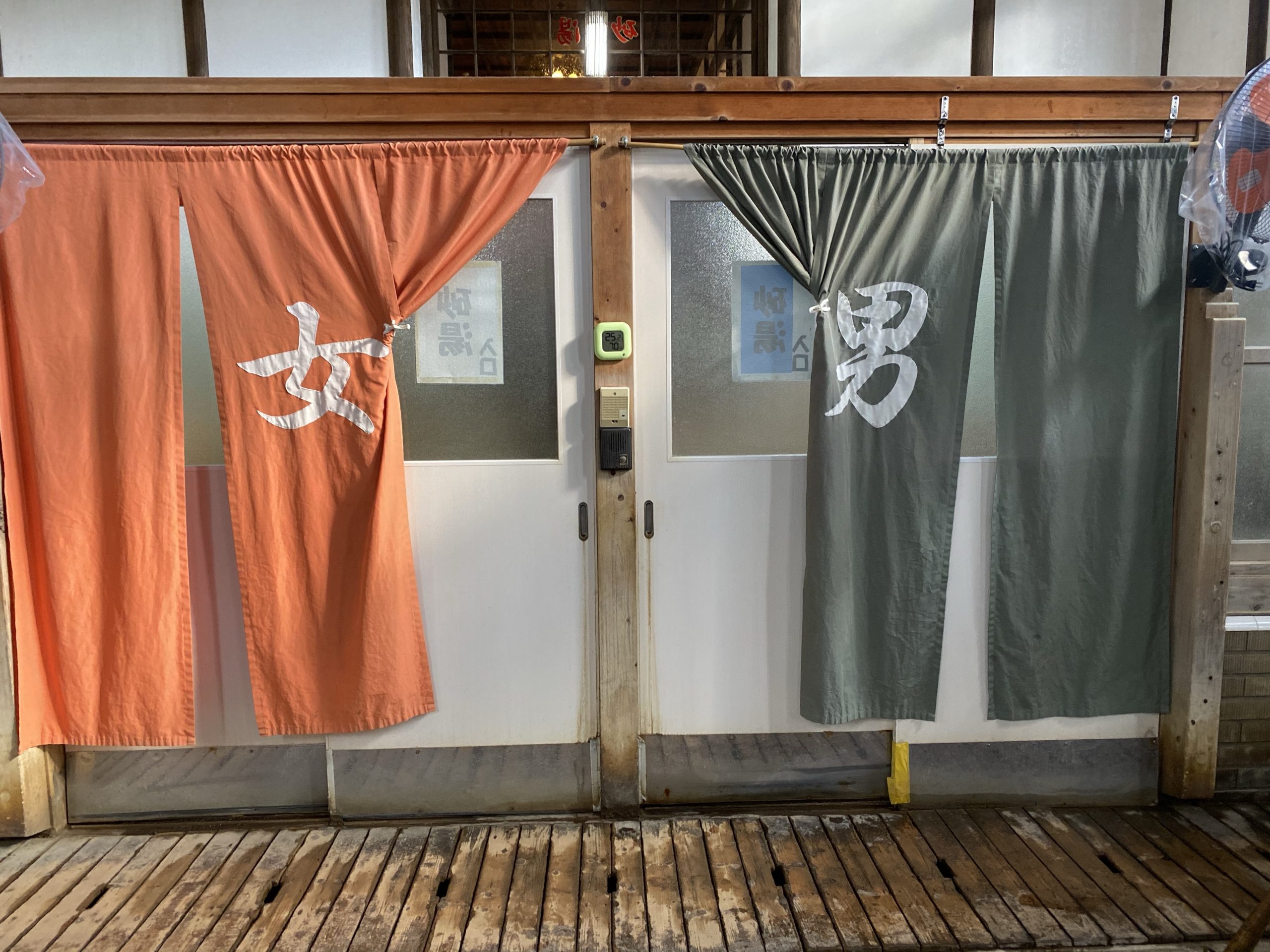 So it turns out, behind the curtains there were two separate changing room, one for women and one for me, but then it connects to a larger sand room, where then have a pit dug out for you so they will bury you in warm, very warm, black sand. And yes no underwear just their provided yukata (Japanese gown).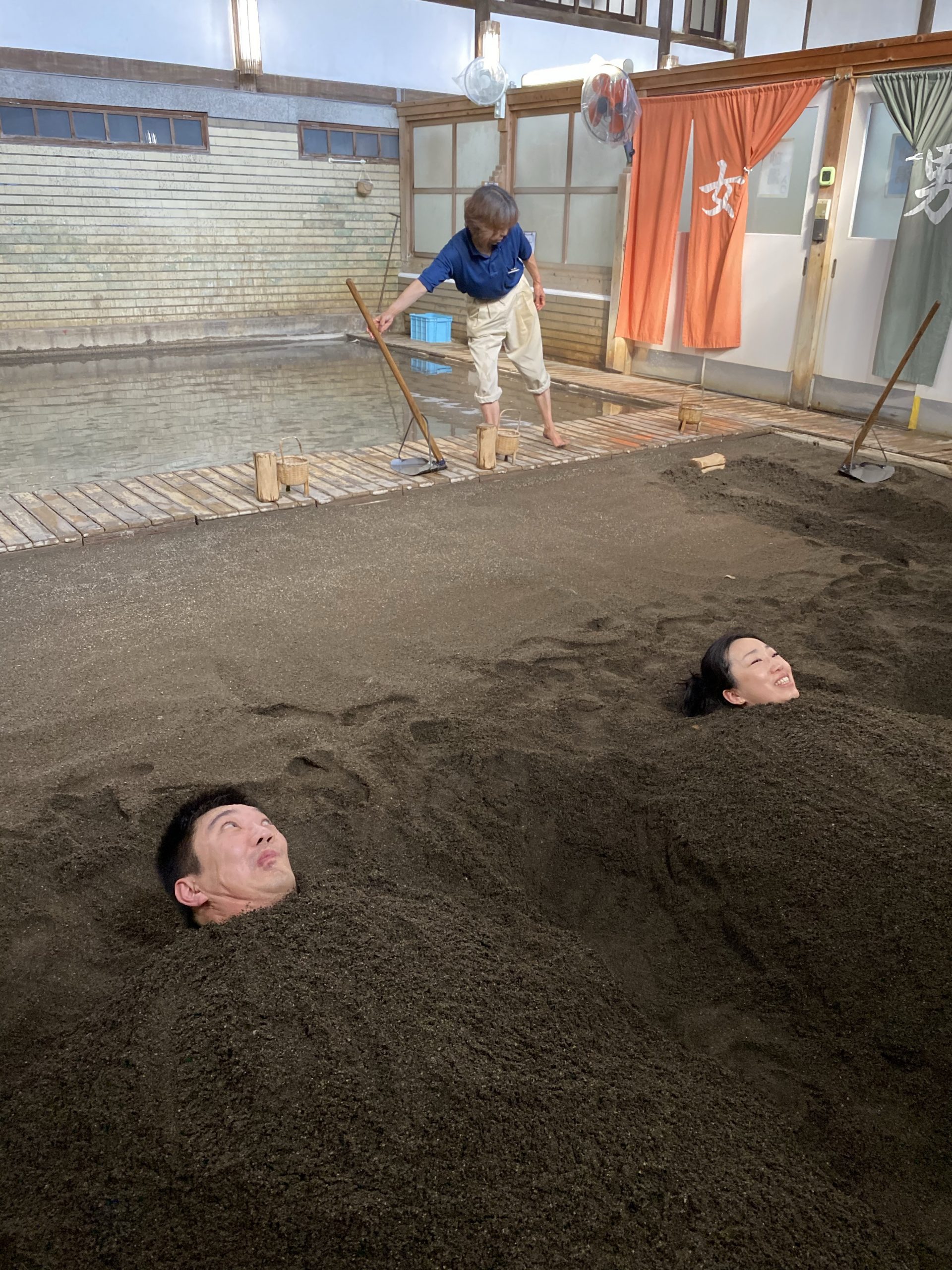 After 15 minutes of warm hot sand bath, I was sweating like … like … I don't know… I don't think I ever sweated like that before. But the quick shower afterward was nice and comfortable.
That's shower number 3.
My favorite part of any onsen experience, is the rewarding little glass bottle of milk afterward, my favorite is cold coffee milk. UMM UMM … so refreshing.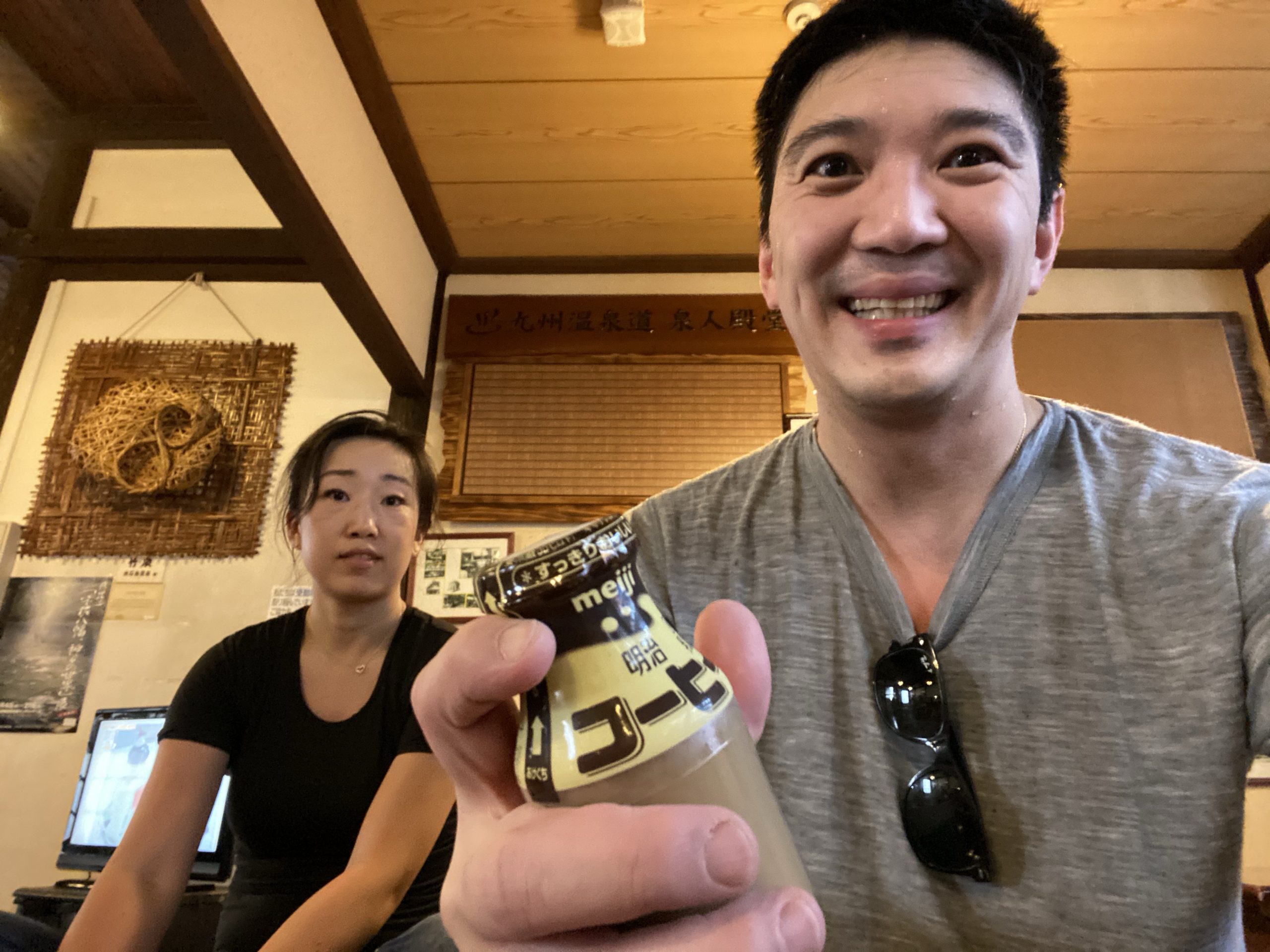 After a brief rest, we decided to take the bus back and walk back to the bus station. Don't we look refreshed!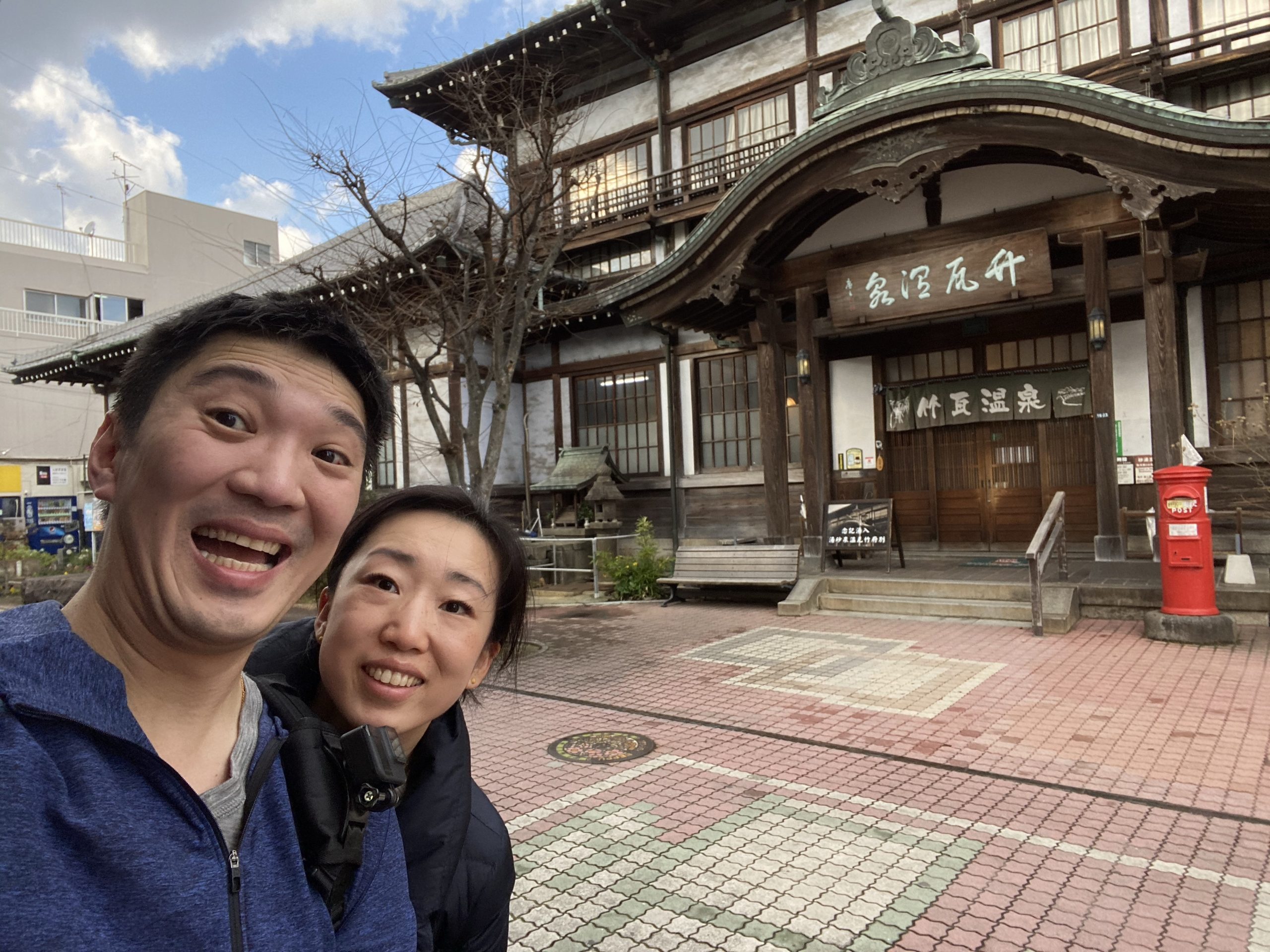 The walk back to the bus terminal was interesting. We accidentally walk through some interesting ally ways including what I think is a red light district? (Picture NOT included )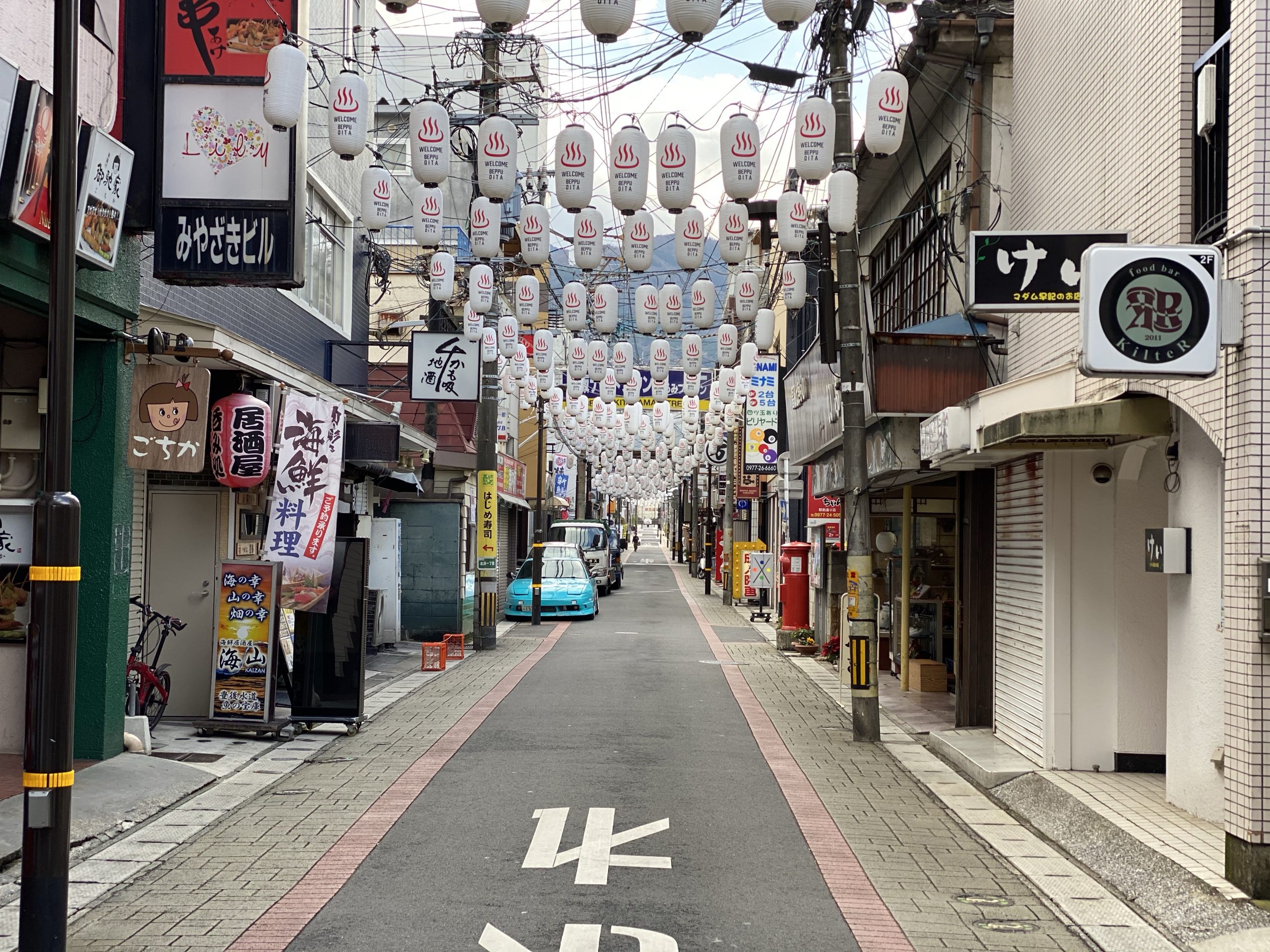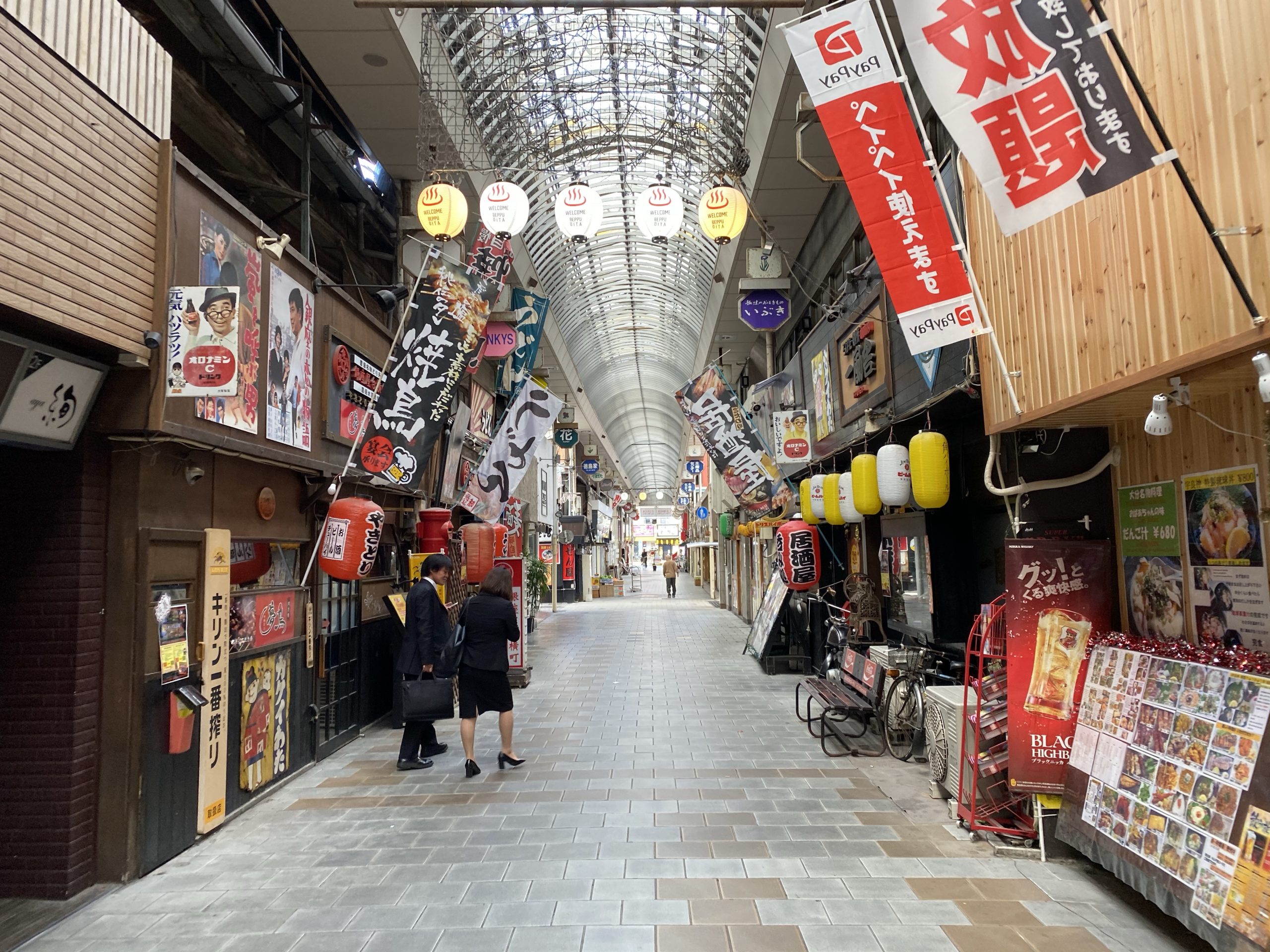 Yeah, but what was interesting was that we found a small liquor store in these alleys, where I saw through the windows, that they had some good Japanese whisky. So here was another opportunity for me to practice my Japanese. Of course, all of the whisky prices were mislabeled, but that's ok, I know how to ask "how much is this" in Japanese. I've been practice this for a while now just for situation like this. I was going to make Vicky proud. So I asked and pointed to the whisky in question and said in Japanese, "How much is this". The man responded, and I froze and my wife stared to laugh. It was like Tahiti all over again. I can ask how much it is, the person understood what I was asking for and they answered, but I would not understand what they said. Don't get me wrong, I know my numbers but what was throwing me off? It ended up being the word for 10 thousand (ichiman). Yeah, that bottle of Hibiki was 11,000 yen. Not that cheap, but there were two bottles fo Taketusru there, so I asked again. "How much is it". And he said 3,300 yen. This time I understood it. I of course use my fingers to verified and yep when I checked out, I was correct.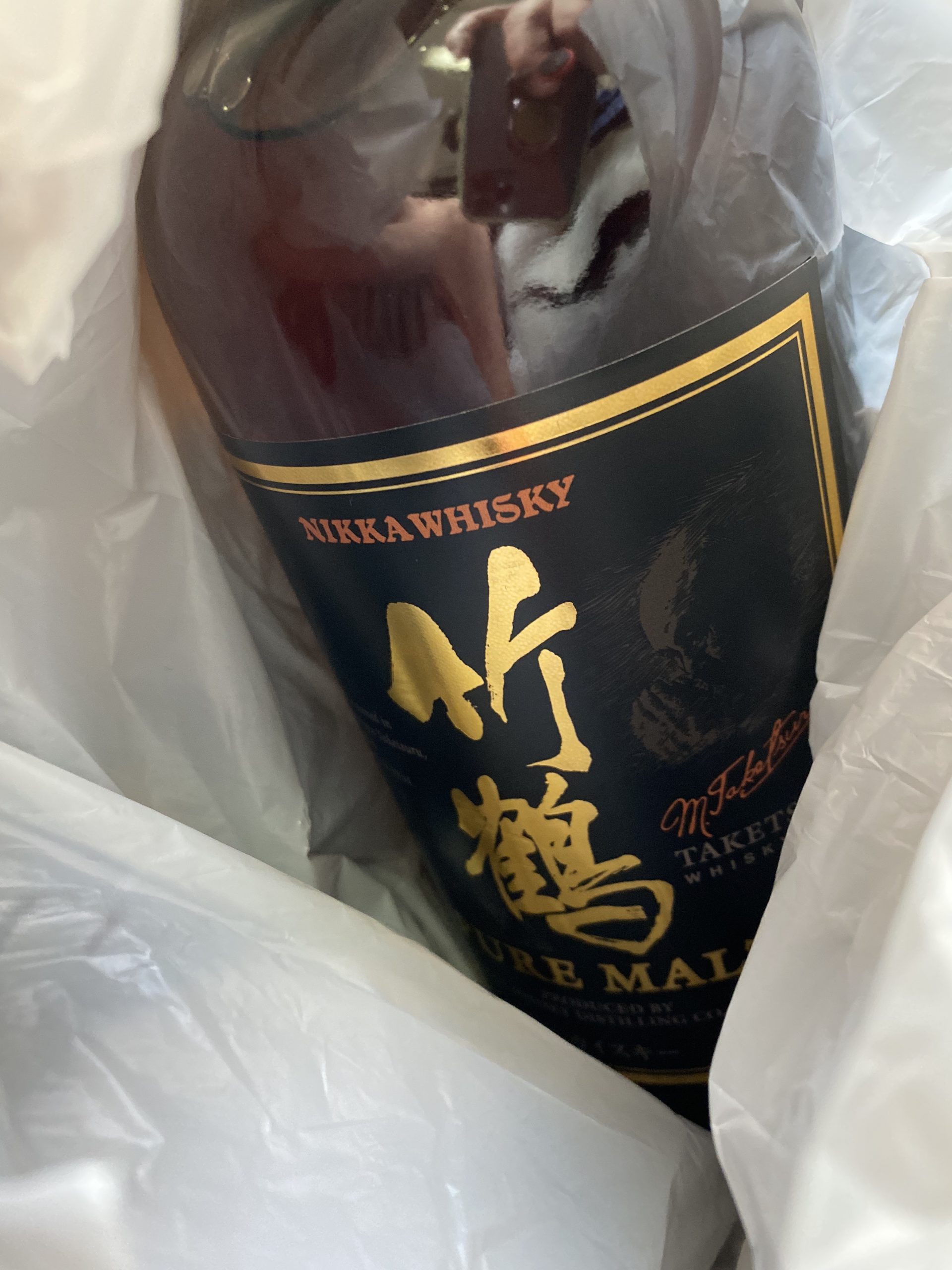 So the bus ride back to Yufuian was almost exactly the same as this morning except for reverse direction and the bus was not as nice, but we got back safely, but before we got to the Yufuian bus station, we decided to jump off and check out the tourist streets nearby. And as we were walking toward the tourist street, we found a local grocery store!!!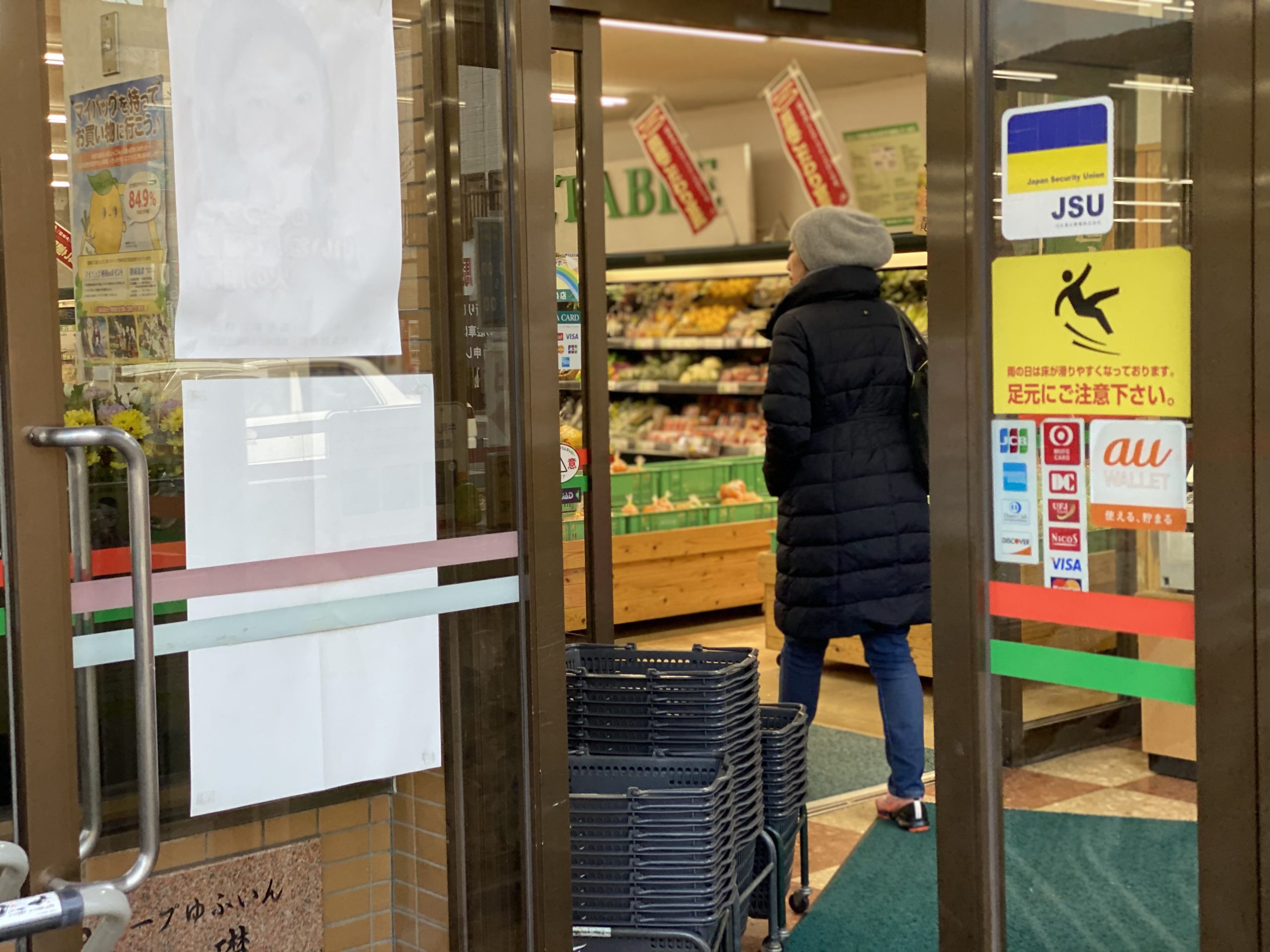 We got a few things and headed to the tourist street.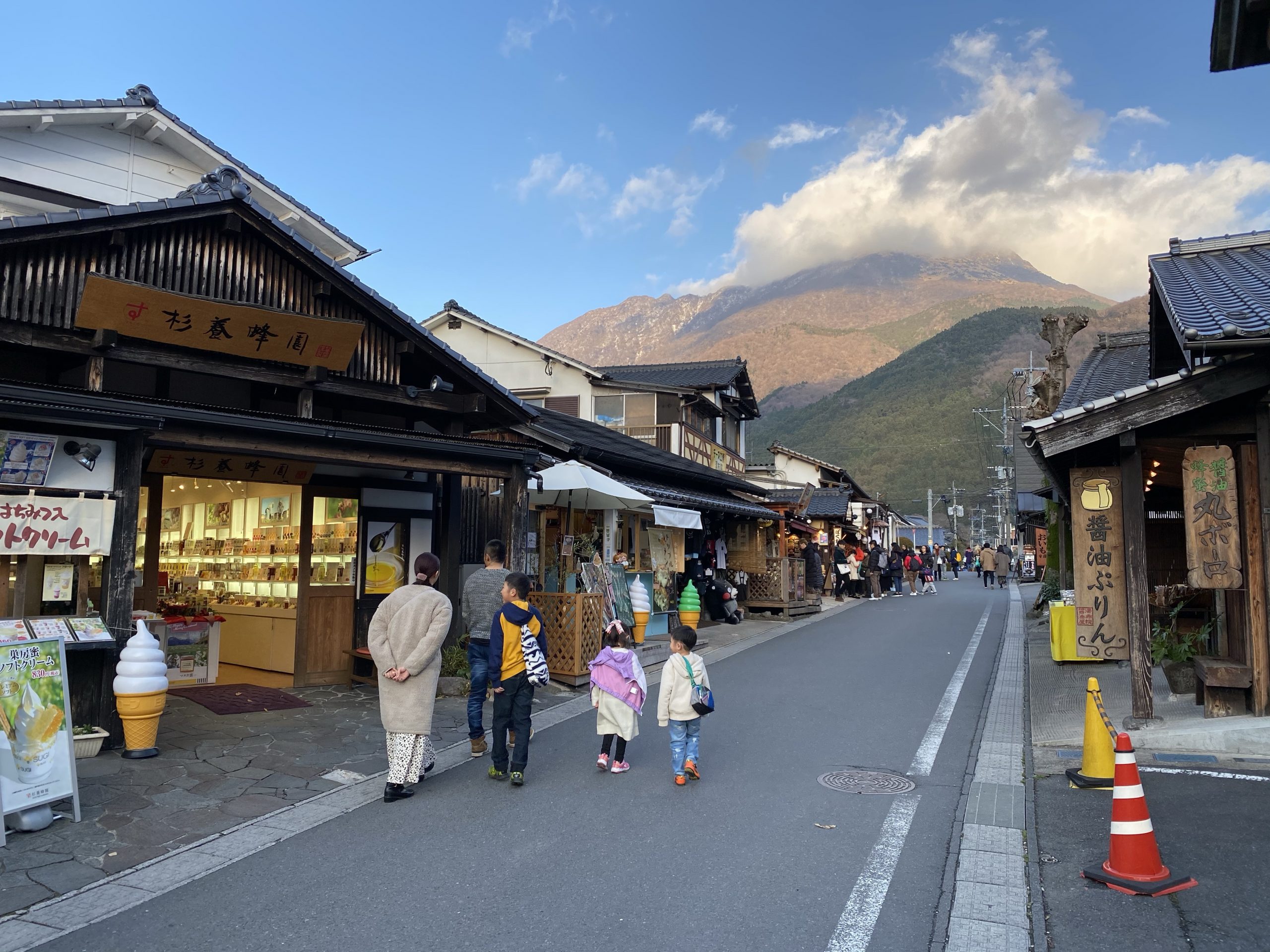 The street was nice and beautiful but very touristy, not really my style, but what was was the small fruit shop in the alley way next to the touristy street…. What a find!!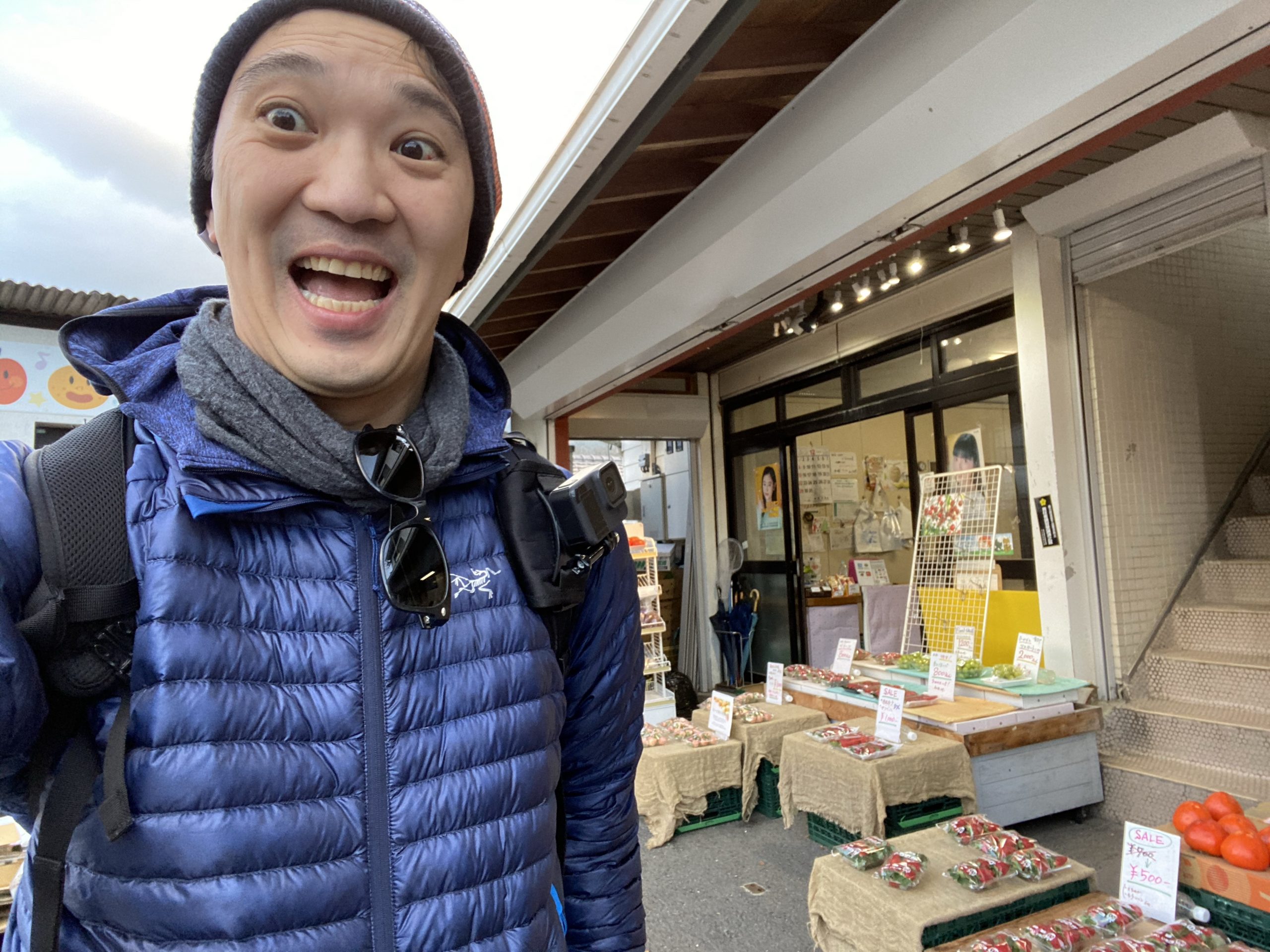 We brought some nice beautiful local strawberries, even some white strawberries too. Since one of the packages had some "bad strawberries" in there the owner gave us a second pack for free!!!
Note: I ate the "bad" strawberries and they were totally fine with my American strawberry standard. … ummm so good!!
From the fruit stand we took a taxi home, and again I get a chance to practice my Japanese. This time the driver understand I wanted to go somewhere, but he did not understand how I said our ryokan's name.
"Gettouan"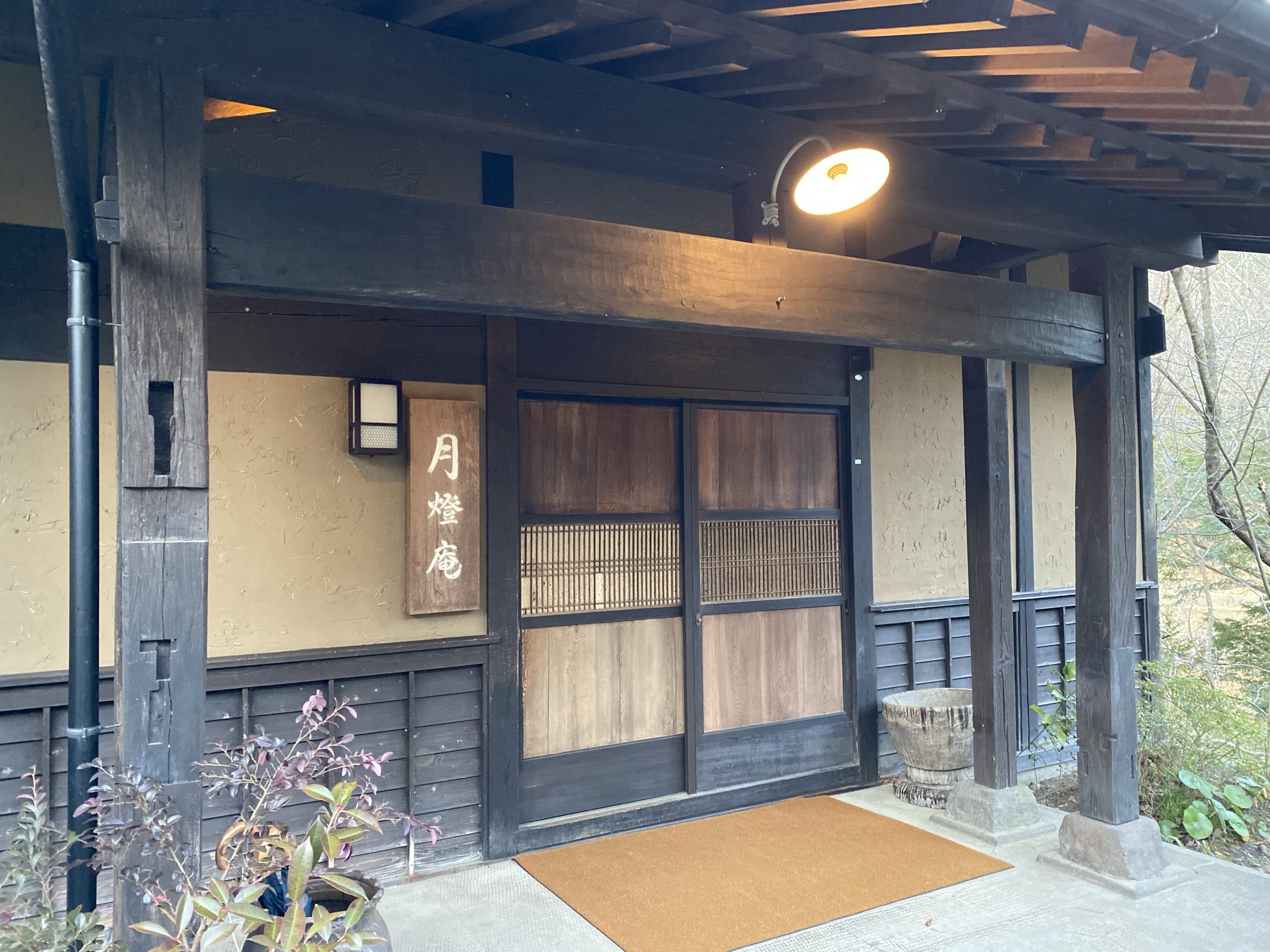 We got back around 5pm, and our dinner is at 6pm. Ate some strawberries and review our spoils.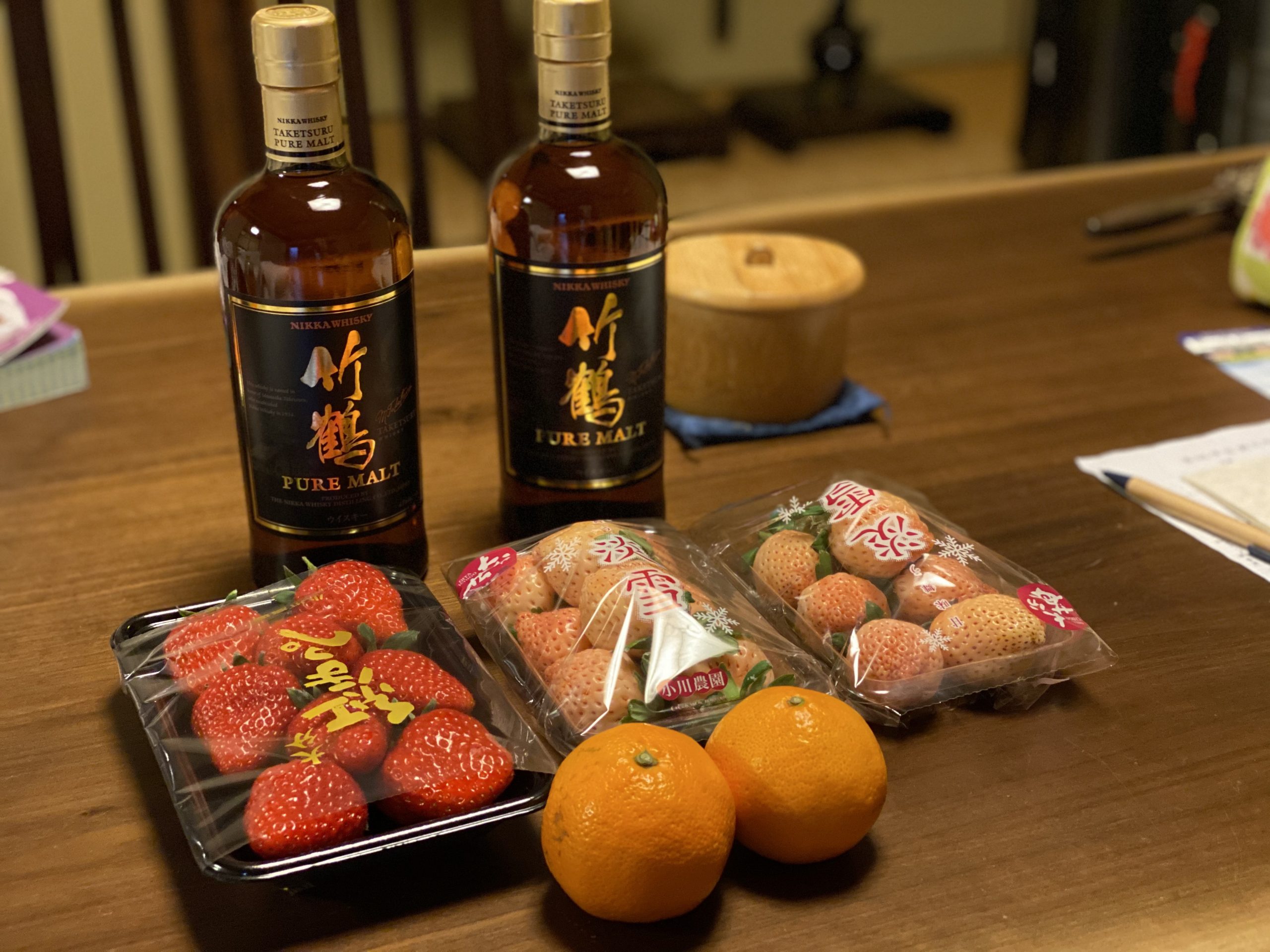 And it was time to freshen up prior to our dinner. So that's showers 4 and 5!!
Dinner was amazing as ever. I thought tonight was just going to be Shaba Shaba (Japanese hotpot) But I did not expect another multi course meal.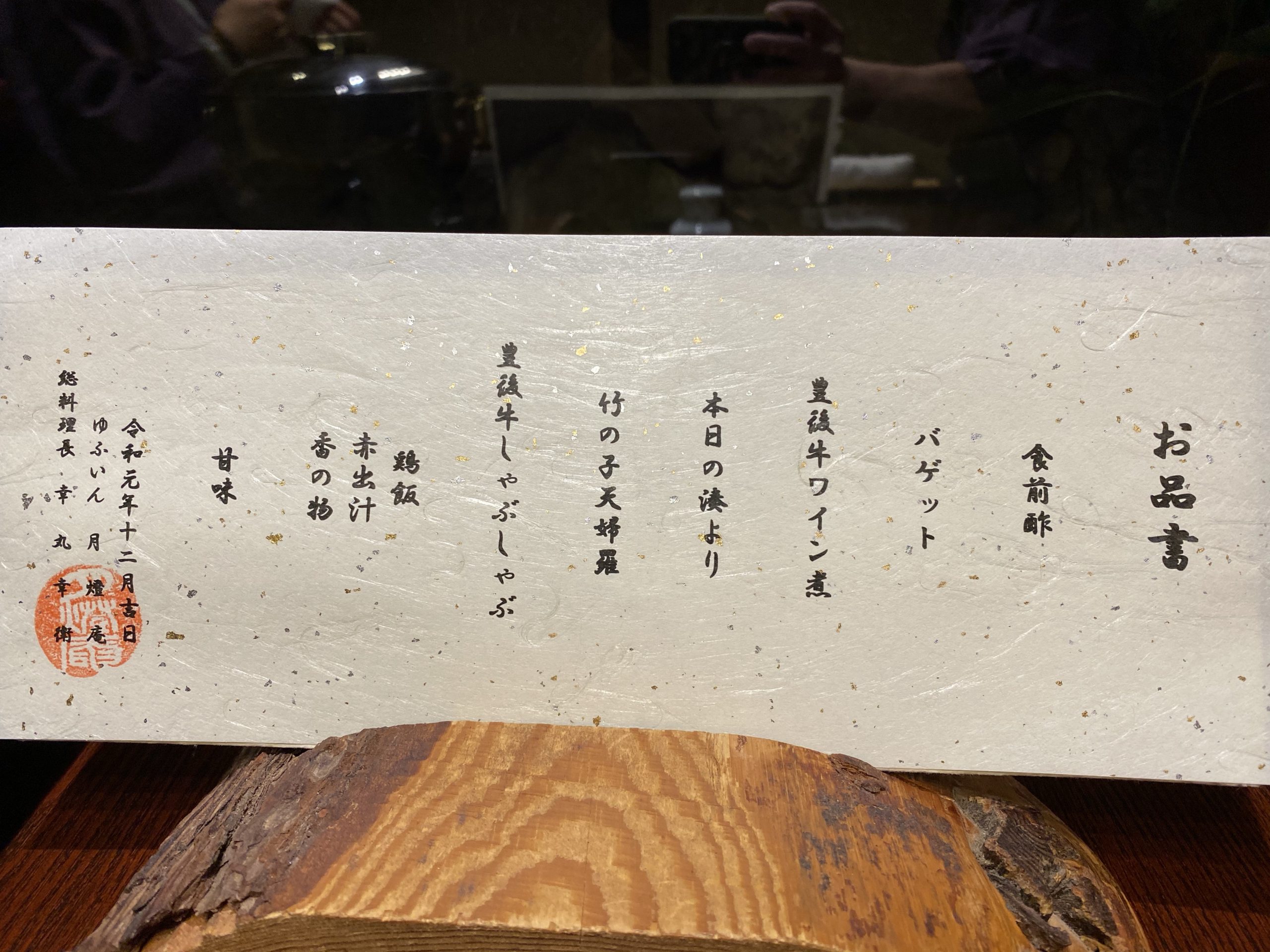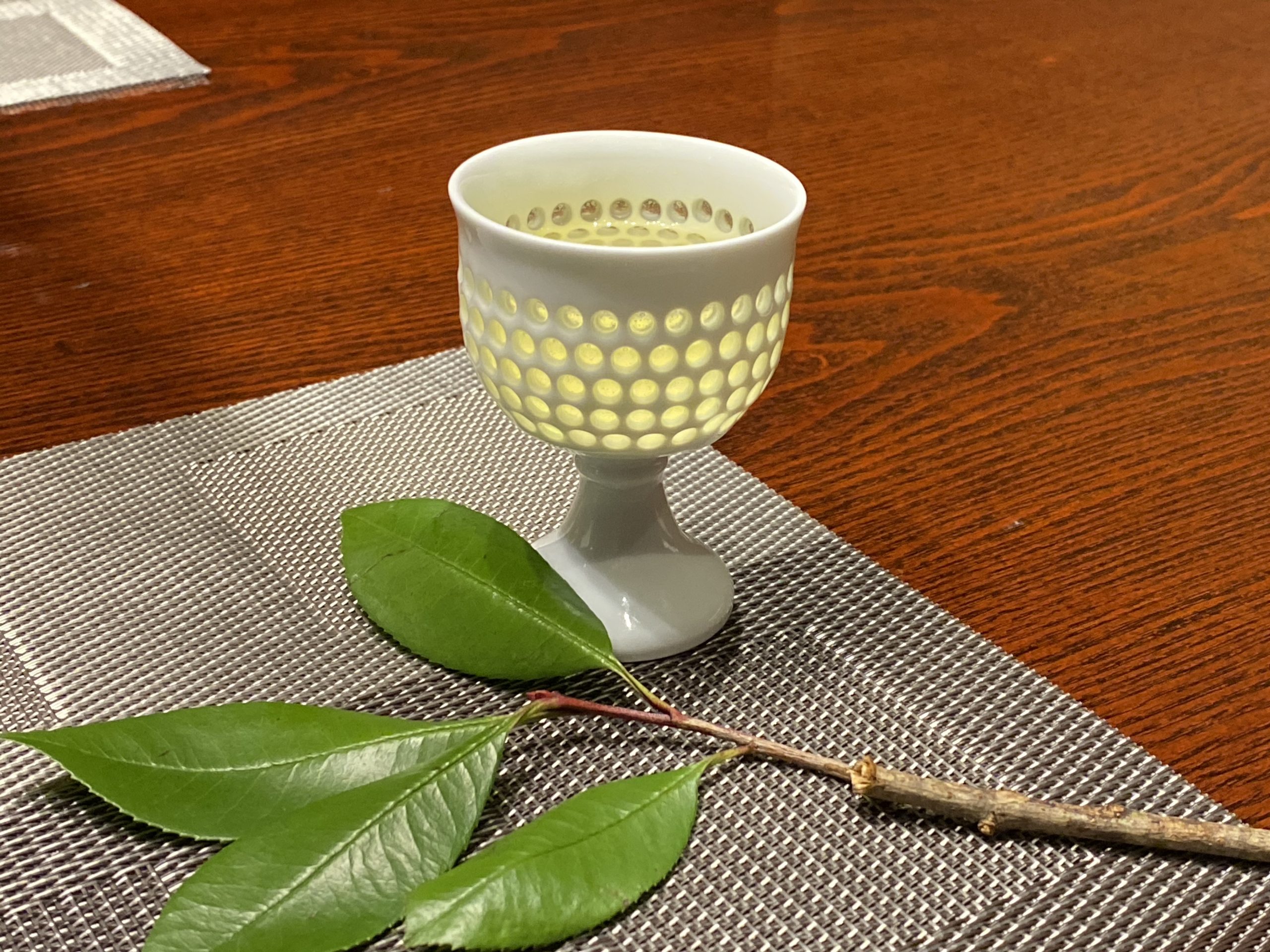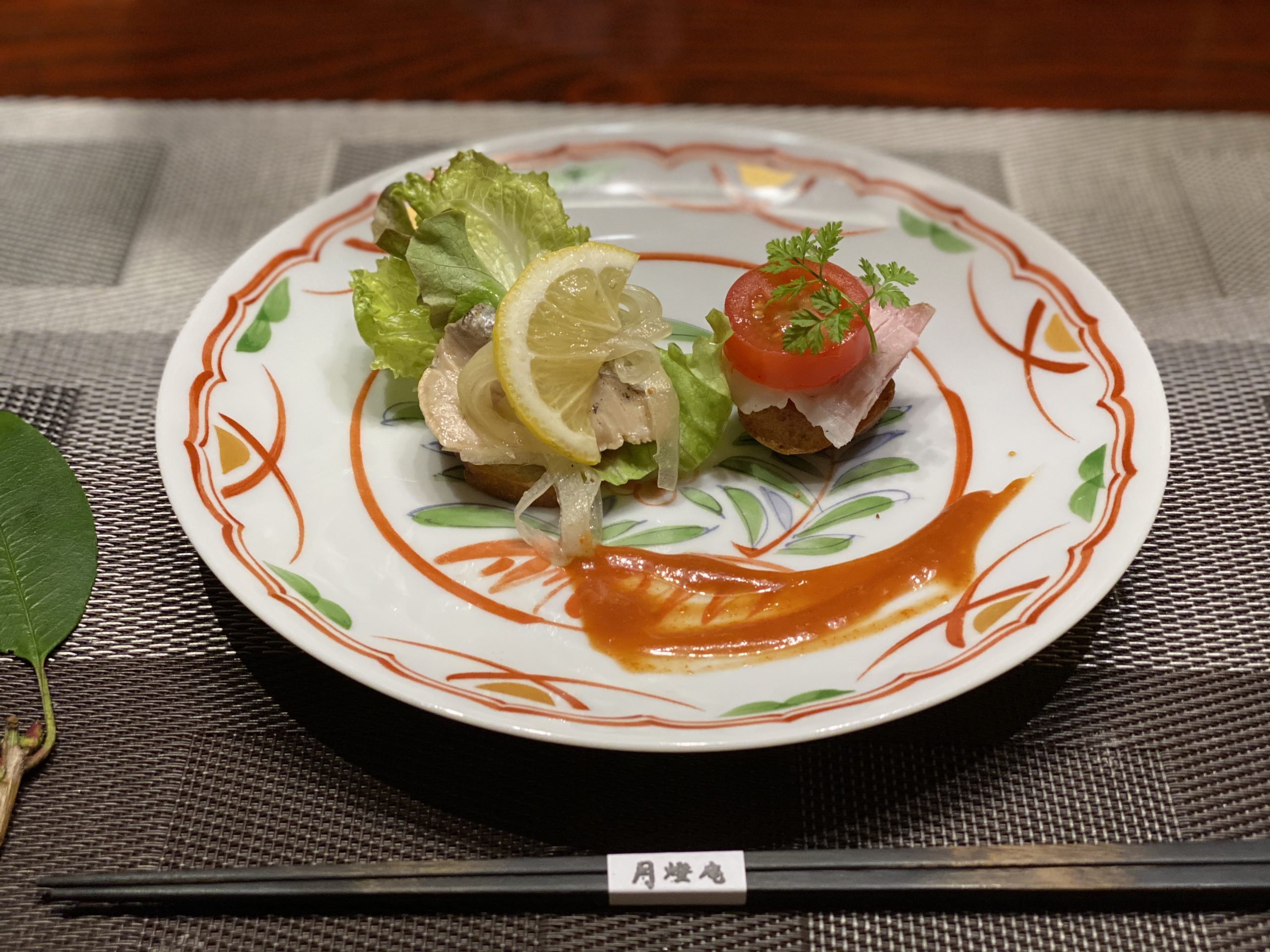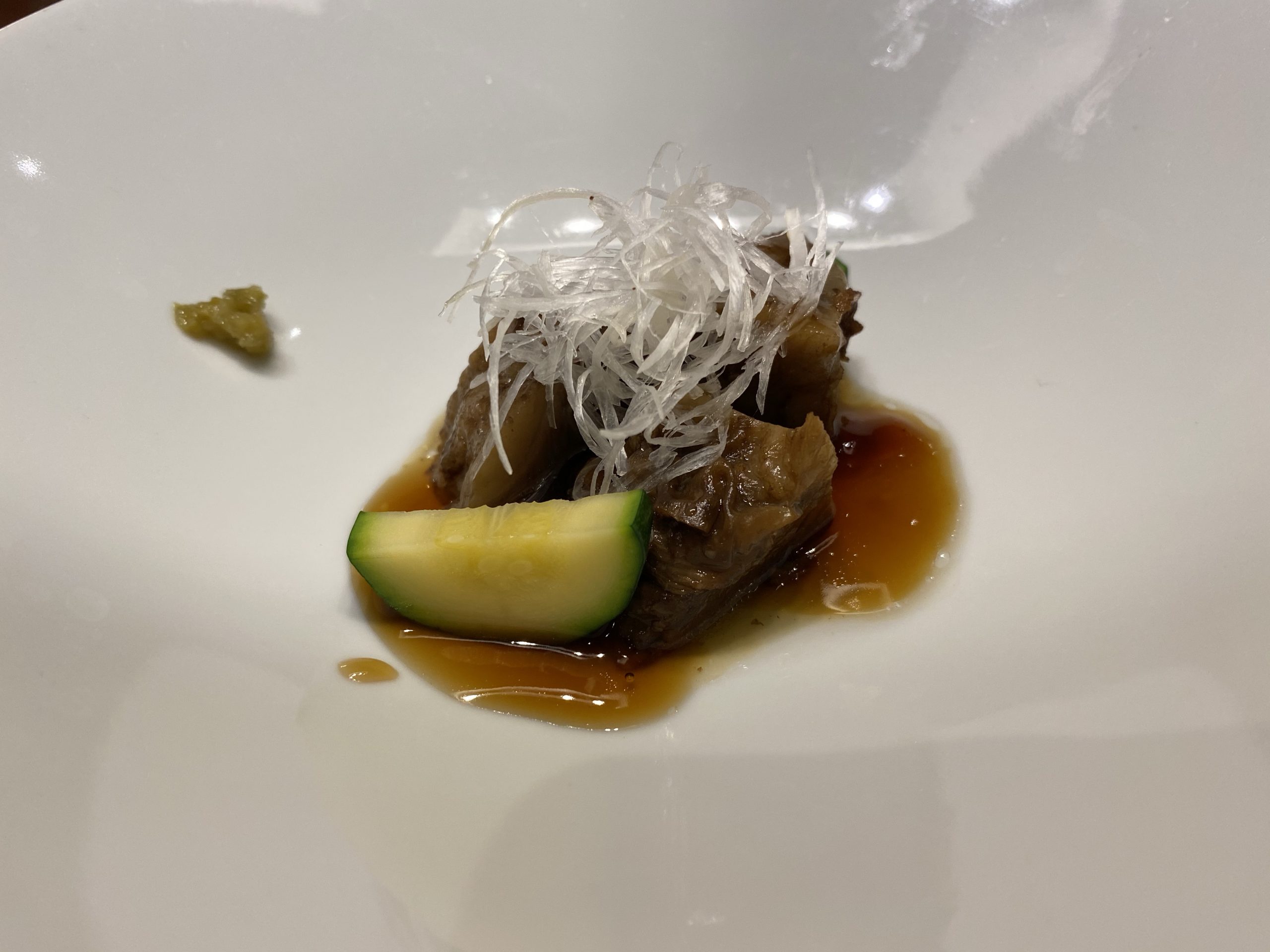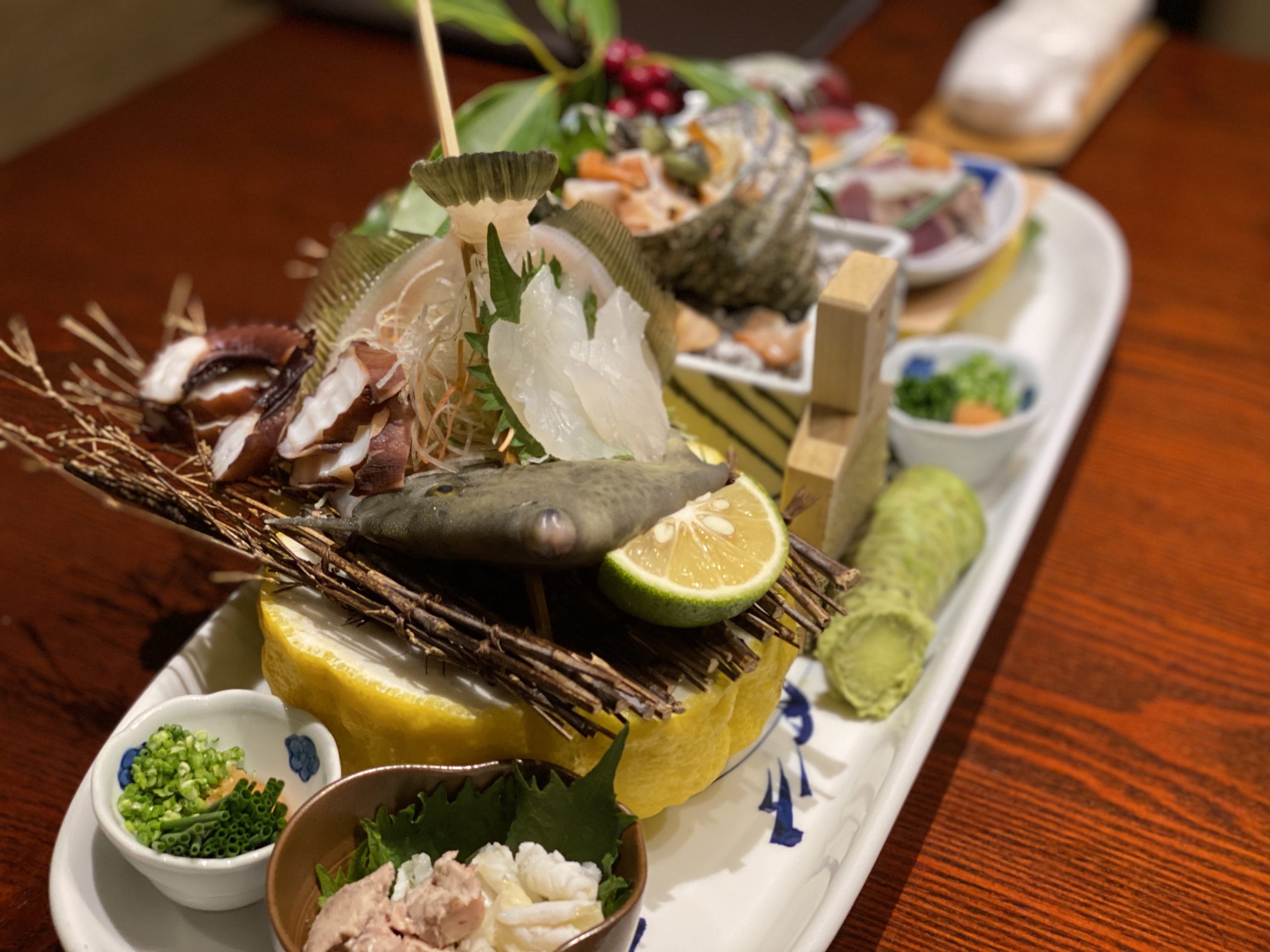 I had to grind my own wasabi too. That was some hard work too 🙂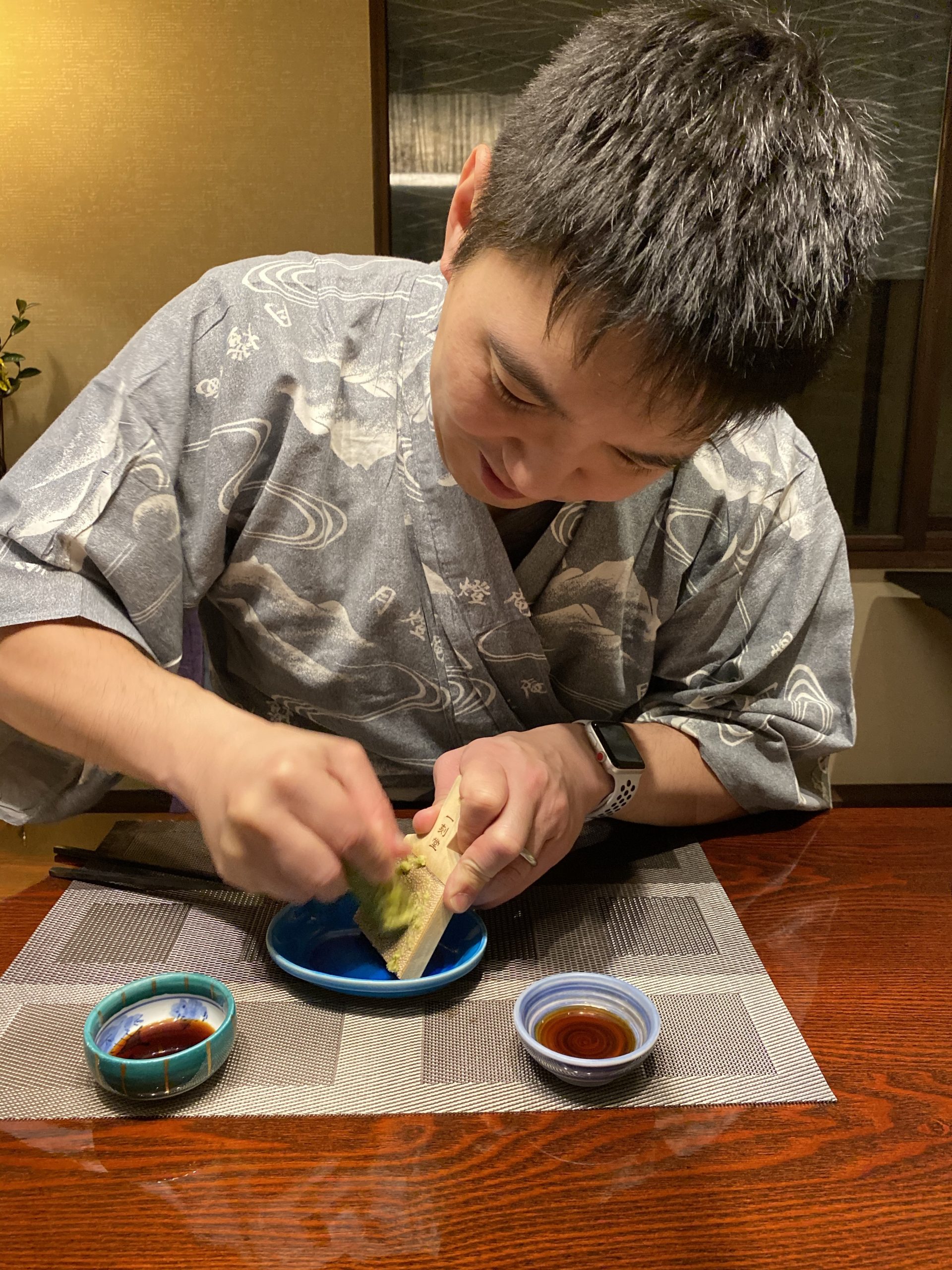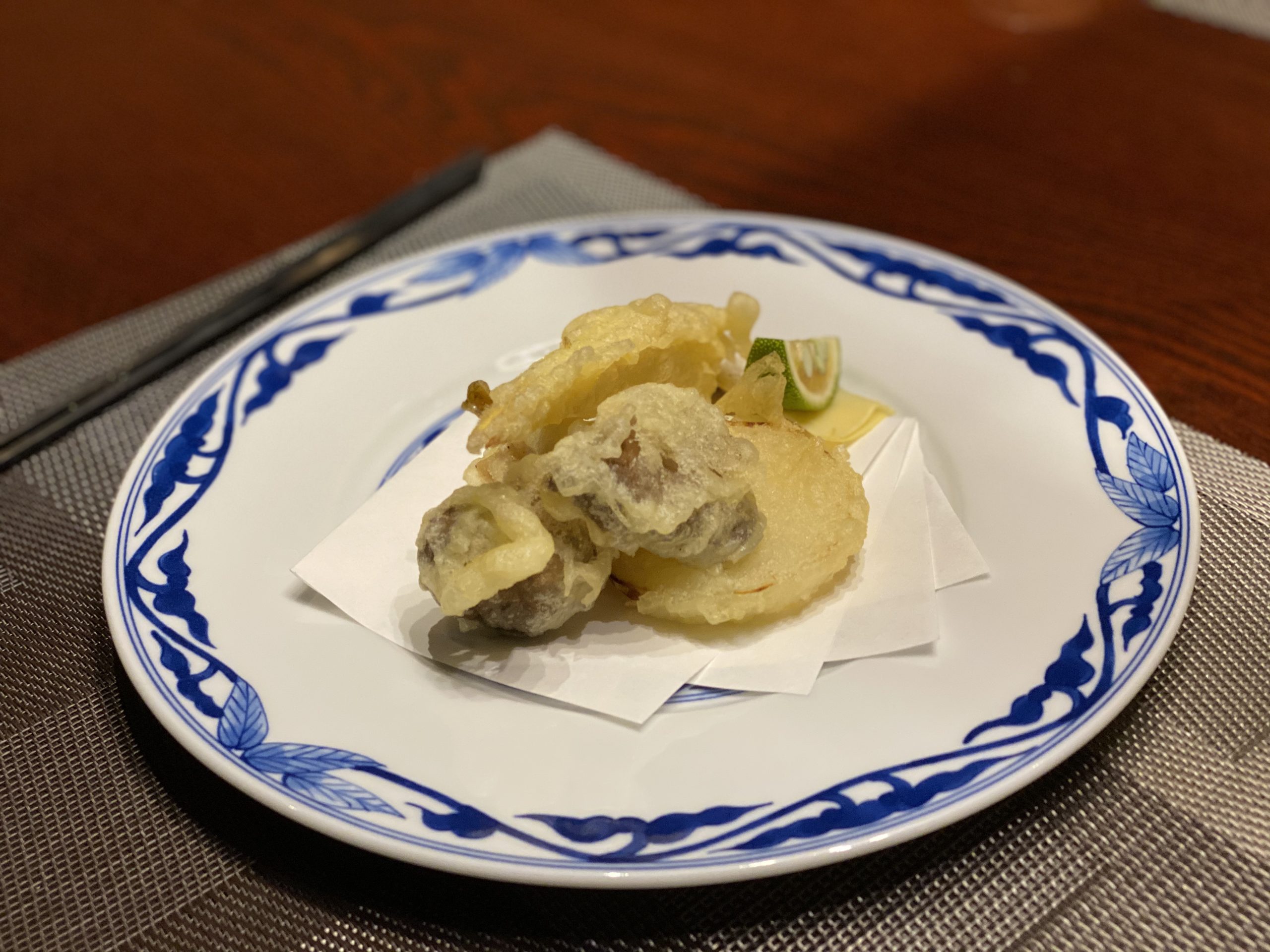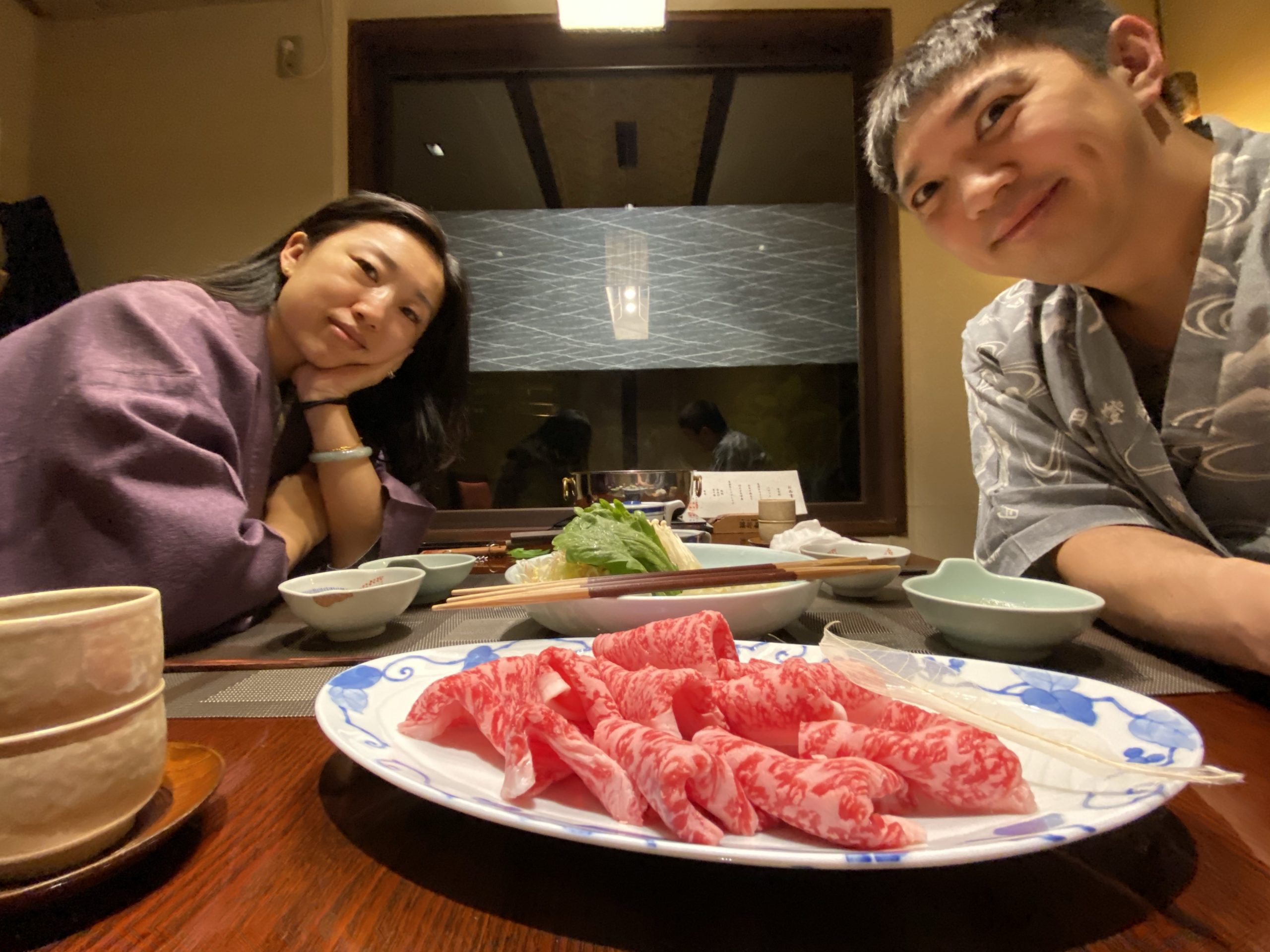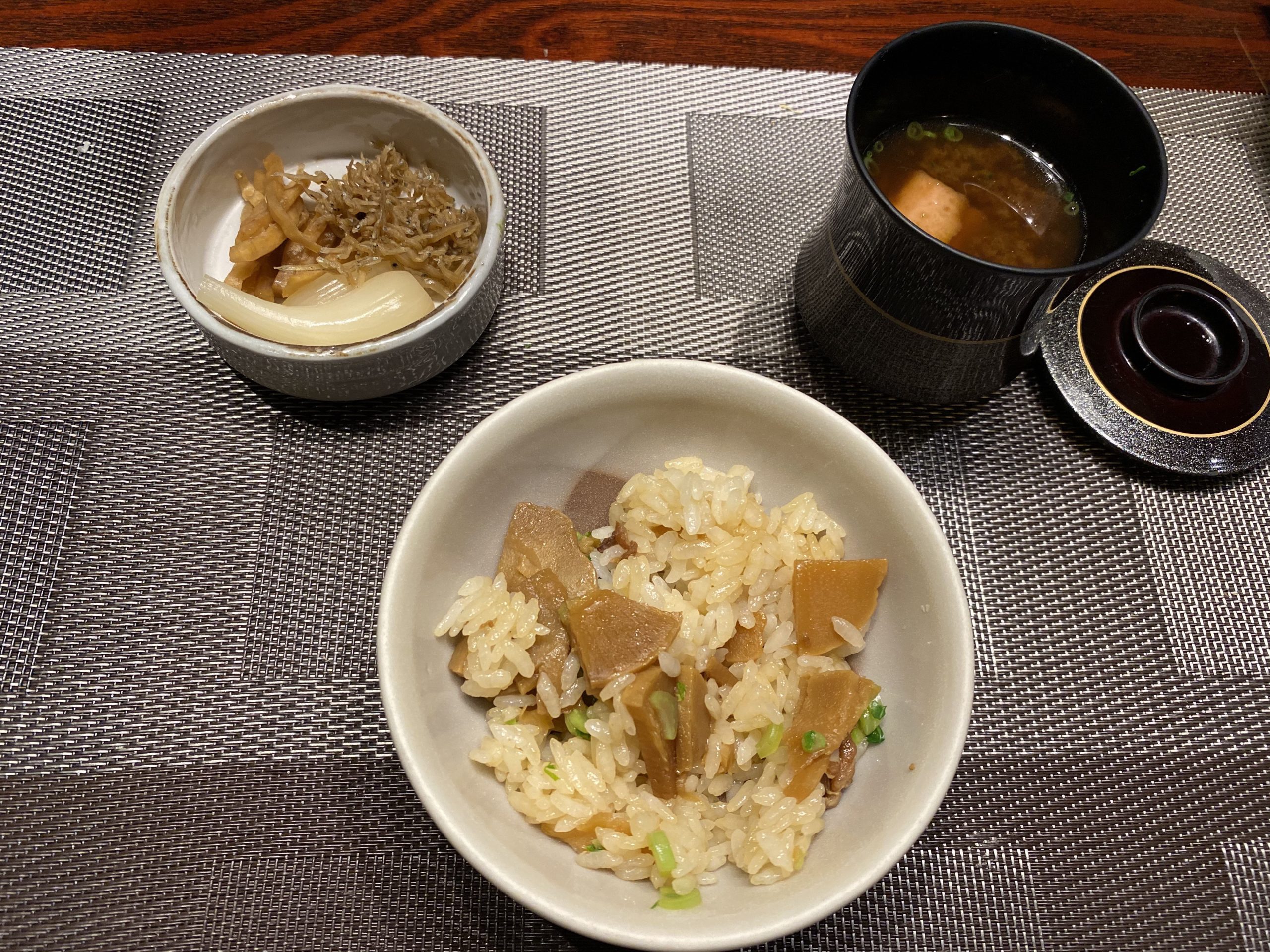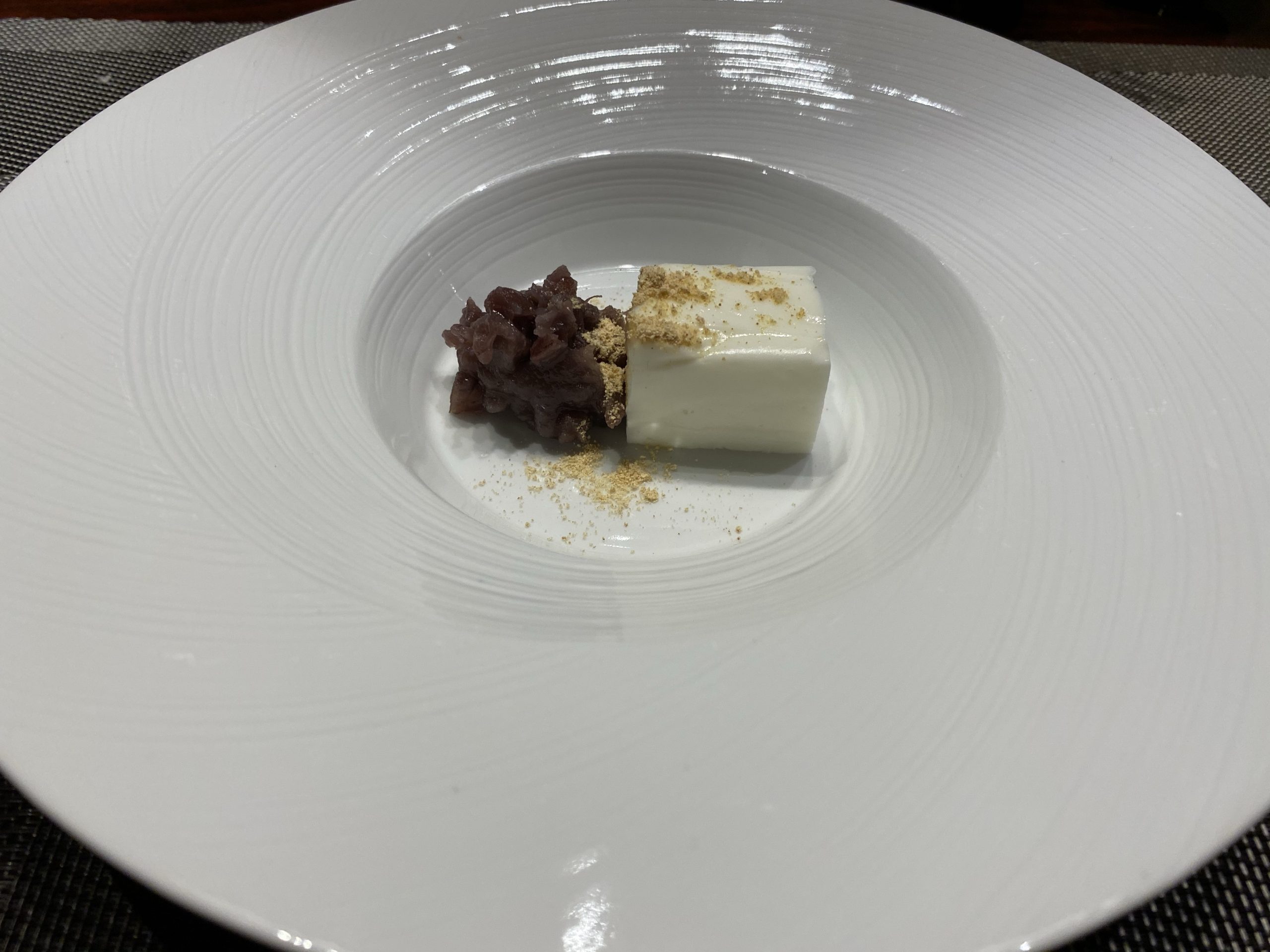 After a long day and a long dinner, we were both exhausted and tired and the ryokan bed was just super relaxing and a great way to end another wonderful day.