Local Time: Sunday night 12/22/2019 Winter Solstice
Jet lag sucks… I am 3 nights in and still wake up 4 in the morning. I need to either stay out later or take a nap during the day and get rid of this jet lag.
So today we are leaving Fukuoka, but first we started the day with a wonderful breakfast. Since the western buffet was so good yesterday, we are giving it another go before we depart. So today we tried some dishes that I missed yesterday.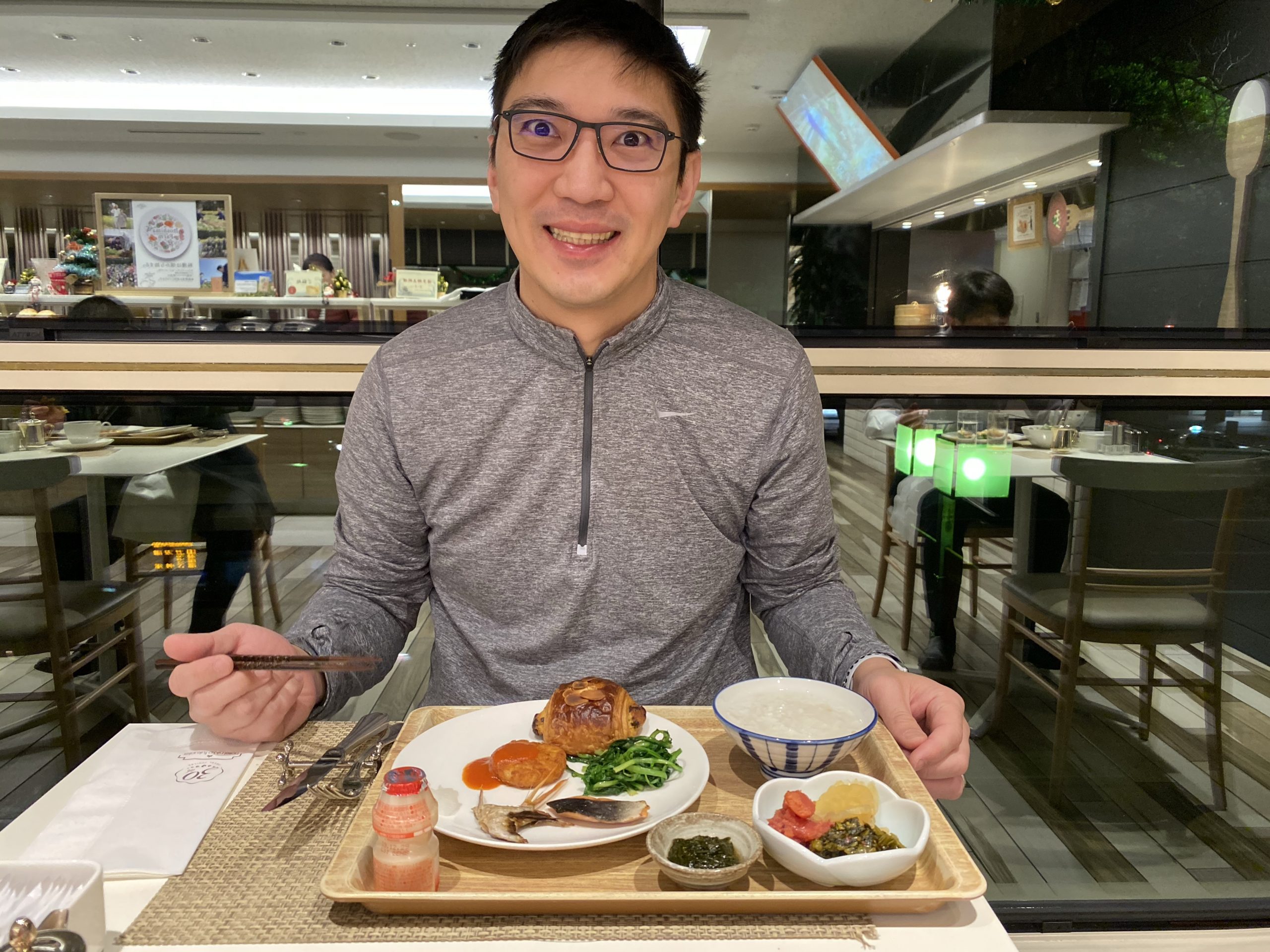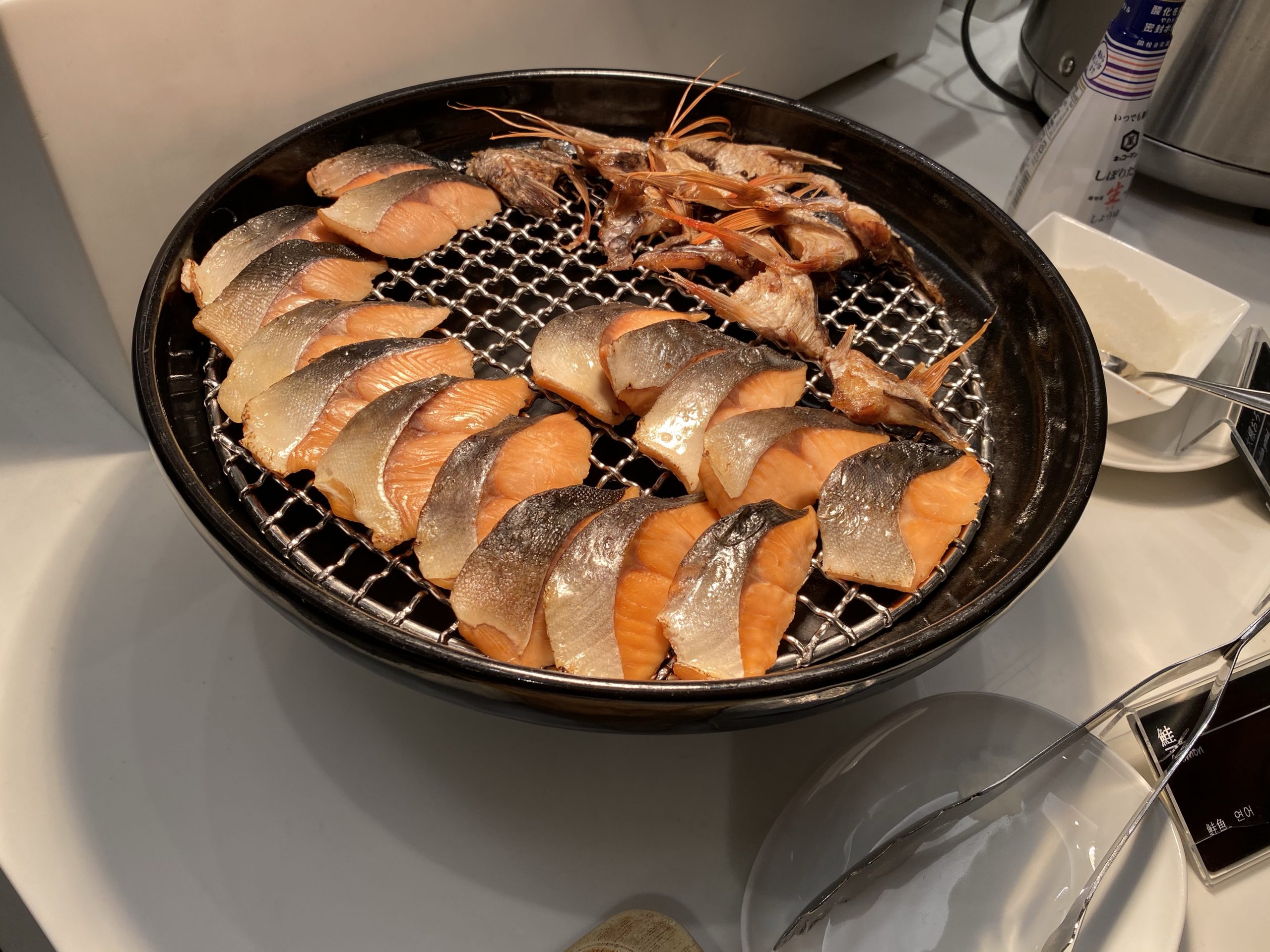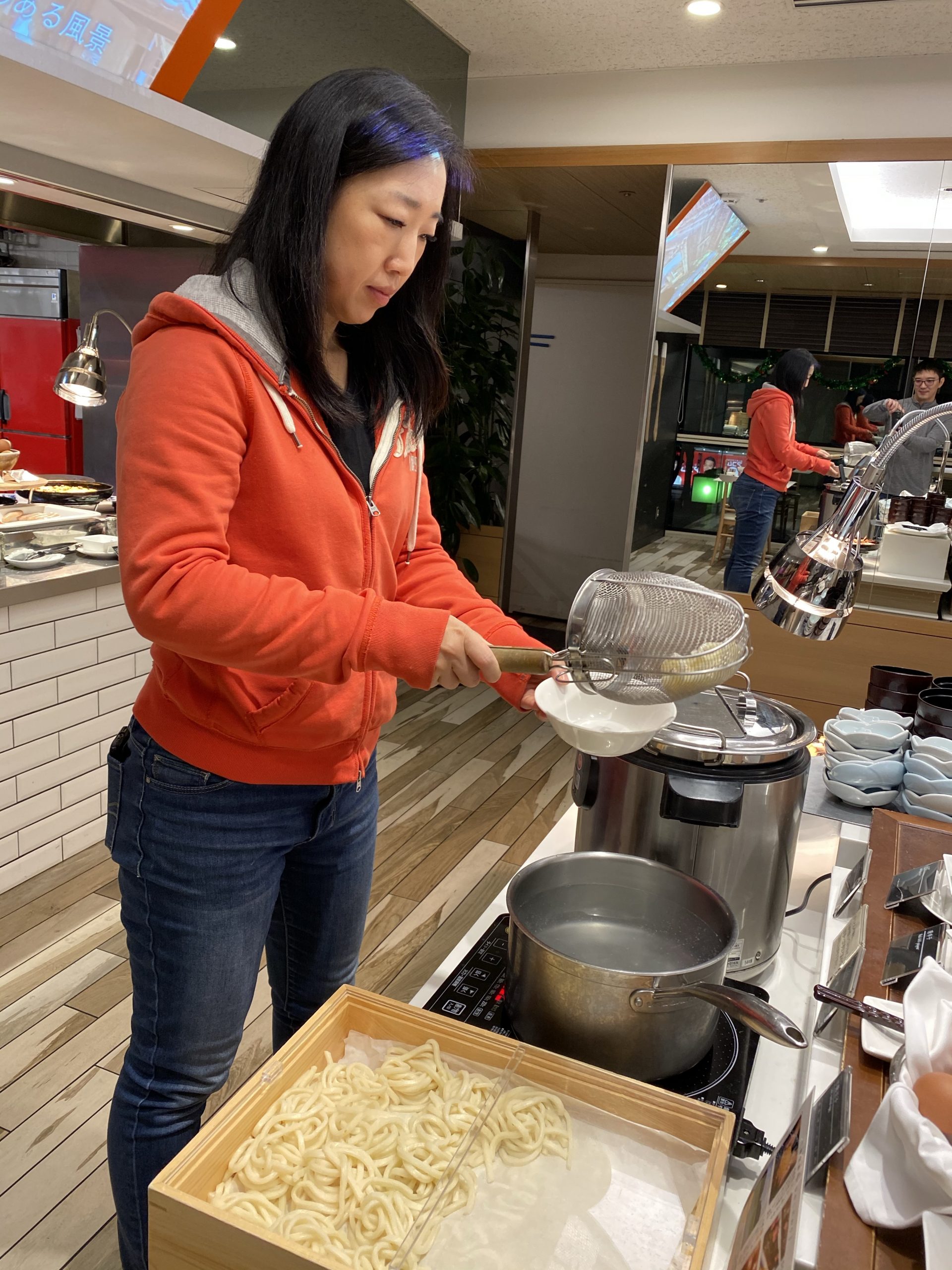 After another wonderful breakfast, we got ready and headed to the JR station and headed toward our next destination, Yufuin Vicky surprised me with a special train ride to YuFu called Yufuin no mori. It is a pretty awesome classical green JR train. Did I tell you that I love trains!!! And this was an amazing experience!!!
So this train is totally a tourist train, it is a two hour ride from Fukuoka to Yufuin. During the ride you get to see some of Kyushu's country side and even though it was a wet and raining day, it was still beautiful and lovely.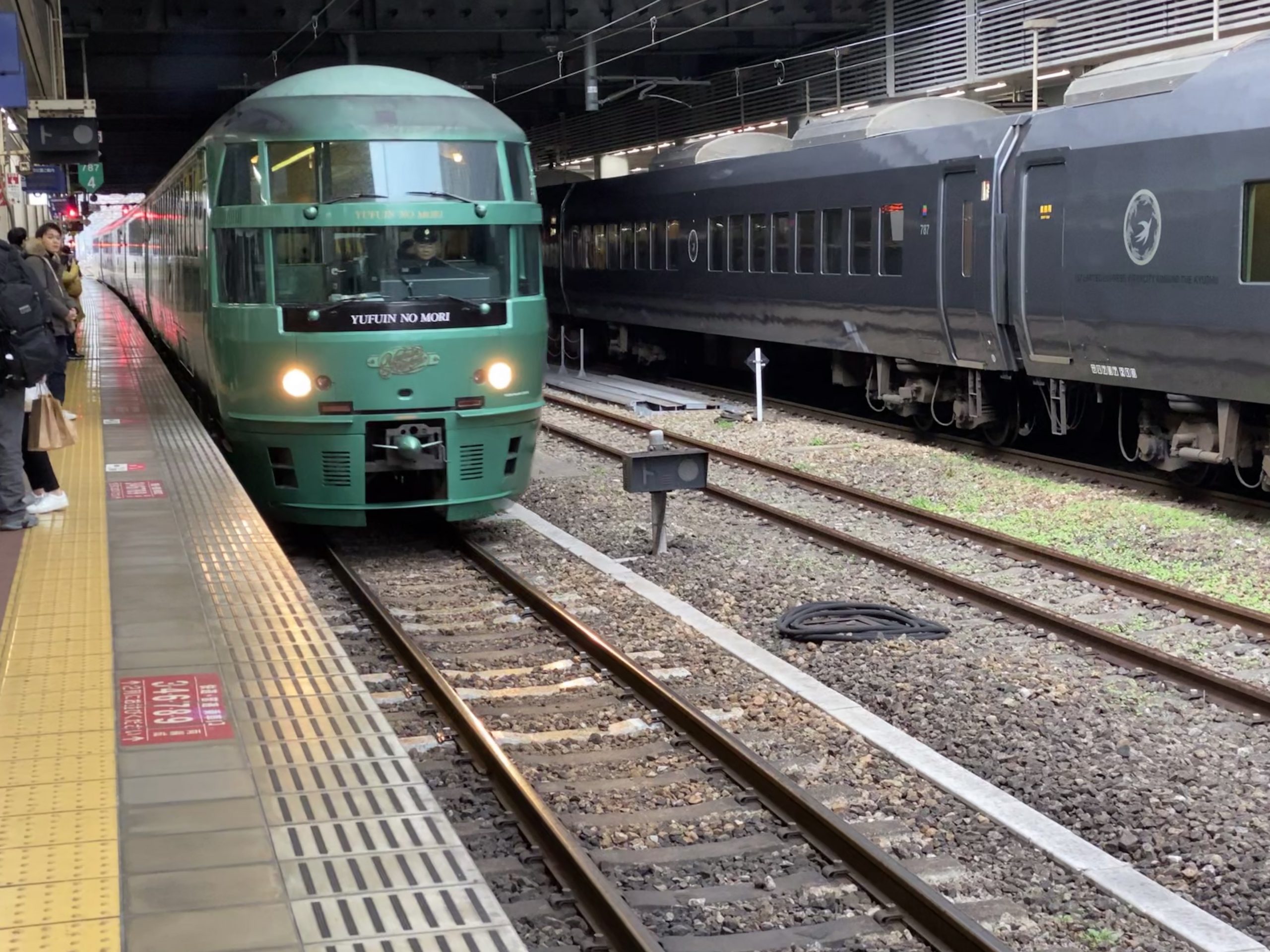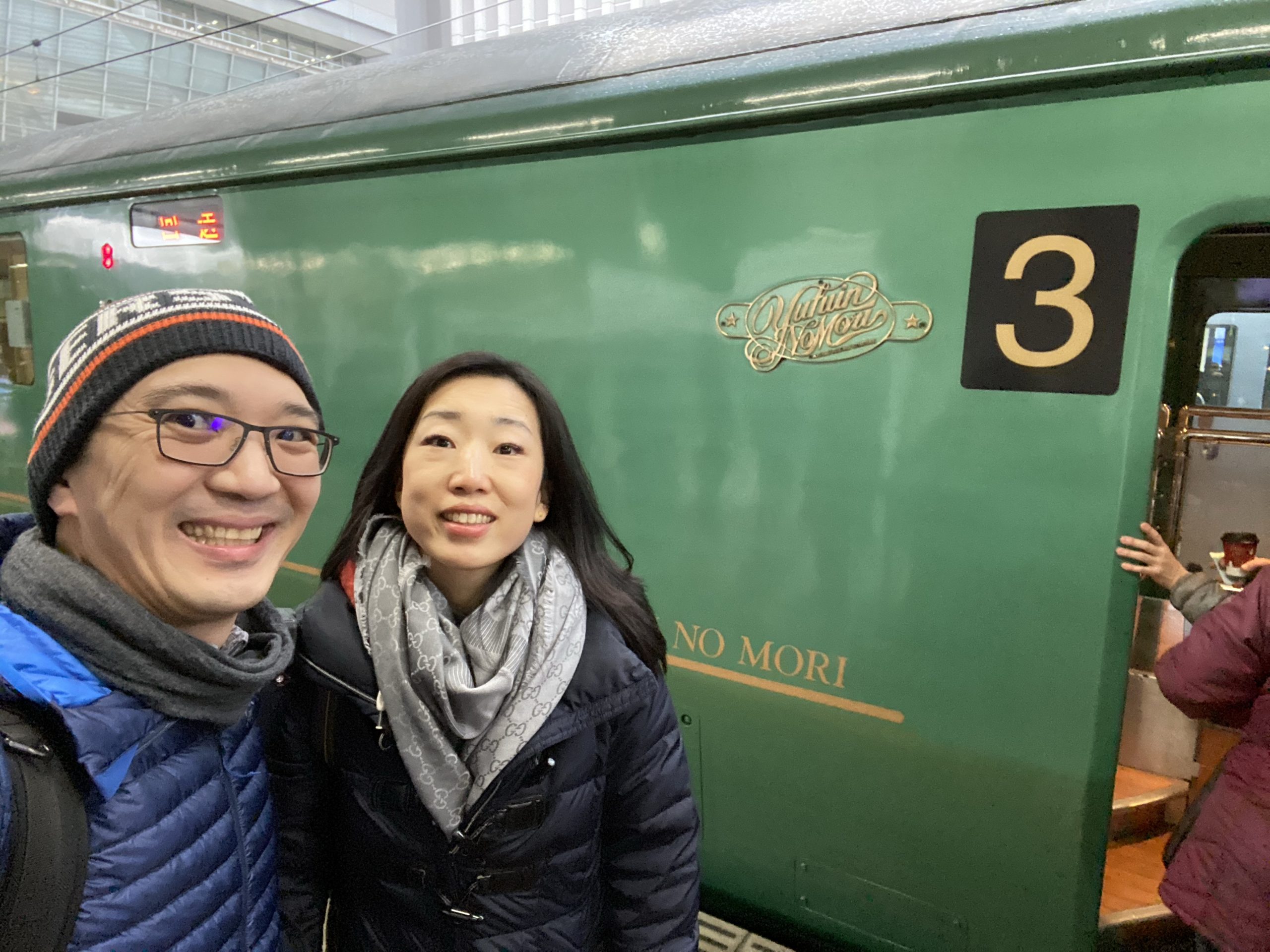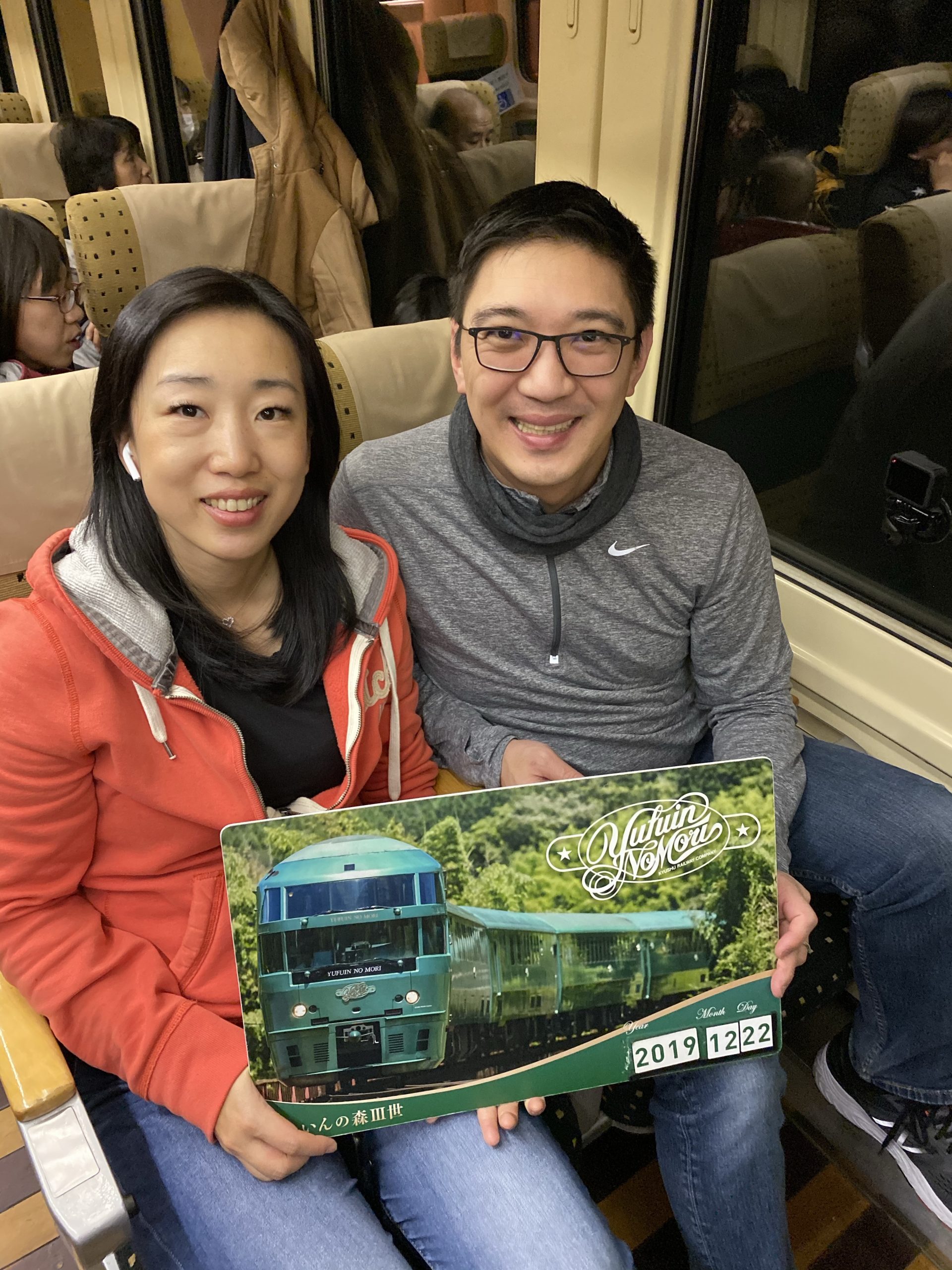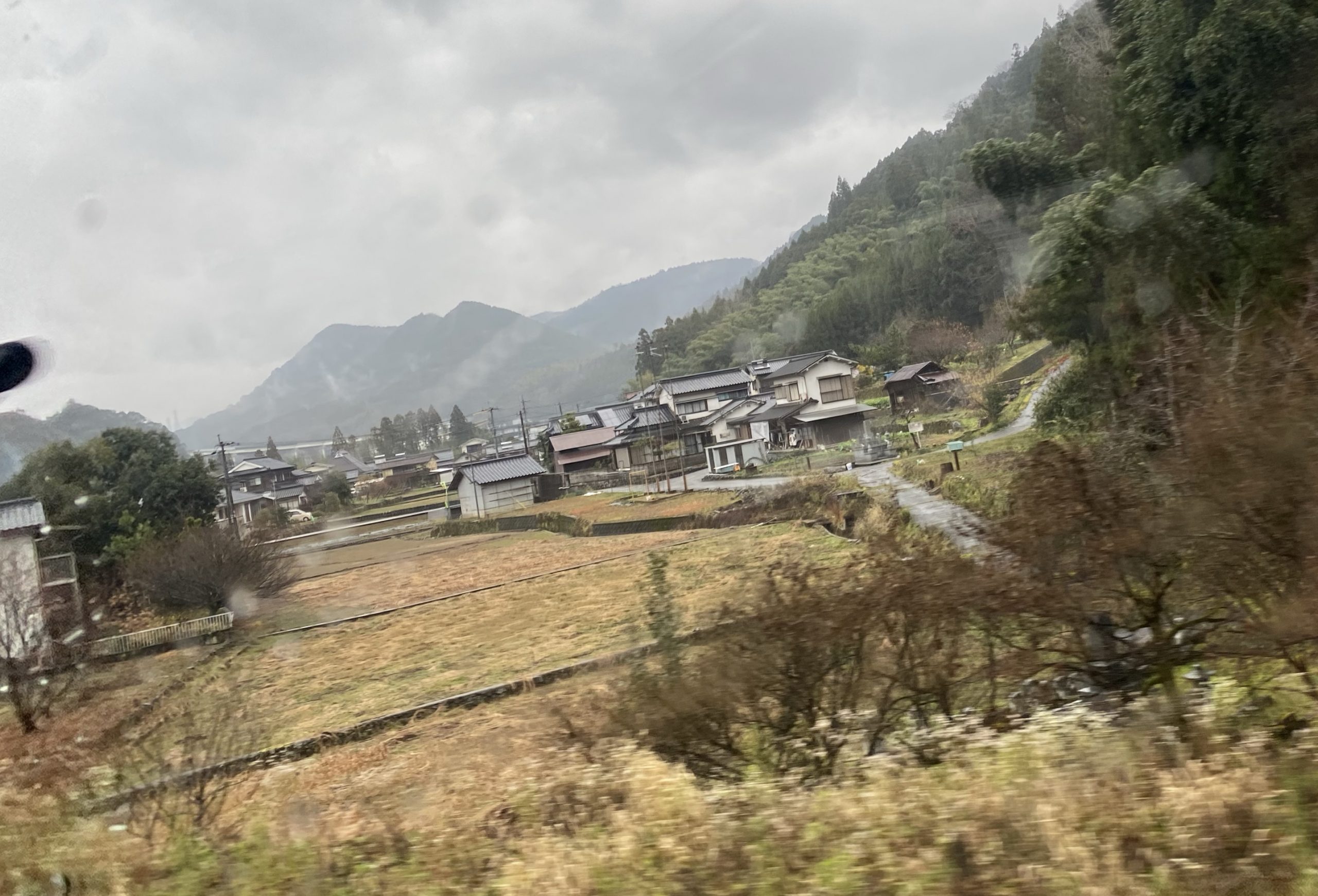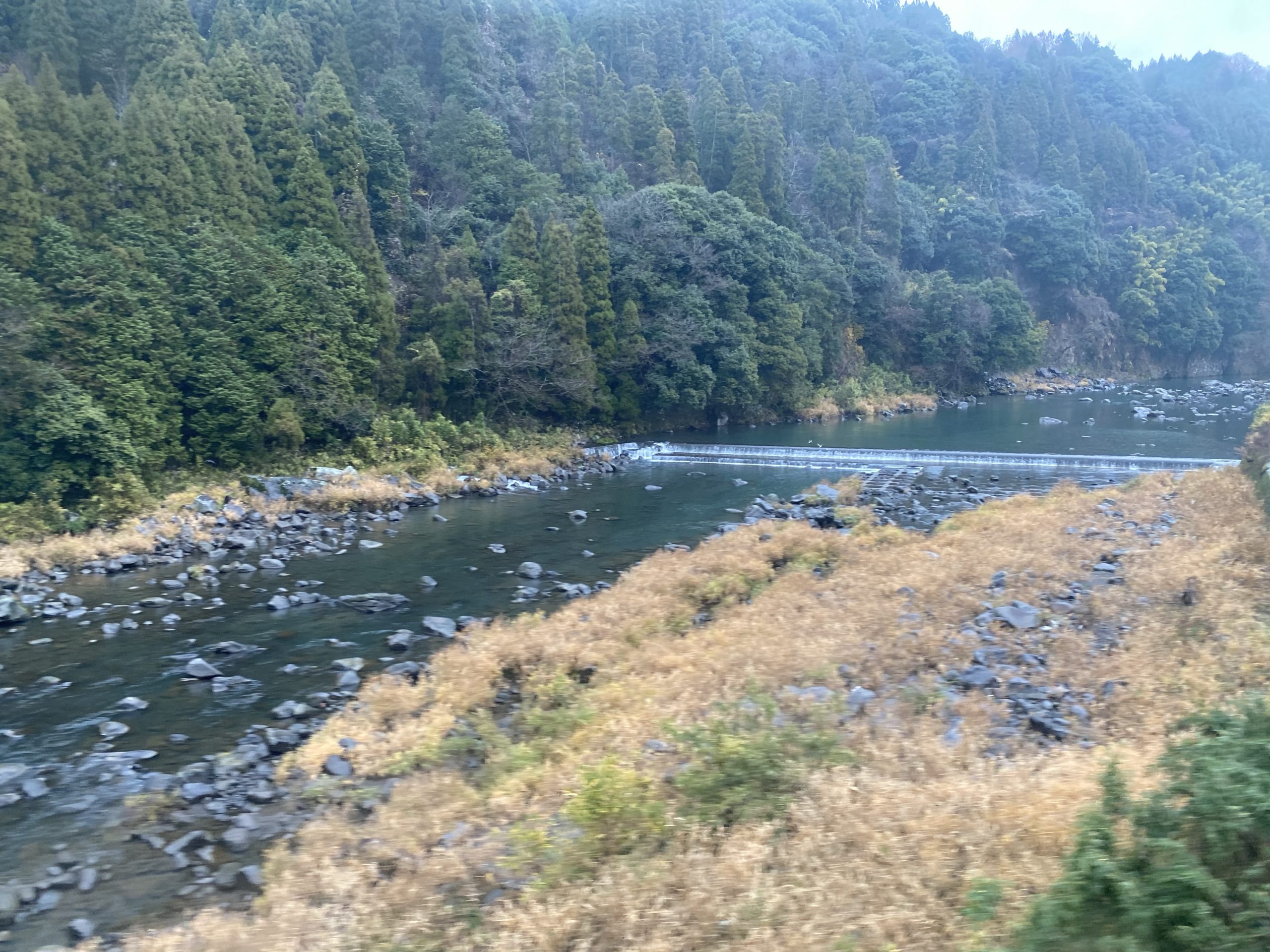 Of course once we are onboard, I wanted the train's dining experience with the on board bento. I was going to get an ekiben ( Station Bento), but I was having the grass is greener on the other side syndrome. I thought that the bento on the train would be warm or hot. So I decided to get it on the train. The experience was interesting, almost everyone in line was from Taiwan all the Japanese passengers bought ekibens. The onboard bento was a bit disappointing, it was also cold, it did not taste bad but just not nearly as good as the train bento in Taiwan… oh how I miss those 🙂
Anyways, we got our bento and a famous Yufuin pudding (flan).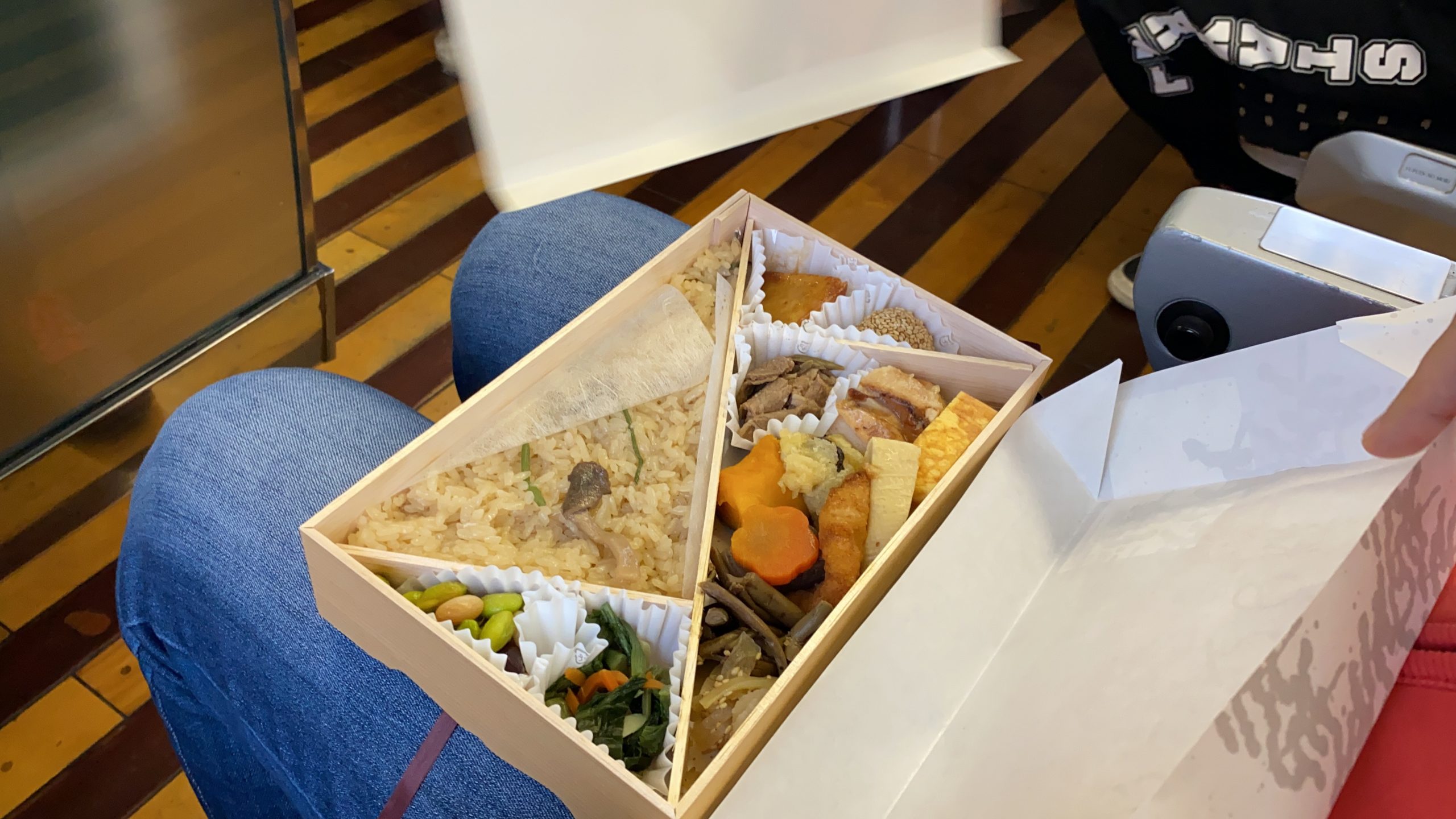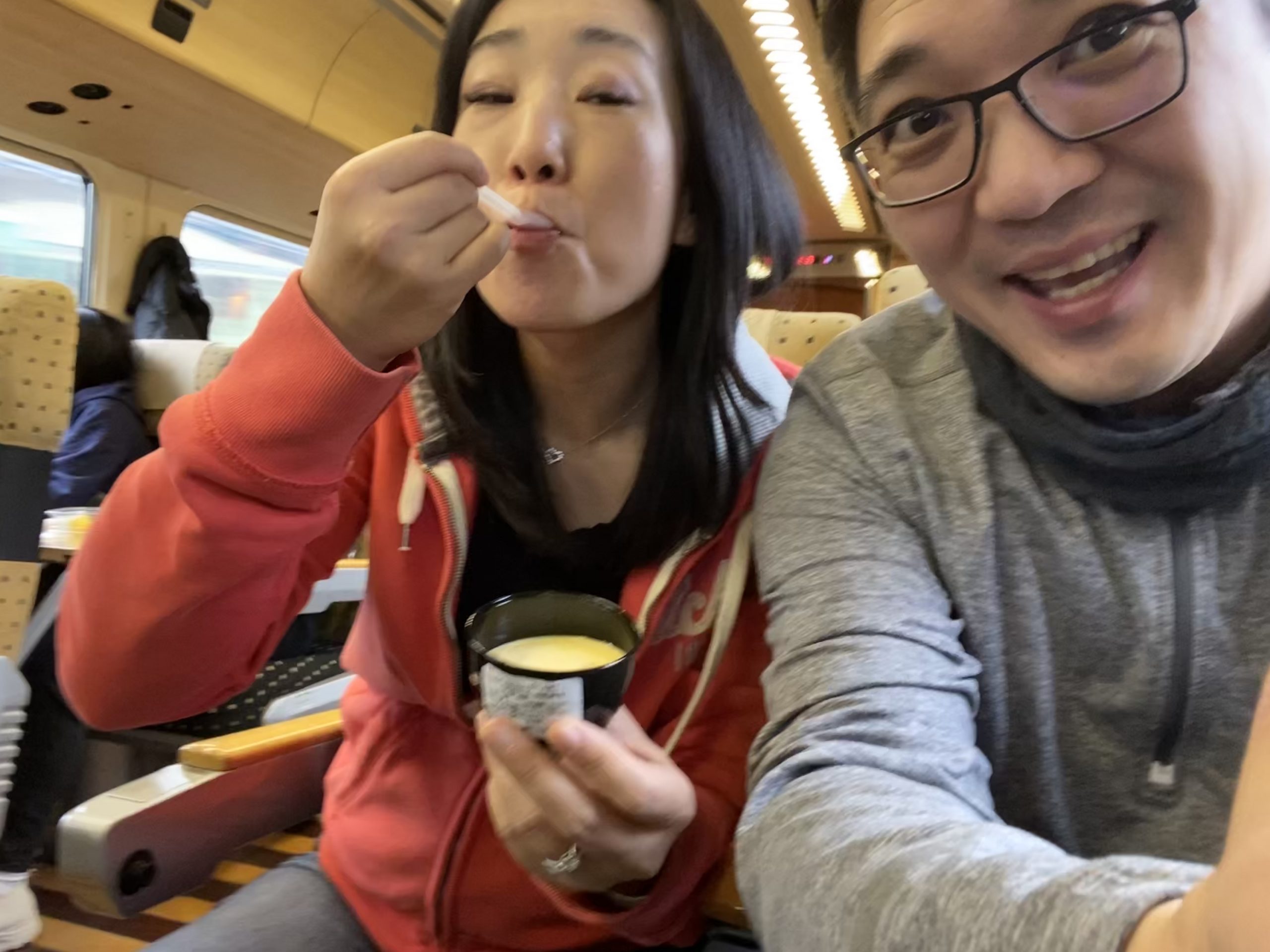 We also got a bottle of the local Yufuin soda to try.. it was nice too!!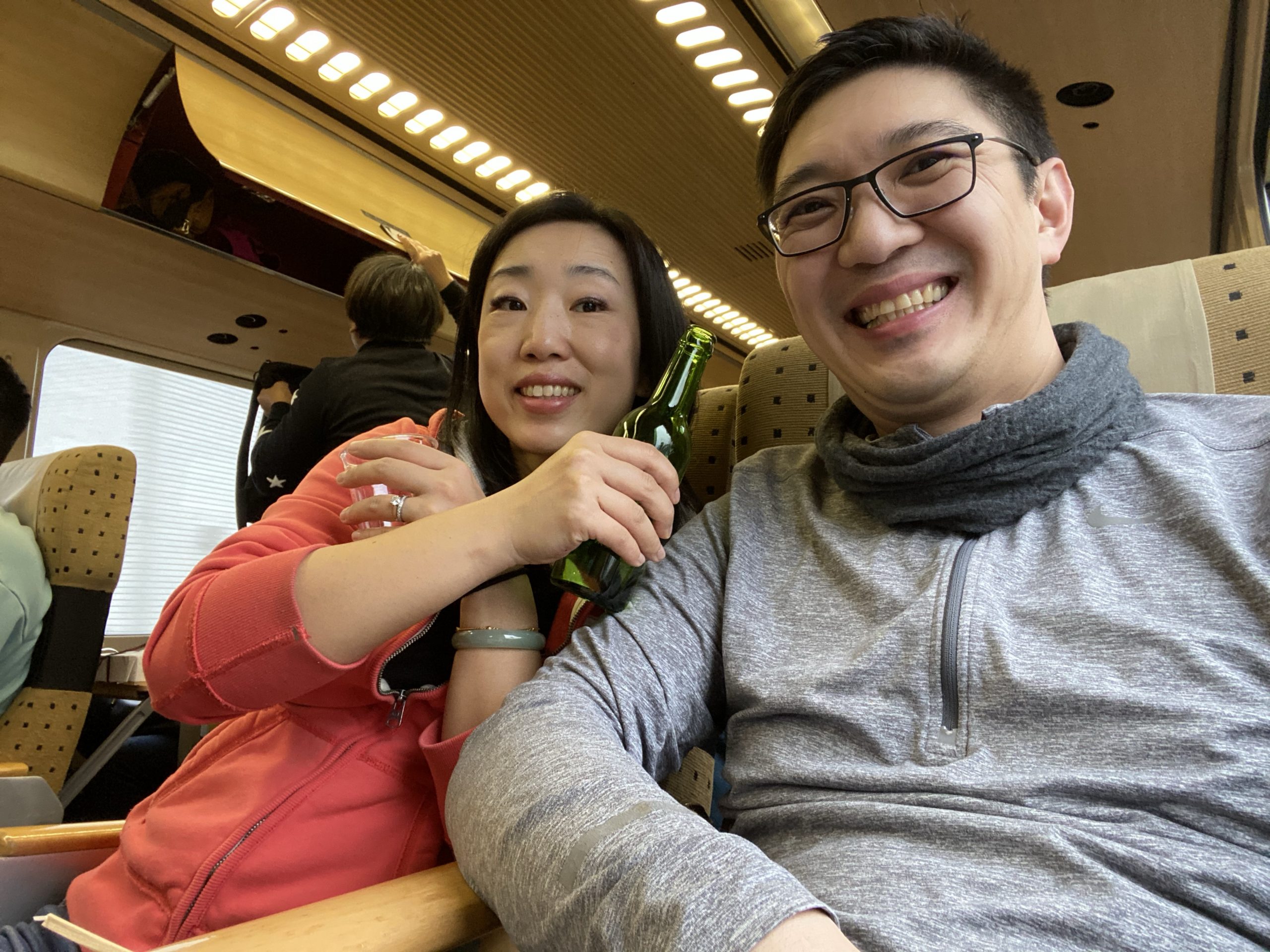 We got to Yufuin around 11:30 or so and of course noon is lunch time. It was raining pretty hard and our ride to the ryokan will not pick us up until 2:30pm. So we have to find some way to burn some time.
So maybe ramen will be a great way to warm up the wet day. We walked around in the rain for a bit in Yufuin and found a Chicken Ramen place.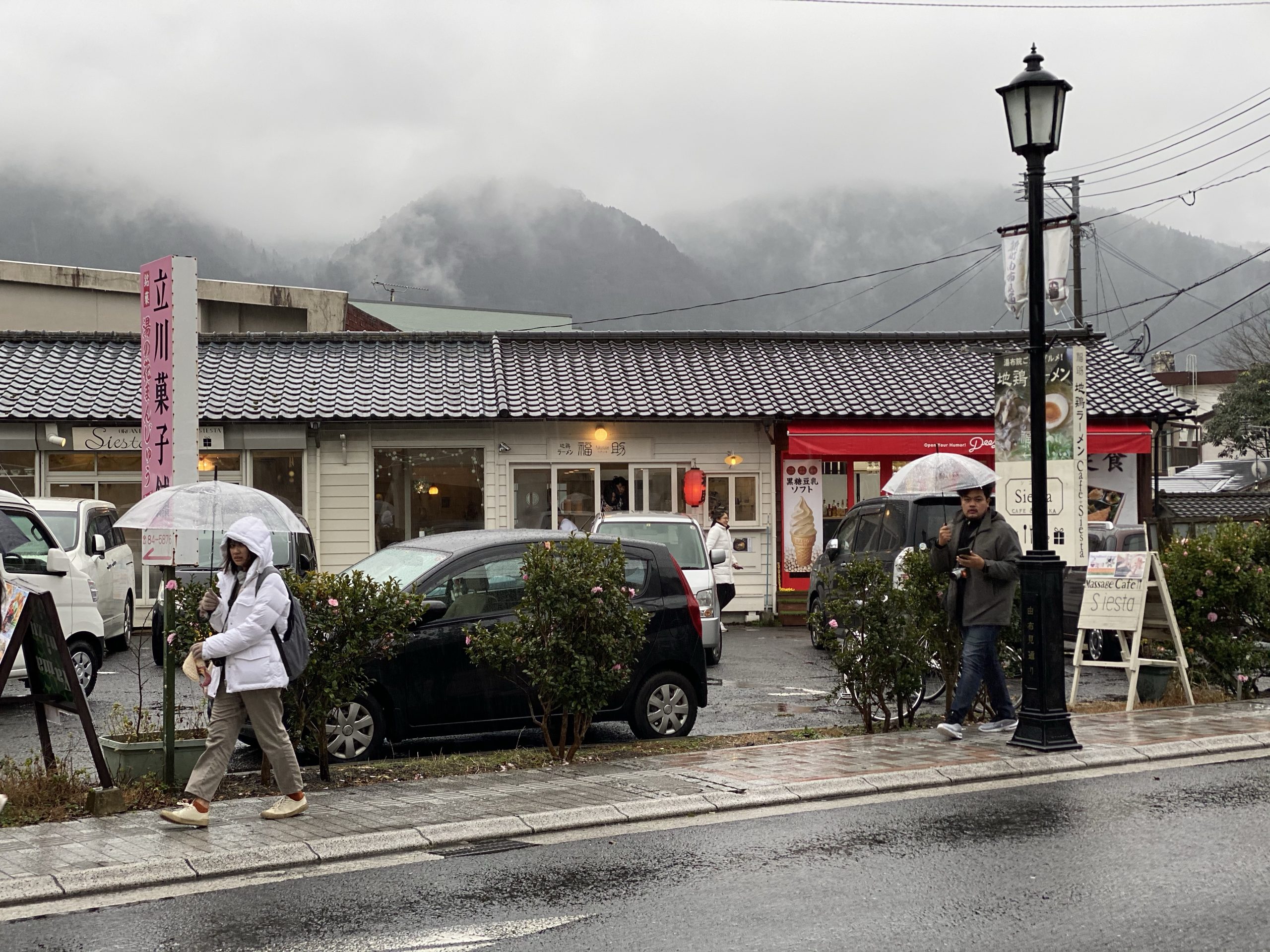 Never had Chicken Ramen, I figure it maybe lighter than traditional ramen, so I insisted that we go there. I mean they say they are natural chicken… I mean it must be good right? When we got there the small restaurant was completely full, just about when we were tired of waiting in the rain and about to head out, some customers finished up and we got some seats. When we sat down, the hostess immediately asked us if we wanted an English menu or a Chinese menu. Before I can speak any Japanese I got an English menu. We ordered the most popular ramen and waited. Once the chicken ramen arrived, it looked delicious !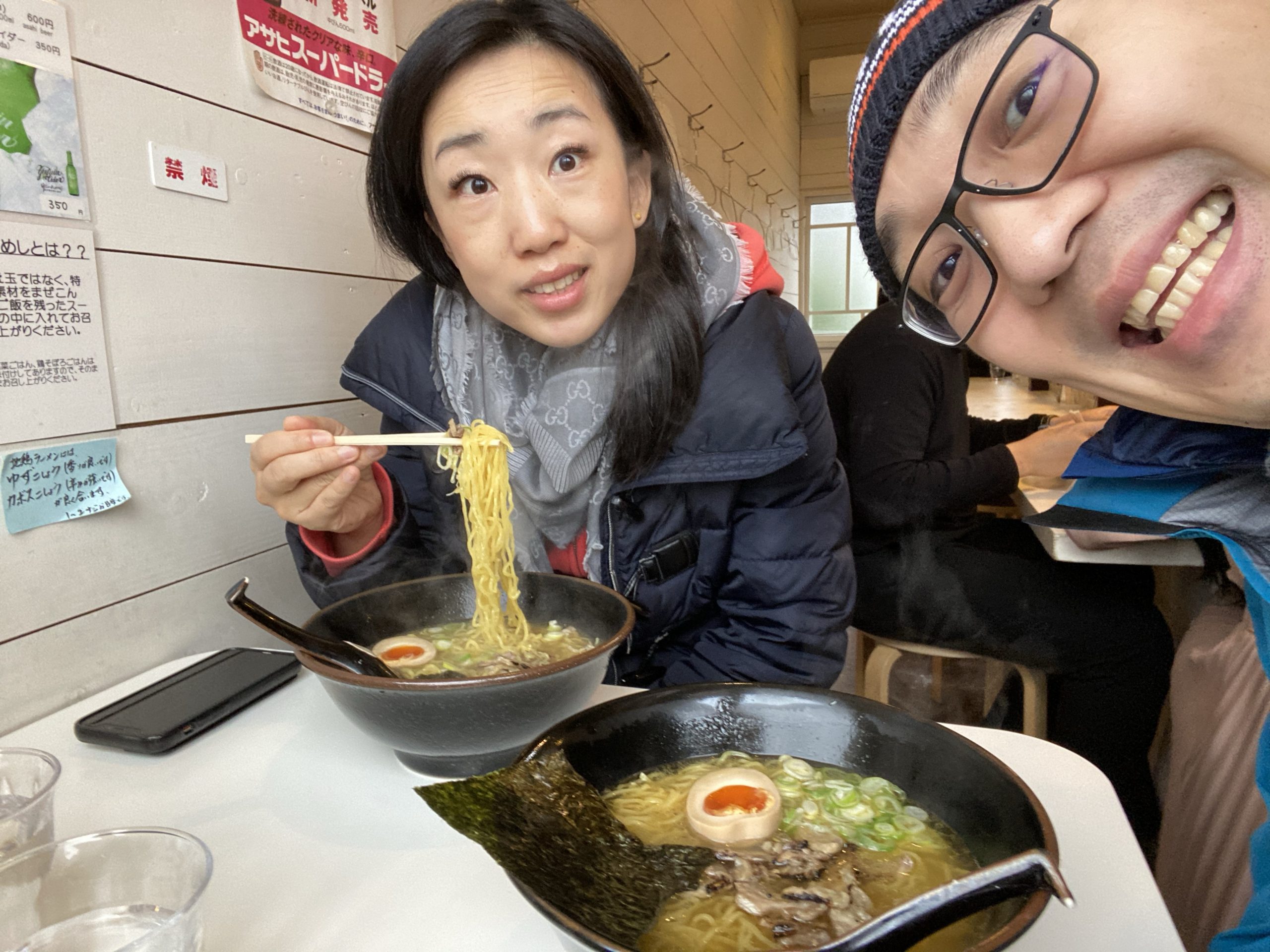 After thought is that, the chicken ramen is ok. It hit the spot, but it really did not have the chicken broth flavor that I was expecting and it almost had no chicken meat in there at all which is disappoint. The soft egg was fantastic though.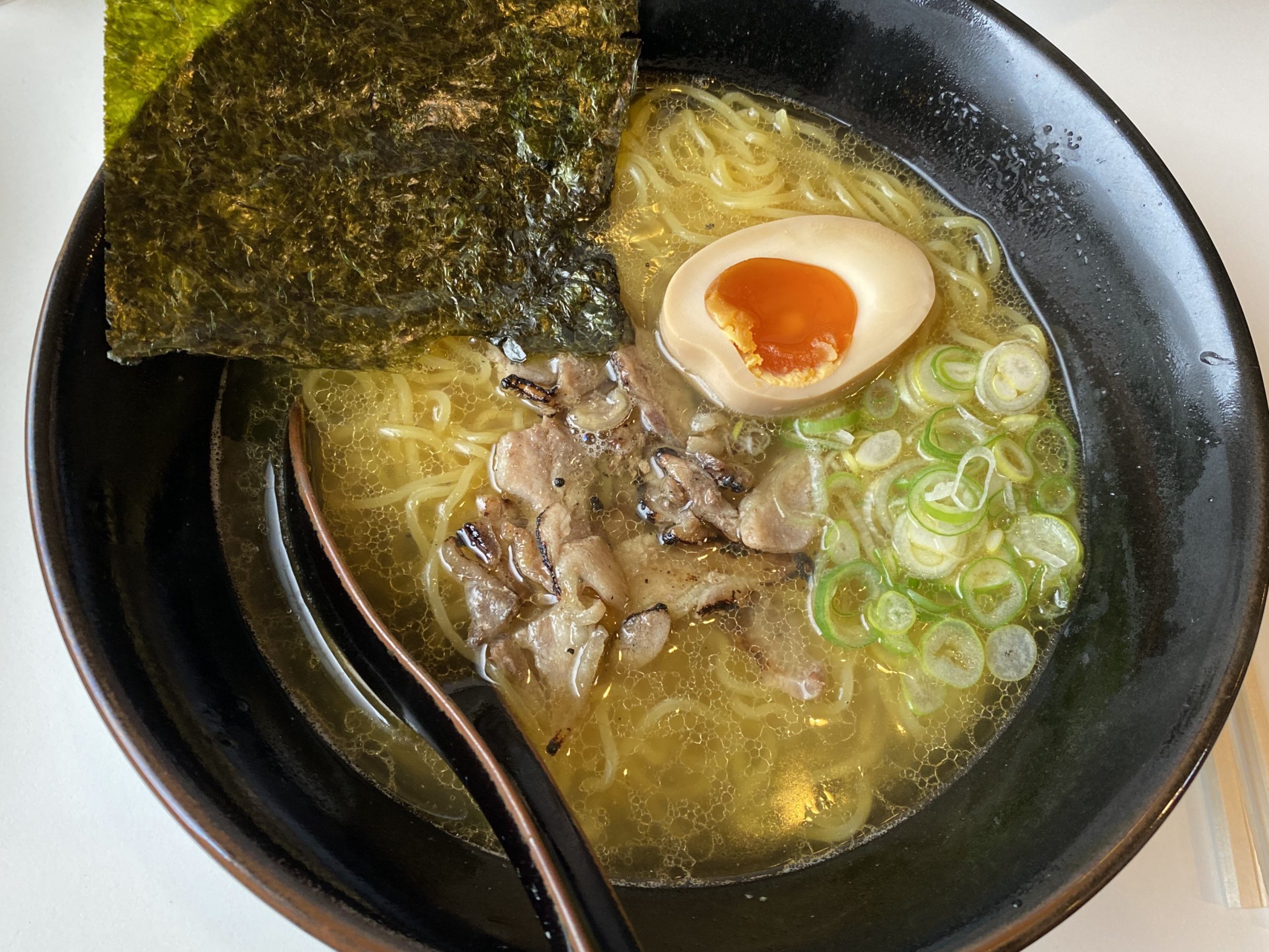 After the chicken ramen, we still had about 1 hour and half before our pickup and it was still raining so we decided to find a coffee shop. This place was fantastic, very good ambience and decent coffee and cheese cake.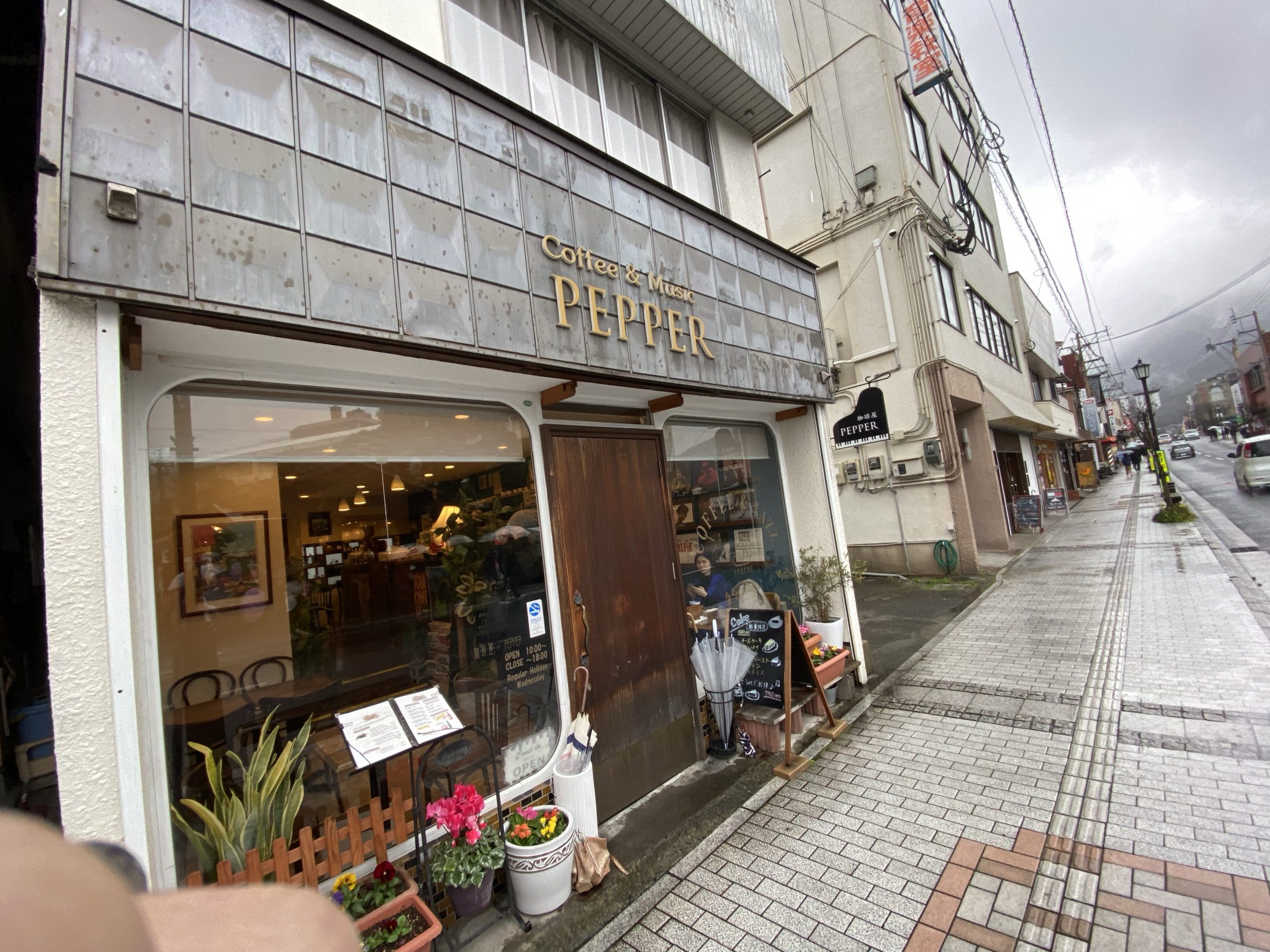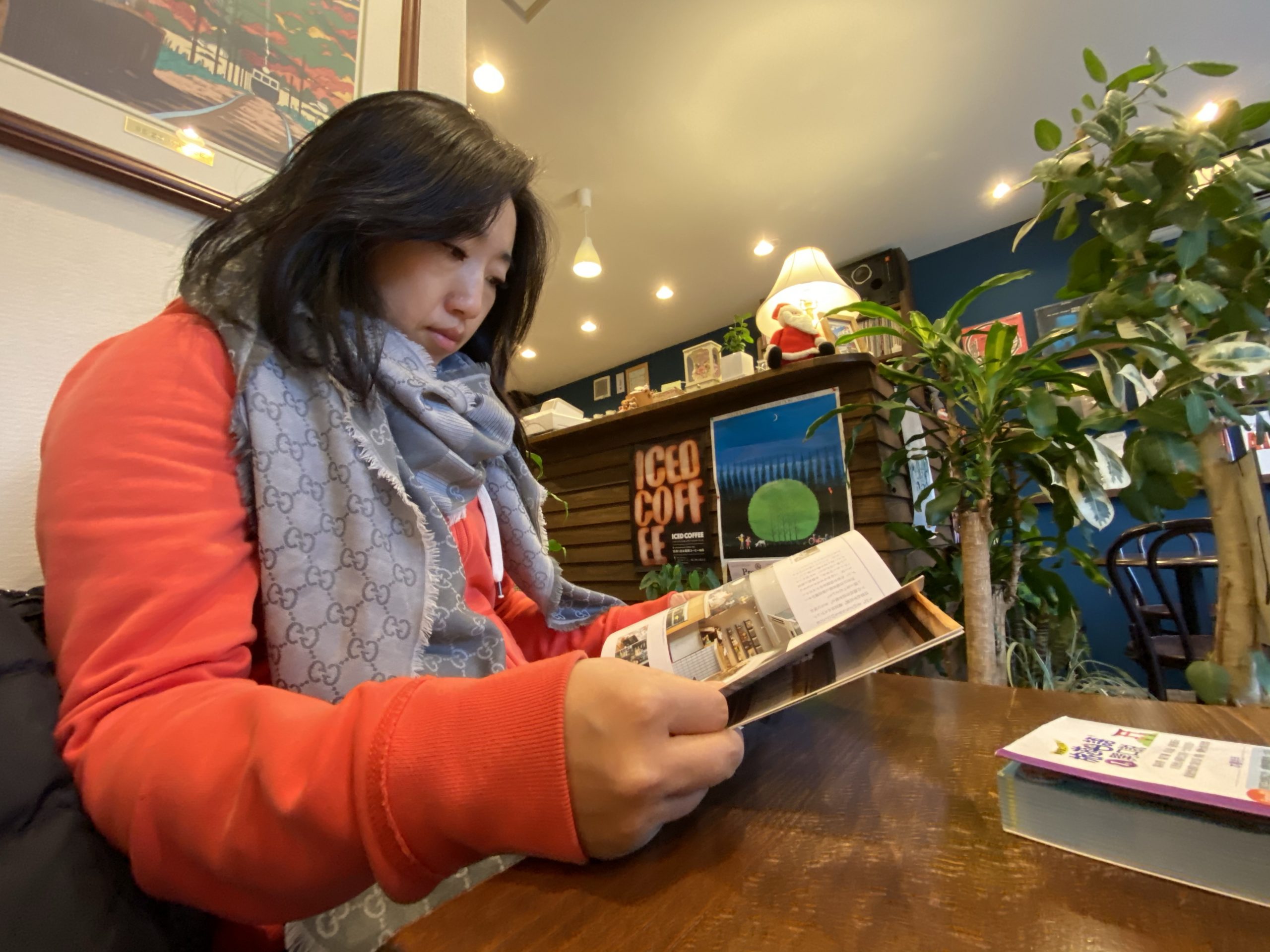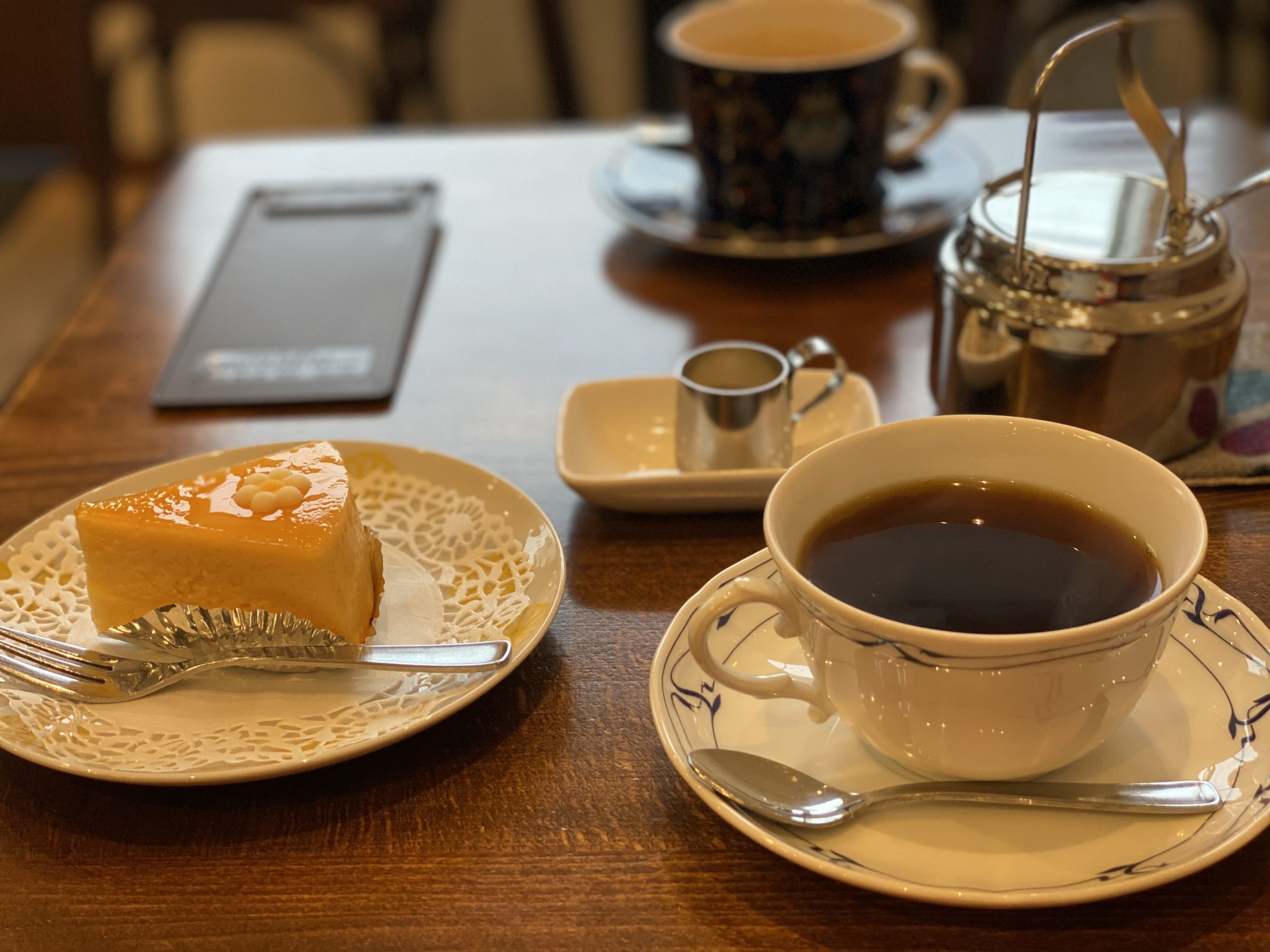 After finishing out coffee and cheese cake, we walked back to the station and we saw a farmer's market and decided to go in. Yes, I am constantly looking for grocery stores and this is the 3rd day in a row. There wasn't must of anything in this store, but I did have a chance to use my Japanese for the first time. The situation was that Vicky was trying to figure out if that bottle is yogurt or not? So I asked the attendant "what is this?" And she understood me and said yogurt!
After the yogurt and pudding purchase. We found that our drive was already here and was waiting with a small sign. He took our luggage and off we go.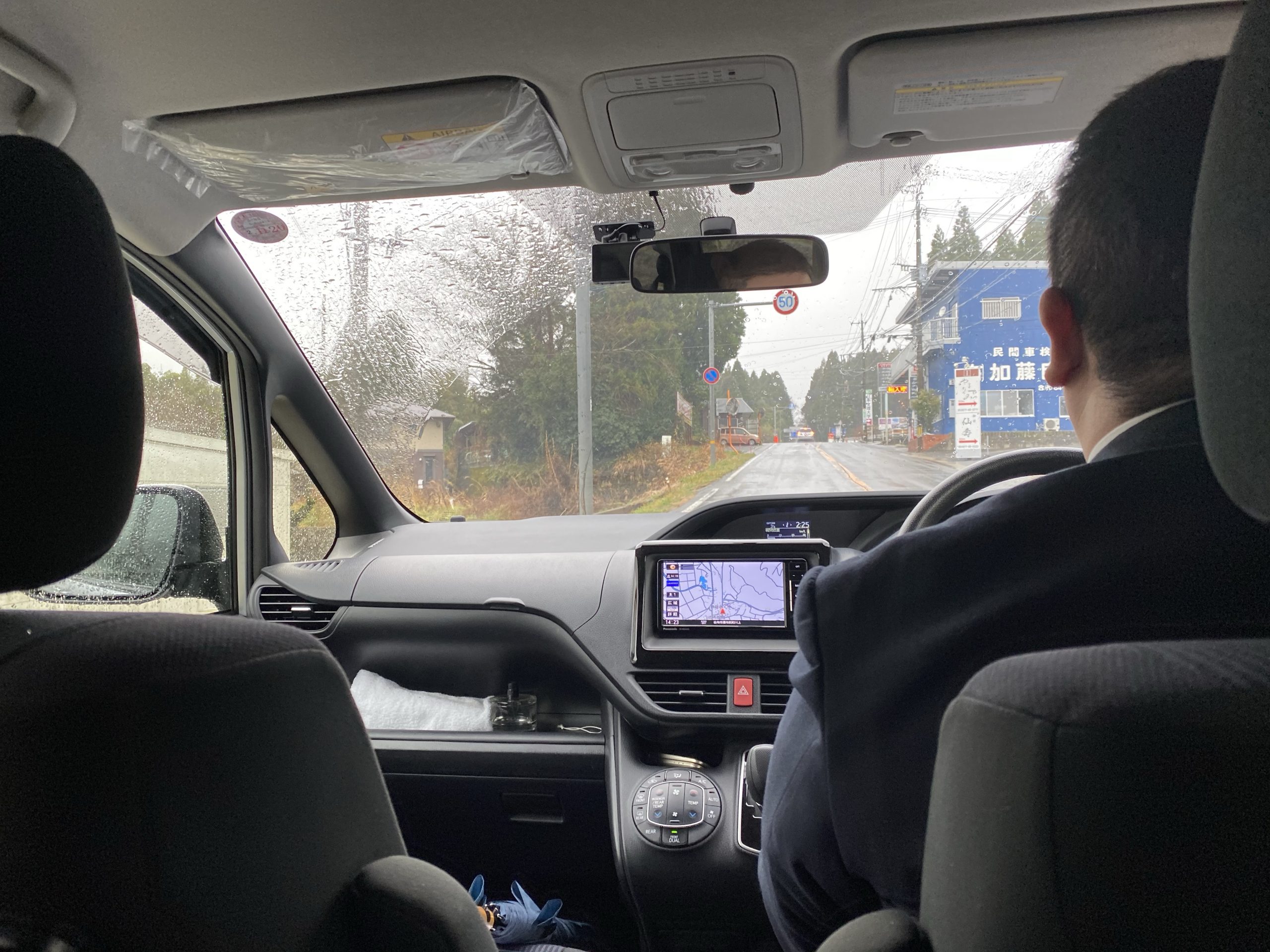 It was a short drive from town to our ryokan. We felt like VIPs with hosts waiting for our arrival with umbrellas out side of the front door of our ryokan.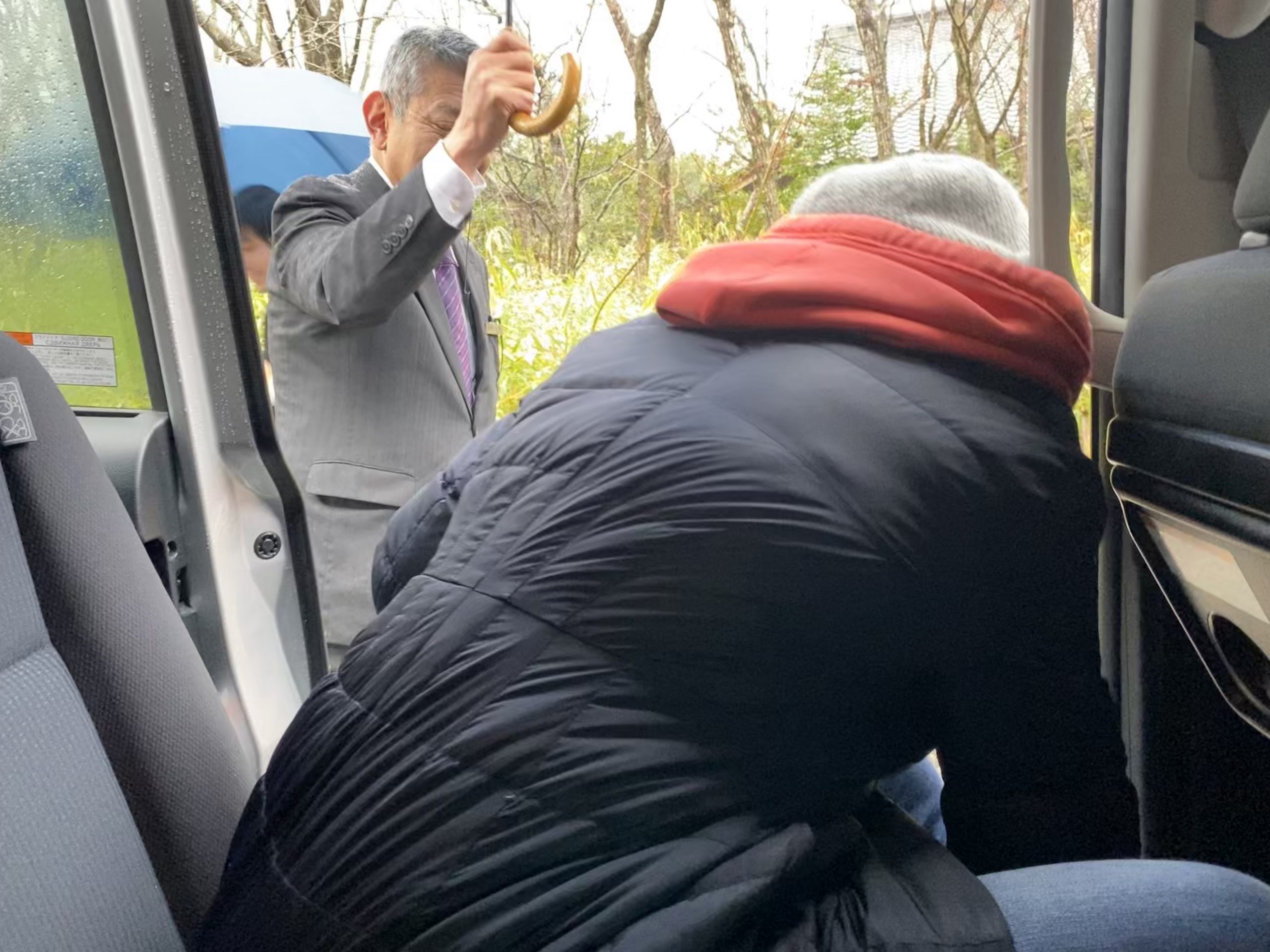 The ryokans was a very quiet, old, and peaceful place. I was working my nerves up and getting ready to use the little Japanese that I know and maybe getting some practice in. As we walked in to getting ready to check in and as I was about to say something, the hostess welcomed us in Chinese!!!
Pro-Tip: Chinese is more useful than English here. it seems that everyone now speaks Chinese but not English.
Our hostess was from Taiwan and was extremely friendly and nice, the checking in process went super smooth and we were off to see our room.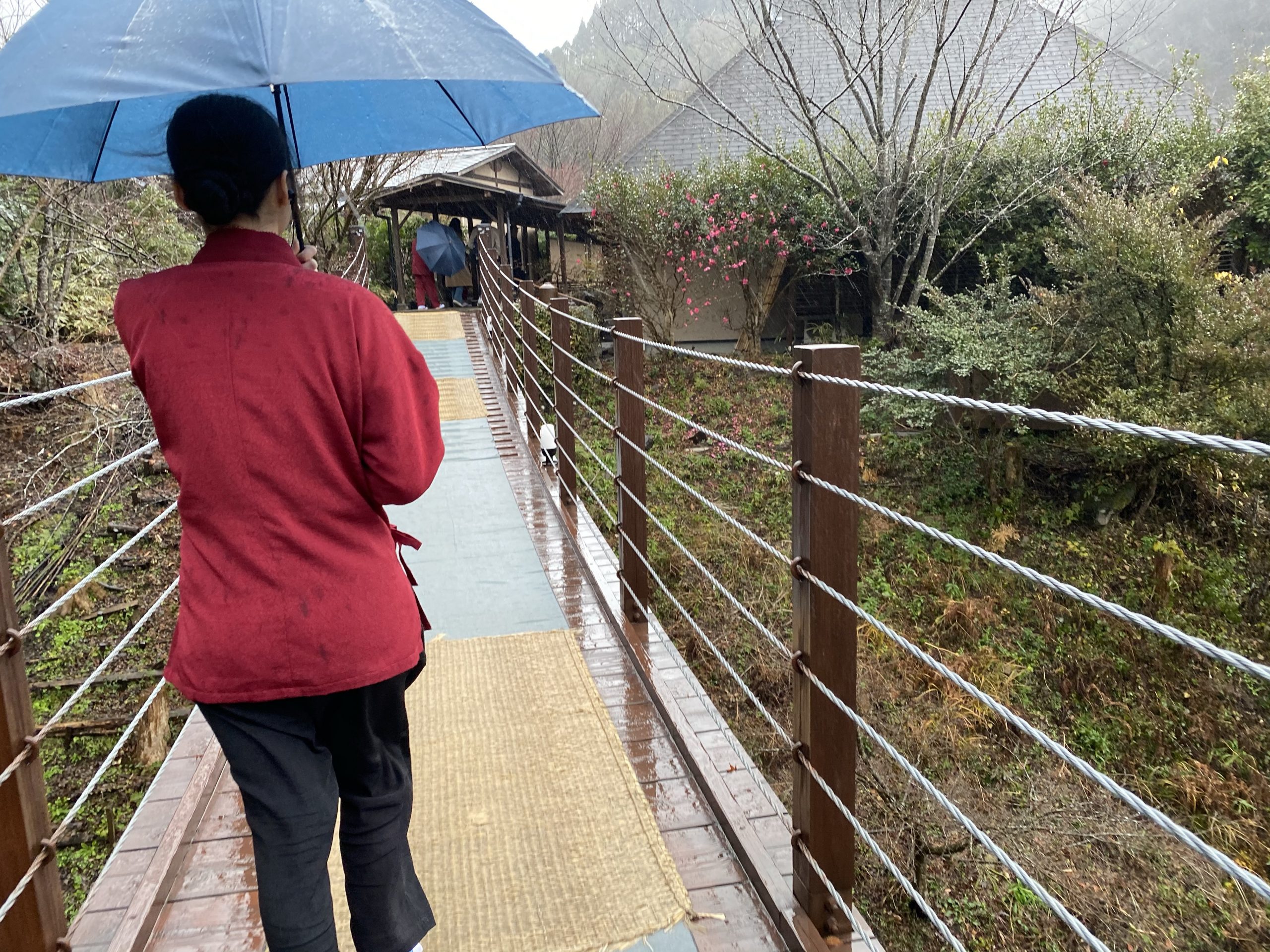 Our room was classical and large! There is a bedroom and a small living room area, where the hostess prepared our welcome tea and dessert. What I was so surprised about is that we also have an attached private onsen to the room too. Since today was winter solstices, all of the onsen included oranges, which enhances the experience.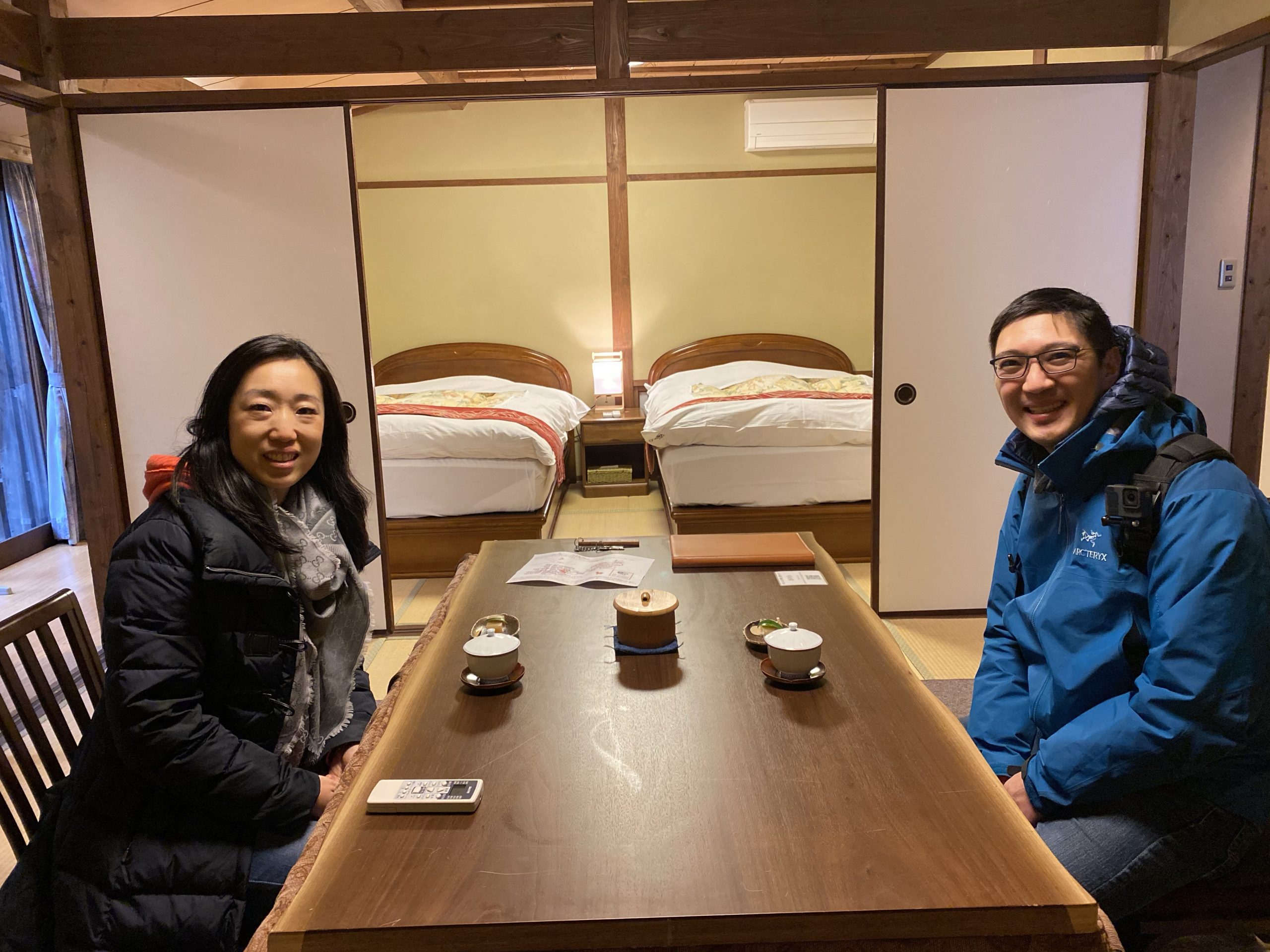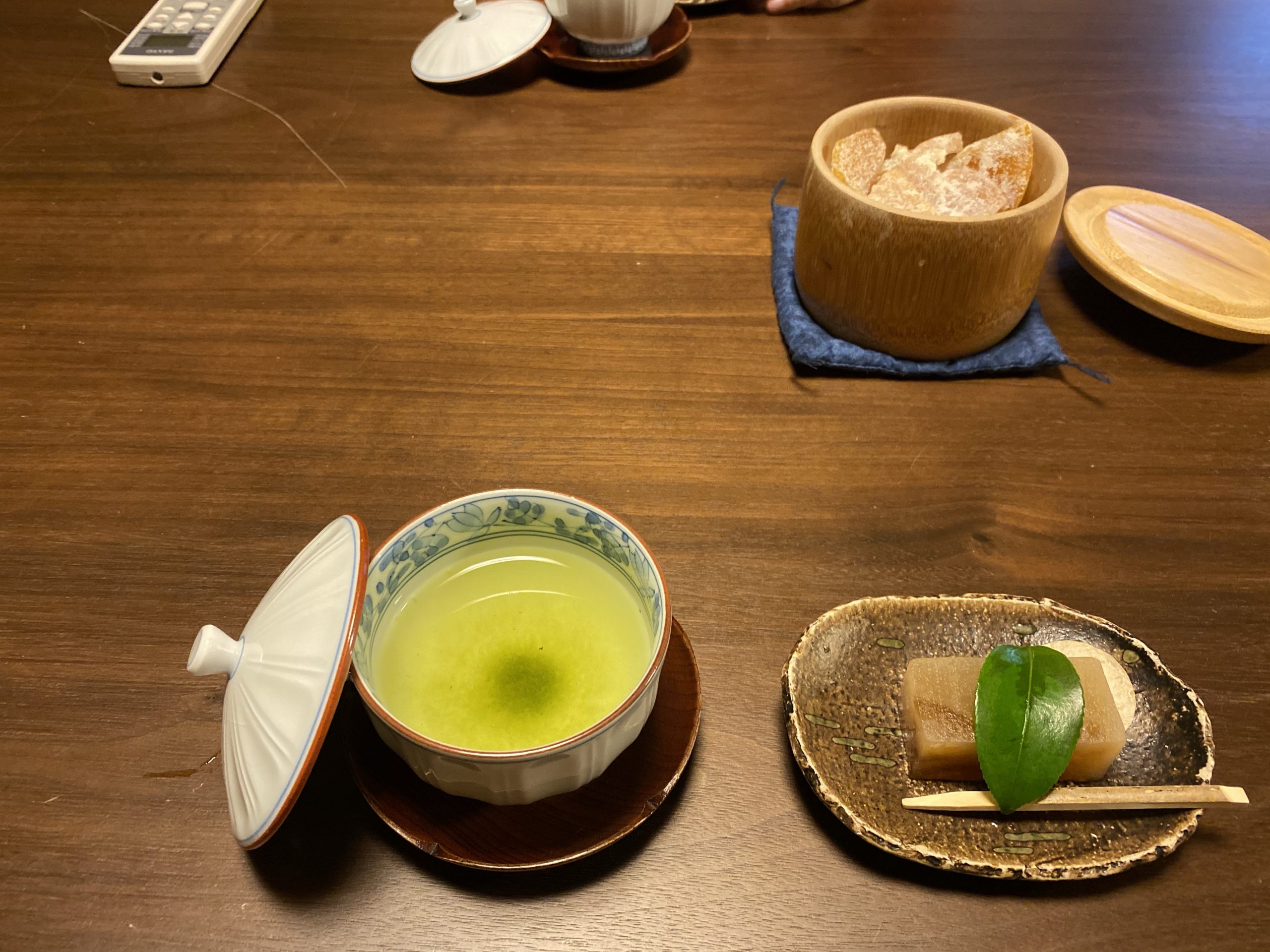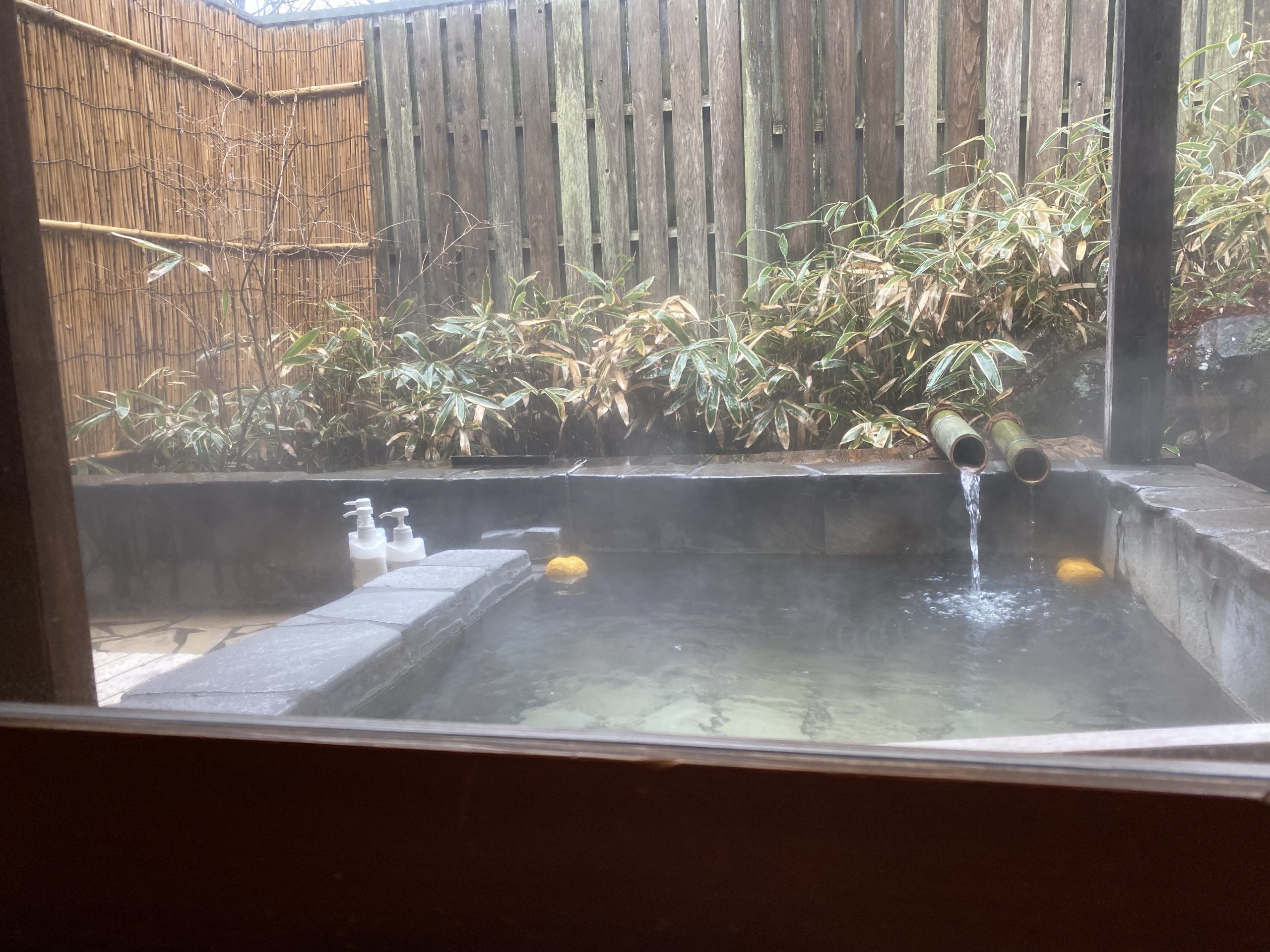 We unpacked and since we were still have some time before dinner, we decided to try out the on premise large public bath. The amazing thing was, since we were early, there were no one at the large baths, so that was so amazing, to have it all by ourselves. I secretly took some pictures to remember the experience.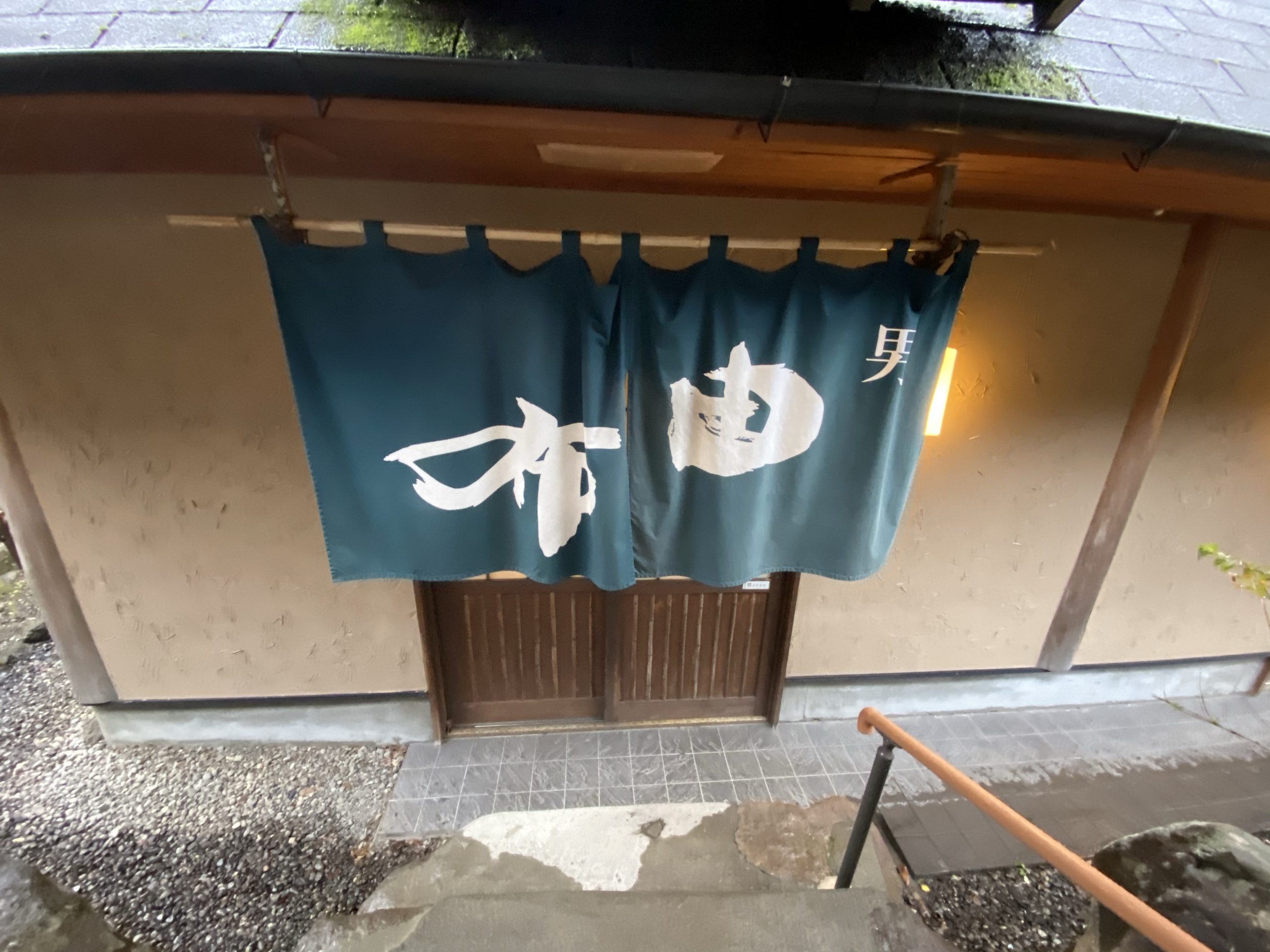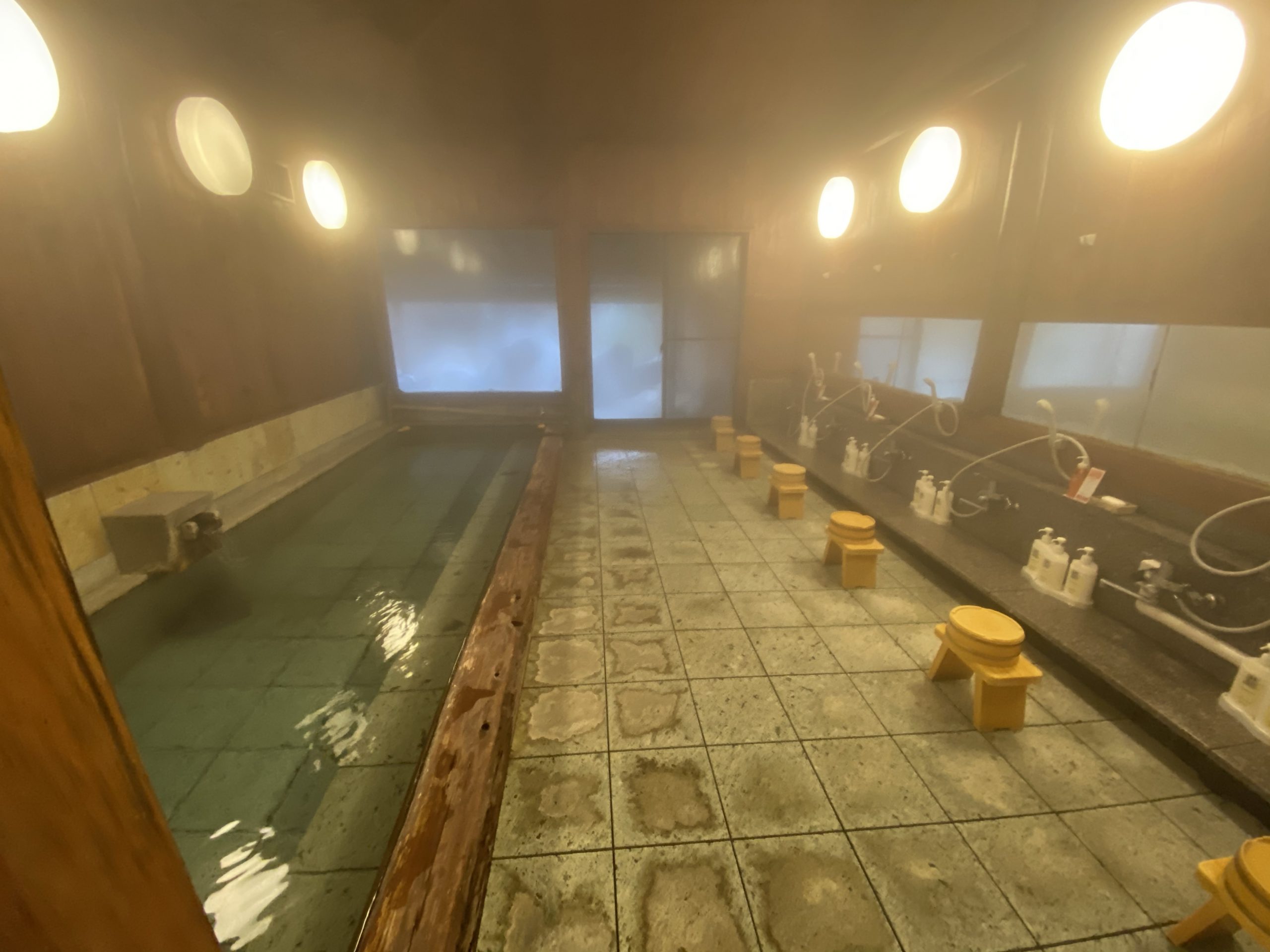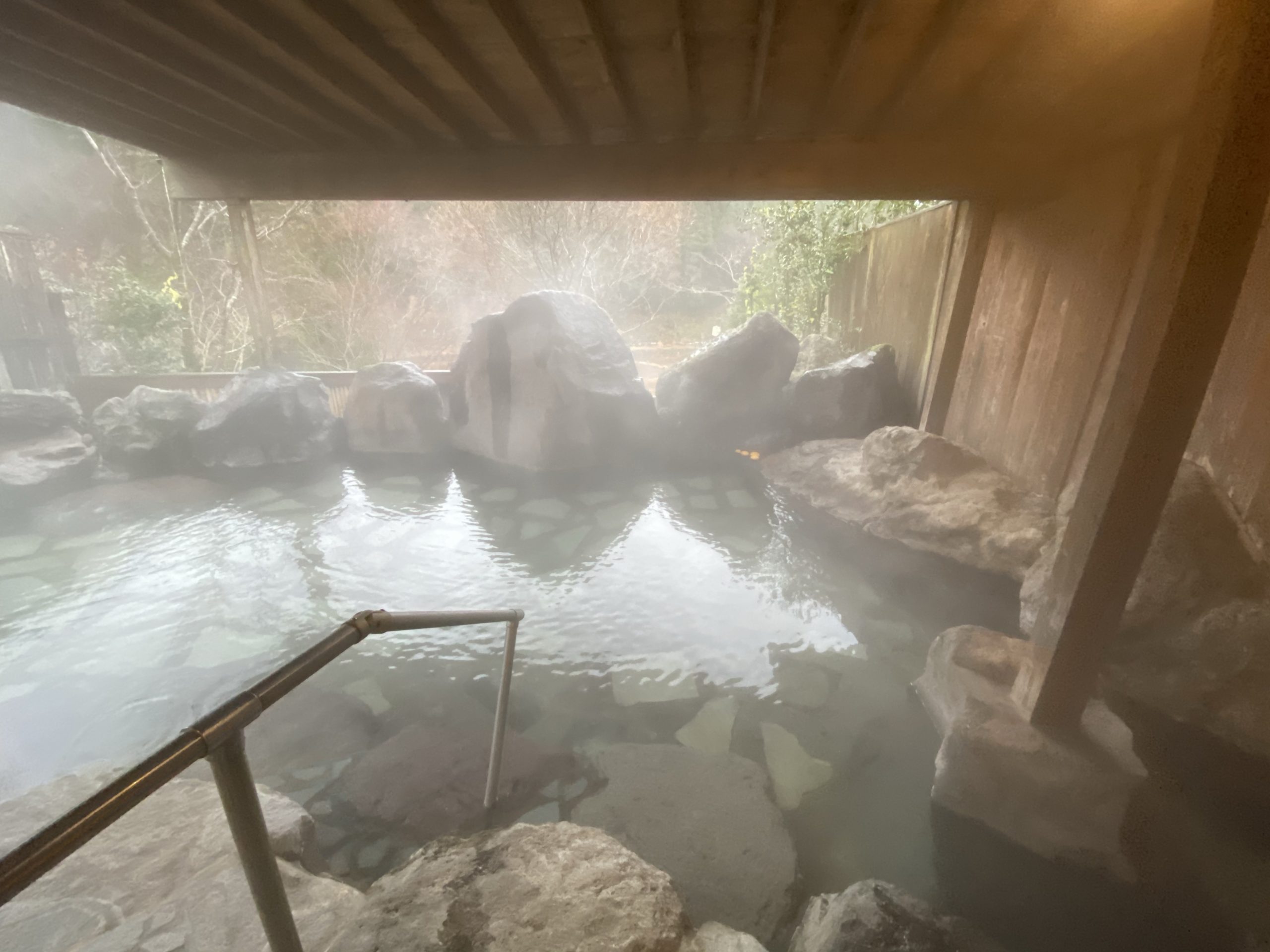 The soak was so relaxing, for the first time in our trip, I felt like I am truly on vacation. I really don't have much care in the world at that moment and just relaxing and enjoying the moment.
After the soak we went to the conversation room and just chilled!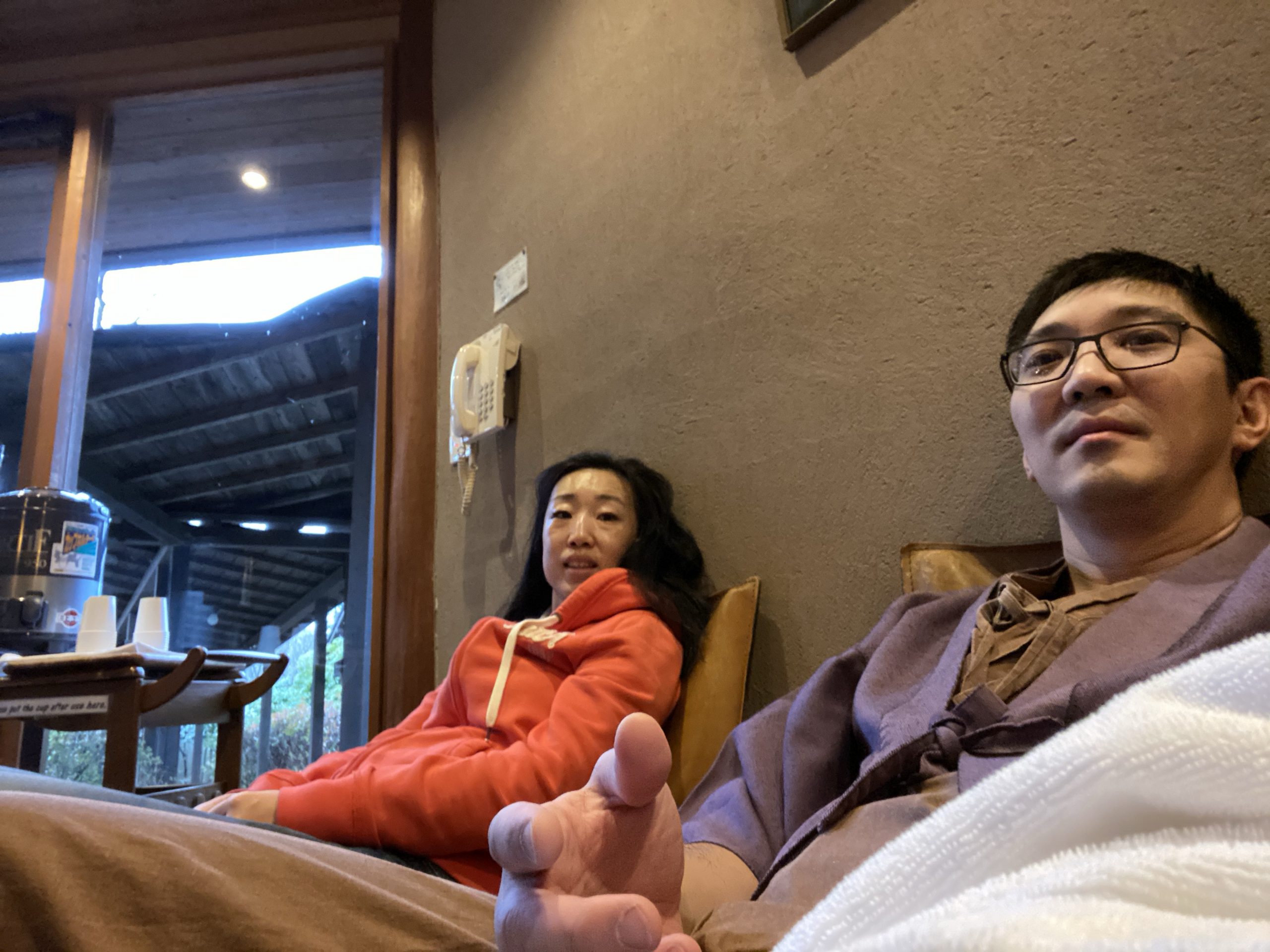 As I am writing this, I just begin to realize that I do eat a lot during my travels and talk a lot of food. So again, after our relaxing break, our dinner reservation was approaching.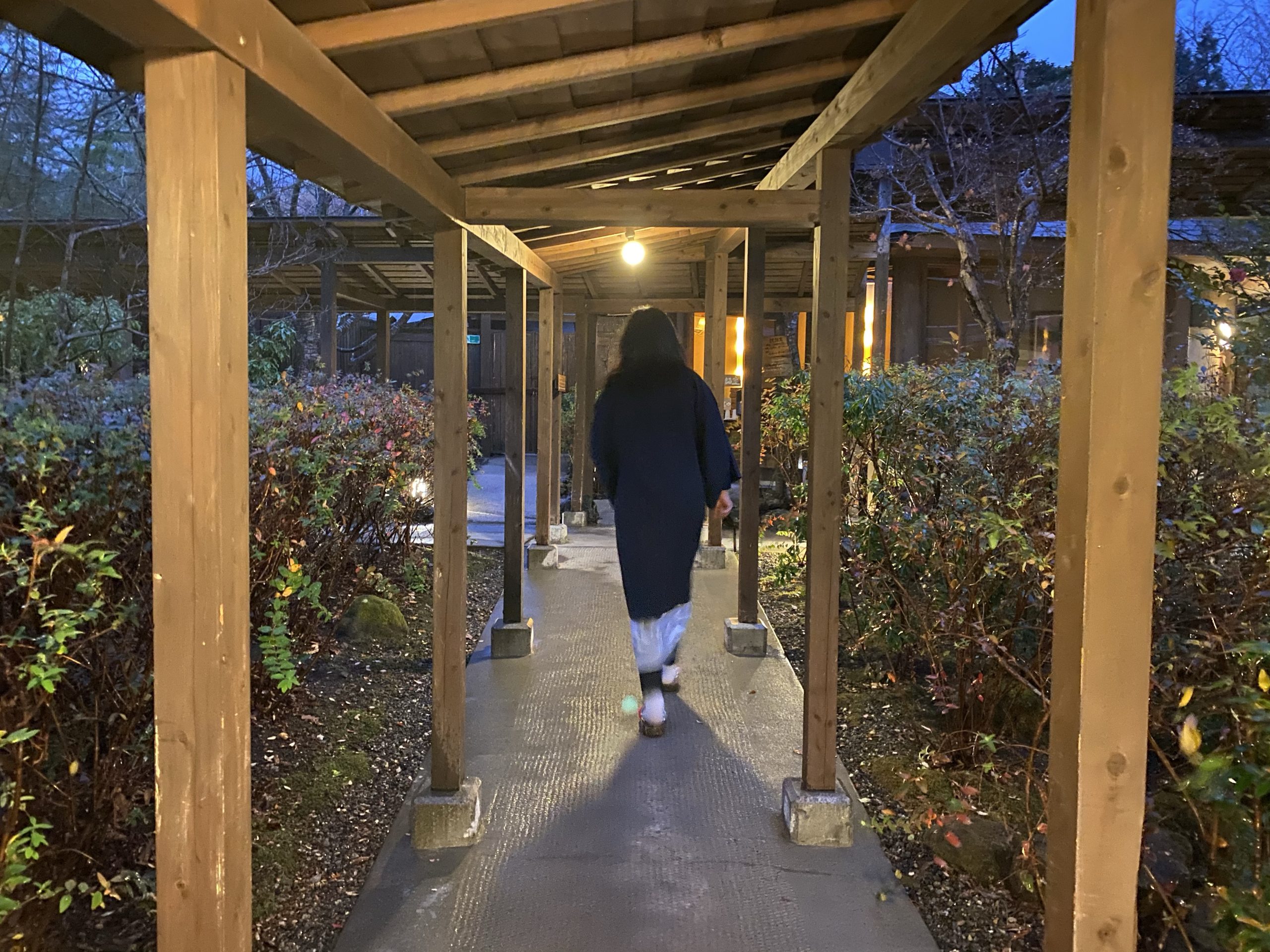 Since we arrived a little bit early, we had a chance to just chill at the bar and have a cup of tea and reflex on the day.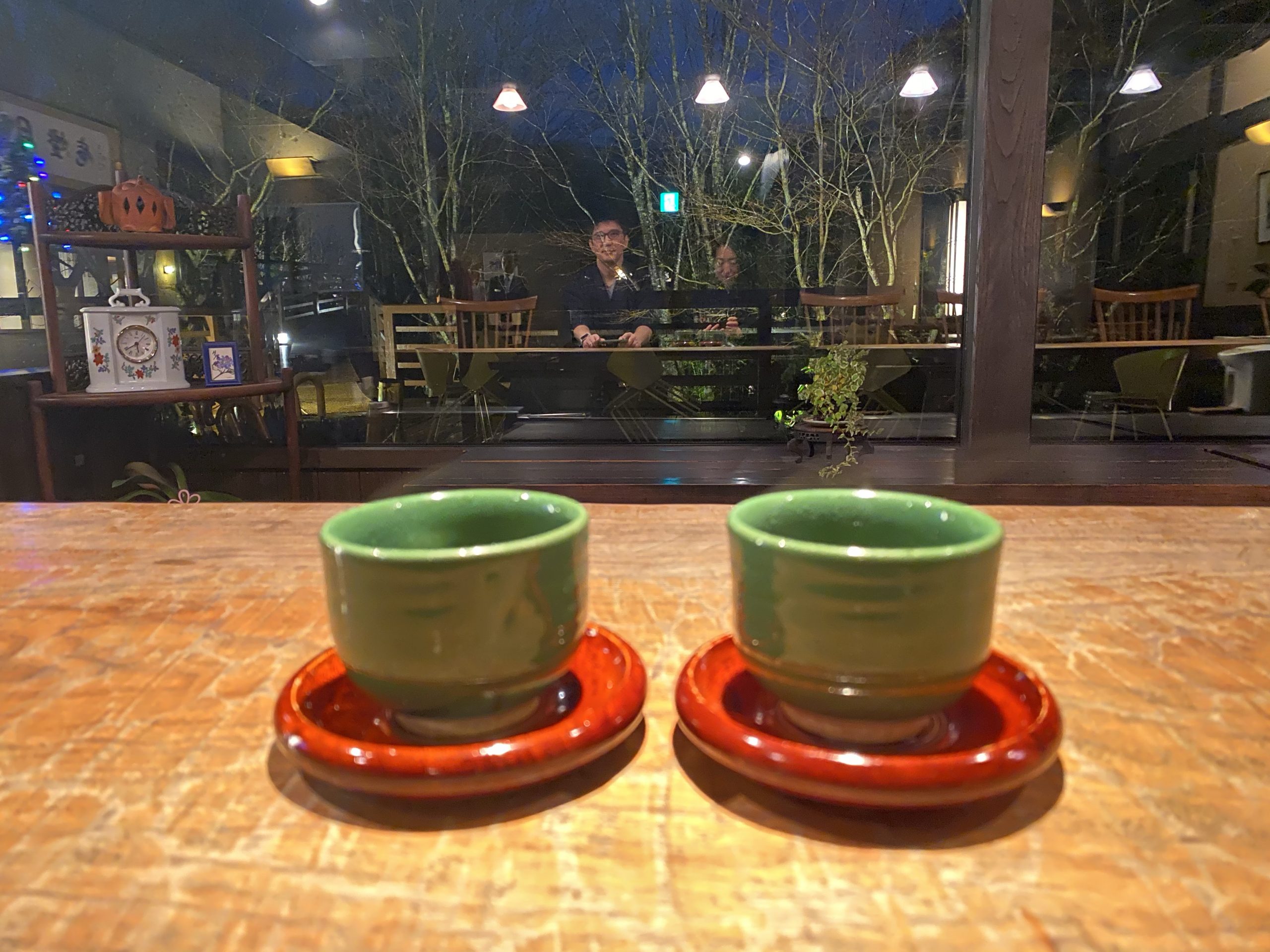 Dinner was fun in the ryokan, because you dress up in traditional japanese attires and enjoy a multi set course. And since it was winter solstice, we even got a bonus course.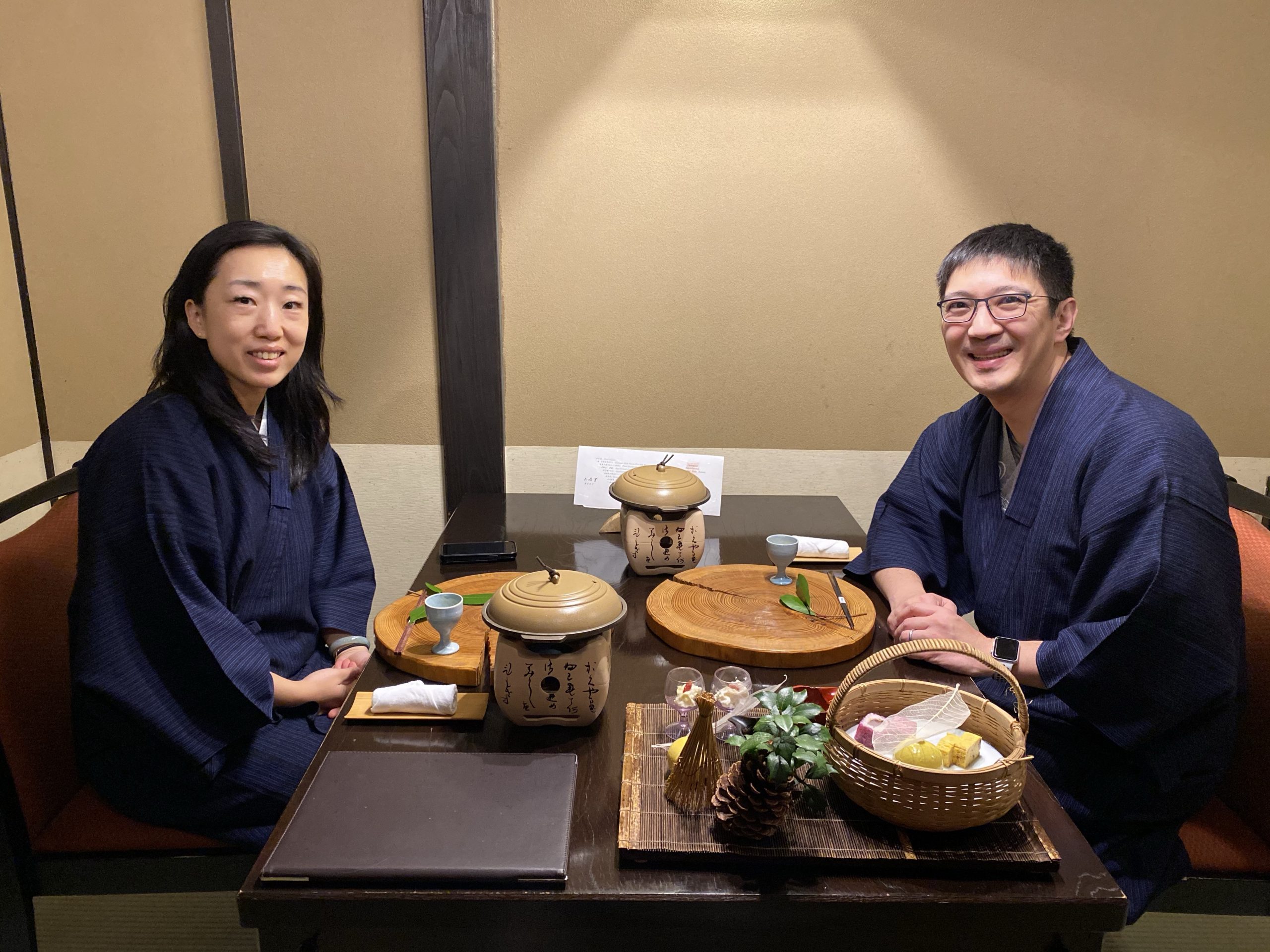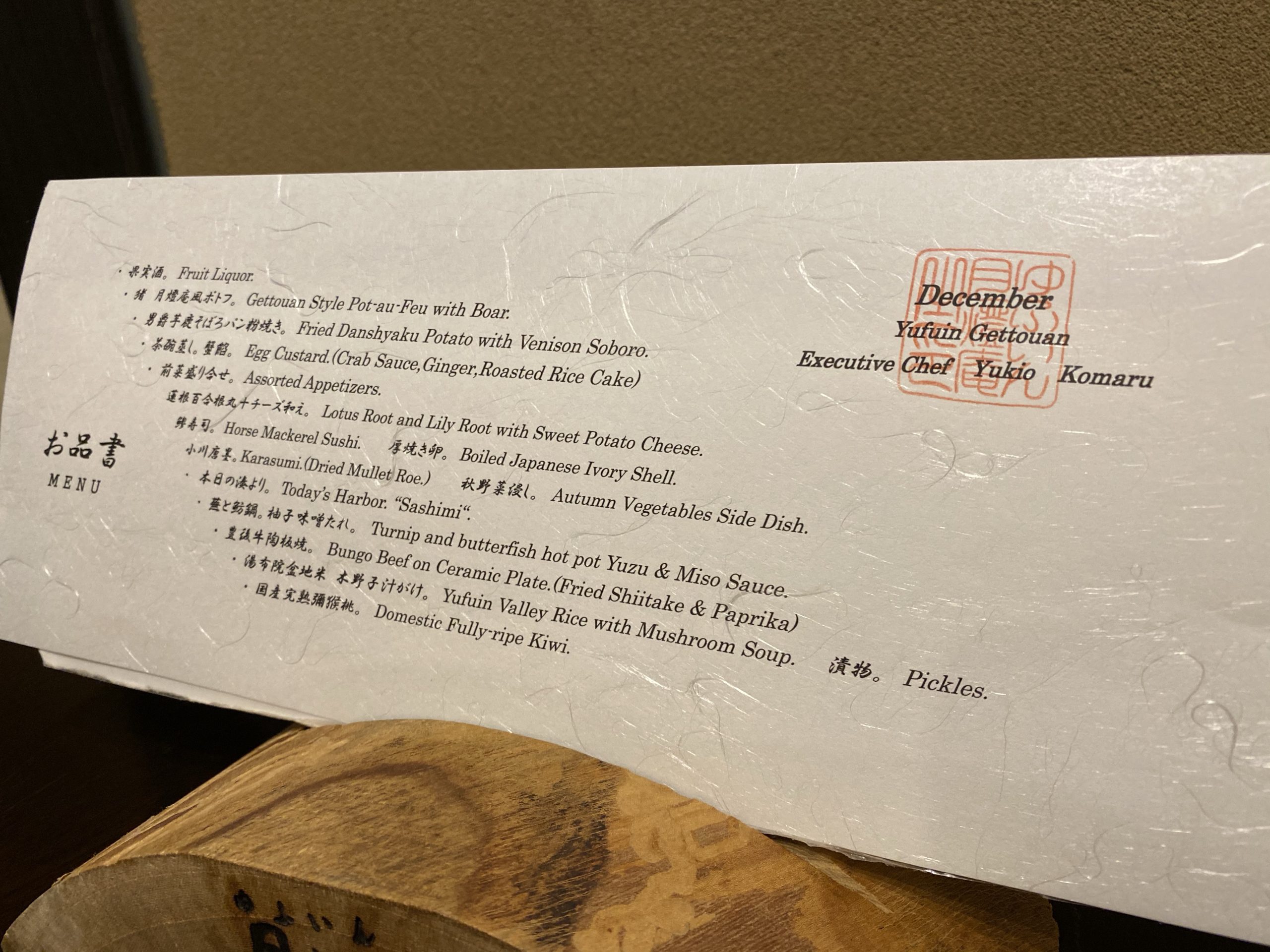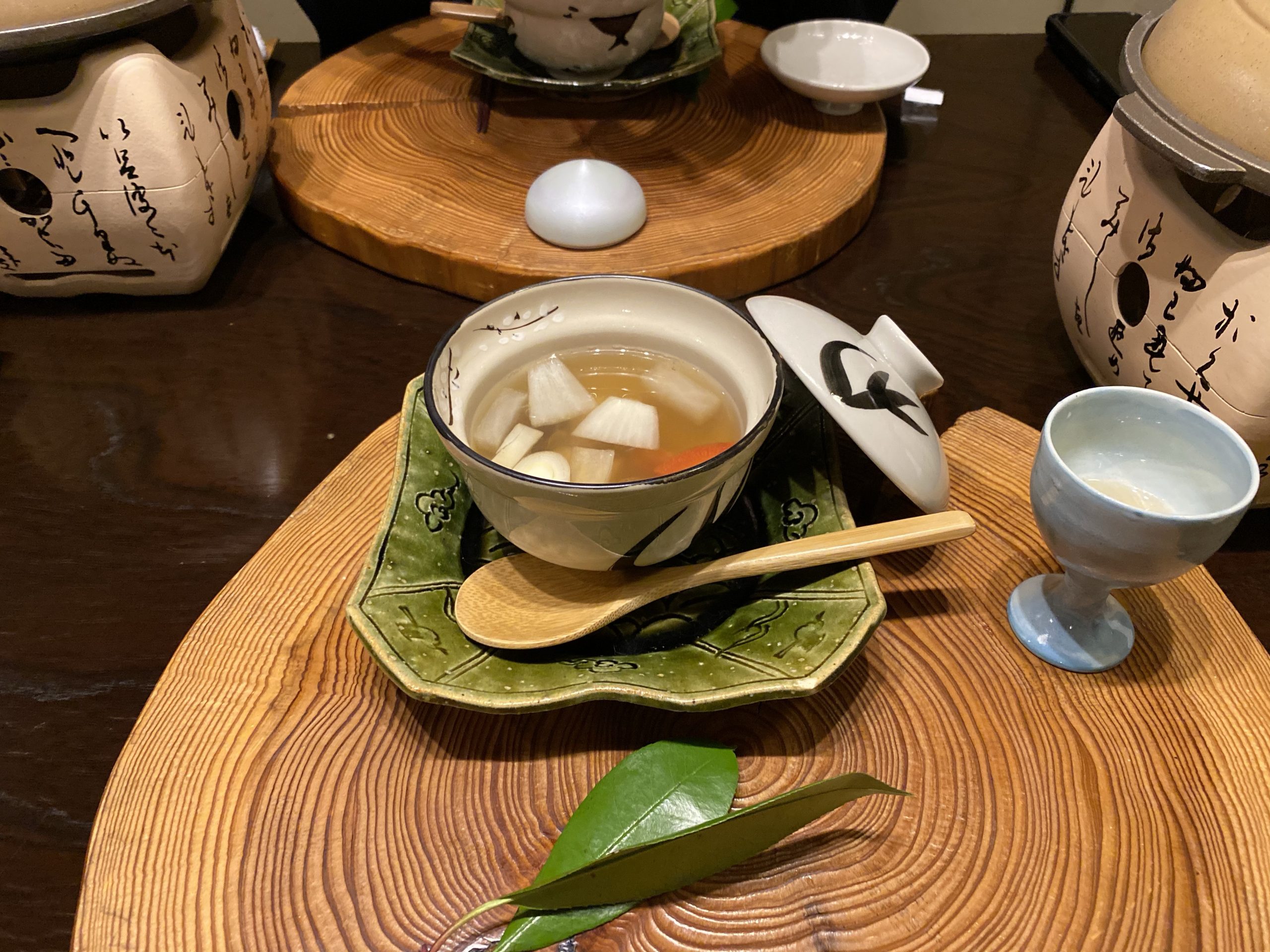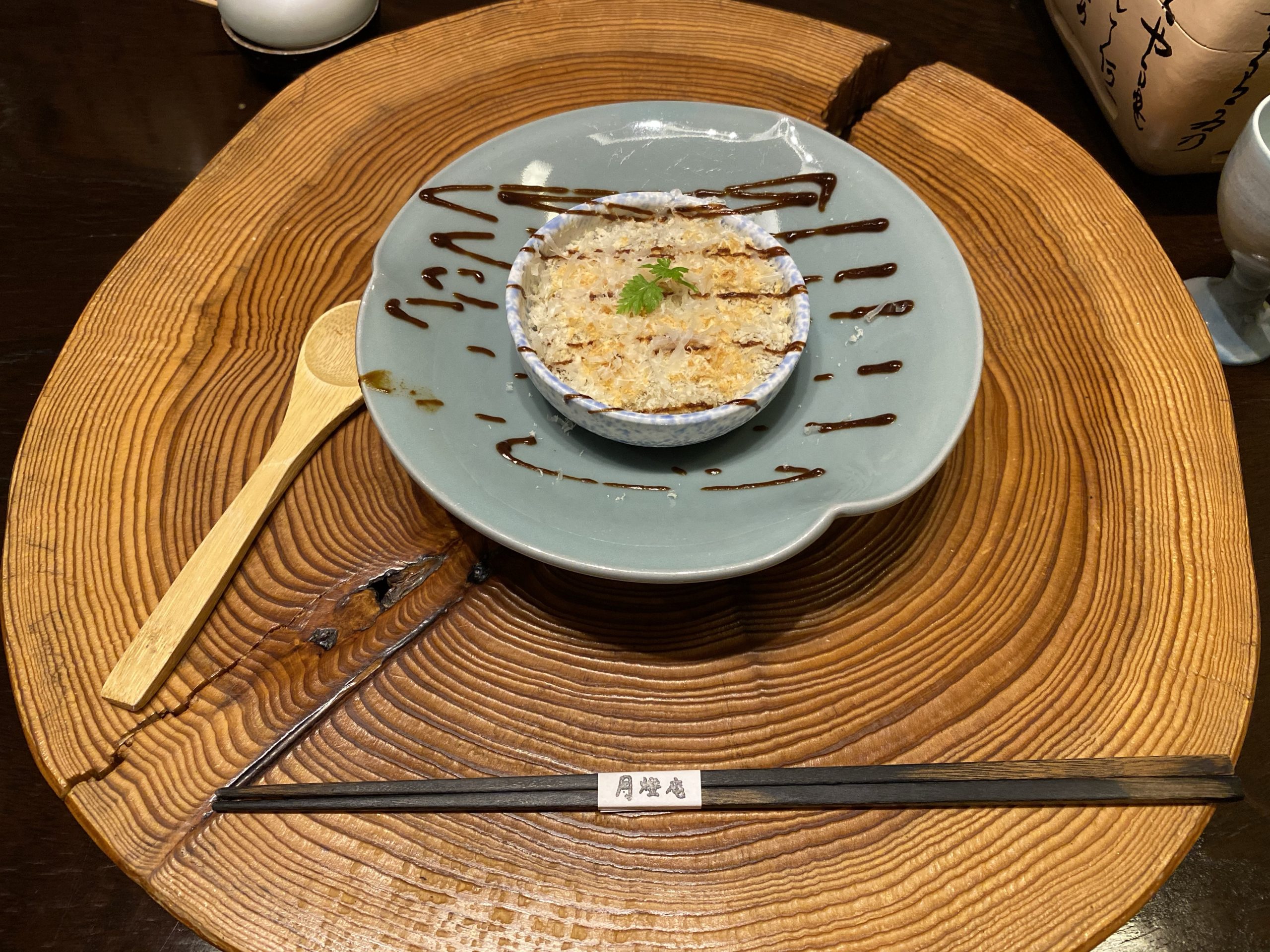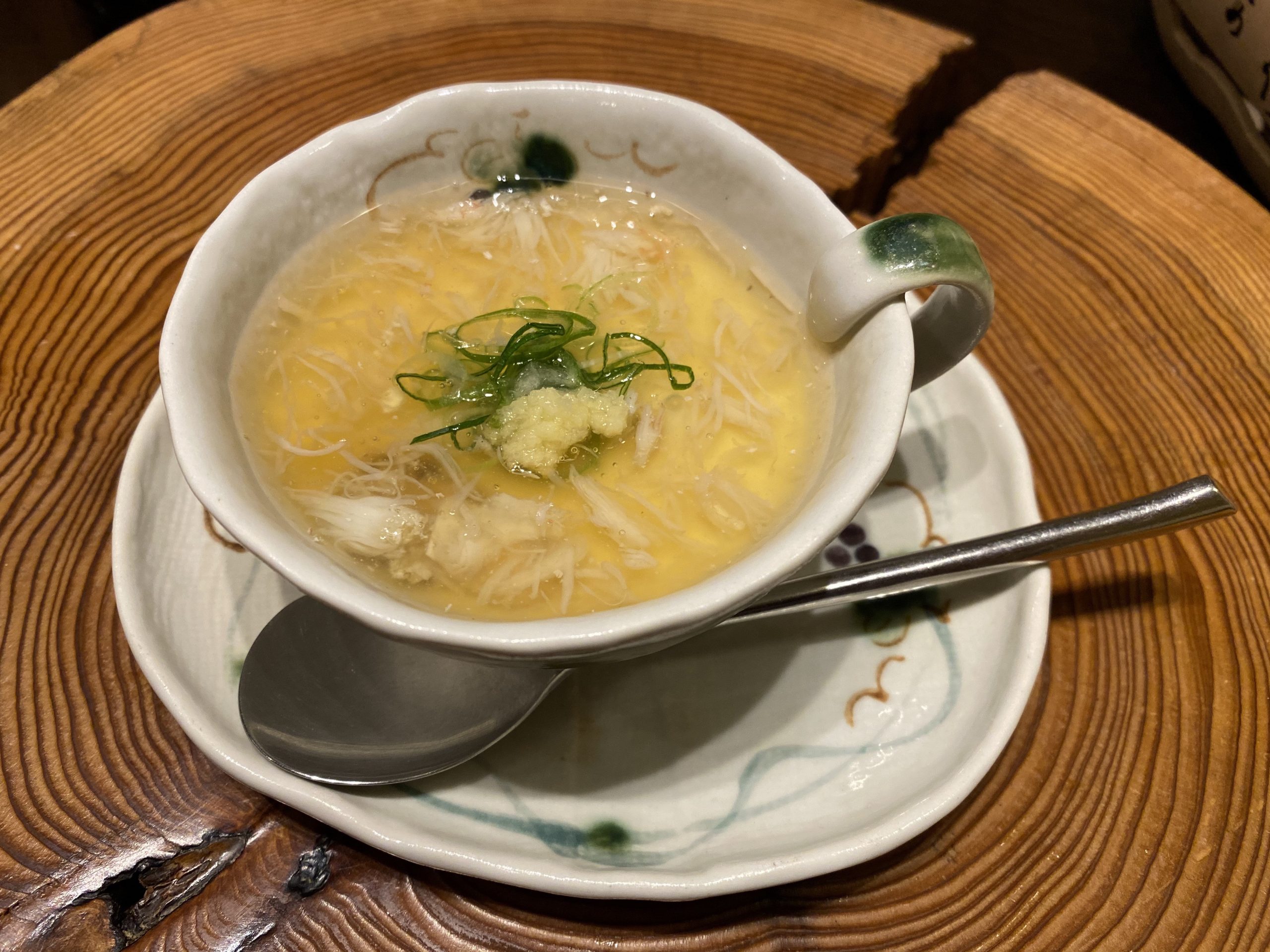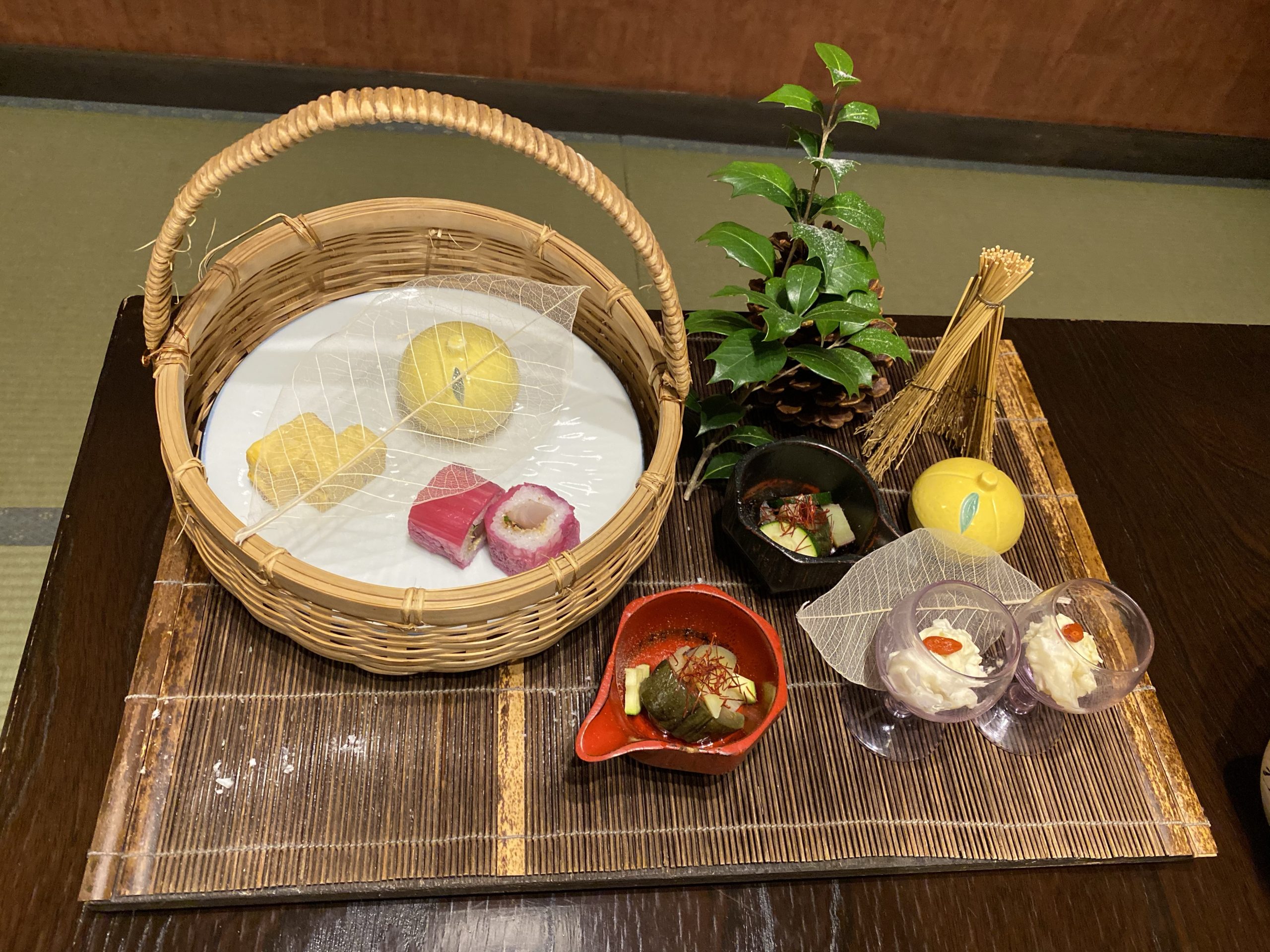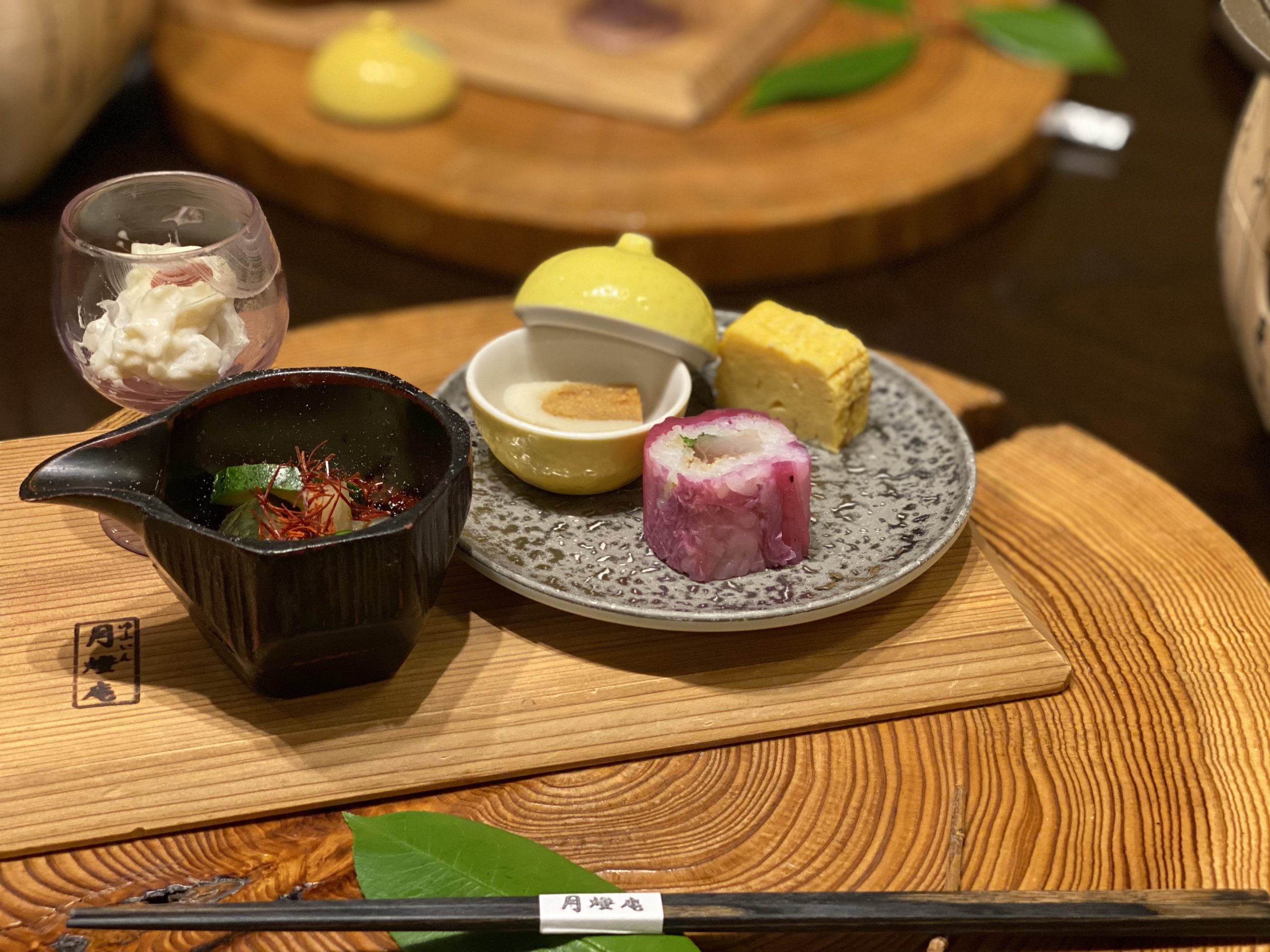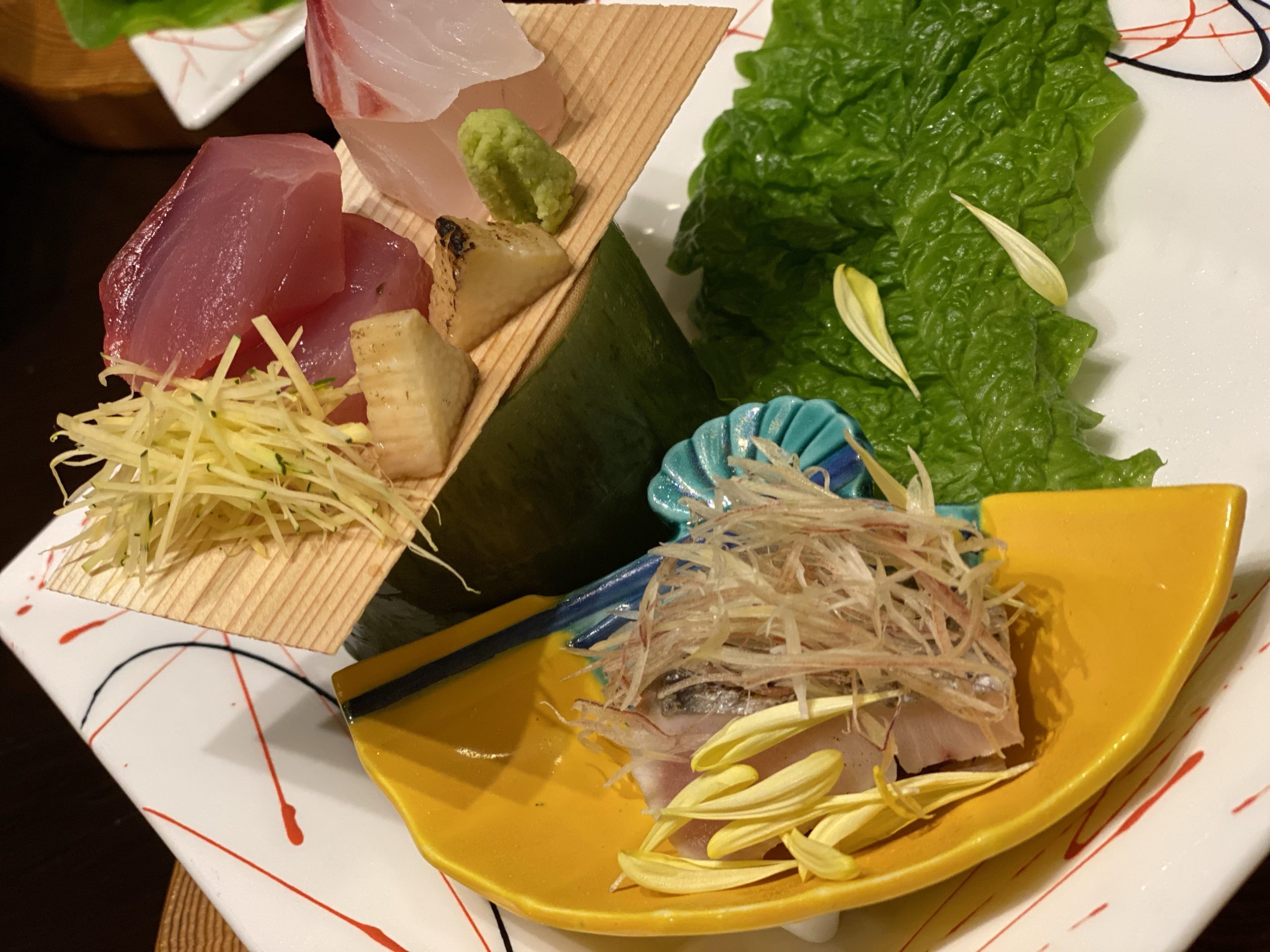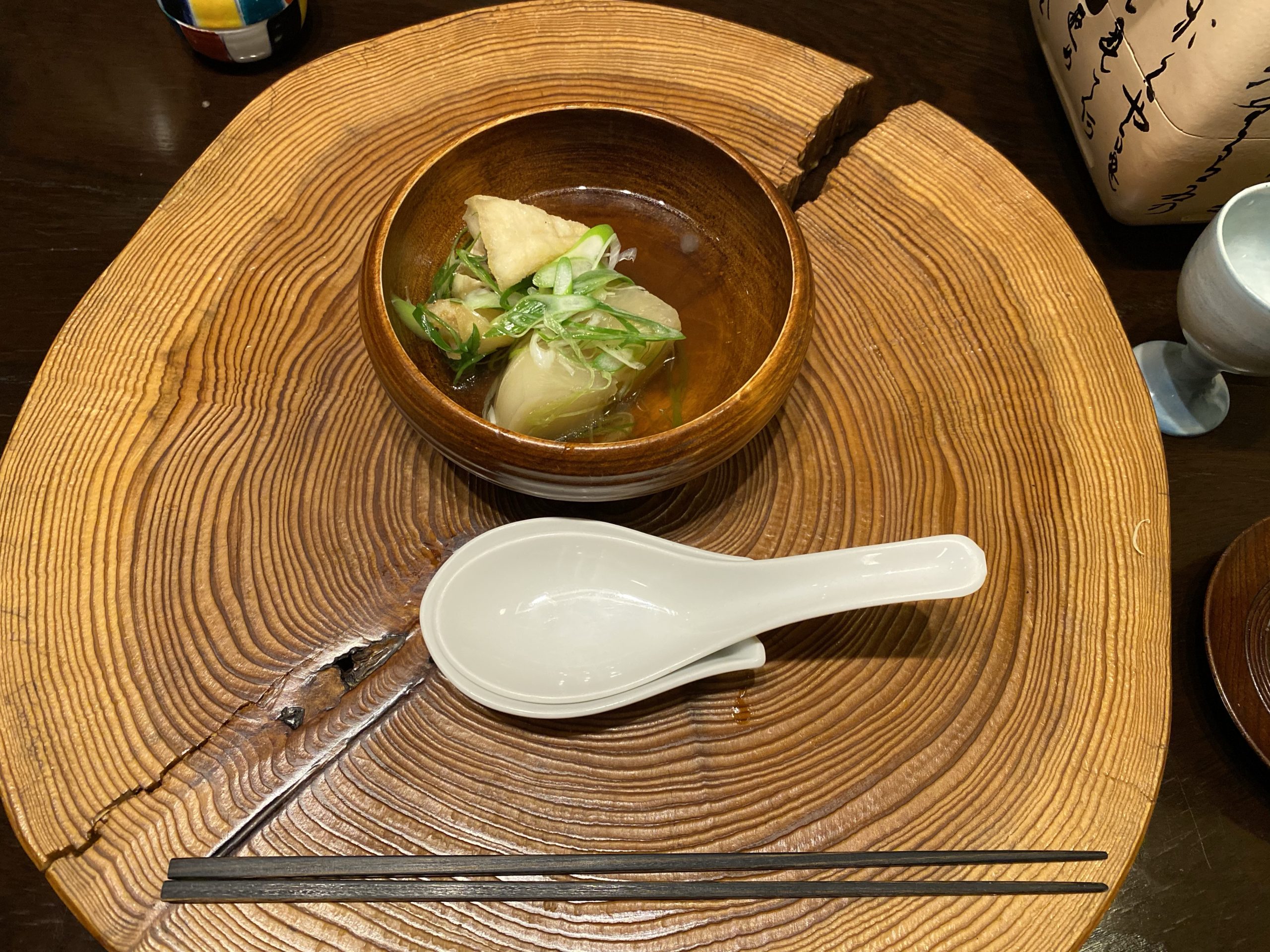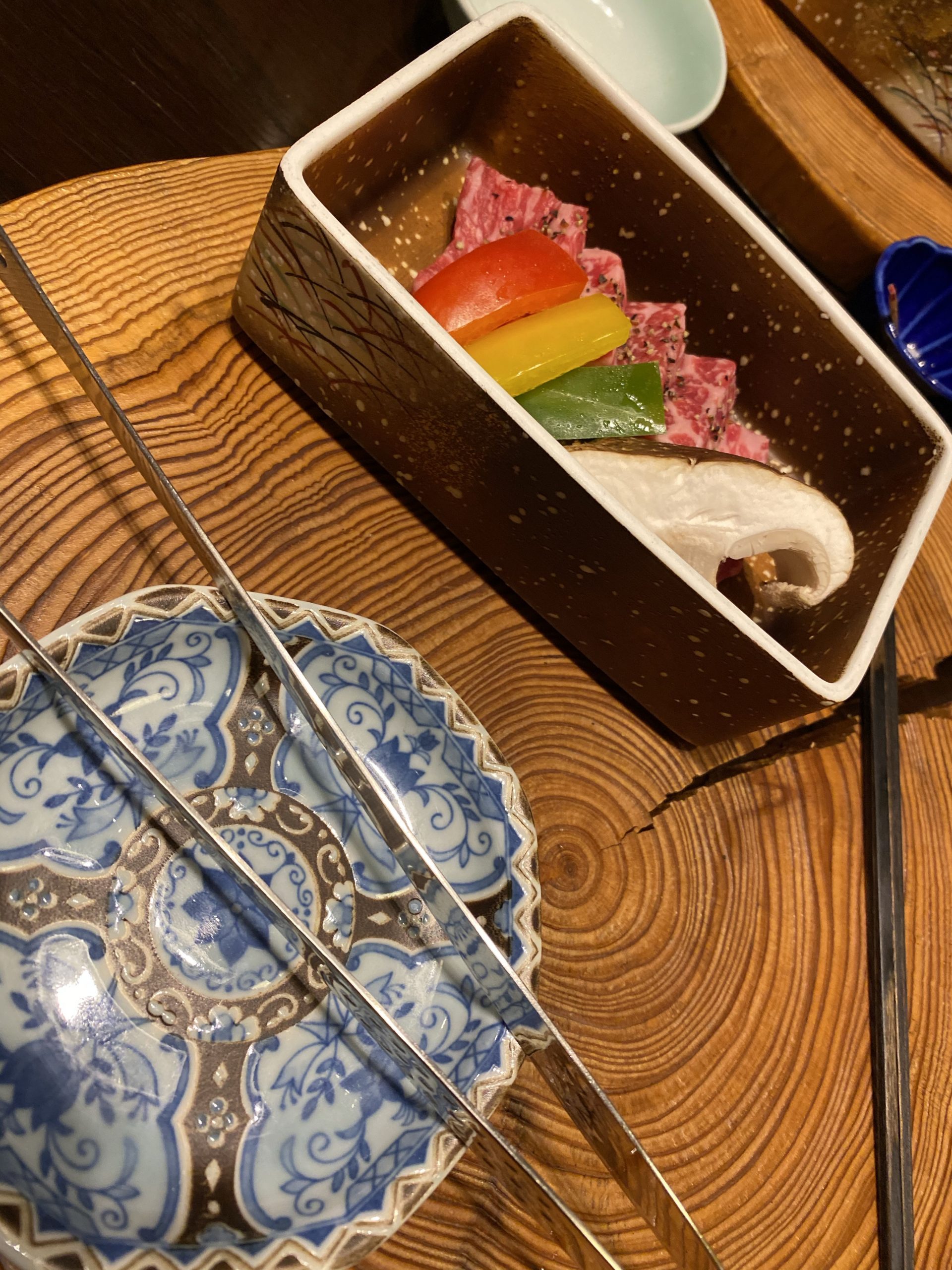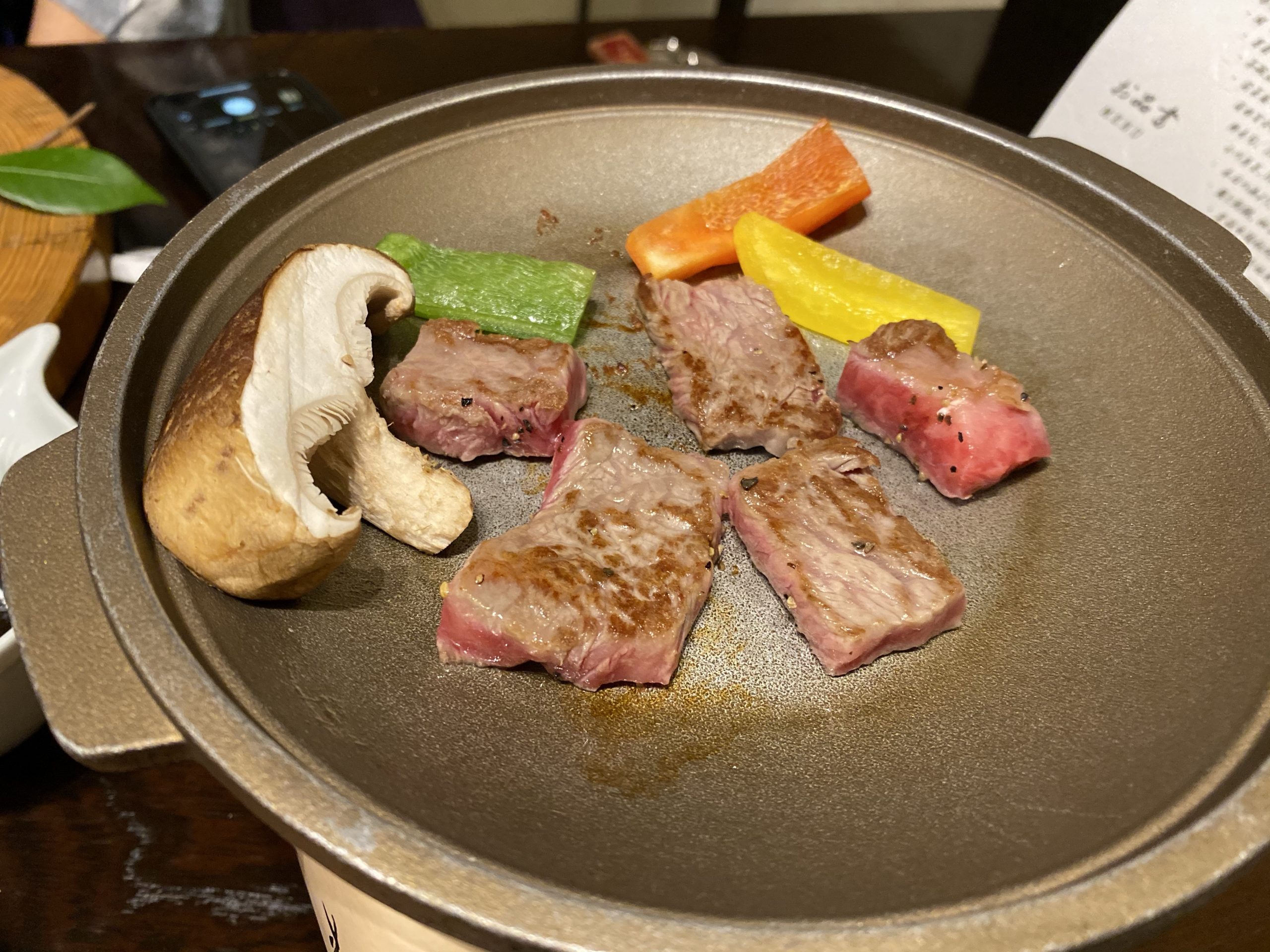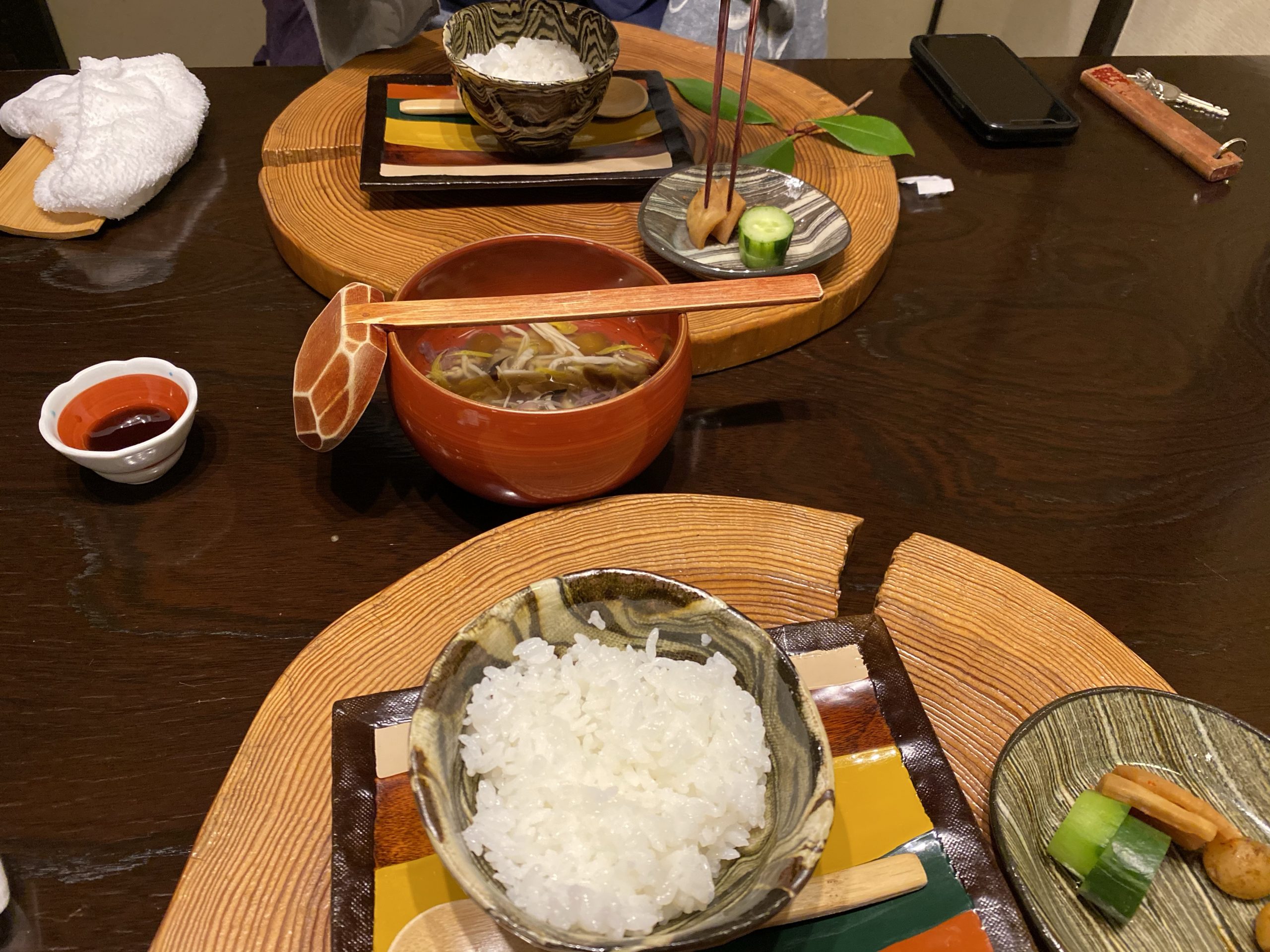 I am already full just recapping the courses and finally one of the most amazing course was the fruit. The kiwi tasted so good, it almost tasted artificial.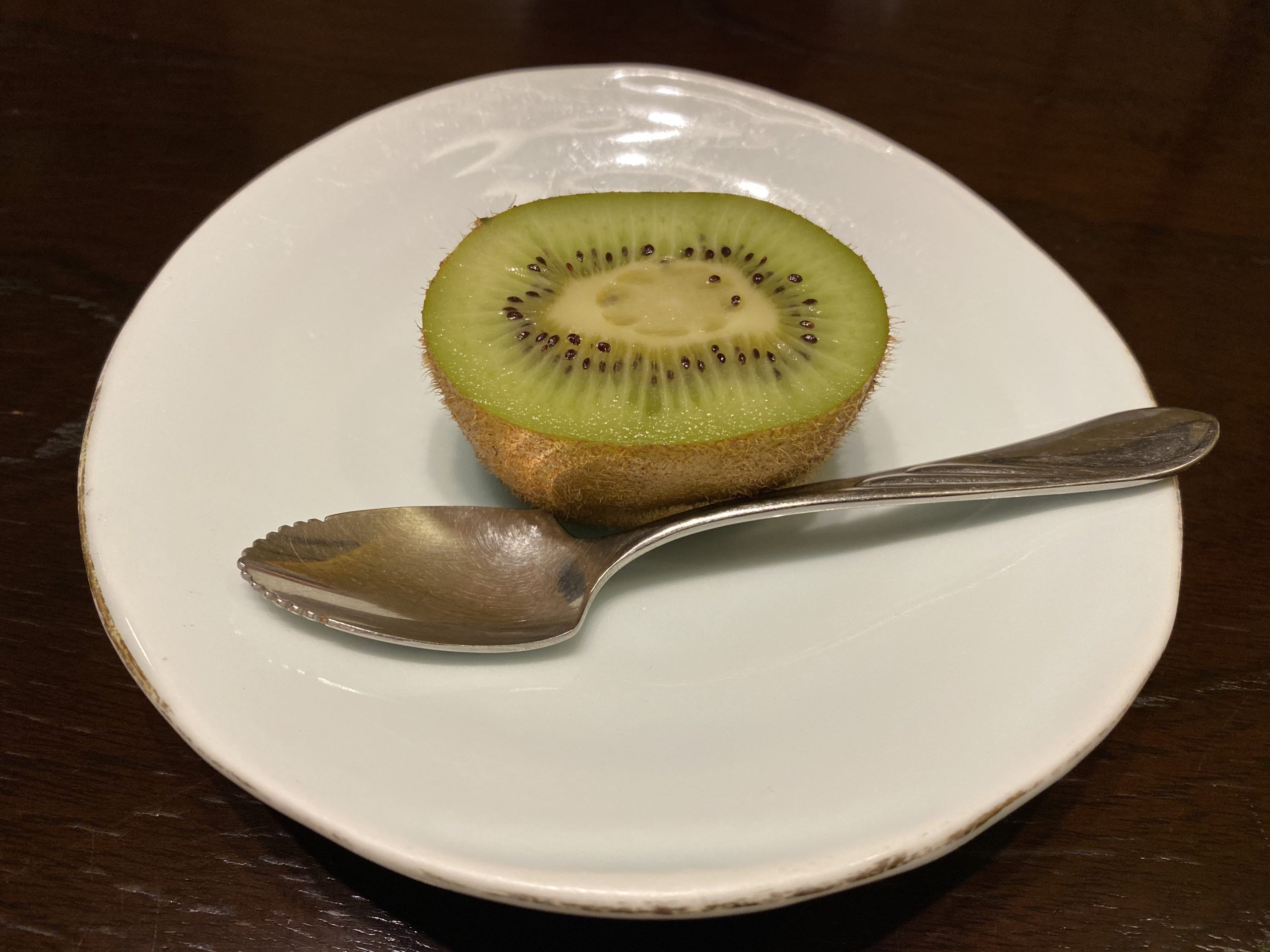 Of course after the meal, we had to go for another soak and then relaxing back in to bed. And that concluded another fun filled day.