So a long day of travel we finally made it to our rental home in PLAYACAR phase 2 in Playa Del Carmen. The flight over from Seattle to Atlanta was pretty good. Vicky got upgraded, as for me … I got to enjoy the wonderful economy class.
While in Atlanta airport, we went to our favorite Chicken place in the airport for lunch.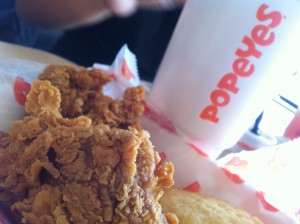 From there we met with Vicky's friend Monica and flew in to Cancun airport. Originally, Delta was offering a 800 dollar voucher for anyone to volunteer. I was planning on doing so because I still have some work I need to finish up, and a night in ATL hotel will do wonders for my unfinished work. But at the last minute, the seats opened up because of some idiot trying to go into Mexico without a passport. Ok people, when you leave the country you need a Passport, it doesn't matter if you have a green card or not, that is only for ingress not egress, Mexico could care less if you have a green card or not. Anyway, the guys and his girl friend flew from Denver to Atlanta, only to be send home by the gate agent, while all of their friends boarded the plane and headed toward Cancun. Sucks to be him.
Anyways, after a really short flight from ATL to Cancun, we arrived. As we walked out to find our rental car, there are alot of people trying to help us or trying to sell us something, I wasn't very sure. We did find the Hertz shuttle and found the rental car place. Yes, I know, why are we renting a car you say? Well, I think it is just more convenient, and we are betting that it is pretty safe to be here with a rental car. Or at least we hope. Anyways, renting a car is very different in Mexico, since my car insurance doesn't cover outside of the country, I have to buy the rental car's insurance. The the super cheap rental car became 500+ dollars US for 1 week. When we finally got our car, it was such a cheap ass car that it is no comparison to anything in the US. I had a very hard time finding the defogger and the internal light for this look PoS car.
Driving at night in Mexico is interesting. Oh and this is the first time that I am driving outside of US, Canada doesn't count. First of all, they don't really have a free way system, they have a highway system, almost like State Highways in the US. What is surprising was the speed bumps on the highway. You can be driving around 70 km/s and all the sudden you see a weird sign (I was still trying to figure it out) and BOOM!!! Speed Bump or Speed Trench!!!
Luckily, I was able to get to Playa Del Carmen with a little help from my trusted iphone. I use an app called Galileo. It is an offline map app that let you create any offline map for free. This is a great travel app for anyone going outside of the US without data plan.
With the location mapped on Galileo, I was able to get us safely to our rental home with speaking very very very little Spanish.
Well… this is the beginning of our adventure.
Check our our room 🙂