So this past weekend, I travelled from New York City Airport (JFK) back to Seattle. On the way back I faced few of the most awful costumer services experiences ever and I even found few pieces of glass in my salad. On top of that Delta's response to my complaint email was shockingly disappointing.
So let me tell you about my recent experiences.
1) Rude ticketing and gate agents in JFK.
When we arrived, at JFK 2.5 hours before take off, we were hoping to get a companion upgrade for me. Since my girlfriend is a Delta Airlines Platinum Status member and is entitled to a companion upgrade. Not allowing us the upgrade is one thing. But the rude attitude and not knowing their own company policy and in addition, constantly trying to charge me $250 dollars for put me on a standby for upgrade is just plan wrong. Especially, when in the end, when we were onboard the airplane there were two empty first class seats available. So as a result a long email letter was written to the customer service about the situation. After some back and forth verification, Delta's customer service finally admitted to their mistakes and apologized. They also provided 15000 miles to our frequent flier account each. A simple upgrade or even better customer respect in the beginning would have prevented all of this drama. This was the good response.
2) Your onboard food safety is only worth 3700 sky miles!!!
So on the plane back home I found the following pieces of glass in my $8 dollar salad.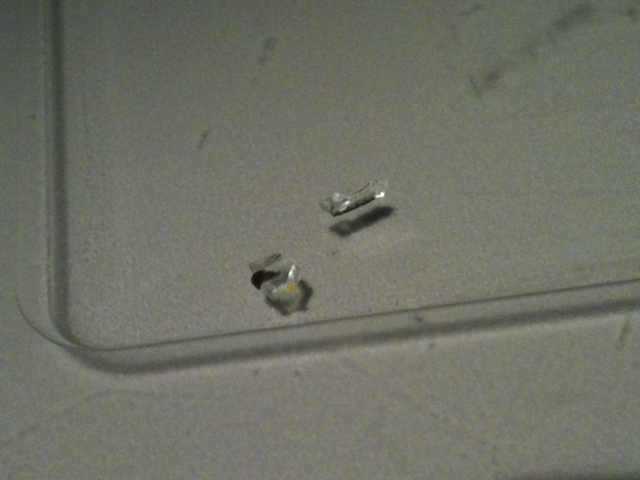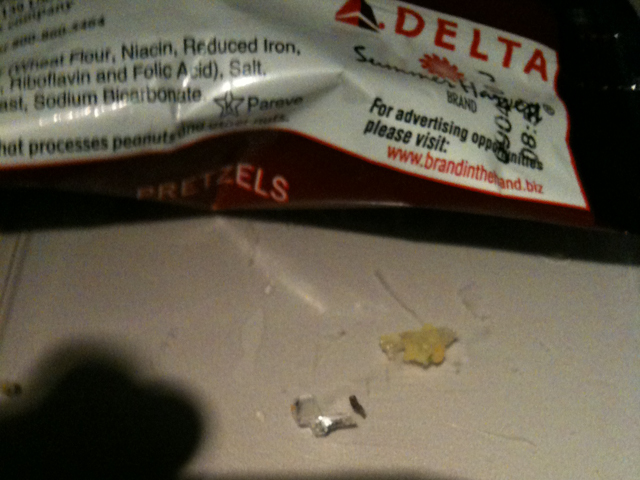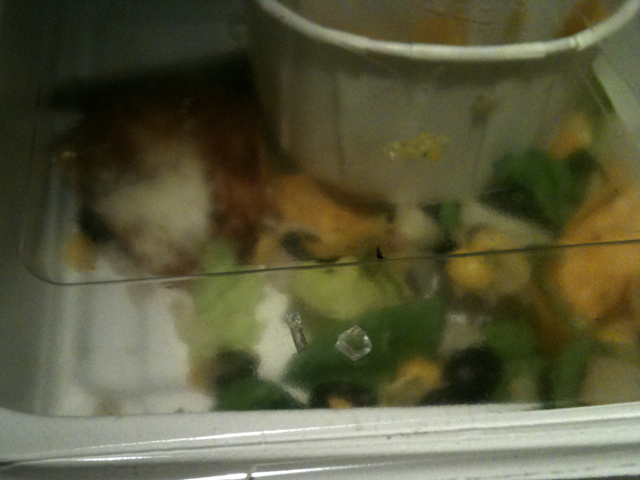 On the flight when I tell the flight attendant of the situation the response I got was simply… oh we will refund you but tell your complaints to our website.
So I wrote the following email to Delta.com
Dear Sir or Madam,

My name is Min-Hsao Chen. I've been flying with Delta for over ten years, and my experience with Delta's services was fairly good until last night.
During my flight from JFK to Seattle, I ordered a Southwestern Caesar Salad with Cajun Chicken for $8 for dinner. The salad was tasted kind of bad, but I was hungry. Half way through eating my salad, I ,all the suddenly, bite into something hard. When I spit the mystery item in my hand, it was two pieces of small broken glass. I immediately spit out the rest of the contents in my mouth into the salad container. I think there may have been other pieces in there. You can see a picture of the two pieces that I found in my mouth here.
(http://tweetphoto.com/17237670)

I immediately notified the flight attendants and the response I've
receive was shocking and very disappointing and unsettling. When I notified the Delta flight attendant of what has happened and that I've found, she simply said that "oh.. don't eat that salad anymore and we will refund your money". Then about 15 minutes later another attendant came by and I told her again of what happened, and she simply stated that they do not prepared the food and I need to complain to the delta.com website. Finally about 20-25 minutes after I notified the attendants, they came by and collected my credit card and refund my 8 dollars.

It is not the 8 dollars that I am concerned about, but how the flight attendants reacted to the situation. The situation was disappointing and very unprofessional. The first impression I received from the flight attendants were that they don't really care. Even now, I am still uncertain if I swallowed any glass or maybe potentially cut my throat or mouth. I am continuing to monitor my condition. The point is, the flight attends did not show any
care and concern and that was very disappointing with their very poor customer service. In addition, when I ask the flight attendant again, they simply shifted the blame to someone else by stating that they did not prepare the food and I should contact someone else. This response was totally, unfriendly and unacceptable. A simple response of "are you ok?" and
"what can we do to help you?" would have made a world of difference in my impression and my feel of Delta's culture.

To recap, please check with your food service provider and make sure that there are no more glass pieces in your salads. I do not want anyone else be caught in the same situation as I or even worst if anyone get hurt because of the glass in their food. Second, please re-evaluate your exception handling procedures with your flight attendants. This situation could have been a none issue if the attitude and the actions of the flight attendants were much better. All in all, I think it will be a benefit to the over all public view of Delta Airlines.

Thank you for your time and please let me know if you need any additional information regarding my experience and regarding the broken glass in my food.

Thanks again for your time and looking forward to hear Delta's Response.

Min-Hsao Chen

PS. I will be posting this story on my blog and other social networking site. I am hoping to hear a response from Delta.
Delta Airline's Response is a follows…
Dear Mr. Chen,

Thank you for sharing your concerns regarding the service provided while traveling with us. On behalf of everyone at Delta Air Lines, I sincerely apologize for the disappointing customer service you have received from one of our flight attendant and I appreciate the opportunity to respond to your concern.

I am truly sorry for your disappointment with the meal quality on your recent flight. Flying with Delta should be enjoyable and the difficulty you experienced does not support our goal of providing a high level of service and value to our customers. I realize that this was particularly concerning as you have found pieces of small broken glass in your salad. Customer service is very important to us, and we are working hard to continually improve and meet high customer expectations.

Passenger comments like yours are critical in evaluating our food service, and our future course of action is based on feedback like you have provided. Please be assured your concerns will be shared with our Onboard Services leadership team.

However, as our customer, you are in the best position to point out areas that need attention and where we are falling short. After reading your comments, I certainly understand why you wanted to bring this matter to our attention. It is equally disconcerting to learn that at this instance you did not receive the service you expected and should have received from one of our team member, as we expect our employees to be helpful and professional at all times. I strongly believe that this situation could have been handled in much better way. Excellent customer service is our key and your comments and observations are helpful in ensuring we maintain our goal of providing this level of service. Feedback like yours will help us improve our in-flight processes and overall customer experience.

Additionally, when these types of things happen, we want our customers to know how much we care and regret that their time spent with us was less than satisfactory. Therefore, as a gesture of apology for the lack of service you have received from our flight attendant, I have added 3,700 bonus miles to your SkyMiles account. Please allow 3 business days for the miles to be added.

Mr. Chen, I thank you again for writing and bringing this matter to our attention regarding the unsatisfactory customer service you have encountered from one of our flight attendant. I am keenly aware of the need to listen to our customers and follow up on problems they bring to our attention. As a valued SkyMiles member, your business is important to us and we will always do our best to merit your confidence and support.

Sincerely,

Zinette P. Kent
Coordinator
Customer Care
So basically from this email, they did not ask if I was ok, no concern for the customer what so ever. Did they even read my letter? Do they even know that I almost swallowed two small pieces of broken glass??? I may have swallowed some other pieces, but no concern what so ever.
So in the end… few pieces of broken glass in my food is worth around 3700 sky miles. So with my calculations, a typical round trip Delta airlines ticket is around 400 dollars. To trade in for a free ticket take around 25000 skymiles to 60000 skymiles. So that bring the 3700 skymiles to around $25 – $60 dollars.
Sure, I will pay $100 dollars for one of the person responsible for Delta's customer service / food services to eat a salad with pieces of broken glass mixed in.
Please help me out here. Why is it like this? Am I just complaining too much?
Thanks for reading… and more NYC pictures coming up soon…. 🙂