It is Sunday today, not much going on, so I will just start with some of today's highlights.
First, Bastille market!!! It's amazingly cool, it is like the French Market in New Orleans or the Taiwanese open air market in Taiwan. It's pretty awesome with all the fresh food and goods. It really makes me want to buy some food and cook. Unfortunately we do not have a kitchen :(.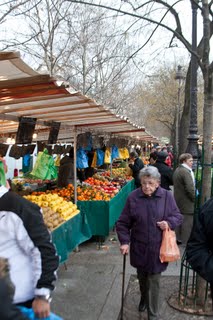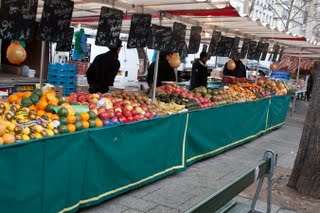 Churros … freshly made… much better than Costco churros!!! 😉
Lunch … French McDee's. uh.. they are actually not very good.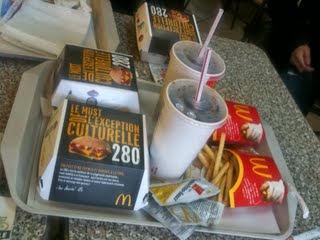 After lunch, took the metro to met up with our friends Xavier (aka French guy) and Huey. From there we took the RER (the regional rail) to a French outdoor outlet. Since my luggage hasn't arrived yet, I decided to get a new shirt while I am here. I bought a nice purpose dress shirt with french cuffs and chinese knot cufflinks!!!
Afterward, since we were so close to Disney Land Paris, we decide to visit the Disney Village. From the short visit there, I get the feeling, Disney Land is more like American Land, everything there is about the American and Disney culture.
Bam!!!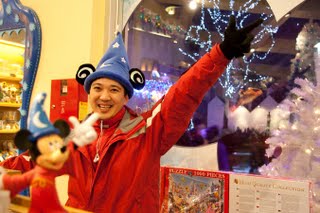 After our short visit at the Disney village, we decided to head back to Paris for dinner. When we returned to our hotel, we walked out to the beautiful street of Paris and found Leon's. It is a restaurant that serves mussels. What we did not know is, Sunday night is all you can eat mussel night!!!… Yep after 3 rounds of mussels, I was super super full… so good … so yummy!!!