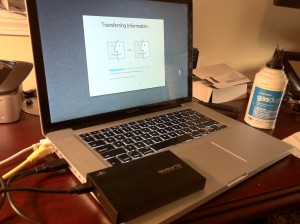 Currently my laptop is a late-2008 MacBook Pro. It is probably the best laptop that I've ever owned. It is definitively the only laptop that I have ever used for more than 1.5 years. This laptop is currently working on it's 4th year. From the original specs this model of MacBook Pro only suppose to support max of 4 Gigs. Some people before were able to get 6 gigs on it, however, after Lion everything changed. With a firmware upgrade, my late 2008 MacBook Pro supports 8 Gigabyte of RAM!!!! Check out this article for more details.
So with my new found knowledge, I quickly purchased my upgrades from Newegg. This is what I got.
First, Memory… for $40 bucks I was able to double my memory. GREAT DEAL!!!!
Then I decided… maybe I should go ahead and upgrade my HD. I thought about a SSD, but I can only afford a 120GB SSD, which is smaller than my current drive size. The SSD will be must faster, but much smaller. I then saw the Hybrid drives. It got mix reviews, but the price is right, so why not. (note: right after I bought mine, newegg put this drive on promotion, it is now only $89.99!!! DOH for me!!!)
So with my removal of my 250 GB drive, I though it would be nice to have an extra external drive, so I got this case for $7.99. Yeah… pretty cheap huh!! The best part is I can use this new USB case to transfer all my data to my new drive so I won't miss a beat!!!!
So with very little money, I've refreshed my laptop and hopefully I can get another year or two out of it!!! That will be excellent, if I can do that!!!
Reference: