A while ago, mom started to complain about low volume when using Facetime with me. At first I thought it was just my mom's computer volume not turned up, but when I made a recording after the Auburn Alabama game with my iPhone 4's video camera, I realized that my volume was really really low. I then realized that the problem is not on the far end but on my iPhone itself. I used the voice recorder to test the mic and it was fine, but when I tested video recording the sound quality was muffled and very quiet. After some online research, I've found that there are two microphones on the new iPhone 4. the second mic suppose to be for noise cancelation, however, I believe it is also the primary mic for video recording.
This is the first mic.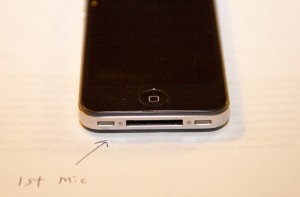 This is the second mic.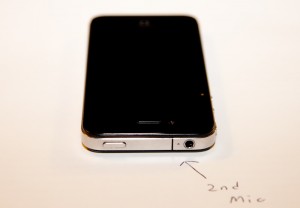 So what I did was to use a needle to pick up the dirt that is trap in the second mic. CAUTION!!!! be careful. Do not force it or you may destroy your mic.
But after I cleaned the second mic hole, the recording video sound quality returned and Facetime sound quality also returned.
Good luck!!!