It's funny… I found an old wallet of mine, and I was just looking through the old stuff that was left in it and POW!!… look at what I found!!!!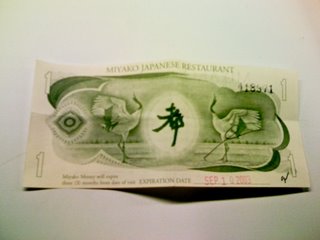 It's a Miyako Buck. What is a Miyako buck? Well, Miyako is a Mediocre Japanese sushi bar restaurant in Houston, Tx. I remember when I use to work for EP, my friends and I would go there pretty often for sushi. They would give us these Miyako bucks, one for every 10 dollars that we spend. The best part was when vendors takes us out to eat and spend about 200 dollars on sushi for our group and we would get 20 bucks back in Miyako Money. ha ha ha … it was like 2 vendor meals in one. Those were the fun days…
It is amazing… how much I have changed in my taste for cheap sushi… now I am so picky. picky is good right?
oh… a tip for all you web surfers looking for good sushi in the Seattle Area…. BEST SUSHI in SEATTLE is at SHIKI. A little Japanese restaurant in lower Queen Ann.