Today is my second time riding to work this week. Few interesting things happened during my ride to work.
1) Gosh I was tired…. I guess the ride from Tuesday, the volleyball practice on Wednesday, the volleyball game last night really mess my body up.
2) I hit a new top speed today. 35 miles an hour … woo hoo…
3) My average speed today is 13.5 miles per hour.
4) My odometer hit 100 today, miles that is … woo hoo… take a look.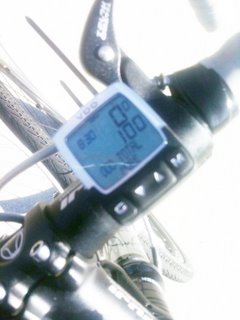 5) Finally, my bike ride
http://www.everytrail.com/swf/main.swf
Widget powered by EveryTrail: Share GPS Tracks