So today my work day in Maui continues… really it is really for work… I am really not on vacation here 🙂 I am here to work!!! 😉 But with that said … I finally did have some time sort of to myself. So let me tell you .. or whomever is reading this all about it.
So this morning… we headed to Ke'anae to survey another site, so after the survey was completed my coworkers and I decided to travel around the south end of the island and to Hana we go again.
Around Noon, we stopped at this street side bbq place for some Hawaiian BBQ. It was amazing.. and so much food. It's really funny because it was actually in front of someone's house and he just set his grill and some tables and he was cooking for everyone that was there to order. Oh… it was good.
So… I was silly in the head or something… I paid the guy in cash and I asked him for a receipt and…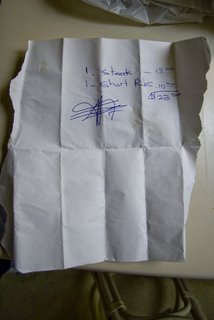 Do you think my accounting people will like this?? ha ha ha
So after lunch we continued to look for more adventure… I got some fruits from the fruits stands… I love fruits… and I also found some nice waterfalls.
The one thing I forgot was to bring some swimming gear … so I was in jeans and work boots hiking around in the hot Maui sun.
oh I heard it's really cold in Seattle and in Colorado … ha ha ha …. sorry guys .. it is in the 70's over here 😀
Well… here are the pictures…. enjoy