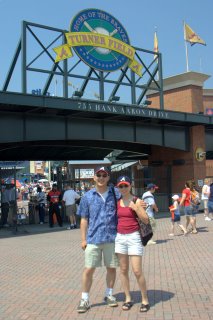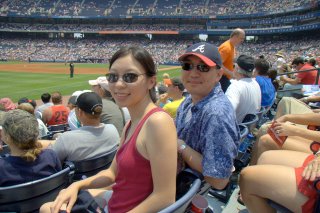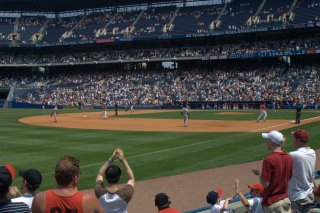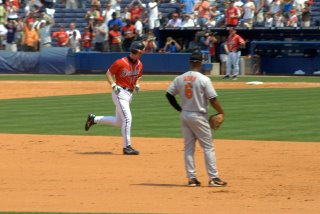 Oh it is such a sweet day… Happy July. First of all it is really nice to be back in the South. So today my sister and I went to Atlanta to watch the Braves to play against the Baltimore O's. It was an afternoon game so it sure was hot, but it wasn't really that bad. Beside, this is what I called summer. Anyway… The highest got around 95 F or so. But the game was exciting and we drank plenty of liquid so it was fine… Oh and don't forget about the sunscreen. Yes we had some SPF 3o's on as well. We had some wonderful seats behind the 3rd base, right in the foul ball section. Yep, there were some foul balls coming our way… it even hit a girl.. 🙁 We were lucky to not to get hit… but everyone was fighting over the foul ball .. it was pretty interesting … it was like the sea gulls in Finding Nimo… "my my my my my" … ha ha ha … To top all the good feeling and good weather off… the Braves won 10 -3 !!! yeah yeah… 3 homers in the game. it was a good game.
Afterwards, we met up with my parents and met some relatives in Atlanta. It was good to see family. We had some wonderful dinner and ended a wonderful day.
oh but wait… when we got home we played some Mahjong and ah… it was a good day..
…. one more thing… today is my 4 years anniversary of being an American. If you don't believe me look back to July 2002 and read my blog!!!! 😉
Once again… what a great way to celebrate my anniversary!!!